Enjoy Happy Trails, the free monthly newsletter from Hiking For Her.

Receive a free resource: Hiking Layering System Explained

How To Day Hike Course:
An Easy Way To Learn To Be 
 A Smart, Safe Female Hiker
There's only one reason to offer the How To Day Hike Course:
You!
Here's how I know.
Hiking For Her has been around a long time, since 2008.
A whole bunch of questions about how to get started as a female day hiker have landed in my inbox over the years.
Also of interest: how to solve troublesome day hiking problems we all face.
It's time for a day hiking course to tackle this topic!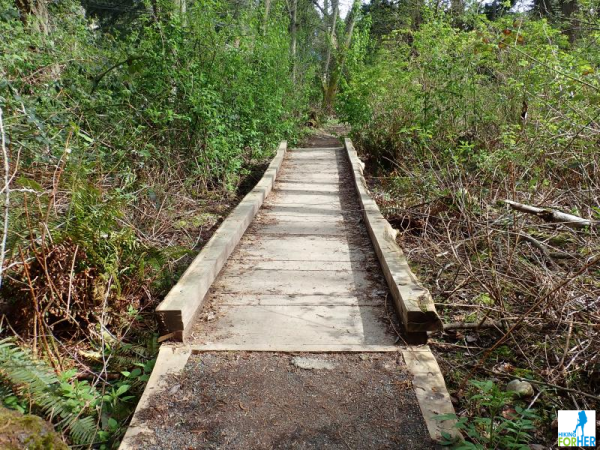 If you're reading these words, I'm guessing it's time to take action on these topics!

How To Day Hike Course
details
So sorry, this course is only available inside the Over Forty Hiker private community.
Find out all about our community, and receive an invitation to join us, here.
$39.95 for an annual membership.
$4.95 for a monthly membership.
More than just this course are included with membership, by the way!

What's covered in the
How To Day Hike course?
In this How To Day Hike Course, we cover the fundamentals you need to become a safe and confident day hiker:

identify your learning style AND hiking style to set up a plan for maximal learning

decide who to hike with (pros and cons of solo, trail buddy, significant other, family, informal groups, organized groups)

choose and plan your hike: credible on line resources, basic day hike checklist, seasonal and personal tweaks

purchase good hiking gear (features, cost, weight, durability, trusted sources)

use a clothing layering system year round; build one without spending a lot

choose your best day pack & adjust it for best fit

smart choices for your feet & trail conditions: boots, shoes, hybrids and of course, hiking socks

eat for the trail as an endurance athlete

hydration choices and ways to carry them

poles or no poles, which makes sense for you?

personal safety: animal & human encounters, water crossings, Ten Essentials, communication options, basic first aid

weather awareness: forecasting versus reality, reading cloud patterns & weather systems, clues to changing weather, weather safety tips

basic navigation: types of maps and how to use them, finding good maps, electronic navigation options, using Mother Nature's clues in a pinch

risk assessment and management, including solo hiking and unexpected events (no bridge, missing trail signs, injury, etc.)

small but mighty kits & how to use them: gear repair, survival, female hygiene

smart trail habits: itinerary, trailhead behavior, pacing, avoid getting lost, handle an emergency, Leave No Trace, 

mental and physical conditioning tips

self care & comfort for feet, back, knees, muscle soreness 

free or low cost resources on each topic to continue your skill building

topic recaps each week
There will be lots of time to ask questions, interact with other students, and bring up topics not listed here.
And this outline may change a bit as we decide what's most important to cover in our eight weeks.
Bonus: There is a Week Zero, with some learning tools to get you set up for success. So it's 9 weeks in total, plus a bit more at the end for a wrap up. We'll be trail buddies for awhile ;)
All the Hiking For Her good stuff
in one place!
I've been on the trail for five decades and counting, and I've got a lot of tips, tricks, and trail knowledge for you in this course.
And I'm right there with you, every week, to answer questions and keep things interesting!
"I have seen such positive encouragement and inspiration from this course. I thought I knew about hiking, but have learned so much more- little trade secrets from Diane that have a large impact on having a positive experience out on the trail.  
Because of this course, I feel more equipped and more confident in expanding my hiking experiences in the future."
-Stephanie A.

How the course is set up
This How To Day Hike course is an amazingly effective way to gather together an experienced instructor and motivated students to form an engaging learning community.
It has an easy interface, accessible on all of your electronic devices.
As a student, you will be able to:
Log into the course whenever you want to access a variety of learning opportunities on each topic: articles, videos, scenarios, polls, questions, pdf downloads, quizzes, checklists, action items, and more.
Interact and have fun with other students in forum posts, scheduled online chat sessions, the open chat room, and private messaging. 
Send private messages to the instructor.
Utilize the weekly recap pdf downloads as a summary of each How To Day Hike course topic.
Also note that you can request a full refund within 7 days of the beginning the course if you decide it's not the right approach for you.
Fearlessness is like a muscle.
I know from my own life that the more I exercise it,
the more natural it becomes
to not let my fears run me.
~ Ariana Huffington, author & entrepreneur

Why a scheduled course?
In my experience, this type of course is best for learners who might be tempted to race through -or ignore- an immediate download course.
A scheduled course provides the space and time for high levels of interaction with the instructor and your co-learners around each topic.
There is a definite plan for the sequence of topics, based on my long experience as a hiker.
And there's an energy found only in a group environment.
It's motivating to conquer a definite hiking goal like enjoying your first day hike by (fill in the date), or solving particular day hike problems before you hit the trail again.

Other students might spark fresh new ideas for you.
Pros of a scheduled 8 week course
There are important reasons for selecting this course format for both teacher and learner.
When you join a community of like minded hikers, we start down the trail together to build a solid foundation, literally one step at a time.
You enjoy the interactions of forum postings, weekly scheduled on line chat times ("office hours"), plentiful networking opportunities, the regular rhythm of course materials, and the guidance (and surprises) from a knowledgeable instructor to keep your interest level high.
If you decide to stay in the community once the course ends, you can do that for the low monthly cost of $4.99, or save money with an annual membership: $39/year.
Private one-on-one access to the instructor, over and above the daily course interactions, is also an amazing way to get your personal day hiking plans dialed in within a short period of time.
Drawbacks of this format
As an instructor, I'm always honest. This format doesn't work for all learners.
So here are the downsides of a course formatted like this, compared with the instant download "here it all is and good luck" approach.
"Falling behind" might cause you some anxiety when you see new course materials posted and you haven't yet looked at previous ones.
In reality you don't "miss" anything because the forum posts, chat interactions and course materials are available 24/7 for 8 weeks on your own schedule.

Weekly summaries keep you on track.
Some folks need more time with a topic, so moving on to a new one each week might seem stressful in this overview type of course.
You can slow down and dwell on topics with this format.

Or circle back multiple times to make connections between topics - at your own pace.

Also know that the instructor is involved in the course on a daily basis, monitoring the course for recent additions. She will highlight and address your questions no matter when you post them.
If you're a person who learns best on her own, and doesn't particularly enjoy group interactions, this course isn't a good choice for you unless you're comfortable with the lurker approach.
But here's the most important thing to accept about this format:
Starting this course is a commitment.
You're signing up for a course that begins and ends, and that's on purpose to foster a specific type of learning opportunity. 
It's going to cost you some dollars, some time, and some electrical activity in your brain as you learn, ponder, consider and take action toward your day hiking goals.
Only you can decide if it's "worth it" to commit to becoming a smart day hiker in this particular structured format.
"What to wear? What to eat? How to hydrate? What to carry? Things that can go wrong and how to be prepared? The How to Day Hike e-course covers all this and more.
I took what I learned from this very experienced instructor and hit the trail as a novice female hiker with the right gear, the right mindset and no surprises—I'm grateful to have found a resource that prepared me so well. Thanks!"
– Diane H.


How is the How To Day Hike
course accessed?
You may have heard of the Over Forty Hiker private women only community sponsored by Hiking For Her.
This How To Day Hike course for female hikers is going to be available inside the community, with no additional membership cost to you.
There are lots of reasons for this decision:
It's a private, safe place where you are free from trolls, spam, tracking, ads and negativity.
It's an easy platform to learn how to navigate,.
The course is accessible on any electronic device: tablet, computer, phone.
This established community has knowledgeable, experienced female hikers as additional resources beyond the instructor.
You might find others to hike with or plan some hiking adventures in new areas the members recommend based on your interests.
You don't have to be over forty to take this course, but if you are, you're in a safe space as an older hiking newbie.
You don't have to interact within the larger community. You choose when (or if) to interact with the larger group, or to stay within the smaller course cohort.
It's the most cost effective way to bring you this course: streamlined, 24/7 access, and packed with multiple types of learning opportunities for one low cost.
There are abundant and detailed course materials, available for the duration of the course on your electronic devices.
Everything (checklists, lessons, tips, resource lists, topic recaps and more) created for this course are yours to keep when the course ends.

Too much for you right now?
If the price is too much for you to manage at this time, I invite you to continue to use all of the free resources right here on the website.
There are over 700 pages of useful tips and detailed reviews, ready and waiting, and more pages are added and updated each week. 
Use the search box at the top of each page to find the topics you need.
You could also take a look at my low cost book on day hiking. Chock full of tips!
And it costs nothing to receive my monthly newsletter for all of the latest tips. Your email is never sold or shared.
Is there such a thing as
too much information?
If you've spent time on the Hiking For Her website, you've seen the thorough, detailed and resource rich tips I love to provide free of charge, day in and day out, year after year.
Dangerously close to TMI, perhaps?
Nah!
Just imagine what's waiting for you inside this paid course! 
But if you're going to jump on the How To Day Hike trail with me, you'll want to know a bit more about me.
Your trail guide
for the How To Day Hike course
I feel confident offering on line courses because I'm a retired educator who transitioned from chalkboards through whiteboards into Power Points and hung in there long enough to realize the glorious freedom of on line learning.
My masters degree in teaching put solid teaching techniques into my hands so I could plan the best learning experiences for my students.
Add in 2+ decades of classroom experience, and go ahead, call me a seasoned teaching veteran (battle scars and all).
Read more about my background and credentials here.
Couple this extensive teaching background with 50 years of hiking experience, and what do you get?
This course!
To say that I love creating hiking courses that women can access and enjoy, anywhere and anytime on the planet, is a huge understatement.
My promise:
Well designed, entertaining, relevant and trail tested information in a brisk but manageable pace so you can get out there and hike with confidence.

It's how I choose to give back to the hiking community.

And it's your chance to focus on your hiking goals in a supportive space.
Such freedom to learn can only be matched by the freedom of knowing that you're ready to shoulder a backpack and head off on a hike.

And I'd love to give you that freedom!
"The only person you are destined to become
is the person you decide to be."
~Ralph Waldo Emerson

Questions?

If you have questions, please send them to me here and I'll reply quickly

Are you ready to take action right now?
Hurrah!
It will be a blast to spend time together exploring our favorite sport.
Looking forward to happy trails together!
Home page > Best Hiking Resources >
How To Day Hike Course Details