Enjoy Happy Trails, the free monthly newsletter from Hiking For Her.

Receive a free resource: Hiking Layering System Explained
REI Sahara Hiking Pants
Review
For Women Hikers
by Diane Spicer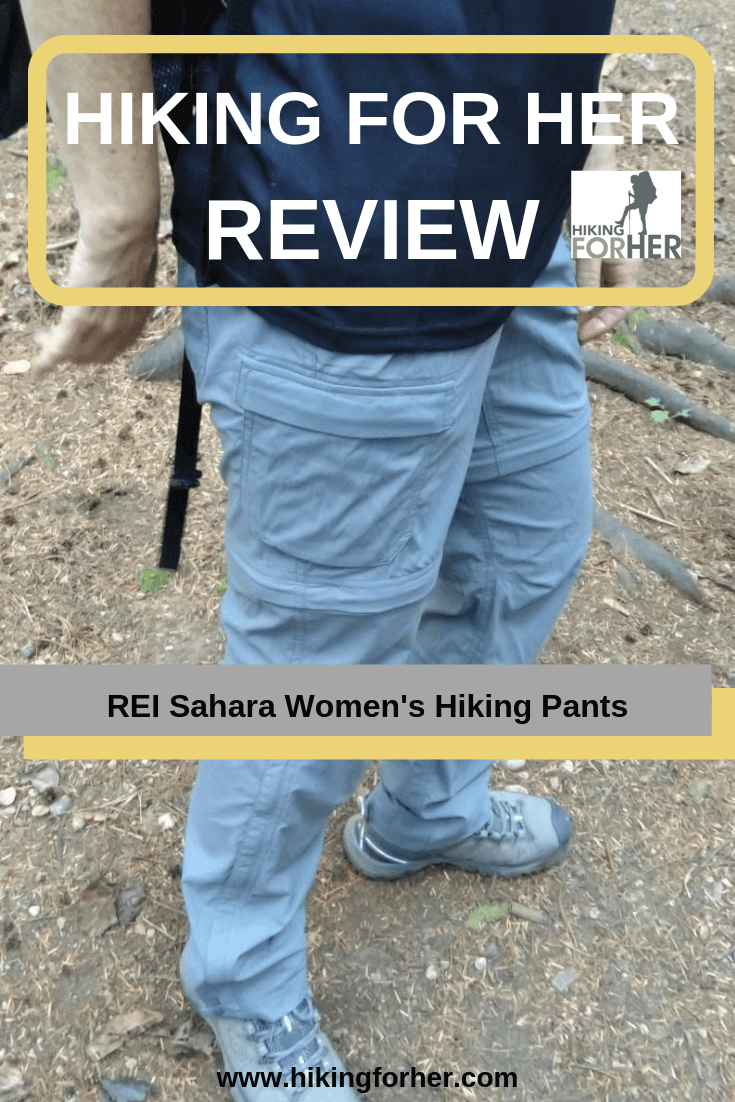 Did anyone ask me to write this REI Sahara hiking pants review?
Did REI Co-op send me a pair to review?
Nope!
But as an avid female hiker who puts a lot of mileage on her boots pants every season, I'm always on the lookout for great hiking clothing.
If you crawl under blow downs on the trail, scramble up hillsides for a better view, scoot over rocks to get your water filter into the lake, you know what I mean!
So the only disclosure I need to make in this review is the fact that I'm proud to be affiliated with REI Co-op, for so many reasons.
If you make an REI purchase through the links on this website, Hiking For Her receives a small percentage of your price but you pay nothing extra.
Now let's get to the detailed review of these women's hiking pants, because they have a lot of features I think you're going to like when you hit certain types of trails.
REI Sahara hiking pants for women:
specifications & features
fast drying, lightweight nylon

DWR finish (durable water repellent)

midrise waist

integrated adjustable belt

one button & zip fly

multiple pockets

flat seams

color coded thigh zippers to convert to shorts

reinforced cuff backs

lightweight snap at ankle

three color choices

three inseam choices
---

REI Sahara hiking pants for women:
trailworthy features
Okay, let's get this big important fact right out into the open.
These Sahara women's convertible hiking pants are available in petite, regular and tall lengths, and in a range of sizes including XXS - XL to 22W.
Hurrah!! Hiking women love options, especially when they come with all of the features these pants offer.
So here's a closer look at some of those must-have features in a pair of women's hiking pants you need to know about.
And more importantly for your trail comfort, why you need them.
Versatility
of these REI Sahara hiking pants
One pair of pants, two ways to wear them: full length UV and tick protective legs, or shorts when you're hot and sweaty.
This versatility in pants becomes important when you're on a hiking trip where space and weight are limiting constraints on your clothing checklist.
The converting zippers for removing the lower pant legs are color coded, meaning that it only takes a second or two to get the right leg matched with the right zipper or left with left.
Zip off lower legs with a color coded zipper system to keep everything straight
And the long zipper up to the knee means you don't have to hop around with one boot off, one boot on, while you convert from shorts to pants.
Each zipper is easy to use, so you won't have to struggle to get things lined up when you're in a hurry. 

There are convenient rigid pull tabs to help you.

Easy adjustments at the waist
You have a unique shape, and a waistline is a perfect example of where the folks designing a pair of women's hiking pants have to pay attention to customization.
The REI Sahara hiking pants have two things I really like:
integrated, adjustable belt with an easy to use pull tab to accommodate layering

large button closure positioned above the fly zipper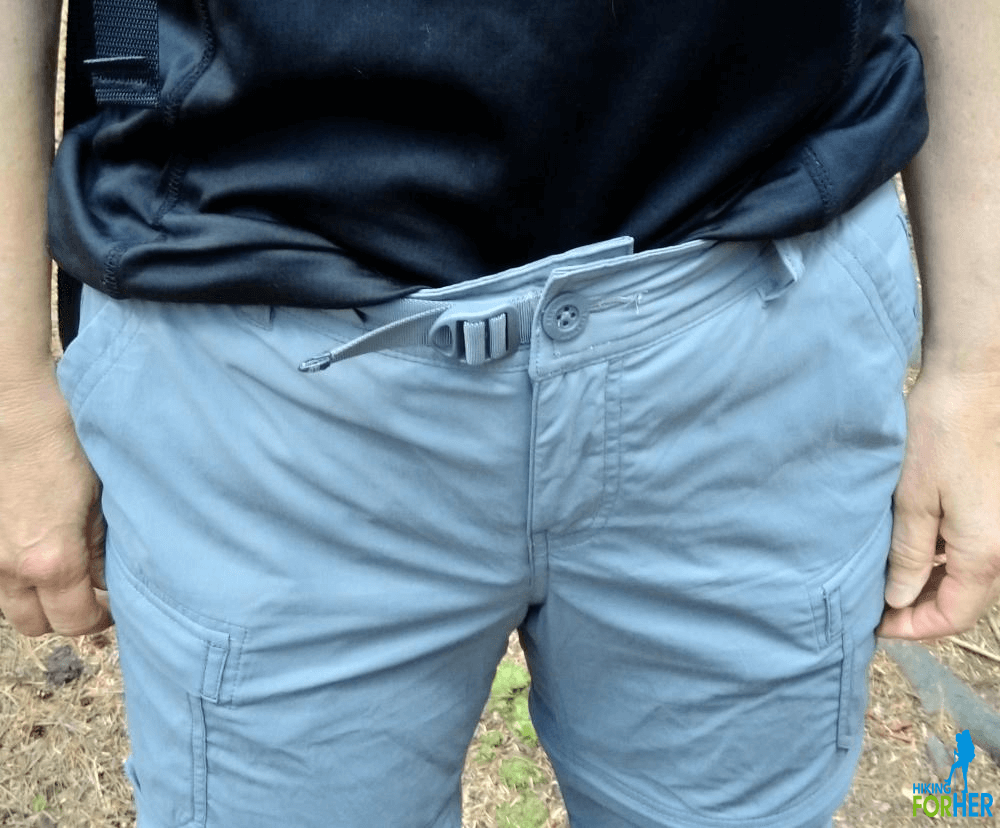 Comfortable waistband with top button plus zipper closure and an integrated belt for last minute adjustments
Note the external belt loops, providing even more versatility. 
Don't have a hiking belt yet?

What's she got in
all of those pockets??
Plenty!
The roomy thigh cargo pockets have secure zippers, so they're the perfect place to store anything you need to keep track of: camera SD cards, car keys, driver's license, that necklace you forgot to leave at home.
Roomy within limits! A camera, a hiking guide book, your small first aid kit - not gonna fit in these pockets!
Pockets on the front of the thigh, both sides, plus side zippers to the knee
Use the two pockets at the waistline for storing anything you will need soon, like a snack or lip balm. Or store stuff that you're going to dispose of properly when you get to your destination, like food wrappers.
There are two pockets on the back of the pants, which are secured only with a flap of fabric, so don't put anything super valuable back there - or anything squishable!

Comfort is key
for female hikers on the trail
Don't wear a pair of women's hiking pants that don't move with you on a hike.
These pants do, both uphill and down.
Comfortable for complete movements on the trail, and just the right length to play nicely with boots
This current version of the Sahara pants features a slimmer cut than the previous version, but still provides plenty of room for knees and thighs to do their important work on the trail.
The fabric has a bit of a "give" to it, too, although it won't bag out and get saggy on you.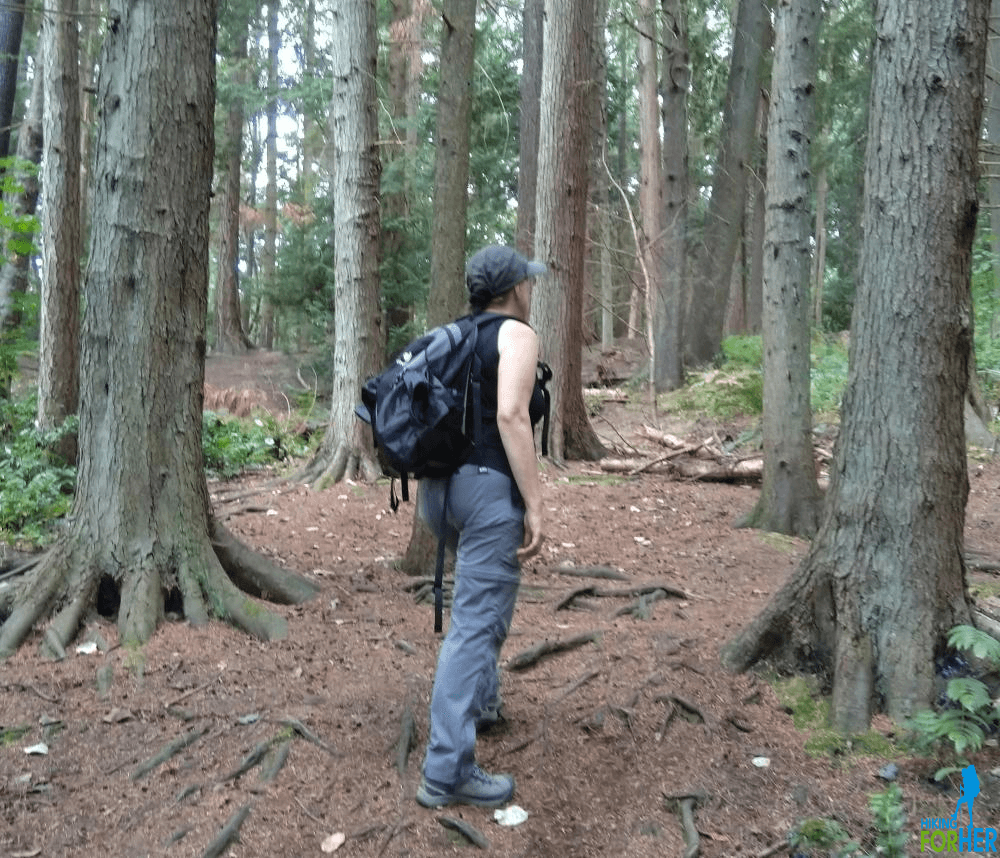 Plenty of room for tackling the knee and leg movements needed for an uphill trail
The pants were worn on a 10 mile, 2000 foot elevation gain hike in 70 degree humid weather.
Plenty breathable!
The pants did a good job of wicking moisture away from my legs and waist, although no fabric is perfect and I did feel damp around my waist beneath my backpack waist belt.
The reinforced fabric panel on the back ankle area is a nice touch, to keep abrasive surfaces and sharp pokey objects from piercing you through the fabric.
As for sizing, these pants run true to size. Order up a size if you like a looser fit, as the legs are a trimmer fit style than older versions of the Sahara.

Easy to shop at REI Co-op!
REI Co-op makes purchasing great hiking clothing so very easy, and rewards you for doing so!
If you're not already a co-op member, please check out these 14 reasons to join.
Here's the short version on member rewards:
Their return policy is top notch, and they stand behind their product line so you can always rely on them to make it right if you have a concern.
They give you a 10% rebate annually on your qualifying purchases.
And they're the go to place for fun events and classes.
Read more about that here.

Things to note on these
women's REI Sahara hiking pants
If you hike on lots of different types of trails (and sometimes go off trail), and you're out there hitting it hard in all four seasons, you already know that one pair of hiking pants is not going to keep you covered (literally).
In the Hiking For Her universe, these pants are rated for mild weather, established trail hiking.
They're thin material, and while they have DWR (durable water repellent) finish for light drizzle or brushing up against wet trail vegetation, they're not going to keep you dry when it begins to pour.
Because of the thin fabric, I don't recommend them for epic sessions of scooting over abrasive rocks, or any aggressive bush whacking where the chance of falling into holes or getting hung up on sharp branches is high.
If you're a fan of waist snaps for a solid closure experience, the button might strike you as a bit fiddly.
There are two flat seams in the crotch, put there to give you a better articulation experience, meaning the crotch won't tear out when you're stepping over big logs.
However, there are 2 seams, so the chance of chafing is increased. It's going to depend upon your individual fit, so this is something to keep in mind if you're going to rely on these pants for days on end during a backpacking trip.
---

Summing up this 
REI Sahara hiking pants review
If you're searching for a lightweight, comfortable and versatile pair of hiking pants for day hiking or backpacking, give these Sahara pants a close look.
A petite female hiker will rejoice at the shorter inseam on these hiking pants.
Take a closer look at petite sizes of these pants here.
Her tall trail buddy will love the extended length.
While zip off hiking pants won't win any fashion awards, these are a pair that don't look all that frumpy, at least IMHO.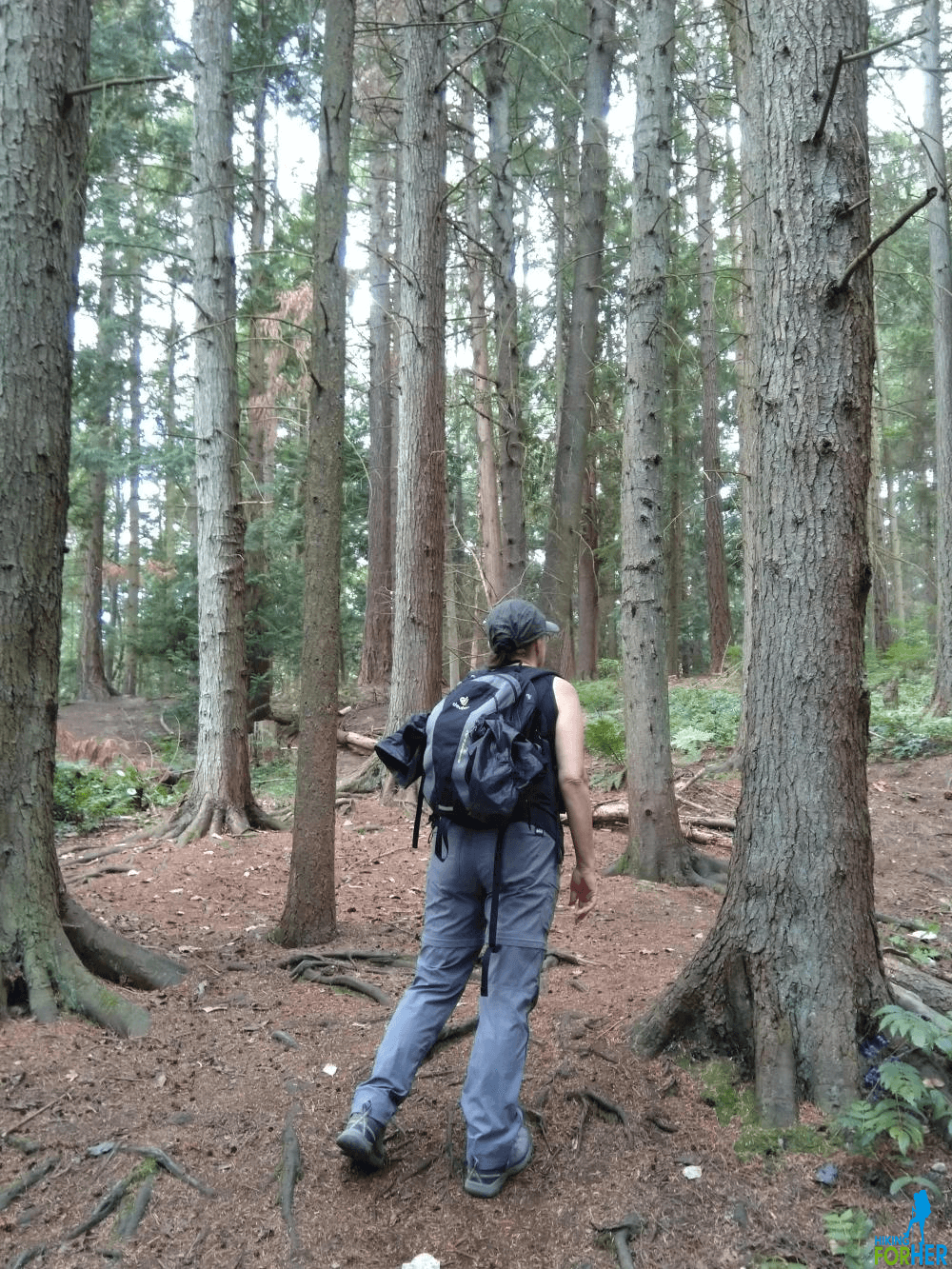 Nice pair of hiking pants! Now if only I could find the trail.
And when you buy from REI, you'll have the option of returning the pants if they don't work out for you.
Hope this review has pointed you to the hiking pants you've been searching for!
They've earned a place in my hiking wardrobe, that's for sure.
Home page > Best Hiking Gear And Clothing Reviews >
REI Co-op Women's Sahara Hiking Pants Review
Hiking For Her: Hiking tips you can trust!