Enjoy Happy Trails, the free monthly newsletter from Hiking For Her.

Receive a free resource: Hiking Layering System Explained

GOREWEAR Review:
Technical Hiking Clothing
& How To Use It
by Diane Spicer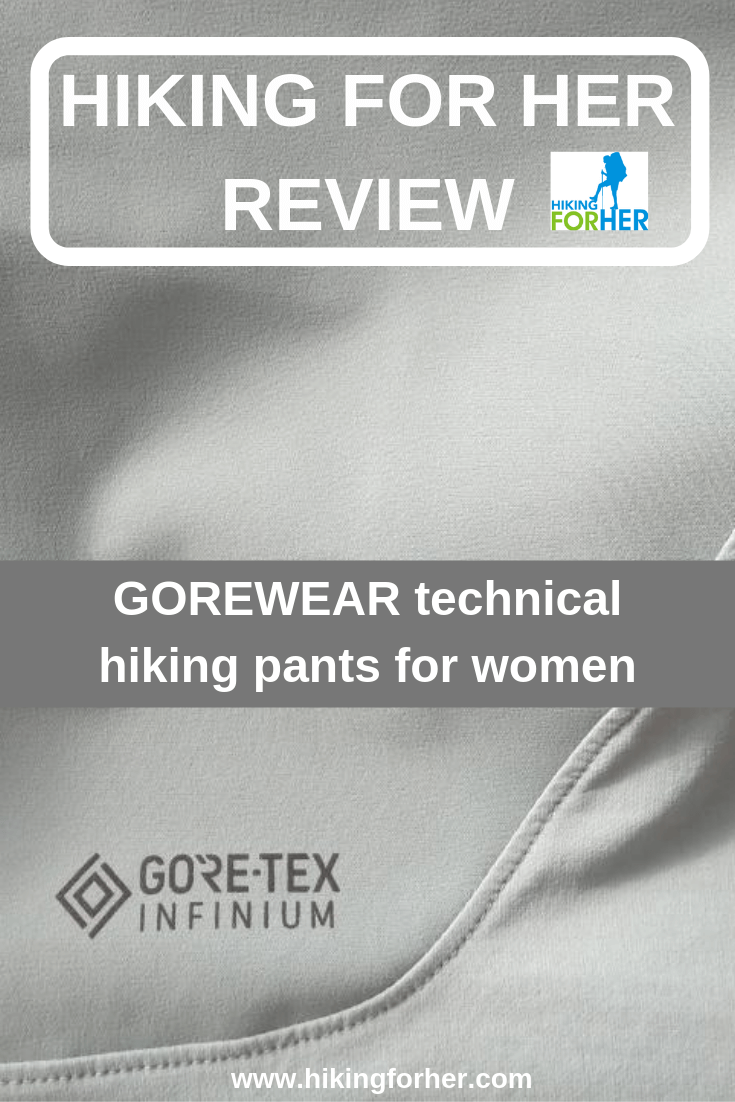 GORE is a new brand to Hiking For Her, for reasons we'll go into below.

Because curiosity is a compelling force in any hiker, a field test was absolutely necessary to gather facts, as well as to avoid the harmful side effects on cats (as in curiosity...).
In a more serious vein, this GOREWEAR review offers you a detailed look at technical hiking pants for female hikers.
As well as some bonus information!
None of the reviews you read on this website are written in exchange for money.
Hiking For Her freely offers opinions and trail testing in these reviews so you can make smart decisions about your particular hiking style.

Disclosures in this GOREWEAR review
for hikers
Hiking For Her was contacted and offered a chance to test the clothing in this review in exchange for an unpaid, fair review.
There is no relationship between GOREWEAR and HFH.

Product specifications are quoted from the company and have not been independently verified by HFH.
If you purchase through the affiliate links on this website, HFH will receive a small percentage of your purchase price. You pay nothing extra.
Photos with the Hiking For Her logo, plus all comments and opinions, belong to HFH.
As always, this review was written with you in mind.
You want to know about the best hiking clothing and accessories for happy trails.
And I'm here to deliver.
So let's ask, and then answer, some questions about using GOREWEAR as a hiker.

GOREWEAR review:
what's featured?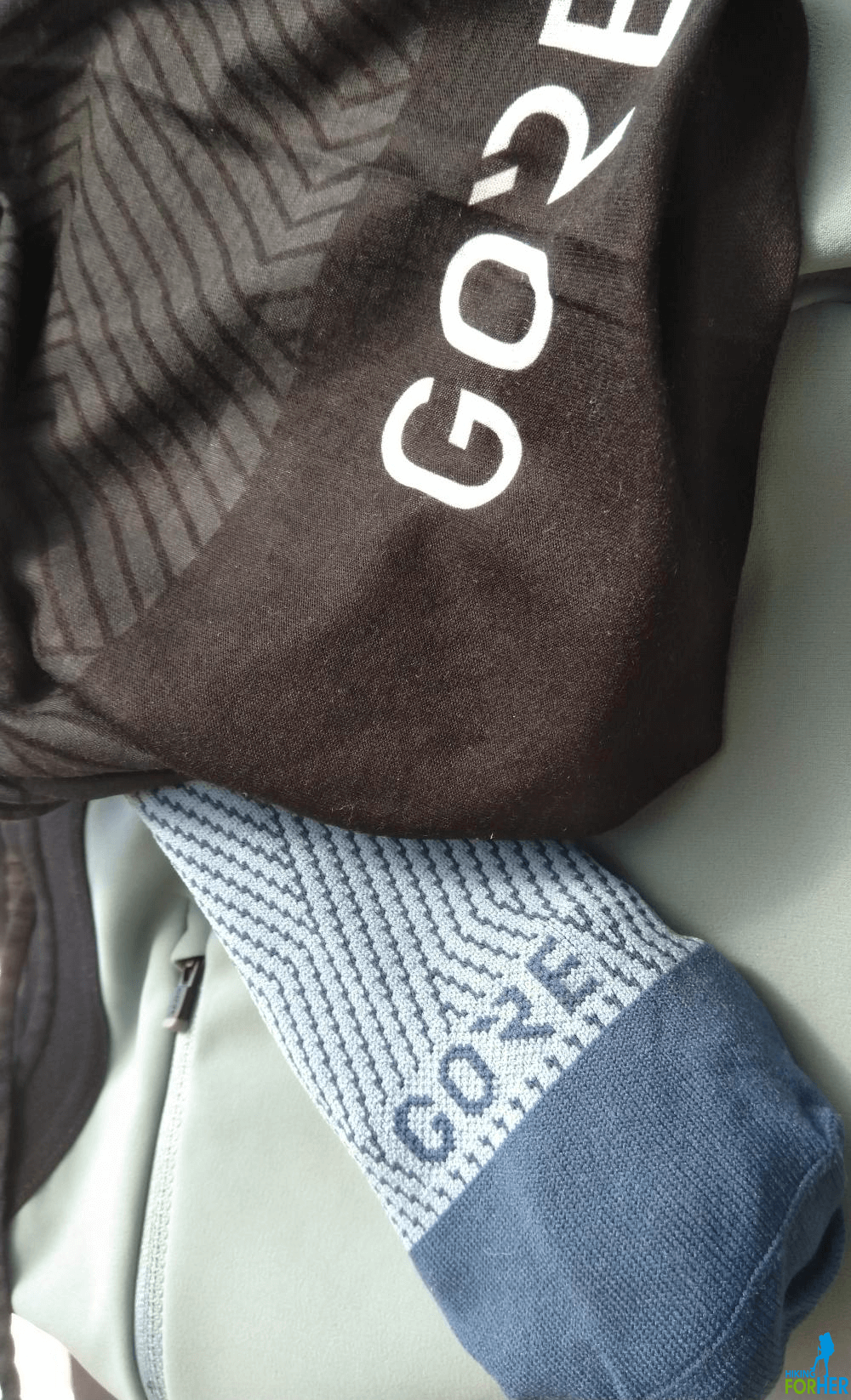 Black pull on seamless neckwarmer, blue socks, and gray hiking pants - let's put them to the test!

What's up with the
numbers & letters?
This clothing is rated by the manufacturer according to the level of sports you engage in, with sport-specific features and a customized fit to stand up to the unique demands of the sport.
The numbers run from high (7) to low (3), with a capital letter to indicate which sport it's designed for.
How to decode 
C7 is made for an expert level cyclist, while R7 clothing is designed for an expert runner.
The number 5 designates an "advanced" athlete, with H5 indicating the clothing is suitable for what the company calls "fast hiking".
Level 3?
The clothing is engineered for an "active lifestyle".
M indicates a multisport item, suitable for all levels and sports.
These ratings allow you to self select into a specific category of GORE gear.

Is GOREWEAR for hikers?
Sometimes the line between mountaineering and hiking is blurry.
Ditto for trail running and hiking, biking and hiking, and climbing and hiking.
All of those sports require a person to face the elements and triumph to whatever degree possible over temperature extremes and precipitation.
The GORE brand shows up at REI and other outdoor stores under the category of cycling. 
That's why I've never tried it before.
But based on my testing for this GOREWEAR review, this brand makes clothing which can level the playing field for a serious hiker.
Tip:
Don't hesitate to look at the full line of athletic clothing any brand offers, even when it is touted as "best for" a sport other than hiking.
Especially GOREWEAR.
Here's why
This company is dedicated to squeezing every last ounce (gram) of performance and value out of its fabrics.
windproof

breathable

water repellent

lightweight
These words are music to a hiker's ears!
Each item of clothing is tested by elite athletes, in various sports, multiple times.
So if it's good enough for those career endurance athletes, it's good enough for us non-elites on the trail, including myself.
Now, the question becomes how to use GORE gear on the trail.
Let's begin to answer it with a close look at the Infinium women's pants.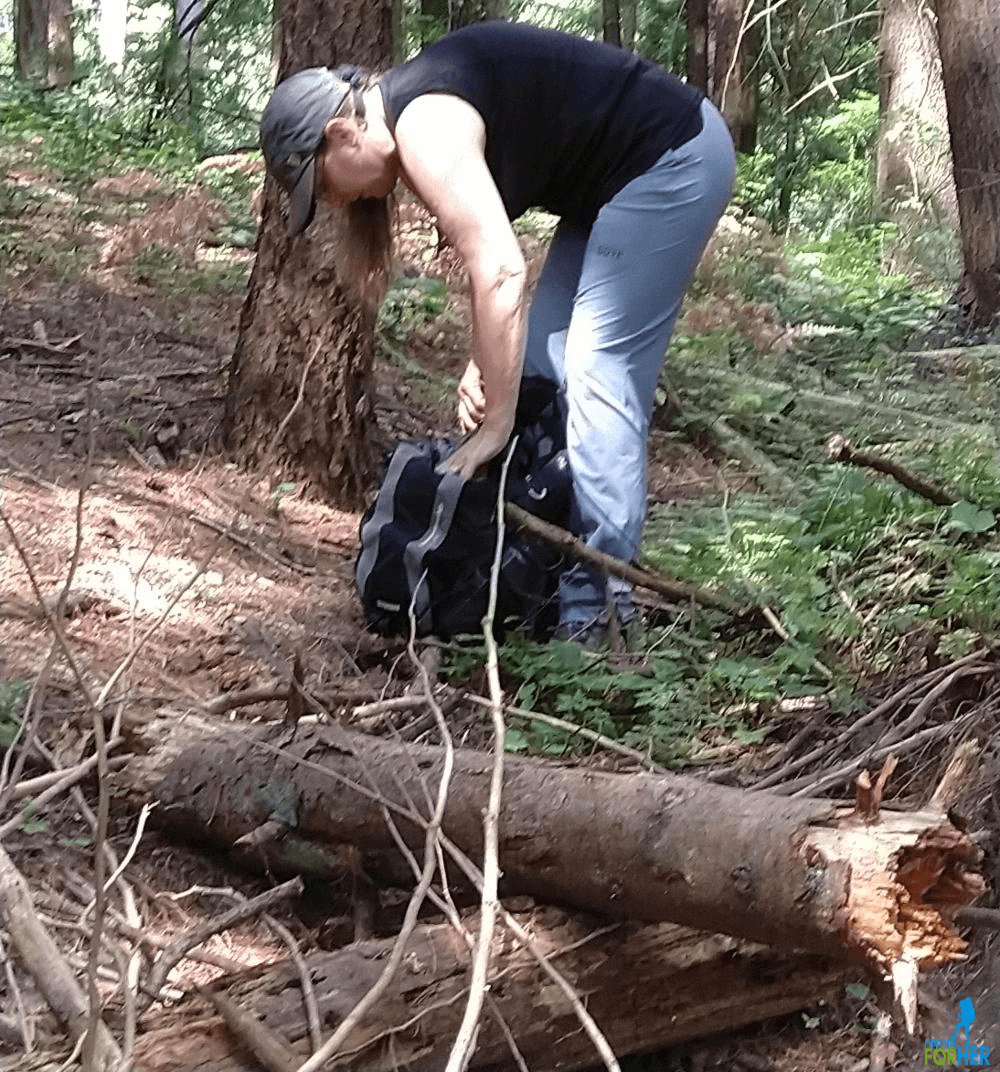 How do these pants stand up to what a hiker dishes out both on and off trail?

GORE® H5 Partial GORE-TEX INFINIUM ™ 
women's lightweight softshell pants:
specifications
The description of "soft shell, lightweight" is another code of sorts.
Soft shell tells you that these pants are not intended to be rain pants, so expect some water repellency (moisture beads up), but not enough for thorough protection in a downpour.
Lightweight is a great word to see associated with hiking pants when you go fast and light.
But don't rely upon them in outright cold weather when you need to guard your body heat.
The materials in these pants include various proportions of Polyamide and Elastane, manufactured with trademarked GORE-TEX INFINIUM and GORE WINDSTOPPER technology.
Elastane implies a stretchy fabric which will "give" when you bend and swing your legs. Excellent news for a hard working pair of legs!
So far so good.
But you need more information about the design of these pants.
Features to note
You buy high performance pants like these because they're going to work just as hard as you do on the trail, regardless of conditions.
Here's what these pants offer:
Rated moderately windproof to protect you
Highly breathable fabric to vent your heat and sweat
Panels on upper thigh for extra layer of protection from jacket run off in wet conditions
Extra panels on front lower legs, too 
Adjustable drawcords at ankles 
Lace hook on each pant leg attaches to boot or trail shoe
Wide elastic waistband with integrated drawcord to customize fit
Zipper closure with two snaps (not a pull on style)
Comfortable mid-rise waist (at least on me, 5'3")
Now it's time to wear them on the trail!
GOREWEAR review:
trail performance of these pants
Slipping on these pants was a different experience.
These pants will feel snug, moving with you, allowing your normal hiking movements to occur freely while holding you in a soft hug of sorts.
Kind of like wearing a blanket on your legs!

You will see, but not feel, the seams for the extra panels mentioned above, due to flat seams.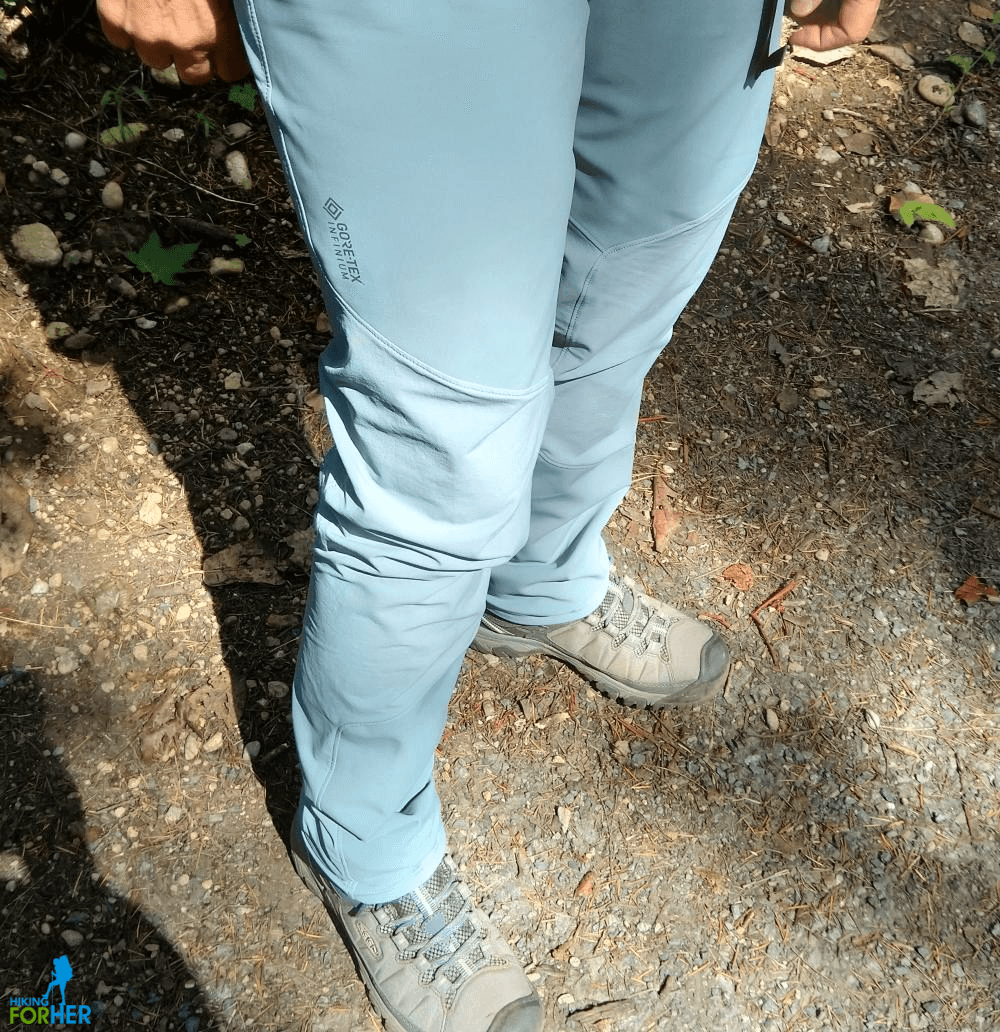 Take note of the panels on the thighs, to shed water from your rain jacket. Nice feature, no? The tapered fit keeps debris off your skin and out of your boots.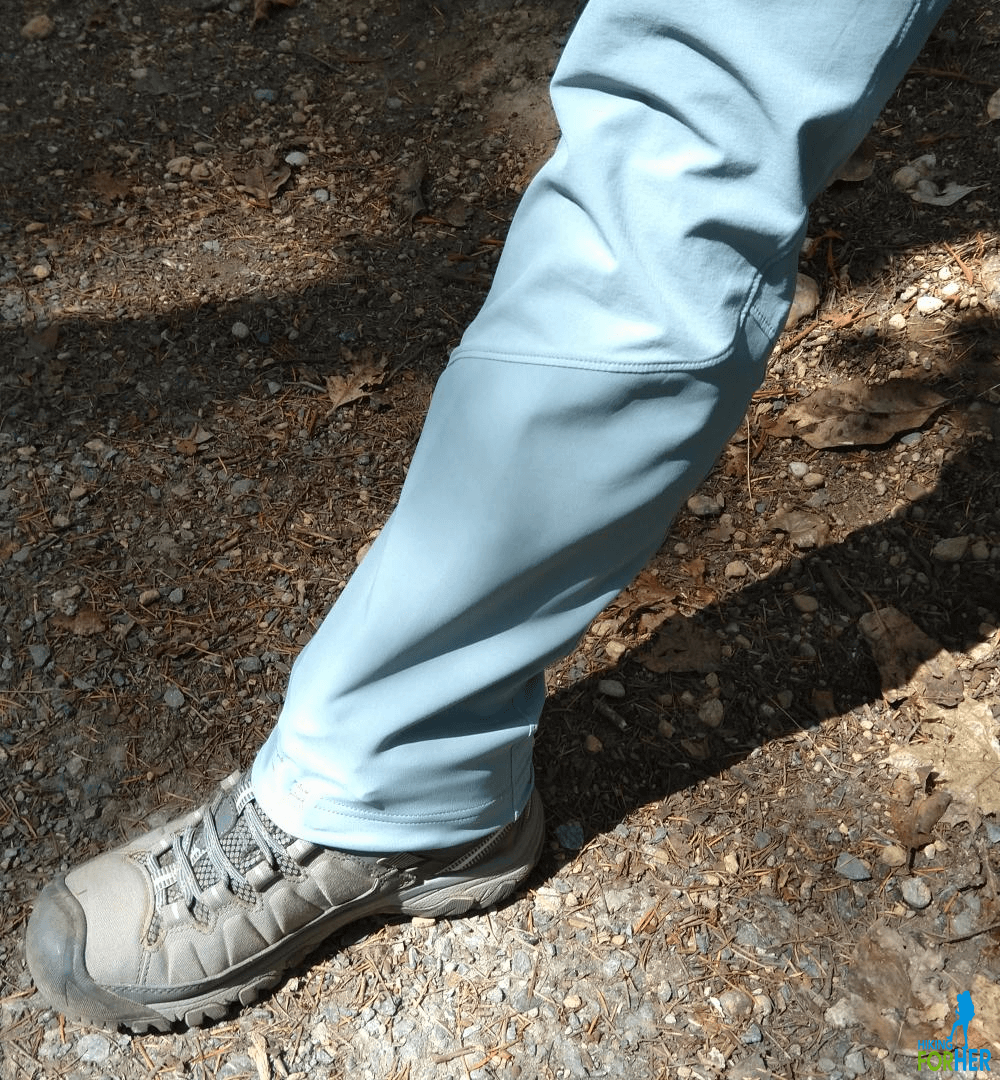 The lower leg panel will help you shed moisture and debris before it reaches your hiking socks and boots.
The first thing to do with any new pair of hiking pants, at least in the Hiking For Her realm, is to make them your own.

Let's go through that procedure together.
Waistband adjustments
These pants allow you to adjust the waistband, using two soft and easy to grasp drawcords pictured below.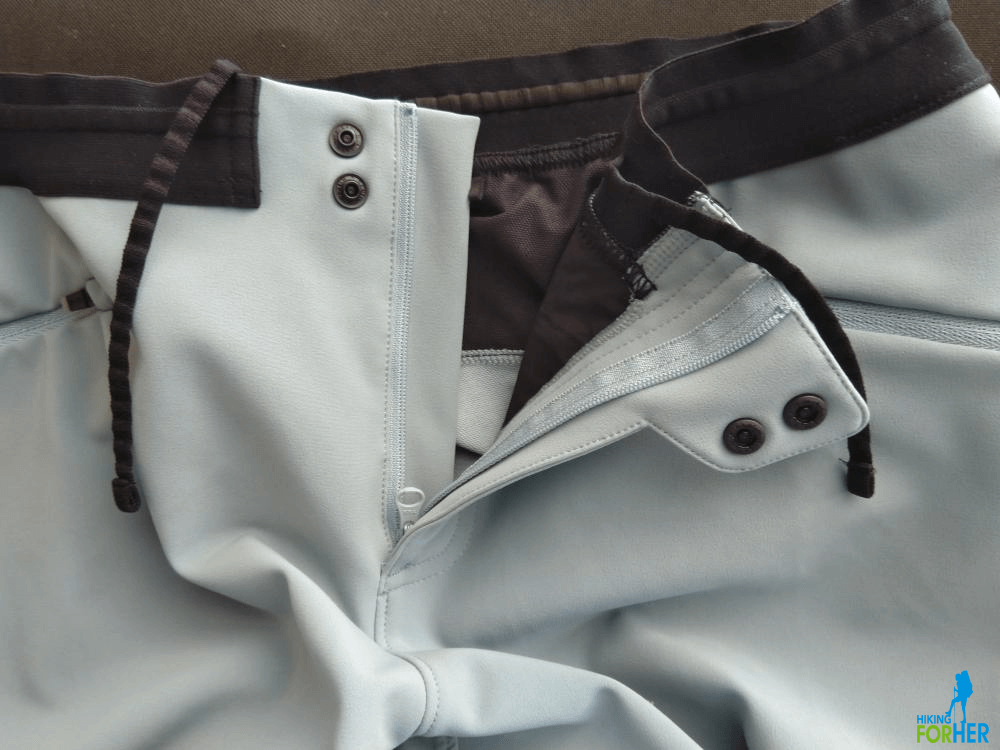 Two button zip fly with an overflap for a smooth fit, plus adjustable drawcords for customization after layering
If you like a tight fit, pull those cords as taut as possible.
Or leave them alone for more room.
Note the wide elastic waistband, made with a soft, comfortable fabric that won't bind you or fight with your backpack hip belt.
There are two types of fabric on the back of the pants just below the waistband, but the flat, well sewn seams joining them will not chafe or bind.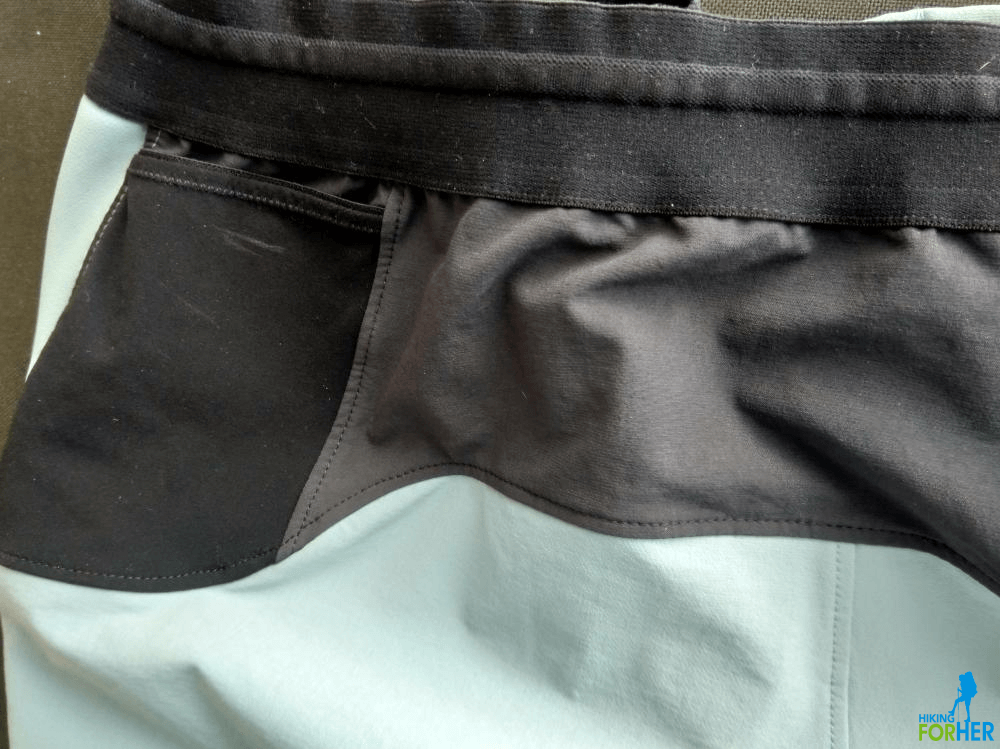 Back view shows small open pocket (one on each side) for easy access to energy gels, lip balm, small tube of sunscreen, compass or other small gear

Length adjustments
Because I went up a size (see sizing notes below), the length was a tad generous. 

No problem!
I used the drawcord on each hem to snug the pant legs down around my boots.
This becomes important when you're in tick country, or on rocky or sandy terrain that deposits debris in your footwear.
Zip pockets
The zipper pockets on the front of the pants are just the right size for a snack, or for your hands when you stop in a windy area to check the map.
They are just deep enough to hang onto whatever you stash there without needing to be zipped up.
If you choose to zip up, there are rigid non slip pull tabs to make the task easy, although they are small and might pose a problem for gloved hands in cooler temperatures.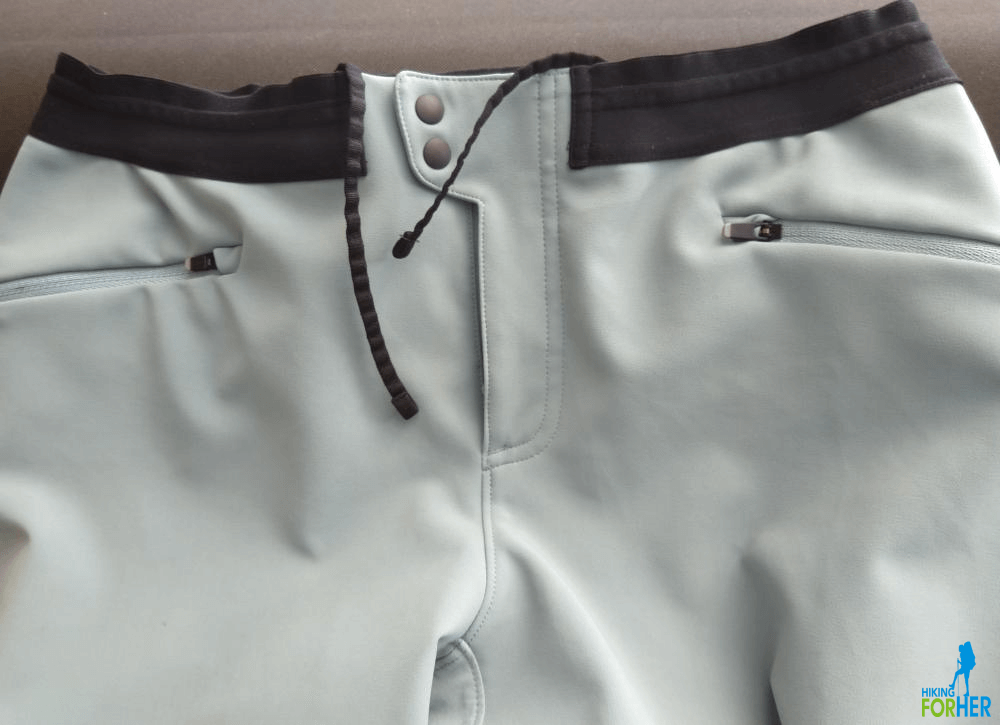 Two zipped front pockets with secure internal compartments. Note the reinforced, flat seams on these pants.

Nice fabric!
If wrinkled pants make you sad, these are the ones for you when you backpack.

They came along with me in a compression sack, and when I dug them out and put them on, they looked just fine!
The fabric did not catch or snag on the zillions of rocks, roots and tree branches I leaped over, sat on, and dodged for hours on end.
This material held its shape and continued to look good, and the light color was great when the sun finally came out!
And it didn't seem to hang onto dirt and mud too intensely.
So if wearing a pair of high end hiking pants that won't scream HIKING CLOTHES is important to you, take a good look at the GOREWEAR lineup.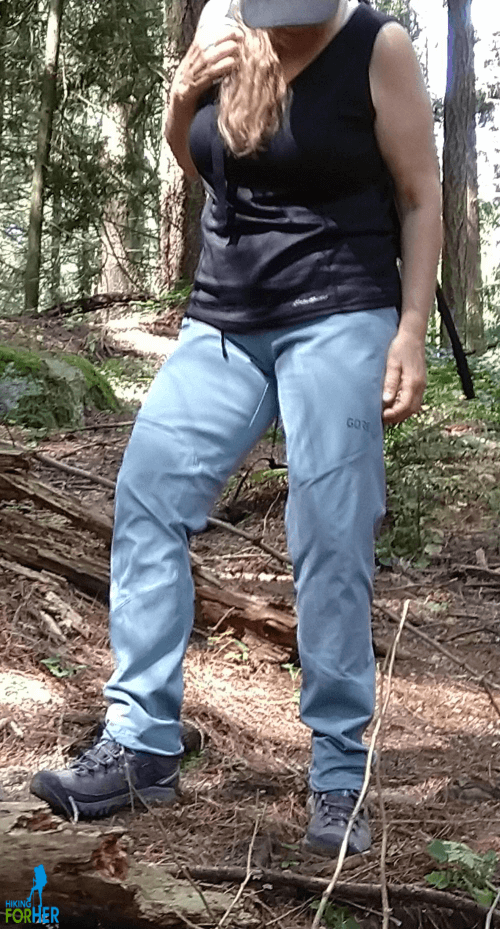 Take these pants out for a spin and you'll fall in love with their easy going but rugged approach to the trail.

Important sizing note
in this GOREWEAR review -
do not skip
The GOREWEAR website warns you that their sizing runs a bit smaller than you might expect, due to the athletic cut and technical fabrics used in their clothing.
Take them seriously!
These Infinium pants are form fitting yet stretchy, and will feel different compared with your other hiking pants because they have no extra fabric - anywhere.
For me, I chose to go up a size with the pants in order to accommodate the possibility of tights underneath in cold weather.
And it was a good call.
I don't think the smaller size would have been too tight, I just like the versatility of a slightly more generous fit when I hit terrain like this.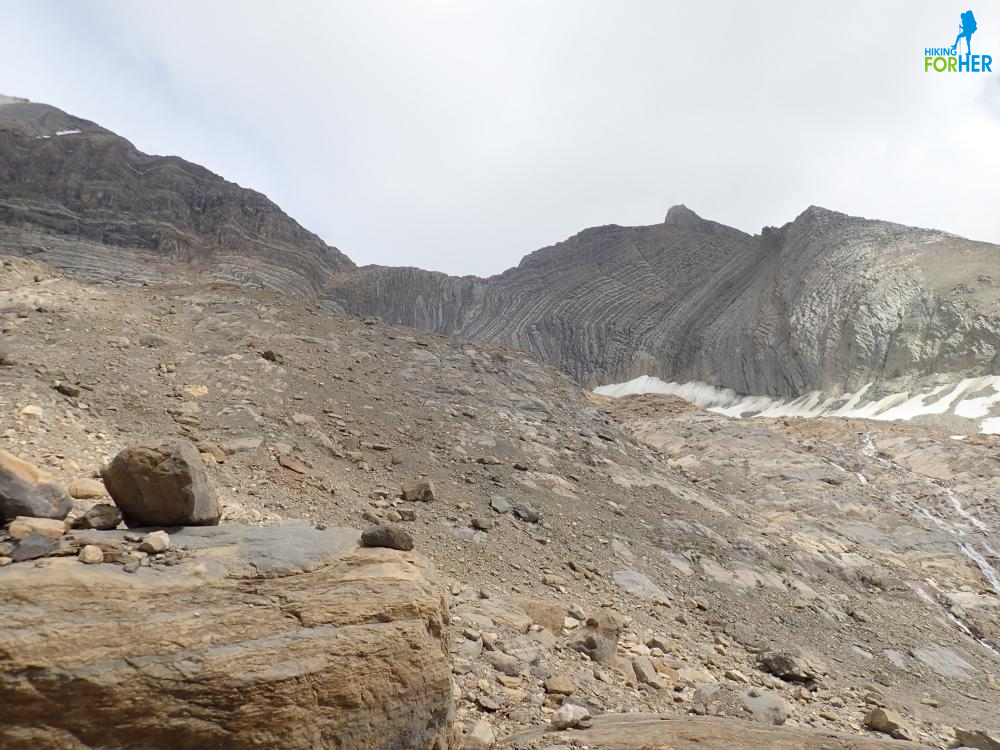 Freedom of movement is important when I'm off trail and scrambling up an embankment or descending on dicey footing, so that extra bit of wiggle room in the waist and legs comes in handy.

Care notes
Use cold water and the delicate cycle when you wash these pants.
Tumble dry on a cool setting.
No bleach, ironing, or dry cleaning required.
Love the easy care!!
GOREWEAR review:
Infinium pants conclusions
These pants are not the ones to wear on a moderate to easy day hike over established trail. They're a bit overbuilt for that.
Plus, they aren't convertible into capris (no tabs on legs) or shorts (lack of zip off legs).
Read more about hiking pants for those conditions here.
But these technical pants are definitely the ones I'll don when I'm in high alpine, windy conditions, with a possibility of light precipitation in cooler temperatures.
Ditto for cool, windy conditions in desert areas where the chance of precip is zero.
Why?
Because I've learned some things while writing this review:
I've learned that I can rely on these hiking pants to stop wind from making my legs shake, creating unsafe hiking conditions.
I've also learned that I can move freely in them. A deep knee bend to retrieve my pack? Side stepping down a rocky lateral moraine, one long step after another? No problem! 
Both safety and mobility are important to any hiker venturing off trail and into locations where anything in Mother Nature's weather department is fair game.
These pants are up for the challenge!
Now for the "bad" news
Note that you'll pay for these important features, to the tune of $199 US at the time of this GOREWEAR review.
For example, Moosejaw offers three choices of GOREWEAR women's pants, some of them marked down in price, here.



Amazon also carries GOREWEAR clothing, like this pair of women's trail pants.

Look for bargains and end of season deals, and if you're not picky about color or style, you might find just the right thing.

And check out the Fast Hiking line of clothing for female hikers!
So regard these pants as an investment piece in your hiking wardrobe (yes, it's a thing).
And take good care of them once you've purchased them. Luckily, that's easy!
Read more about the philosophy of "investment" rather than "bargain bin" purchases below.
Or skip down there now.

What's up next in this 
GOREWEAR review?
In addition to the Infinium GOREWEAR pants, Hiking For Her received a pair of socks and a neck gaiter to test.

Let's look at those next.
GORE® C3 mid socks
Unisex socks

Midrise: 6.6 inches

GORE fabrics: moisture wicking, breathable, fast drying

Reinforced toes and heels to prevent blisters

Padded Achilles area (back of heels) 

Flat seams to prevent chafing or blisters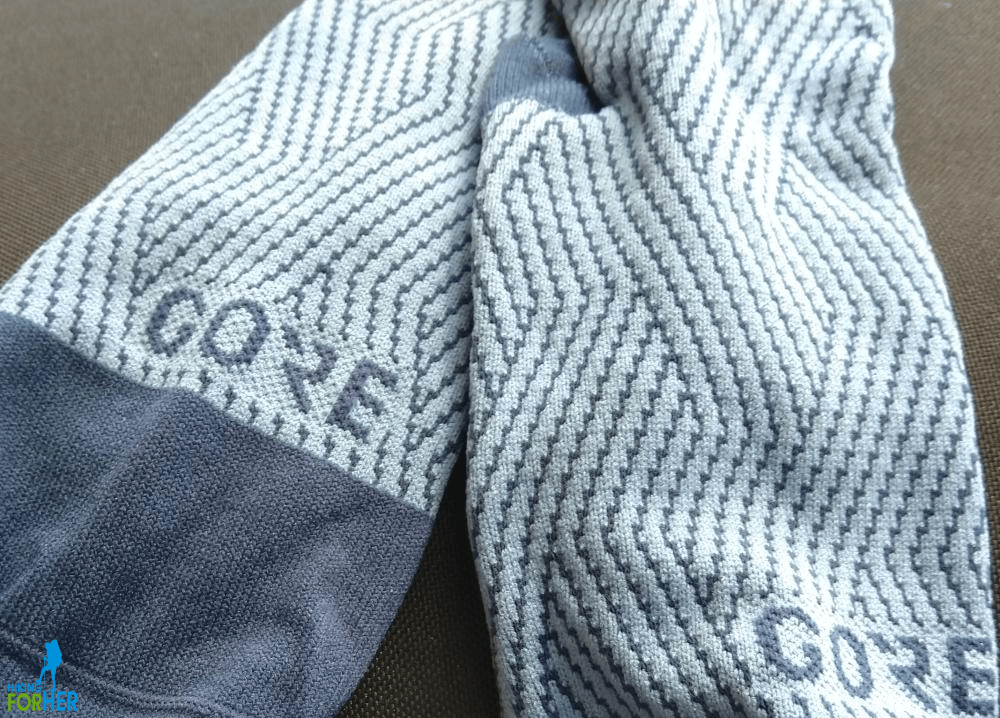 Nice pattern! Also liked the soft and breathable fabric
GOREWEAR review:
a few notes on socks
These socks can be pressed into service on the way to and from the trailhead, but they are not intended to be high performance hiking socks.
Having said that, make a mental note to try these socks in lightweight trail runners or low cut trail shoes.
These unisex socks are marketed to cyclists.

That's no reason for a hiker to ignore them!

I intend to use them as sleeping socks: a lightweight extra pair that I keep clean and dry to use inside my sleeping bag during the night or on rest days.

Another idea: wear them with your camp shoes, like crocs.

GORE® M Neckwarmer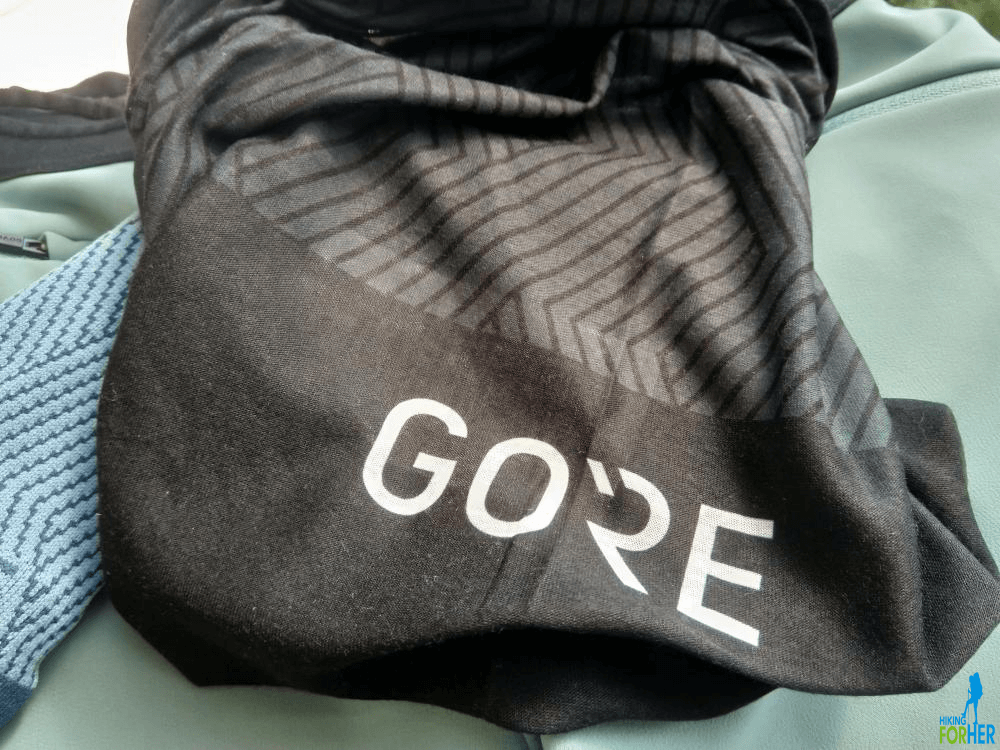 This small piece of fabric around your neck can make all the difference on a hike
If you haven't discovered the wonderful world of neckwarmers as a hiker, now's your chance.
Blocking wind and precipitation from contacting your neck and face directly means your body heat stays against your skin, thus keeping you warmer.
The flip side is also important on a hot day: a moisture wicking, breathable lightweight piece of fabric around your neck will block UV rays and help direct your sweat and body heat away from you.
A stretchy piece of fabric like this neckwarmer is also a versatile piece of hiking gear. I've used mine in these ways:
Head scarf
Hair covering to hide dirty hair on a backpacking trip
Headband on hot days to catch drips
Ponytail and bun holder
Extra layer beneath  wool or fleece hat
Pot holder
Face towel
Makeshift bandage for a facial injury
Extra layer between me and the ground
I rely on neck gaiters so much, in fact, that every backpack I own contains one. That way, I'm never without one, regardless of which pack I grab.
They also make thoughtful, inexpensive gifts for trail buddies.
And the endless variety of patterns and styles is fun to shop for.
I highly recommend this neck warmer as a great addition to your hiking wardrobe.
The subtle pattern (matches the socks!) in 3 different colors will blend right in with your current jackets and hats.
Pull it on or carry it in your backpack and get creative with new ways to use it on a hike.

GOREWEAR review,
all wrapped up
Serious hikers invest in their clothing and gear.
While some may make the argument that it's fine to charge hard up any trail, in any weather, while wearing budget clothing, I'd like to propose an alternative theory.
Invest in yourself, one season at a time,
by purchasing high quality, well designed and durable
women's hiking clothing.
Sure, watch for bargains, but don't hesitate to pay for brands that back up their products with great service and thoughtful, evolving designs.
You pay for, and can expect, high performance over a long time frame, based upon the expertise that went into the designs.
GOREWEAR is making a move into hiking territory with their Fast Hiking collection, and their clothing, from what I've experienced, is going to provide some of us hikers with viable (not to mention comfortable and attractive) options for the trail.
Beginner hikers, probably not, due to the price point. 

Don't overbuy until you know you're fully committed to this sport.
But if you're interested in what this brand has to offer us as time goes by, stay tuned for more info!
Home page > Best Hiking Gear And Clothing Reviews >
GOREWEAR Review
Hiking For Her: Hiking tips you can trust!