Enjoy Happy Trails, the free monthly newsletter from Hiking For Her.

Receive a free resource: Hiking Layering System Explained
Nomadik Review Part 2 & 3:
What's In The Box
This Time?

by Diane Spicer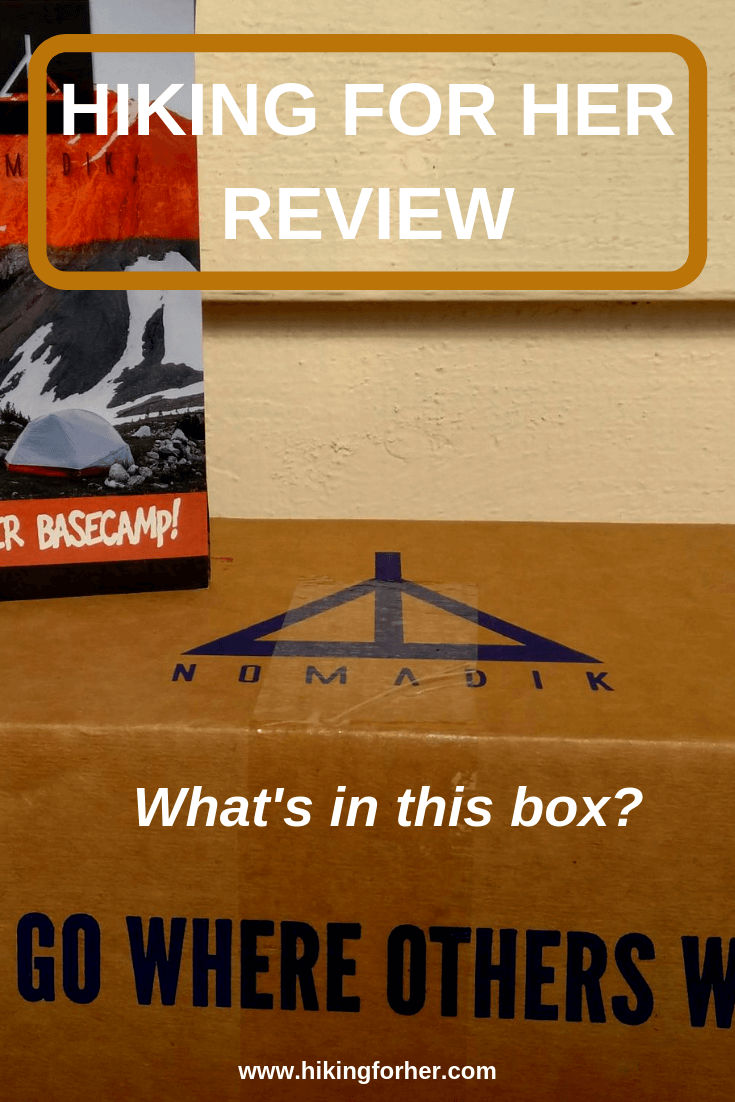 If there's a Nomadik review Part 2, there must be a Part 1.
Be sure to read the terms of service section at the top of the review, so that you will understand that Nomadik has no phone customer service and uses an auto-renewal policy.

This box was received free of charge.
All opinions and photos belong to Hiking For Her, an affiliate of The Nomadik.

This time around, let's look at this month's box theme for clues about what to expect when we open it up.
Nomadik Review Part 2
Each Nomadik box has a theme.
This month: Better Basecamp
Care to make any predictions about what could fit inside the box (think lightweight and streamlined) while giving you a stellar camping experience?
For me, basecamp is all about relaxing, eating great food, and knowing that I have a comfortable home base after a long day of hiking or exploring.
So, let's see what's inside the box.

Nomadik gear in the box

Here's what was tucked inside:
Ultra Power Pro Lantern (1TAC)

550 paracord with lightweight carabiner (GearAid)

Paracord cleats (Readyman)

A packet of spicy pumpkin seeds (Gorilly Goods)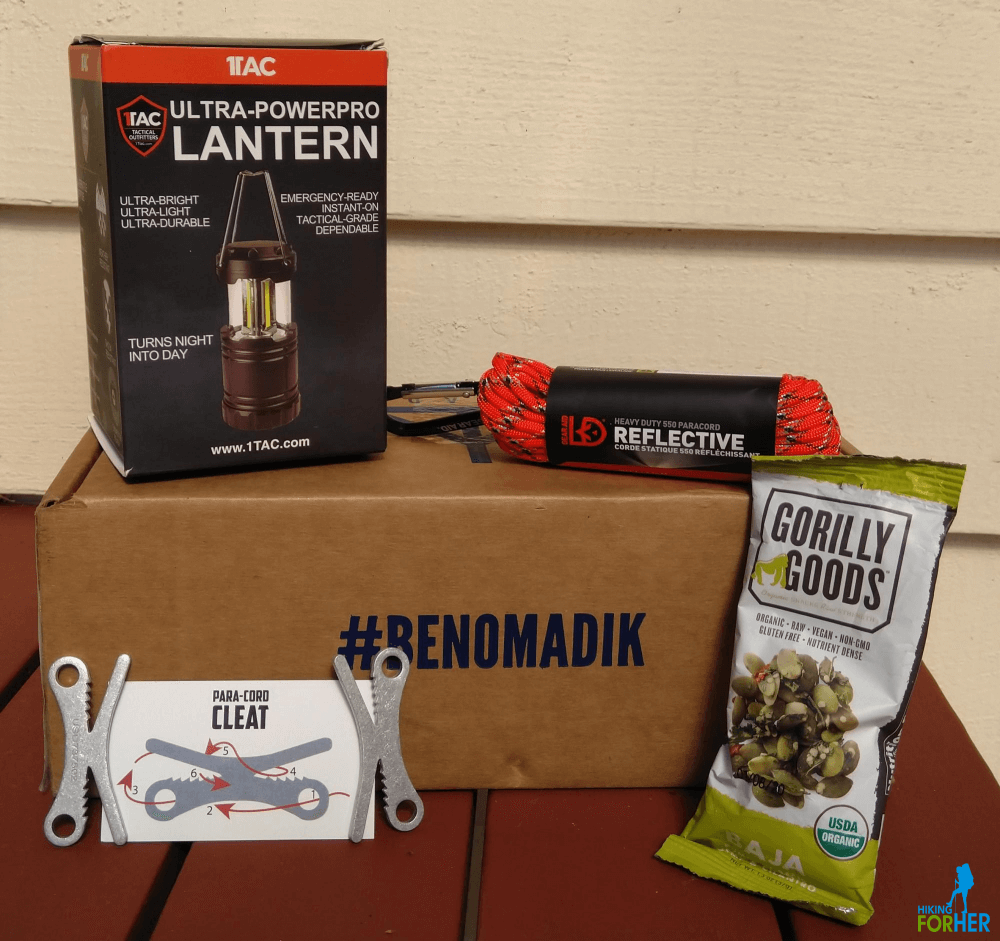 Illumination, secure-ification and munch-ification - all in one box!
Looks to me like we can get some good campsite vibes going with this box!
Now for some details.


Lantern specifications

This lantern will be reviewed in detail in an upcoming post (bookmark and check back for the link, coming soon).

For now, here are the specifications that make this little lantern a mighty bright addition to your camping gear:
0.79 pounds without batteries (3 AAA)

3.6 X 3.6 X 5.3 inches

500 lumens of light, providing 12 hours of continuous output

COB LED

50,000 hour lamp life




360 degree design to illuminate all corners of your tent or campsite

military grade high impact ABS thermoplastic polymer casing




magnetic base for positioning where it's needed




"instant on" feature: just pull up from the base

2 retractable metal handles for hanging or carrying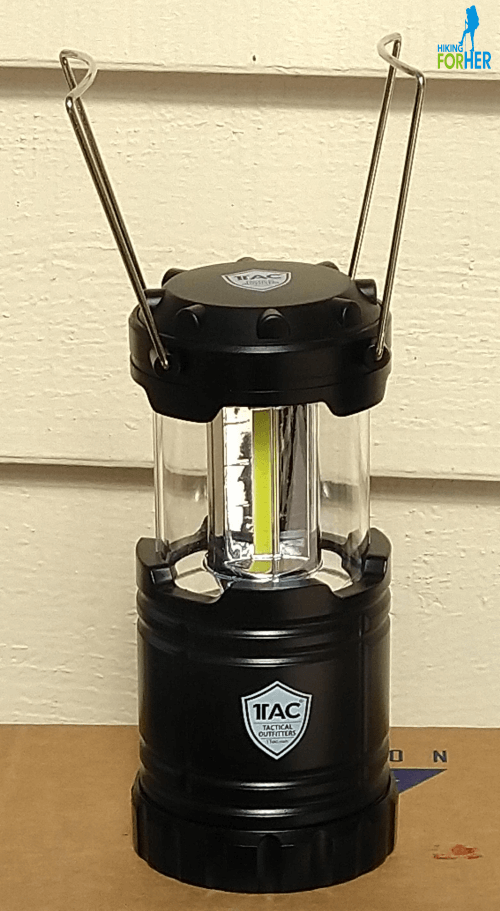 You can't even imagine how bright this little lantern is in the dark!

Paracord particulars

Paracord is appreciated by all sorts of outdoors folks, hikers included.
I've used amazingly strong and pliable paracord for stringing up bear bags, securing rafts on river trips, doing a field repair on one of my gaiters, putting up a tarp, tying up a snoring tent partner (nope, that was just a fantasy) and lots more.
The Nomadik brochure provides another idea:
If you don't have faith that this little lantern can throw enough light for this task, read the lantern review (coming soon).
There is 30 feet of paracord here, plenty to work with, and highly reflective so you don't closeline yourself around base camp. (Thanks again, lantern!)
If you use a hammock as part of your sleep system, this cord will support you and your sleeping gear.
Speaking of those cleats...
Paracord cleats are too amazing
to leave behind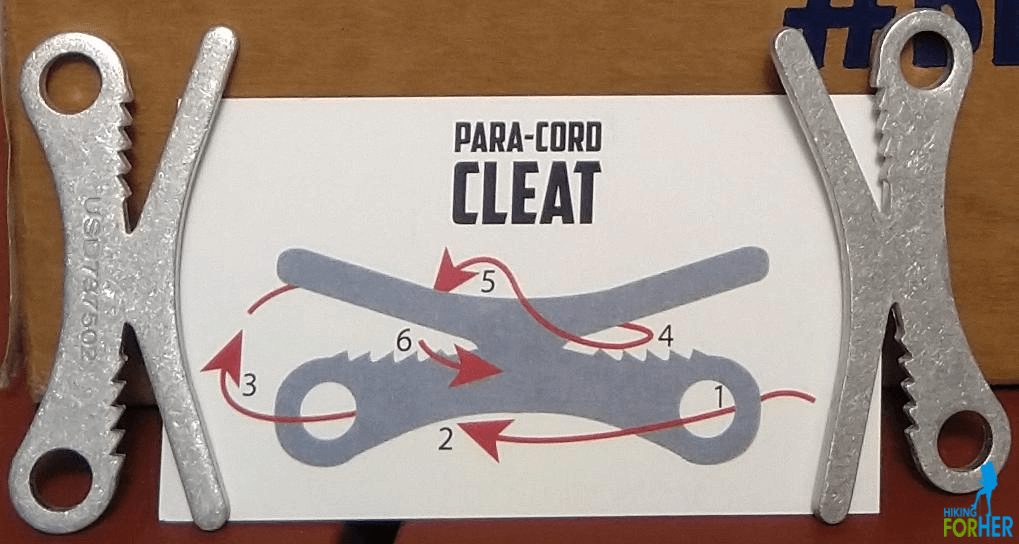 This nifty little card is included to explain how to thread the paracord through the cleat
If you love to brag about your knot tying skills, skip this.
For the rest of us who either can't remember which knot to use (I admit nothing), or have never learned how to tie a decent knot, these cleats are the way to go for securing a load.
Readyman has a great explanatory video, with tips on how to get the most out of these lightweight but strong devices.
To be honest, I would have never realized such a thing existed.
Thanks to the subscription box, this little piece of clever technology arrived on my doorstep and made me curious enough to seek out that video and learn a new trick.
The cleats found a home right next to the paracord in my emergency shelter supplies, and will ride along in my backpack from now on.

The snack

Base camp means comfort food, right?
And that means snacks.

These organic pumpkin seeds are loaded with nutrition, and go one better, being loaded with taste:
cilantro

lime juice & zest


sea salt

nutritional yeast

chili pepper
Nothing boring about these seeds, so alert your taste buds.

One packet delivers 190 calories, making them a lightweight (37g or 1.3 oz) yet nutrient dense backpacking snack, too:

2% DV calcium

18% DV iron

10% DV potassium

25% DV total fat

Those are great percentages when you're on a multiday hiking trip!
The value
inside the box
It's reasonable to want to cost out the price of The Nomadik subscription service and compare the number to what you get inside the box.
So let's do that.
The lantern, a brand new item in 1TAC's equipment line, retails for $39.99.
Thirty feet of paracord from GearAid sells for $6.50.
Readyman's paracord 2 pack of cleats: $4.99
A pack of those wickedly tasty pumpkin seeds: $2.50
Total: $53.98
Let's call is $54.
The cost of an individual Nomadik box:
$32.95 if it's a one-off purchase
$29.99 with a yearly subscription.
I'll leave the "is it worth it?" bit of math for you to finish.
Consider this as well
Here's value you can't put a price tag on:
A chance to use the latest gear for outdoor pursuits

Time savings: allow someone else to carefully curate what's in the box

The fun of having a surprise to open each month

The opportunity to gift newbie hikers with this subscription service as they build out their gear locker

Conclusions in Nomadik Review Part 2

Better Basecamp indeed!
The gear inside this box is unbelievably compact and lightweight, and there are dozens of ways to press it into service around your campsite or home.
If you love monthly surprises combined with great gear from rock solid outdoor brands, The Nomadik is there for you!
The Nomadik review part 2

update
What's this?
A third Nomadik box, stuffed full of great lightweight and functional gear.
Let's take a look!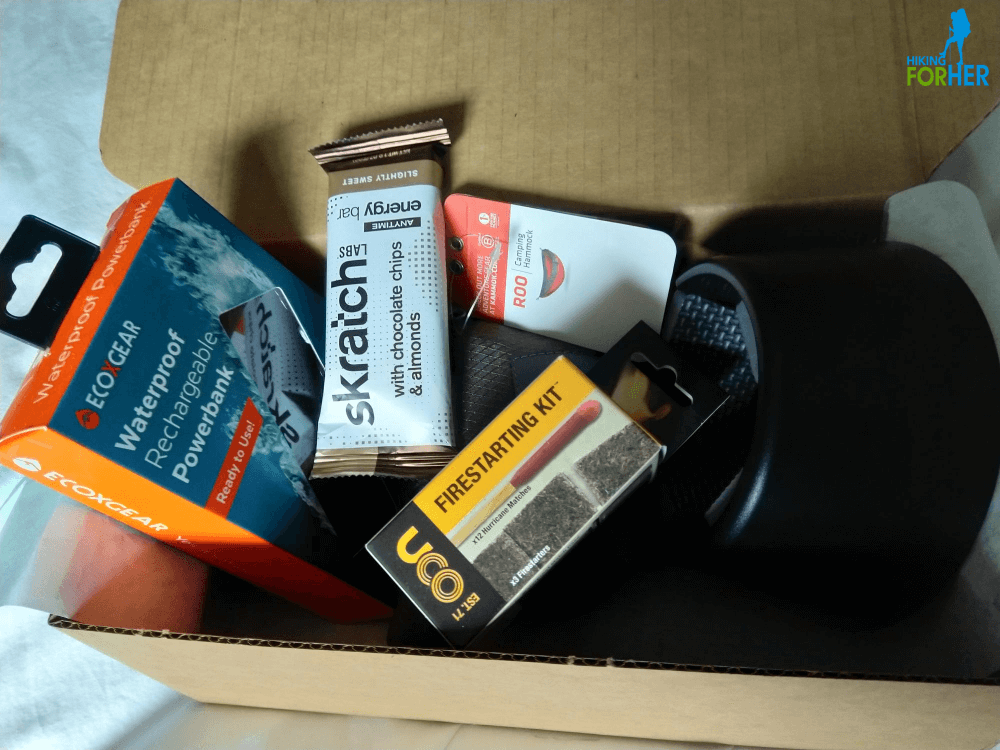 Hmm... what is all this "On The Go" stuff?

The box theme
and contents
It never fails to pique interest: the name of the box theme really gets those curiosity neurons firing.
This month, On The Go calls to mind long road trips on amazing back roads to gorgeous hiking destinations.

Which is why the Nomadik box contents are focused on your comfort and safety!
EcoXGear portable charger

The Conester, a strong cup holder to keep your favorite beverage within reach and securely fastened

Kammock reusable Mega Tote bag so you can gather up your stuff for the beach, the road, or the trail head

UCO fire starting kit

Skratch Labs Original energy bar to keep you fueled, plus it goes well with that favorite beverage hanging out in the Conester!

A closer look at  this gear
The Kammock tote bag is 100% up-cycled, meaning its fibers are sourced from left over hammock material. All of the other items fit easily into the bag, making it easy to keep things together and ready to roll.
The EcoXGear charger is a USB rechargeable, waterproof and shock proof piece of technology it will be great to have riding along inside your backpack.
The 2600mAh battery will keep your connection to the outside world going.

The Conester cup holder is really versatile, holding all of your favorite mugs, travel cups, water bottles and any take out cups you might use during your road trip.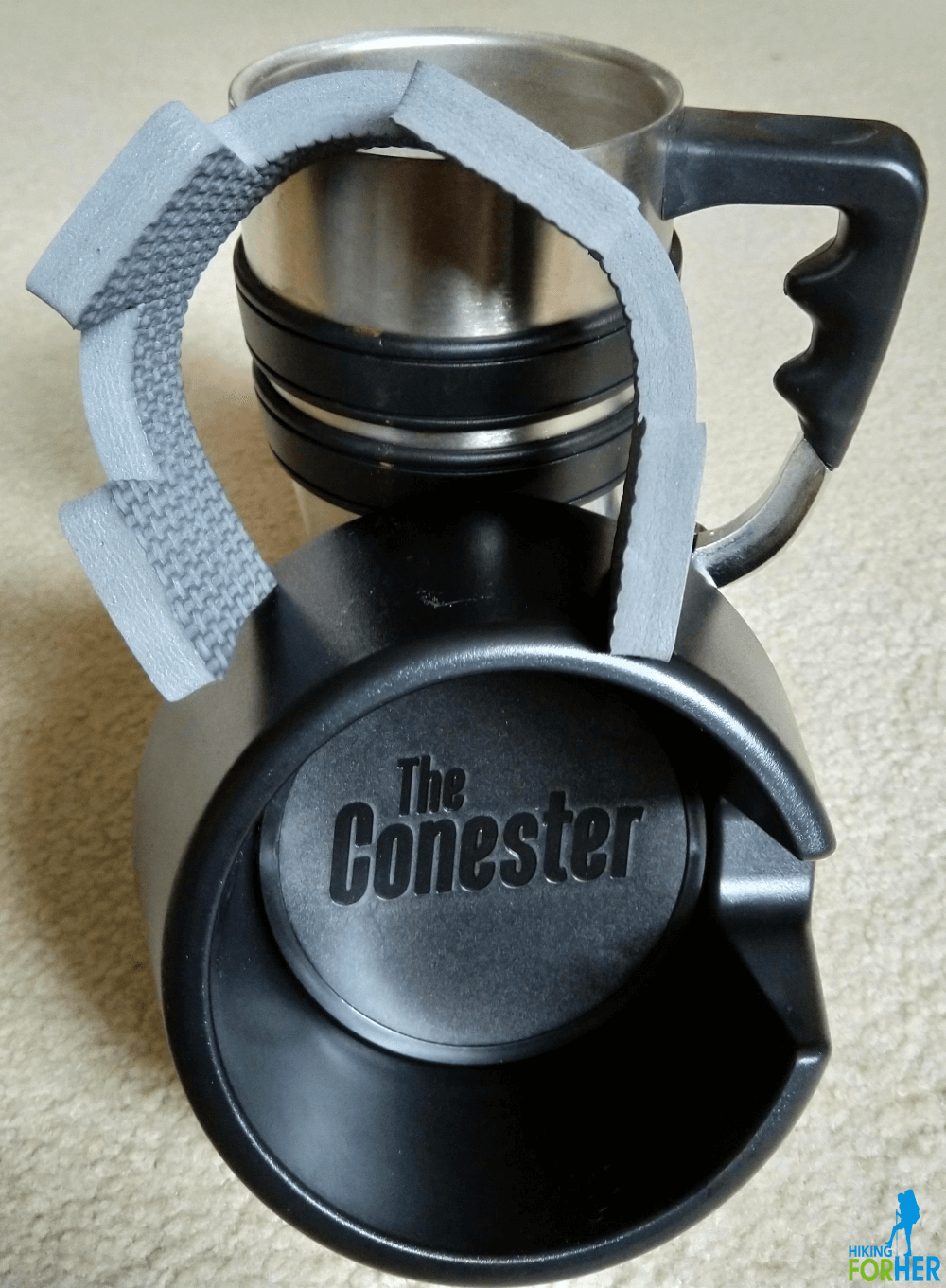 Don't spill your coffee all over your dashboard or camp kitchen! Note the gap for the handle on the bottom right. P.S. That's my mug - not included in the box!
This UCO fire starting kit is a welcome addition to my survival gear, with 12 hurricane matches (yup, guaranteed in high wind), encased within a waterproof case.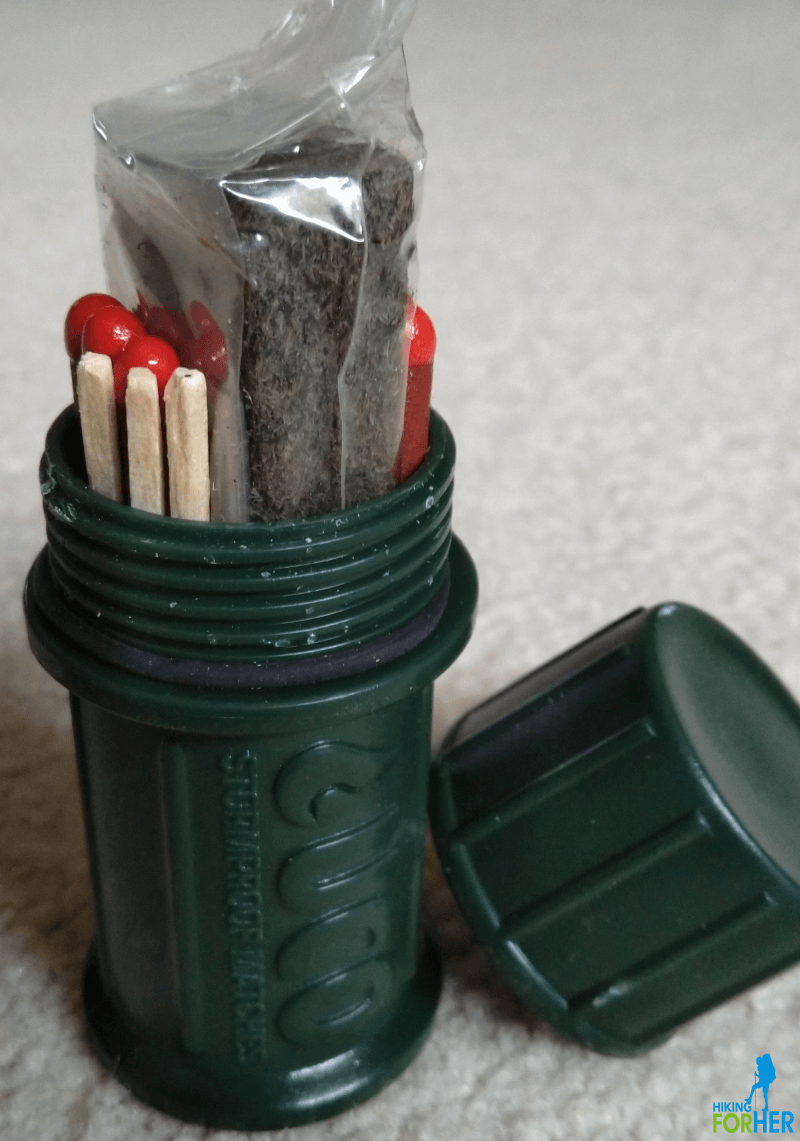 The 3 strikers, tucked into the middle in plastic, are replaceable to extend the life of this survival gear.

Getting hungry?
If you're not using Skratch Labs trail food, maybe you should take a closer look at their products.
The energy bar in this Nomadik box has a good ratio of fast fuel (carbohydrates), sustained fuel release (fats) and satisfying protein, combined to deliver a snack packing 200 calories as part of your daily nutrient intake.
And who can argue with chocolate chips and almonds??

But look a little closer.
See the ingredients?
All naturally sourced non-GMO food from plants, making this trail snack ideal for gluten free hikers, vegans, and those who need to avoid dairy because of digestion problems.
Also makes a satisfying dessert for an evening meal for backpackers


The Nomadik review
conclusion
So there you have it!
Another peek at what's inside a Nomadik box.
This is such a great way to build up a gear inventory when you're just starting out as a hiker and camper, because you don't have to agonize over what you need - it's in the box!
High quality gear, at a fair price, carefully selected around a monthly theme from Nomadik.
Can it get any better than that?
And if you're stuck for a gift for an outdoorsy mom, your trail buddy, or someone just getting started on the hiking trail, get a subscription rolling her way.
You'll be one popular person :)
Before you go, find a vast array of more hiking tips for you here

Home page > Best Hiking Gear Reviews >

The Nomadik Review Part 2 & 3

Hiking For Her is a Nomadik affiliate. When you purchase through the links here, HFH receives a small percentage of your purchase price.
You pay nothing extra!
Hiking For Her: Hiking tips you can trust!