Enjoy Happy Trails, the free monthly newsletter from Hiking For Her.

Receive a free resource: Hiking Layering System Explained

Best Hiker Wallets:
How To Pick The Right One
For Your Hiking Plans
by Diane Spicer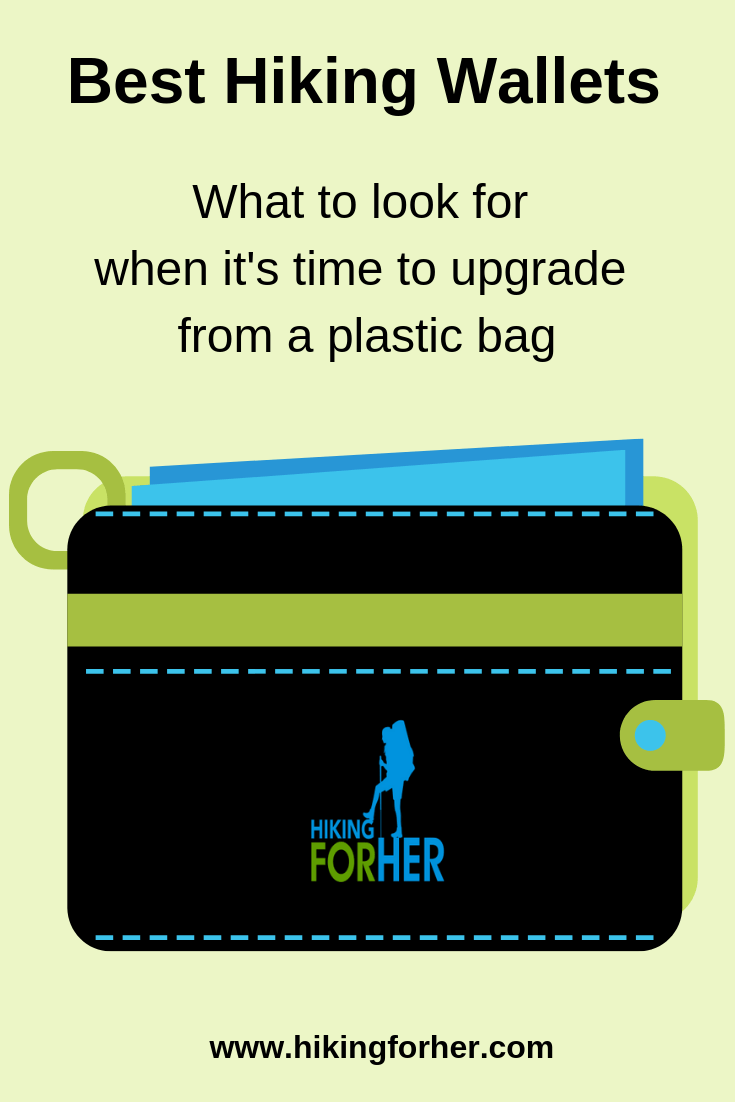 Best hiker wallets?
You mean there are such things in the world?
Yup!
And sometimes it's the little things that make a hike great, like choosing the best hiker wallets to safely hold your identification, permits, credit cards, keys, SD cards and cash.
Cheap plastic bags can gather together these important things, but will rip from repeated uses.

And they aren't exactly friendly to the environment.
Time to take a look at your options for the best durable, secure wallets for hiking!
Hiking For Her is an REI Co-op affiliate as well as an Amazon affiliate. 
Purchases made from this website will result in a small commission for HFH, but you pay nothing extra. This keeps everything humming along and you get the trail tested gear you're looking for.

The prices mentioned are current as of the time of this writing.
14 reasons why being a co-op member makes sense for a hiker, including a 10% annual rebate on purchases

Best hiker wallets:
which type do you need?
You'd think that the universe of hiking wallets would be pretty small.
You'd be wrong!
You have so many options that I'm glad you're here. The information gathered together on this page is intended to shorten your decision process.
In fact, let's use this quick two step process to find out which type(s) of wallet would do the best job for you on a hike, or an extended backpacking trip.
Tip:
You can reverse engineer this process if you are hunting for the perfect gift for your favorite hiker!
A hiking wallet is one of those small, simple items that make trail life just that much sweeter.

Stuffed with a little extra cash? Wow, you're a generous gift giver!
Let's get started finding your best hiker wallets!
Best hiker wallets if you like
to carry a lot of stuff
And your everyday wallet attests to this, bulging with coupons and cards and spare change.
So you'd like to find a wallet for the outdoors that has room for more than one credit card, will safely stow plenty of paper money, and maybe even has room to stash multiple keys.
You may even want to store your phone along with these items. So you need some room!
First, read my review of a waterproof JOTO case that can hold your phone, or be pressed into service to stuff it full of paperwork, cards and cash, here.
Then take a look at these roomy options.
KAVU is a respected outdoor brand, so expect quality and durability in this trifold hiking wallet.

5 inches high, 2 inches wide, internal slots, pockets and a key ring - should be plenty of room to hold your stuff.

Lots of color choices for your 20 bucks, too.

If you'd prefer a bifold option, KAVU has you covered!



Here's another trifold option from a respected brand, in rugged materials with multiple color combos.

The Velcro closure and zip pocket are secure features you'll appreciate.

Runs around $19 US, so you're getting a lot of room for your money.



---
Best hiker wallets if you like gear that stands up to the elements

Rugged, well designed hiking gear, including wallets, make you smile.
You're willing to pay for sturdy, well built functional features, but don't want to pay extra for fancy doodads.
You're in this for the long haul, right?

Here's a waterproof option from Nite Ize.




There are built in attachment points, plus an integrated belt loop to give you options for attaching this to your backpack or hiking pants.

Because it's waterproof thanks to welded seams, it's also dustproof to keep your stuff from getting gritty.

The front is a translucent window so you can see what you need at a glance.

It weighs 1.1 ounces, the price tag is $25.
This company also offers a larger version, a large pocket to store your phone, earbuds, or passport.
Or go with legendary design features from Pelican for $25, with this micro case (6.5 inches x 3.9 inches x 1.75 inches) to store your GoPro or other devices along with your paperwork.
It has a strap or carabiner attachment point, so you can secure it to your hiking gear or belt.
---

Best hiker wallets if lightweight
is the right weight
"Go fast, go hard, leave no trace and for heaven's sake, don't waste extra ounces in a hiking wallet" is your mantra.
Alternatively, you're a hiker on a mission to lighten up your load in response to feedback from aging knees or an achy back.
Among the best hiker wallets is this little beauty:
FlowFold uses recycled sailcloth for a beyond durable wallet which has built in resistance to moisture.

It can hold several cards plus cash, and won't take up a lot of space in a pocket.

It weighs 0.4 ounces, costs $15 US,  and won't rip like your current plastic bag wallet. Ever.



---

The basics, nothing but the basics?
Here are your options!

In a hiking wallet, you're looking for a secure closure to keep your valuables in one place inside your minimalist waistpack or daypack.
You're not interested in finding a particular color or design.
And the brand matters not to you.
Got you covered!




It can't get any simpler than this: tightly woven elastic with a ring to clip it all inside your backpack.

Lots of color and pattern options for your $15 US, although you're probably not interested ;)
| | |
| --- | --- |
| | Here's another basic choice from Chums, with a viewing window, a key ring that can be folded away when not in use, and 2 zip pockets for cards and cash, for around $10 US. |
And don't overlook the minimalist GraniteGear hiker wallet.
For around ten dollars at the time of this writing, it features 30 denier nylon toughness with a weight of .42 ounces to zip up a few essentials and clip it inside your pack using the included tiny carabiner.
---

Multipurpose wallet for travel
AND hiking?
Count me, and maybe you, in!
This brings up the issue of security.
When you travel, your passport and credit cards can be scanned by unscrupulous people without your knowledge or permission.
RFID-blocking material embedded in a wallet will stop this identity theft.
And because you're using this wallet many days of the year, not just on a hiking trail, you'll need a bit more capacity to hold what you need.
But this wallet will have to be travel friendly, to get you through screenings without any problems.
Airport and border friendly, in other words.
Here's a $16 solution from Nite Ize, with a minimalist design created by lightweight stainless steel plates strapped together for a weight of only 1.7 ounces.
But don't stop there!


This wallet is also a wrench, nail puller, scraper, box or bottle opener, multiple types of screwdriver, ruler and protractor - just in case you're going to do a bit of impromptu building or MacGyver-ing.

Not the prettiest option on this page, but definitely gets the job done and then some!
Need another option?

| | |
| --- | --- |
| | For all the reasons already mentioned for the FlowFold wallet above, plus the RFID blocking feature, consider this as one of the best hiker wallets that can transition into travel beyond the hiking trail. |
---
Best hiker wallets:
final thoughts
There is nothing wrong with putting your driver's license, credit card, money and photos in a resealable plastic bag and calling it your best hiking wallet.
I've done it for a very long time myself.
However, I'm wiser now after accidentally "misplacing" the plastic bag on more than one occasion, including a "won't do that again" moment when I thought I had thrown it into a garbage can with a handful of trash.
At a trail head.
Fifty miles away.
Now I'm a firm believer in keeping my heart rate normal, by using a dedicated hiking wallet which I repurpose for my daily walks and travel plans.
So I hope this plethora of the best hiker wallets has given you a few options, and maybe even a gift idea for your favorite trail buddy.
Happy trails!
And speaking of safety...
Home page > Best Hiking Tips >
Best Hiking Wallets
Hiking For Her: Hiking tips you can trust!