October 2018: A Note From Diane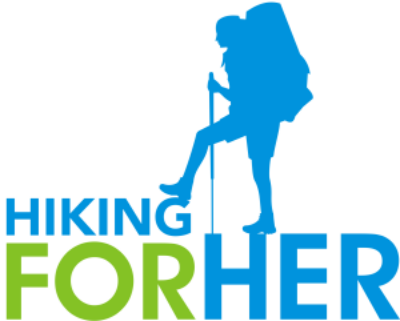 Welcome to October Happy Trails!
Lots to share this month: a brand new hiking award, an app that turns you into a naturalist and scientist, and some new resources for you...
---
HAPPIER TRAILS AWARD
I was sitting at my desk a few days ago, looking at the naturalist app I mention below, when I got this crazy idea:

I need to find a way to give recognition to everyday hikers who are making a difference on the trail.

Then a name popped into my head: the Hiking For Her Happier Trails Award.

Seems like all the awards I read about have "-est" attached: fastest, longest, toughest, youngest, or oldest.

Why not an award that simply recognizes a hiker for doing something nice (or downright wonderful) to support hiking trails, or other hikers?

How refreshing! To sing the praises of a hiker who went out of her way (hiking puns, we love 'em at Hiking For Her) to be a friendly face or to lend a helping hand in some way.

Here's where you come in.

Think of someone in your hiking life who has made your trails happier not by being an "-est", but by being a quiet force for good on the trail.

Details On Happier Trails Award Deadline for nominations: November 15, 2018 11:59P PST.

The award winner will receive the prestigious, marvelous, one-of-a-kind, first ever (but not "great-est") award, announced in the November 2018 newsletter.

And if there is absolutely no interest in highlighting our trail sisters, there WON'T be an announcement.

But wouldn't you love to read about other hikers who are quietly spreading hiking happiness? Please nominate someone today!




---
NATURALIST APP
You might take photos on your phone as you hike, and some of those photos are probably of the trees, plants, animals and birds you see.
Why not contribute your information to a community of 750,000+ scientists and naturalists?
This biodiversity app allows you to contribute photos of your observations to a growing global database with a lot of enthusiastic participants: over 14 million observations from 390,885 observers around the globe. -link no longer active-
And here's the fun part: it was the brain child of three masters students in 2008, and grew into what it is today due to collaborations with National Geographic and California Academy of Sciences, among others.
I "lost" several hours just clicking around on the photos and world maps on my computer, so be forewarned!! So many fascinating life forms on this planet... and now you have a way to enjoy them all.
---
HIKING FOR HER GIVEAWAYS
You have a few more days to sign up for a chance to win a lovely down vest for your shoulder season hiking plans.
I reviewed it here, with some photos detailing the fit and features.
On November 1st, a new giveaway will be announced, so why not bookmark this page?
Hiking For Her Giveaway Details
Have you signed up yet for the weekly updates? This week there was a flash giveaway just for the weekly readers: a brand new book on the history of hiking.
Here's my review of the book, in case you're a history buff.
Ramble On: History Of Hiking Book Review
You never know what you're going to find in each week's edition, so use the sign up link at the bottom of this newsletter to get in on the fun.
---
BEST HIKING TIPS FOR OCTOBER
I was in a writing groove this month. Here's what I came up with for you:
Plus Size Fall Hiking Clothing Guide

How To Put Together A Sleep System

Best Gift Guide For Hikers
Side note: I don't just randomly pluck items from the ether to fill up this gift guide.
Instead, I think back over the year to what I've used, tried, or wanted to try. Then I take a hard look at the reviews, the product specifications, and the price points before I pull together this guide.
It has 3 price tiers, with 5 gifts per tier, and every one of them I own, have used, or have added to my own wish list.
And to be brutally honest, there's a pinch of laziness mixed in: when guys write to me asking what to buy for their hiker women, I just send them the link ;)
Another review for you
Along with the down vest review, I tested an ultralight quilt filled with a brand new synthetic down from Outdoor Vitals. If you're thinking about replacing or augmenting your sleep system, read this first:
Outdoor Vitals Quilt Review
---
MOUNT RAINIER DAY HIKING VIDEOS
I get a lot of emails during fall and winter months, asking me which trails at Mount Rainier National Park are worth doing.
Ready for more brutal honesty? 99% of them!
But now you can see for yourself what I see on day hikes on and around Mount Rainier, with this series of trail descriptions + photos + videos.
Along with the usual trip facts like trailhead location, length & elevation gain, I share my insider tips on what to watch for, trail cautions, trail trivia, and why I hike it.
I'll be adding to this series over the coming months! Come along on my hikes, won't you?
For Waterfall Lovers: Comet Falls And Beyond
Alpine Meadows, Marmots And Huge Views: Summerland
Mountain Goats And Tundra Terrain: Burroughs Mountain
Black Bears And Serenity: Owyhigh Lakes
---
SUSTAINABILITY IN OUTDOOR CLOTHING
I noticed a website that traces the path of all of the components of a piece of hiking clothing. Kind of mind blowing, actually.
Here's an example: The North Face Denali 2 jacket.
Use this link to look at a map, or watch the slide show, to discover how the materials and fabrics for this jacket (the supply chain) are responsibly sourced from various places in the world:
Responsible Sourcing Efforts
Coincidentally, when I took a close look at the technical features of this jacket, I noticed that REI Co-op has marked it down from $179 US to $133.73, with free shipping.
Supplies are limited, but if you're looking for great fleece outerwear (in your choice of 5 colors) from a company that is pioneering high industry standards, now's your chance!
The North Face Women's Denali 2 Jacket
---
THAT'S A WRAP!
Thanks for reading all the way to the end. You've got fortitude, dear hiker.
Please consider who in your life makes hiking trails happier in small or maybe not so small ways, and nominate them for a bit of recognition.
I can't invite them to a huge banquet in their honor, but at least I can invite you to join me in giving heartfelt thanks for the unsung trail angels among us.
May your October trails be rewarding, and as cozy as possible in down vests and fleece jackets!
P.S. Thanks for your encouraging emails. Knowing how busy you are, I am beyond thrilled to receive them.
Happy Trails Always,
Diane a.k.a. Happy Hiker
diane@hiking-for-her.com
---
Did you receive this newsletter from a friend?
Sign up for your own free monthly subscription.
Or a free weekly hiking update!
---
Stop by these HFH pages for a little hiking inspiration! Likes, comments and shares are always appreciated.

Hiking For Her

HFH Facebook

HFH Pinterest

HFH Instagram Page

HFH Amazon Author Page

HFH Goodreads Author
Please consider this invitation:
Join Our Over Forty Hiker Community
---
Some of the links in this newsletter and on the Hiking For Her website may be affiliate links.
What does this mean for you?
You create a small miracle when you buy hiking gear through those links, by allowing a small percentage (low single digit) of your purchase price to flow into the HFH coffers.
What's so miraculous about that?
You receive great gear that has been trail tested and approved by a seasoned hiker. You pay nothing extra. AND you help keep the free hiking tips flowing to your virtual trail buddies.
Wow!
And a sincere Thank You for your vote of confidence in Hiking For Her. It means a lot!
---