Enjoy Happy Trails, the free monthly newsletter from Hiking For Her.

Receive a free resource: Hiking Layering System Explained

Best Hiking Gift Guide:
Use This For Great
Gifting Suggestions

by Diane Spicer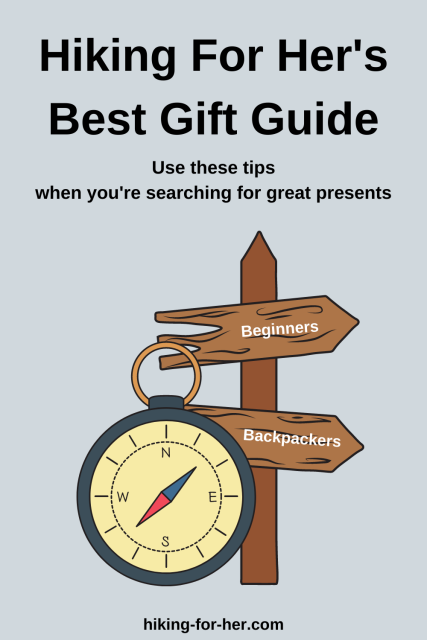 There are plenty of gift guides floating around, but finding the best hiking gift guide just in time to create happiness in the heart of your favorite hiker?
Wow, you're in luck.
Here it is!

Already a hiker?

Why REI Co-op?

Using REI Co-op as a trusted source for these hiking gifts is a no brainer.
Three reasons:
Excellent selection of quality outdoor gear and clothing at various price points and sizes makes gift giving easy.

As a co-operative, they give back a percentage (typically 10%) of your annual purchases every spring.
And lastly, REI demonstrates awareness of environmental and inclusion issues far beyond many other big gear companies.
Just two examples:

REI Product Sustainability Standards are now in place


Through the Force of Nature Fund, REI awarded grants ($1 million) to 29 organizations that connect women and girls to the outdoors
These reasons also explain why I'm an REI affiliate.
I know they carry top brands, offer great customer service and return policies, and give back to their members via the annual dividend mentioned above.
A note on the affiliate relationship
When you purchase hiking gifts from REI using the links in this best hiking gift guide, Hiking For Her receives a modest percentage of your purchase price, yet it costs you nothing extra.


Best Hiking Gift Guide

"rules"
This hiking gift guide is definitely not a collection of random hiking stuff.
You've found one of the best guides to gift giving for hikers, because it is vetted by a veteran hiker who knows her way around the always changing world of hiking gear and outdoor clothing.
To make it into this hiking gift guide, each gift meets three specific gifting rules:

Best hiking
gift guide suggestions:
you have 3 choices

Because I don't know your budget or your hiker, this guide is organized into three separate pricing tiers:
$ Spend a little, get a lot $

$$ Deliver awholelotta hiking goodness on a budget $$

$$$ Wow! You really love this hiker $$$

In total, 15 gift suggestions for hikers are lined up for you in this best hiking gift guide! 
Every one of them is something I own, have used, have gifted myself, or have added to my own current wish list.
A tip for using the guide:

Click on each image for REI's detailed description, current price, and customer reviews.
And now, for our first category:

 

$

Small price, big happy smile

$




These five gifts under, or near, $20 are just right when you want something practical but thoughtful as a hiking gift.

---
$

Gift #1

$

Is your favorite hiker (or trail buddy) a neat freak?

If everything has a place, she'll love this Nite Ize Gear Line Organization System.
It weighs 4.5 ounces, but will give her endless possibilities inside the tent for her lighting, electronics, wet clothing or gear, and more.
This can also be used in a camp kitchen, or in her gear locker at home, to round up all of those little items that you need but just can't seem to put your fingers on.

---

$ Gift #2
$
Staying with our organization theme, this set of 3 REI Co-op Nylon Ditty Sacks makes segregating gear inside a backpack an easy job.
Looking at this cheerful line up, I see a happy yellow lunch sack, a blue first aid and emergency supply gear sack, and a colorful red ten essentials sack.

---

$ Gift #3
$
If your hiker is just getting into backpacking, this stainless steel small pot makes a great start to her outdoor kitchen, with its hinged handle and fitted lid with top handle,.
MSR Alpine Stowaway

1.1 liter cooking pot
Even day hikers can use this gift, as part of a survival kit for scooping up snow to melt or collecting rain water. It would fit very nicely into that red ditty sack above!

Want to jazz up the gift a bit?
Or nestle this first aid kit within.

---

$ Gift #4
$
Another approach to inexpensive gift giving for a hiker is to stay with the classics.
A Buff comes to mind.

This stretchy microfiber bandana, hairband, scarf, you name it is something every hiker will hunt for time and time again in her backpack.




And don't worry, it isn't even possible to have too many Buffs, because they come in an assortment of eye catching colors and designs.
---

$ Gift #5
$
Here's one of the most practical items in my own backpack: a REI Co-op Sit Pad.
Great for kneeling in the snow or dirt, or additional cushioning to prevent body heat from escaping when seated on cold wet rocks.

---
Now let's move on to another category of potential
hiking presents in our best hiking gift guide
for your consideration.
---
---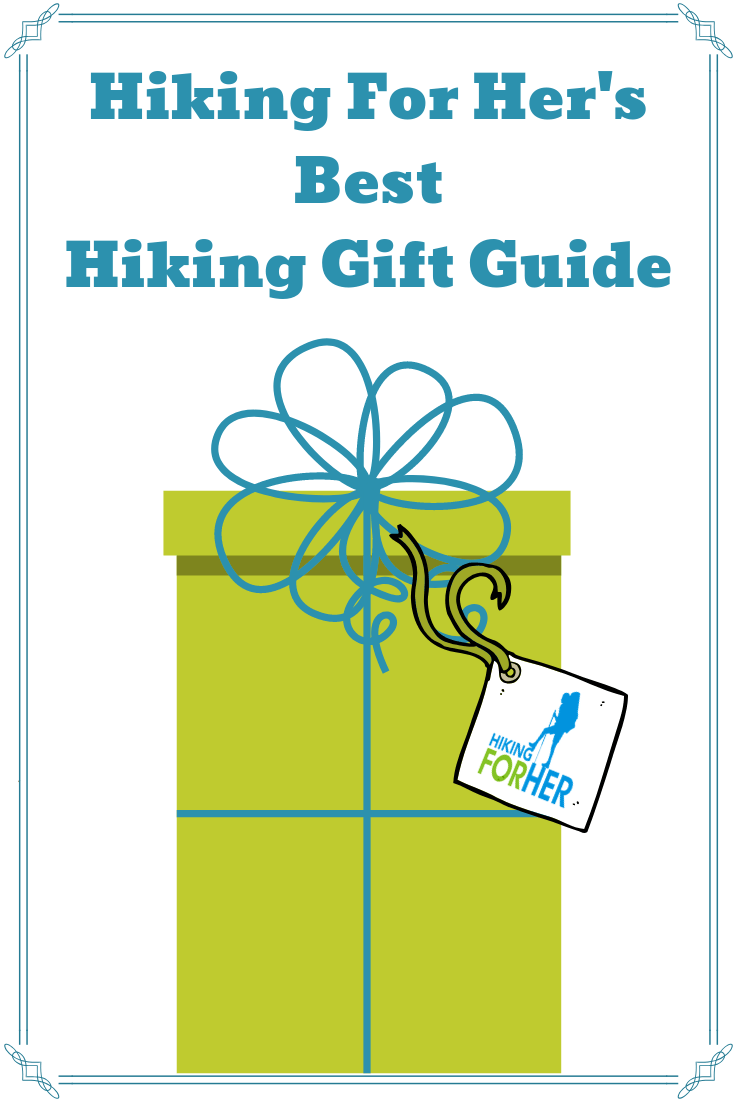 $$ Lots of bang for your buck
$$
These hiking gifts are unique, thoughtful, or both.

Under $50, too.
Click on each image for REI's detailed description, current price, and customer reviews.

$$ Gift #1
$$
Sometimes your hiker wants to go as fast and light as possible on a short day hike.
Help her out with this REI Co-op Trail 2 Print Waistpack.
Just enough room to stash keys and snacks, comfortable enough to forget she's wearing it thanks to the breathable mesh back panel.

---

$$ Gift #2
$$
Or is she more of a backpack type of hiker?

This REI Co-op Flash 18 Pack is going to make her smile when she wants good design features like padded shoulder straps, detachable hip belt and sternum straps, hydration compatible interior, and ice axe loops for gear attachment.

---

$$ Gift #3
$$
If your hiker is building up her inventory of backpacking items, this Cocoon CoolMax Mummy Liner can save her from the expensive of a new sleeping bag.
It's designed to provide 5 degrees (Fahrenheit) of additional warmth inside a sleeping bag, yet weighs only 9 ounces.

And on mild nights, it can act as a lightweight blanket on top of a sleeping bag.

---

$$ Gift #4
$$
Now here's something you don't find in every hiker's gear: the Zippo HeatBank 9S.

What the heck is this thing?
Genius, pure genius:
rechargeable hand warmer

a power bank for recharging USB-copatible devices

---

$$ Gift #5
$$
One of the hiking essentials is illumination.
Hikers prefer headlamps, to keep hands free for camp chores, navigation and gripping trekking poles.
This Black Diamond Storm 400 Headlamp ticks all the boxes for a great piece of hiking safety gear.

---
---
And now, our final five suggestions in this
best hiking gift guide.
Let's call this category...

$$$

Wow, you're generous!

$$$




Sometimes you want to delight your hiker with a special occasion gift to convey your sentiments without saying a word.

Although these gifts hover around $100 or go way beyond, you just never know when REI will put them on sale!

And all of them are items I have used and can highly recommend as stellar hiking gifts.

Click on each image for REI's detailed description, current price, and customer reviews.
$$$
Gift #1

$$$
An all-in-one heating system makes nearly instant hot water for a warm hiking lunch (think soup, tea, coffee and hot chocolate) for day hikers and backpackers alike.
This JetBoil Flash Cooking System has many things going for it:

Super easy to use, lightweight, and a handy survival item to pull out of the pack when needed.

And that bright red ditty sack you saw above? It would fit nicely into it.
Note that the fuel canister is sold separately, but can't be sent to you due to federal regulations.
Your nearest REI store has an abundant supply.
---

$$$

Gift #2

$$$
I can't say enough good things about hiking with trekking poles, to save knee cartilage, enhance balance, and cut down on fatigue while hiking steep trails.
Black Diamond makes the Trail Trekking poles I trust.

A pair of hiking poles for an older hiker, or one who is recovering from an injury or recent surgery, will be a welcome gift for years to come.

These are adjustible, with grips designed for smaller female hands.

Switch out the baskets for year round use!

---

$$$

Gift #3

$$$
If your hiker travels in bear country, she has a few options for storing her food safely.
Here's the Ursack Major Bear Bag, which fits easily into her backpack and doesn't require hanging at her campsite.
It's suitable for terrain where chewing rodents are a menace, too.

---

$$$

Gift #4

$$$
Hikers are always looking for ways to stay drier and warmer.
Adding this pair of Kahtoola LEVAgaiter GTX Gaiters to a hiking outfit is a sure fire way to guarantee debris- and mud-free boots when the trail turns yucky (that's a technical term).
---

$$$

Gift #5

$$$
Here's a little something in our best hiking gift guide that goes to peace of mind.
Sometimes loved ones worry about a hiker when she's away doing the thing she loves (ahem!).
Here's a great way to stay in communication with her: a Garmin inReach MIni.

With this nifty little high tech gadget weighing less than 4 ounces, she can:

relay and receive messages on the trail
share GPS coordinates so you can track her progress
send an SOS message if the need arises
I've carried these communication plus navigation (all in one) devices in the backcountry on numerous hiking trips, and can state that the peace of mind the SOS button (never deployed, luckily) bought me was priceless.
Garmin inReach Mini | REI Co-op
Note: This device requires a yearly subscription for activation. It's not cheap, but if you're at all worried about staying in touch with your solo hiker, or giving her a way out of a dicey situation, this is an ideal gift for peace of mind for both of you.
---

Bonus suggestion
in our best hiking gift guide

A hiker needs to keep track of time and distance, and may want to monitor pacing and performance as she hits benchmarks on a hike.
And how about a heart rate monitor, an altimeter and pulse oximeter, useful for elevation changes?

A Garmin vivoactive 4S GPS Smartwatch is just the piece of technology she would love to have for alerts, tracking of steps and calories, and ability to store her favorite playlist.

---

Any questions
about the choices in this
best hiking gift guide selection?

If you're wondering about how to make sense of any the product details, please contact me.
I'm happy to help you find exactly the right gift for the type of hiking your favorite hiker enjoys.
Let's kick around ways to customize your gift, to get it exactly right.

What if she already has
all of this hiking gear??

Ah! You've forced me to reveal a little secret:
Tuck one into something fun like a kicky pair of socks, and you're golden.


Hey, thanks for using this
best hiking gift guide!

I appreciate you because you're a thoughtful gift giver, looking for the best hiking gift guide before you select your gifts.
My hope is that my best hiking gift guide will point you to the perfect (and easy) presents to make your favorite hikers smile, mile after mile.
If you're still not sure about what to give, REI makes it simple to find something just right with their top notch website.
Tip: Watch for the little blue truck and the message "This item ships for free!"
And don't forget: your generosity as a gift giver will pay you back in an annual dividend when you are an REI Co-op member.
Read more about member benefits here.

You are your own reward ;)

Happy Gift Giving!
Home page > Best Gifts For Hikers >
Best Hiking Gift Guide
Hiking For Her: Hiking tips you can trust!