Best Backpacking
Sleep System:
How To Put One Together

by Diane Spicer
If you're reading about the best backpacking sleep system, you've probably graduated from day hiking to overnight or longer hiking trips.
Congratulations!
But now you've got some hiking problems to solve.
One of the most important:
how to keep yourself warm through the night, regardless of the type of shelter, and the level of moisture, which surround you.
And that's why you found this page:

to learn what you need to know about choosing the best backpacking sleep system for your hiking style.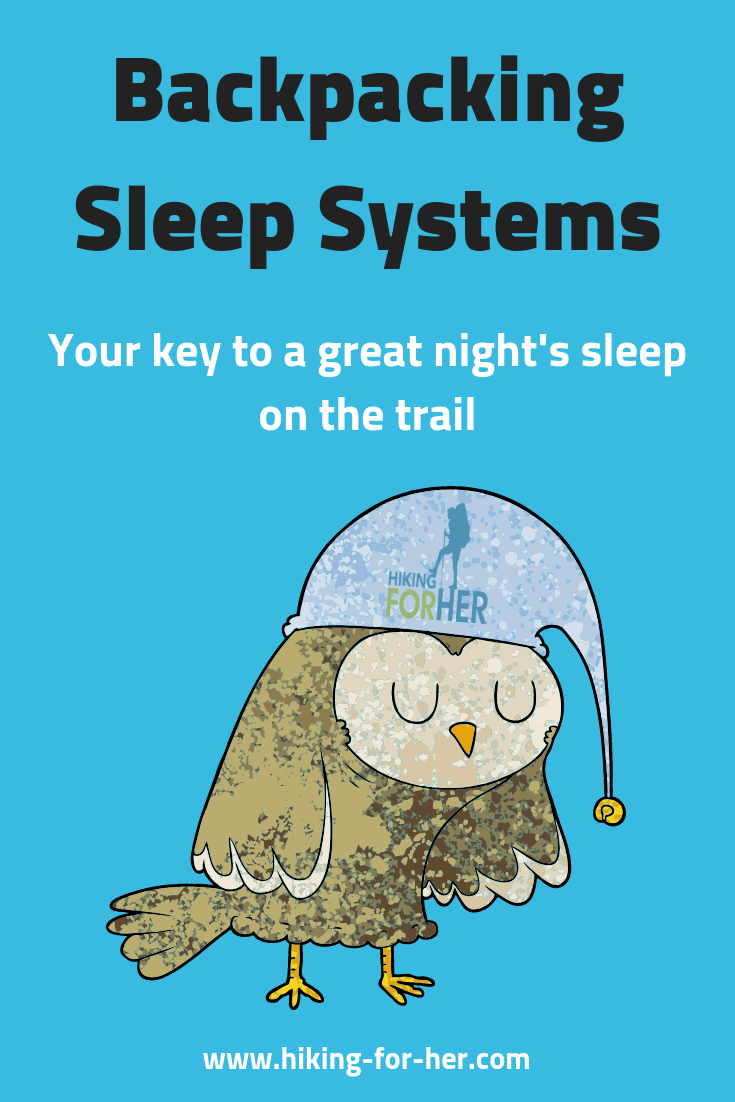 Let's define a

backpacking sleep system
Your sleep system in your bedroom is your bed + bedding.
Breaking it down into individual components yields your unique sleep system:
Same idea goes for your backpacking trip, except you're hauling around your sleep system on your back (you did realize this, no?).
AND it needs to be warm and comfortable, just like at home, but also:

lightweight




moisture resistant

keeps you warm when wet

dries quickly to avoid adding weight to your load




easy to deploy and pack up

compressible

easy to launder and maintain, both on the trail (clothing) and back home

Geez, who knew, right?
But hang in here with me, and we'll get you on the trail to the perfect backpacking sleep system by the end of this page.

You have my permission
You have my permission to run away from anyone who tells you that there is one right answer to the "what is the best backpacking sleep system?" question.
You've got to find what works best for you!
And just so you know
I don't waste my precious time or money on gear that doesn't work.
Neither should you.
And I'm willing to bet cold, hard cash that you value your sleep every bit as much as I do.

That's why I'm going to put the best of the best outdoor sleep system components in front of you for your consideration.
Ready to generate some Zzzzzz's?
Hey, wait! Not quite yet!
You've got some reading to do ;)

Best backpacking sleep system
components
Your sleep system for a backpacking adventure has these main components:
body heat containment unit: sleeping bag, quilt, bivy


liner for additional warmth




sleeping pad if you're a ground sleeper

hammock if you're not
Hammock sleepers have additional components to consider:
top -vs- bottom quilts

rain cover

These will be covered in a separate article, coming soon, so check back.

Some hikers consider warm clothing, a hat, a pillow, and a stuffed bear (not the live kind!!) as vital components of their sleep system.
Let's take a peek at each of these.


Backpacking sleep system:
choosing your bag
or backpacking quilt
If you camped or had sleepovers as a kid, you're familiar with the idea of crawling between two layers of fabric, zipping up the bag, and scrunching yourself up within it as your body heat warms up the inside.
And you probably used a squeaky, slippery plastic blow up camping mattress beneath your body at least once before, for comfort and insulation.

Now, as a backpacker, you need a lot more than that.
Time for a little reading, beginning with your body heat containment unit of choice: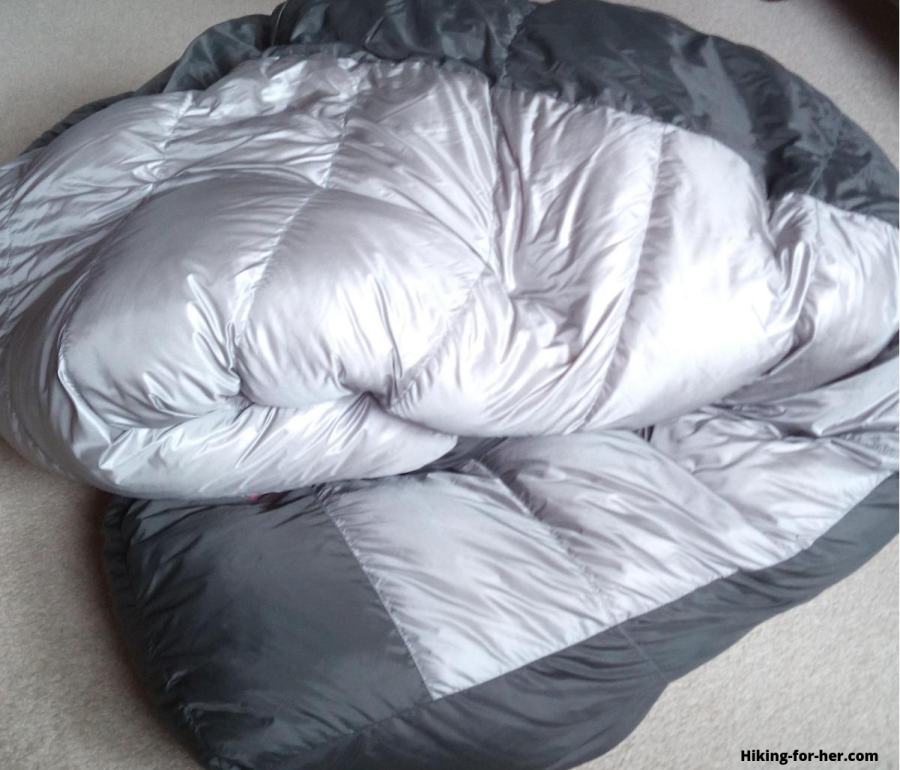 Soft, cozy, inviting, but also water repellent, durable and compressable - that's what you're going for in a sleeping bag or backpacking quilt

The female angle
to staying warm

Women are notoriously cold sleepers.
A few tips for how to choose your "body heat containment unit":

If you're an exceptionally cold sleeper, you want a sleeping bag with extra padding in the hip and feet area.
You'll also appreciate a sleeping bag or quilt that cinches down snugly around your neck, preventing cold drafty episodes that wake you up.
You can also learn to use clothing as a deliberate part of your core warmth strategy - keep reading for tips.

What lies beneath:
choosing the best sleeping pad
There are many types of sleeping pads on the market, with various characteristics that might be important to your sleep comfort:
self inflating versus huff & puff


insulated

ultralight

inexpensive
Start your reading here:
Just for the record, when I need to go fast and light, I use a Big Agnes Q-Core Insulated SLX sleeping pad.
I also use a more cumbersome but comfy self inflating Thermarest: a women's Prolite Plus.

What else belongs in a
backpacking sleep system?
Including your choices of clothing and head covering, plus a pillow, seems entirely reasonable to achieve a good night's sleep.
Want warm feet while you sleep?
Cover your head!
The fastest way to a warm body is pulling on a hat.
A female hiker should have a repertoire of hiking hats, and sleeping is no different than the trail: as conditions change, so should your hat.
Over the years, here's what I've noticed works really well to fall (and stay) asleep in:
An inexpensive, cozy fitted fleece beanie for summer, like this one from REI Co-op

A wool cap lined with fleece for spring and fall. This Arc'teryx Bird Head toque is a good balance between warmth and comfort.



And then there's the nuclear option, staying as warm as in the belly of a star where nuclear reactions create massive heat:
Your options for this complete coverage of head and neck are fleece and merino wool, just as with your hat!

This one is soft and cozy, and can be adjusted to be loose around your neck, or pulled up like a hood to fully cover ears and head.

During the day, use it to cushion and protect electronics inside your backpack.






Or you can go streamlined, like this Smartwool clava.

Not as versatile, but not as heavy, either.

You pull it on in one smooth motion, and it's fitted but not claustrophobic.

Moisture wicking, breathable and soft!





Backpacking pajamas
a.k.a. long undies as pjs

I've found that dedicating a lightweight but warm pair of long underwear to my sleep system serves me well.
No food odors in bear country

No sweat stains or odors in my nostrils as I fall asleep




(Relatively) clean and dry to crawl into after a long day of hiking on a multiday backpacking trip

Feels great against my skin; helps me with full body relaxation so I drift off faster

Here are my two favorite brands:

Pair them with their matching bottoms, and never shiver again.
Trail tip:
Because I only wear this clothing for sleeping, it has lasted for many, many seasons.
Even if you put yours into regular rotation in your hiking wardrobe:

For sweet dreams,
remember your pillow
Some backpackers belong to the "I'll just cobble something together from clothing" school of thought.
| | |
| --- | --- |
| | Others take no chances with their sleep comfort, and bring a pillow like this NEMO Fillo Backpacking Pillow. |
For another great option, you can read my review of the Outdoor Vitals ultralight backpacking pillow here.
---

Now you're one giant step closer
to the perfect
backpacking sleep system!
Congratulations again! You rock!

Now it's time to start making a shopping list.
And heads up:

As your body ages, your hiking style changes, so you might will discover that you need to modify or change your sleep system components.
So get crackin'!
Or risk sleep deprivation from being cold and uncomfortable during the night, which robs you of full enjoyment of your backpacking trip.
Ewwwww!

Oh, and one more little thing...


A prepared backpacker
needs to embrace systems

You've got your backpacking sleep system dialed in.
Now turn your attention to how to haul it around a.k.a. choosing your backpack.
And there's one more system: your shelter.

Oops! One more!
Your clothing layering system
Looks like you've got some more reading to do ;)

Enjoy the journey to a well stocked gear locker!

Home page > Best Backpacking Tips >
Best Backpacking Sleep Systems



Hiking For Her's weekly emails keep you current on hiking & backpacking news.


Free, fast, fun info for you, every week of the year.

Use the box below for fast sign up!






flash giveaways
timely deals
steep discounts
freebies

resources
Don't miss out!

Read more about these hiking weekly updates
As an Amazon Associate,  Hiking For Her earns from qualifying purchases. 



All rights reserved. 





Photo credits: All photos on this website were taken by David Midkiff or Diane Spicer.