Enjoy Happy Trails, the free monthly newsletter from Hiking For Her.

Receive a free resource: Hiking Layering System Explained
Mount Rainier Hiking Summerland:
Video And Tips For
Your Best Rainier Dayhike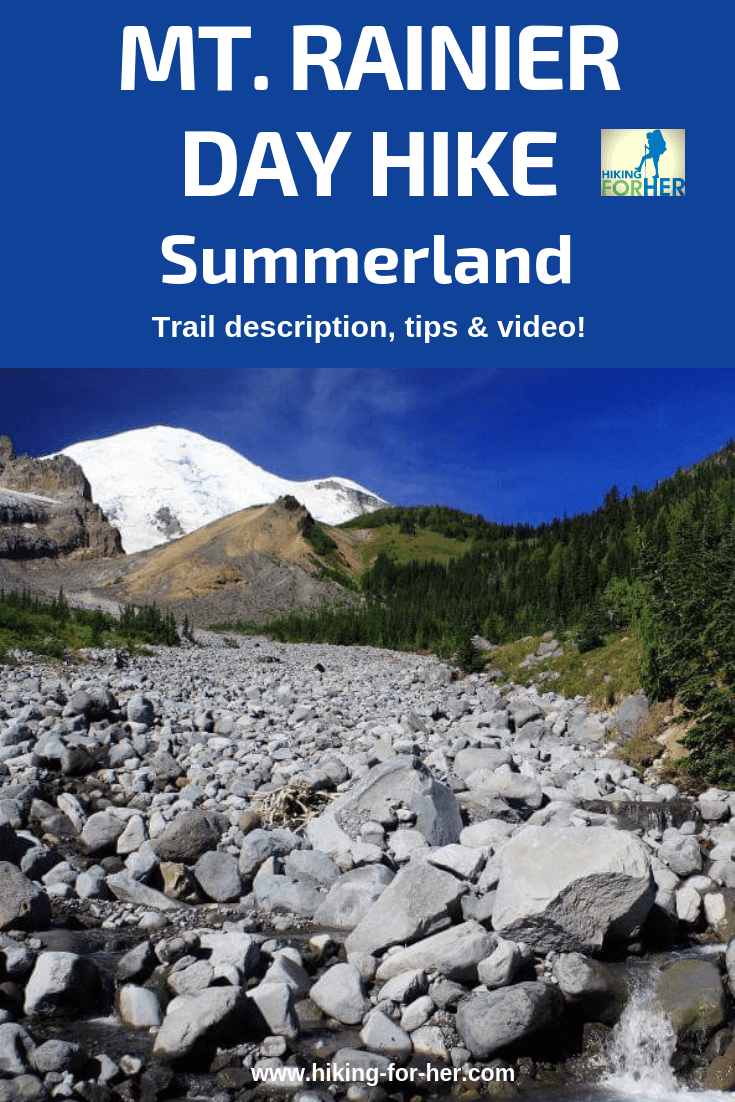 This Mount Rainier hiking Summerland day hike description gives you photos, words and a video so you can formulate a complete understanding of why this place is worth your while!
Mount Rainier Summerland
trailhead
Mt. Rainier general hiking info:
There is an entrance fee.
You don't need a day hike pass.
No pets or bikes are allowed on the trail.
For more information from the National Park Service about Rainier hiking Summerland,
Use the White River Entrance to Mount Rainier National Park, off Highway 410.
Once you pay your fee at the official entrance, several twisty turny miles from the turnoff, drive three more miles toward Sunrise.
Keep an eye out for a very limited parking area on your right, just over Fryingpan Creek.
It comes up fast, and there's no place to turn around if you overshoot it.

The trailhead is on the southwest (left) side of the road.

As with many other Rainier hikes, parking is severely limited.
The trailhead takes off right from the Paradise road, and rangers frown upon those who take it upon themselves to park outside of the designated spots.
You need to arrive by 7A to be completely sure you'll have a parking spot, so if you're traveling from the Seattle area, set your alarm clock for way early.

Mount Rainier Summerland
length and elevation gain

These figures are approximate.
Round trip: 8.4 miles.
Elevation gain to Summerland: 2100 feet
You want to budget in plenty of time for appreciating the beauty of this special place, so if you luck out and get a parking space later in the day, keep track of the time needed to reach the trailhead in daylight.

Mount Rainier Summerland
trail description

The trail begins as if in a dream:
You're mostly in dense forest, with limited views.

Once you cross Fryingpan Creek on a roughly hewn log at the three mile mark (and revel in your first good view of Mount Rainier - see photo above), you'll want to tighten up your boots.
Because this is a national park, expect a well graded trail with switchbacks that sashay up the hill.
Once you gain the high point (~6000 feet) at Summerland Camp (a backcountry camping area by reservation only), here's what you'll see.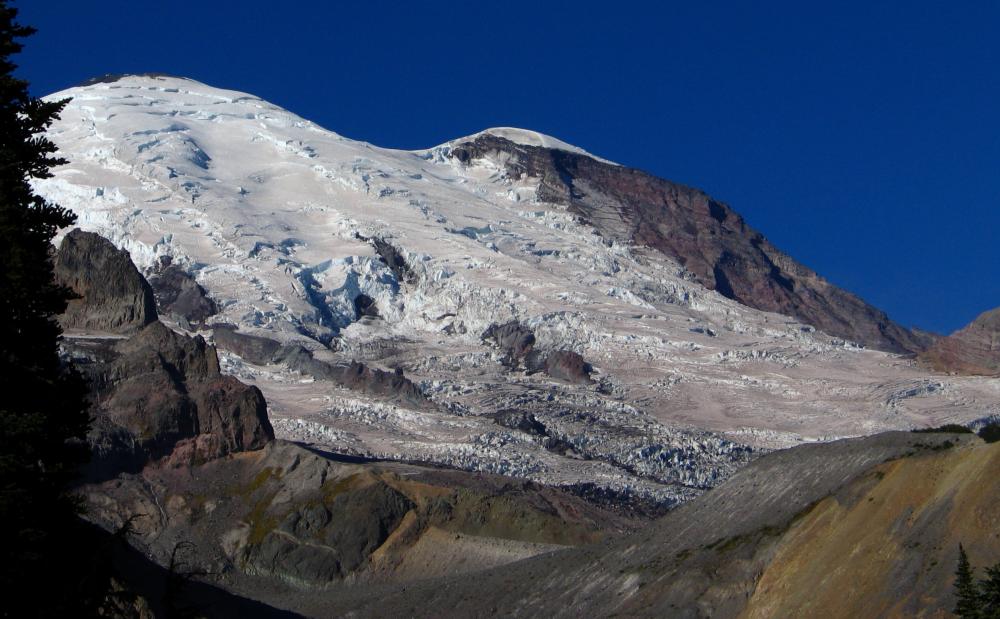 Free airconditioning on a hot summer day in Summerland, courtesy of Mount Rainier glaciers

Mount Rainier Summerland
trail cautions

Snow can linger through July and into August on the last mile of this trail, making it difficult for some hikers to navigate both the steepness and the uncertain footing.
You will encounter a lot of people on this trail (but no dogs, as it's a National Park). If you were expecting solitude, reset your expectations so you don't get cranky.
You can push on past Summerland toward, or to, Panhandle Gap for a chance at fewer people.

Read that trip description here.
Mount Rainier Summerland
trail trivia

Summerland was well named by Edward Sturgis Ingraham, who summited Rainier 13 times before his death in 1926.
Several hundred hikers a day use this trail in high summer.
Why hike it?
Here's what keeps me coming back again and again:
the wildflower show, which changes every few weeks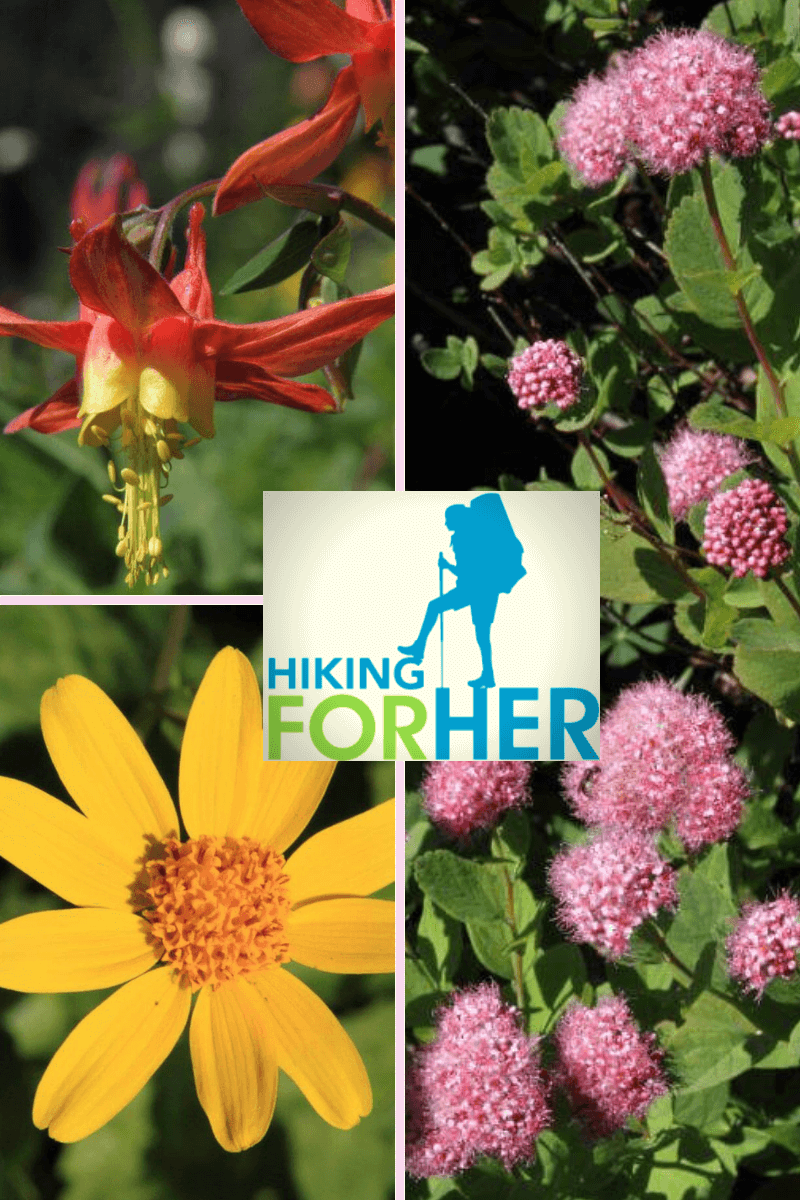 More reasons for Rainier hiking Summerland hours:
Panoramic views of Rainier and Little Tahoma

Mountain goats are frequently spotted

Marmots whistle as you pass by
Mount Rainier day hikes don't get any better than this one.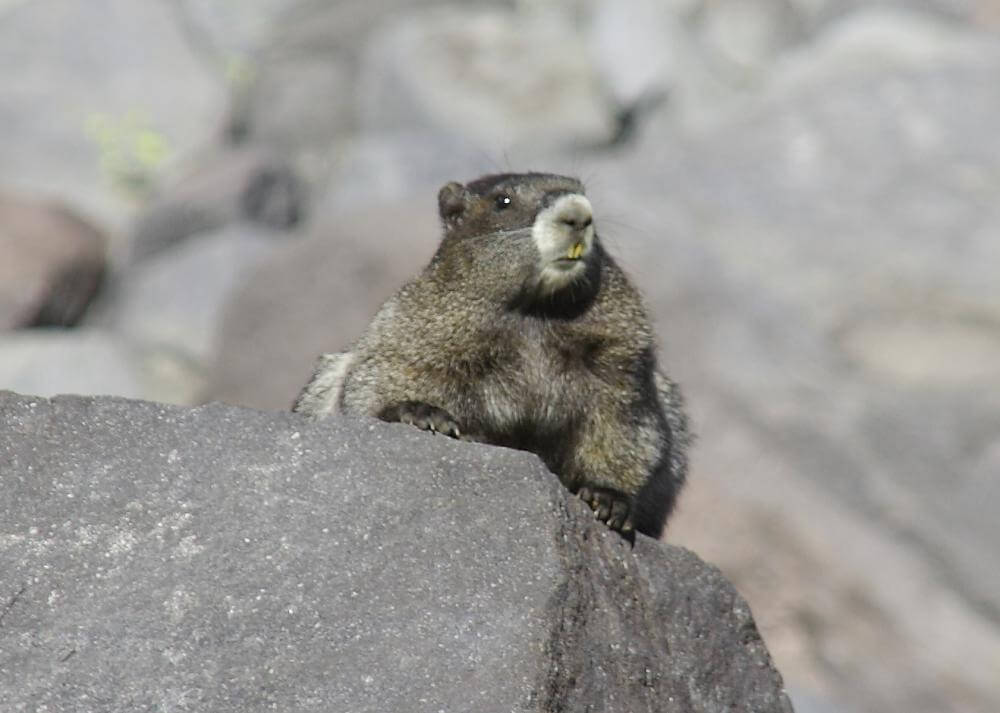 This place could just as well be named Marmotville

Rainier hiking Summerland:
any questions?
This hike is straightforward and follows a well established trail, but if you have any concerns or questions, contact me and I'll give you the scoop.
More great Mount Rainier day hikes for you to explore:
photos, trail descriptions and video!

Mount Rainier Hiking Summerland