Enjoy Happy Trails, the free monthly newsletter from Hiking For Her.

Receive a free resource: Hiking Layering System Explained
Mount Rainier Hiking
 Burroughs Mountain
Day Hike Video
And Trail Tips

By Diane Spicer

This description of spending your day at Mount Rainier hiking Burroughs Mountain paints a picture, but there's nothing like a visual presentation of the splendor of this hike.
So this trail review will include written words, photos and a video!


Mount Rainier hiking
Burroughs trailhead
Mt. Rainier general hiking info:

There is an entrance fee.
You don't need a day hike pass.
No pets or bikes are allowed on the trail.
For more information from the National Park Service about Rainier hiking Burroughs, read this.

Drive 14 miles and climb to 6400 feet on the Sunrise Road, accessed via the Sunrise/White River turnoff on Highway 410.
This road opens in late June/early July depending on snow levels, and closes when the snow flies, usually late September/early October.
You will pass through a ranger checkpoint, which collects a fee.

Park in the spacious and paved parking lot.
Trail tip:
This place becomes a zoo in high summer, so park well away from the visitor's center and bathrooms so you can get your gear on and off without getting sucked into the circus.
You'll head off toward The Mountain (Rainier) from the NW corner of the Sunrise parking lot.
Here's your view just a few steps from the parking lot!
You need to check off this sequence of destinations before you get to the real trailhead:

Mount Rainier hiking Burroughs length & elevation gain
Statistics for round trip: (approximate)

First Burroughs: 3 miles, about 800 feet gain




Second Burroughs: 6 miles, 1,345 feet total elevation gain




Third Burroughs: 9 miles, 2,500 total elevation gain; 7800 feet at the top and a drop dead gorgeous view of Rainier
Here's what you get for your effort!
Tip: This video is best viewed full screen on a monitor, to catch all of the glory of the hike.

Mount Rainier hiking Burroughs:
trail description

Burroughs Mountain, on Mount Rainier's northeast slope,  is actually a three-for-one hike.
You can start at the Sunrise entrance parking lot, ascend to First Burroughs, and call it a day with your hiking pride intact.
But why not be lured even closer to big beautiful Rainier?
Second Burroughs will cost you a few more calories, and reward you with views like this one: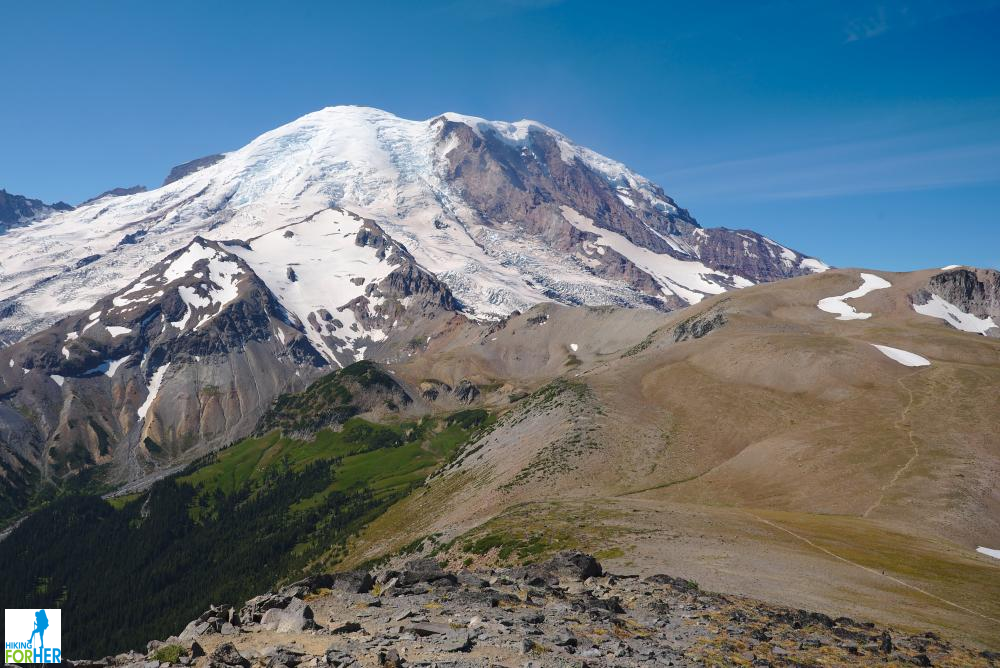 See the trail on the right hand side?
Still itchy for more?
Drop down from Second Burroughs, hike across the plateau on a well established trail, and wind your way up to the flank of Third Burroughs.
Trail tip:
Losing elevation may discourage you, but hiking across "the tundra" this close to a major urban center (Seattle) is a thrill.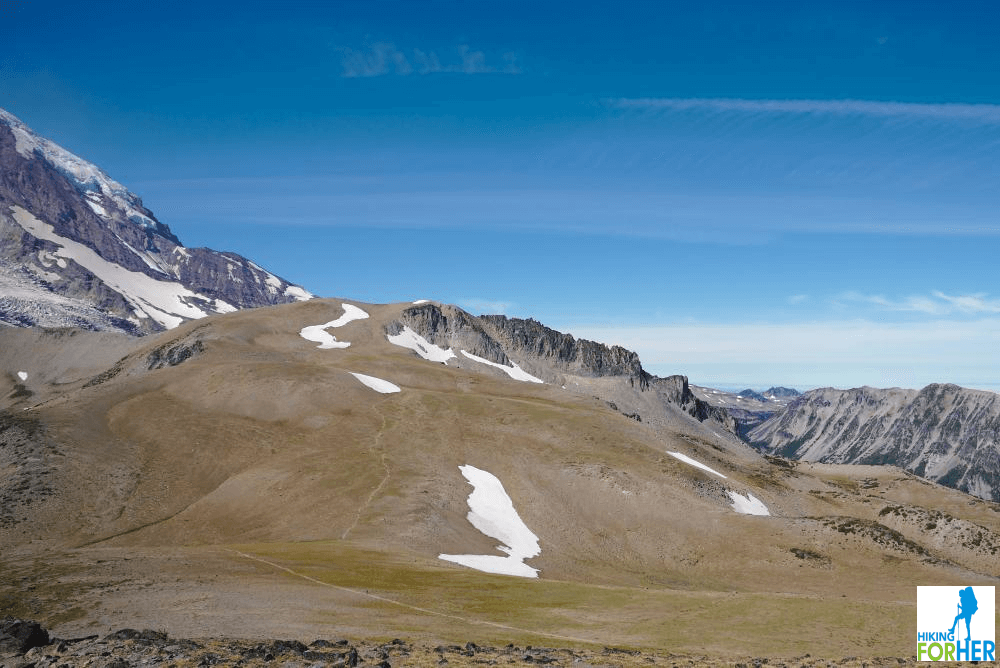 How far is it from here to Third Burroughs? Who cares? Let's go!
Your reward for achieving Third Burroughs is the chance to sit on a big pile of rocks and gaze at THE big pile of rock's every contour and nuance.
Time your hike so you have plenty of daylight to enjoy the roar of glacier melt, the whisper and howl of the wind, the caress of sunshine - you'll be working hard to take it all in.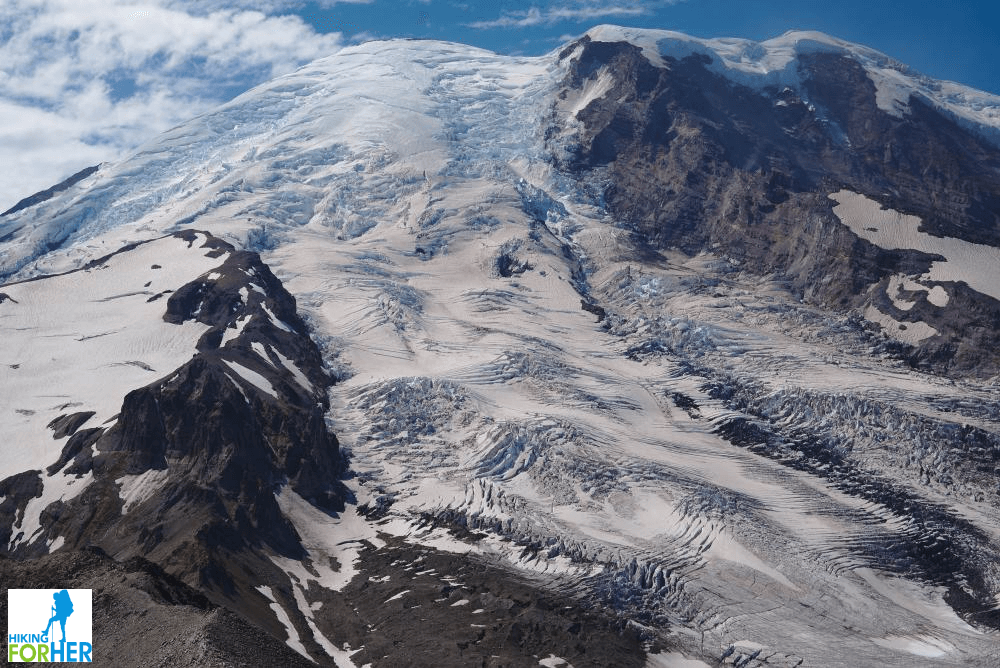 How often do you get a chance to spend quality time with a Mount Rainier glacier?

Mount Rainier
hiking Burroughs:
trail cautions
If you're used to sea level hiking, the elevation at the Sunrise parking lot might get your attention with a bit of wheezy breathlessness.
If you do this hike, be prepared for a slower pace than usual. But it gives you more time to gawk, right?

And bring lots of water to consume: proper hydration will keep your energy levels from flagging.

As you ascend from the five-way trail junction at Frozen Lake, you will face one of two scenarios:
All snow has melted, placing your feet firmly on rock all the way up the trail.

Some snow remains and has compacted down to icy and difficult footing, on at least one stretch of the rocky climb.
In both scenarios, there is exposure on your right hand side. However, the trail is wide enough that you can ignore it while you place your attention on each upward footstep.
In an abundance of caution, use trekking poles and footwear with good tread.

Don't let anyone behind you force you into a faster pace than you feel comfortable maintaining.

Remember that you have to descend later in the day, when leg muscles might be fatigued. Turn back if you have any doubts.
In windy and/or wet weather, or in reduced visibility, this hike just isn't worth your time. Play it safe and choose a different hike.
A few other day hike ideas for Mount Rainier trails here

Trail trivia
John Burroughs was a naturalist who put pen to paper to share his thoughts about the importance of nature in a human being's life.

This corner of Mount Rainier National Park is a geologic and botanical oddity. The tundra-like terrain is extremely fragile so this is one place to really stick to the trail!
Why hike it?
I assume this is not a rhetorical question, so will simply provide a list to answer it:
incredible geology (old lava flow) + high altitude (see above) = tundra like conditions with unique and sparse vegetation

high probability of spotting wildlife, including marmots and goats

expansive 360 degree views

Rainier's summit tantalizing in your face

Emmons and Winthrop glaciers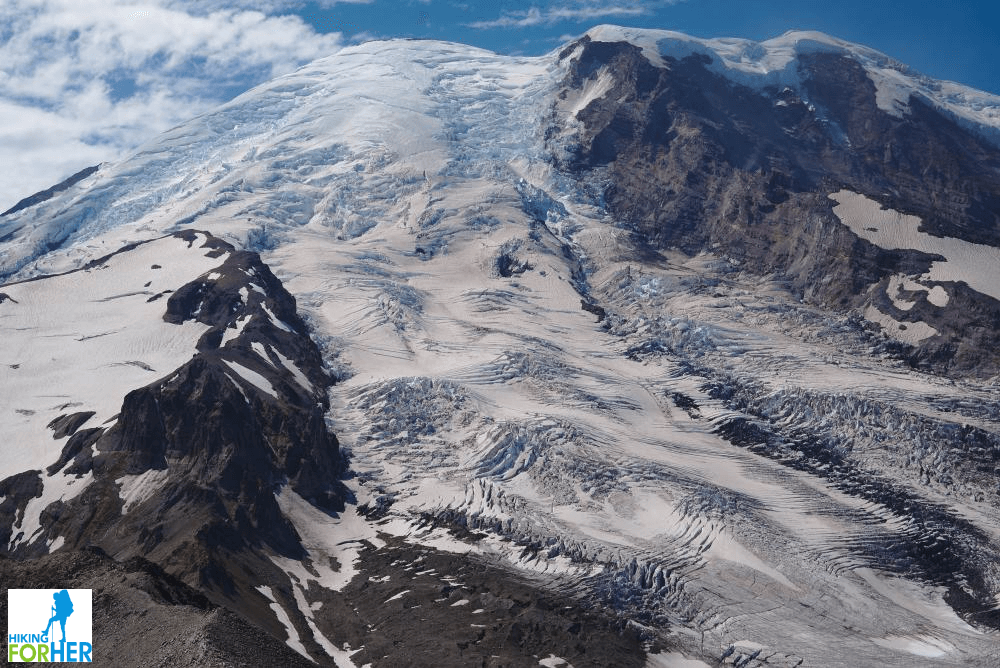 There are also options for a loop in a Rainier hiking Burroughs day hike via the Burroughs Loop Trail.
Caution: There is a snow field on this trail as well, which lingers late into the season.

Personally, I find this one a bit more intimidating because it's longer than the previously described scenario.

But the views! Oh, the views!

Another option:
Drop off Second Burroughs to descend 1900 feet in 1.4 miles to Glacier Basin.
Rainier hiking Burroughs:
questions?
If you're putting together your wish list of Mount Rainier day hikes, and aren't sure whether or not to include Burroughs Mountain on it, drop me a line with your questions.
More great Mount Rainier day hikes for you to explore: photos, trail descriptions and video!

Rainier Hiking Burroughs Mountain