Enjoy Happy Trails, the free monthly newsletter from Hiking For Her.

Receive a free resource: Hiking Layering System Explained
Mount Rainier Hiking
Owyhigh Lakes:
A Different Type
Of National Park Day Hike
By Diane Spicer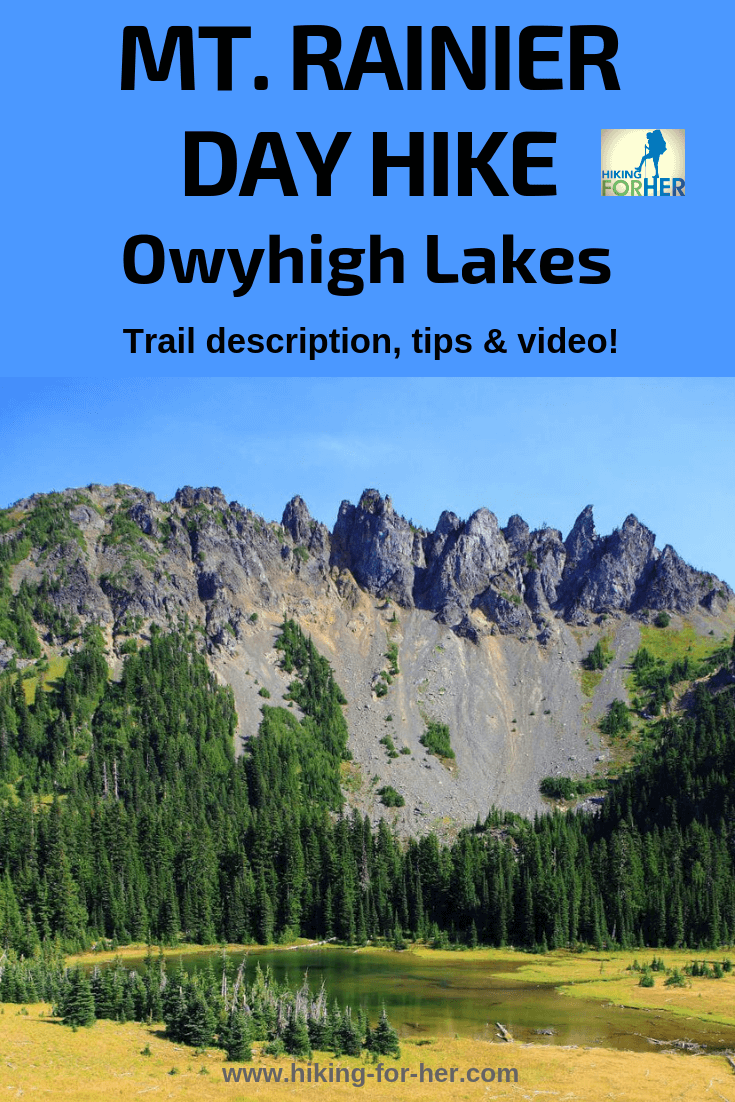 Rainier hiking Owyhigh Lakes might not be something you read about when you first search for the best Mount Rainier day hikes.
But why not spend a day at Mount Rainier hiking to Owyhigh Lakes, and enjoy a quieter side of the big mountain.
This trail description, along with photos and a video, will help you get there.
And if anyone tells you that you won't be able to see The Mountain from the lakes, they're right.
They're also sort of wrong (secret to be divulged - keep reading).
Mt. Rainier hiking
Owyhigh Lakes trailhead
Turn off Highway 410 and drive through the White River Entrance to the national park.
In about 2 miles, you will spot a small parking area on your right.
The trail head is across the road.
Mt. Rainier general hiking info:
There is an entrance fee.
You don't need a day hike pass.
No pets or bikes are allowed on the trail.
For more information from the National Park Service about Rainier hiking Owyhigh Lakes,

Mount Rainier hiking
Owyhigh Lakes
length and elevation gain
If you're looking for a moderate day hike for the whole family in Mount Rainier National Park, take a close look at this one.
Round trip distance: 7 miles

Elevation gain: 1,300 feet
Mount Rainier Owyhigh Lakes
trail description
You'll climb gently along the flank of Tamanos Mountain, staying in the amazingly deep forest as you make good use of well maintained switchbacks to gain your elevation over three miles or so.
It's a nice trail for kids because the footing is solid and there is nothing to worry about in terms of exposure or overly aggressive steepness.
Around 3 miles into your hike, you'll cross Tamanos Creek on a footlog (narrower than a bridge, but better than nothing).
That means you're getting close to Owyhigh Lakes!
You can camp at a wilderness camping area on your left, but for a day hike, keep going for another half mile.
The lakes are shallow and wide, and you can pick your way to the shoreline through the meadows surrounding them.

Mount Rainier hiking
Owyhigh Lakes
trail cautions
In high summer, biting flies and mosquitoes may be a problem at the lakes.
Know that black bear make their home in this terrain, so stay alert for scat or fresh markings on the trail.
Most likely they'll ignore you as they forage in the lush meadows surrounding the lakes.

Mount Rainier hiking Owyhigh Lakes
trail trivia
These lakes have an unusual name: Owyhigh.
Legends are usually helpful in cases like this, so here's the "official" legend:
Somewhere around 1850, a Yakama chief loaned some horses to a white male explorer Theodore Winthrop
Winthrop got a glacier named after him.

Chief Owhi (probably not his exact name) got these lakes.
Why hike it?
Mount Rainier day hiking always seems to emphasize views of the big glaciated volcano.
And who among us doesn't want to get up close and personal with that spectacular mountain?
But swim against the current, dear hiker!
Explore this gentle trail on Tamanos Mountain and score some solitude, especially in the middle of the week, at Owyhigh Lakes.
Once you get to the lakes, you will feast your eyes upon raggedy Governors Ridge to the east, and know that Tamanos Mountain has your back - quite literally -  to the west.
Some true stories (see video for proof):

I once spent hours on a fall day hike watching a black bear work its way around one of the lakes, digging for roots and insects, and taking absolutely no interest in me.
Another time, in high summer, I was gobsmacked by the array of wildflowers near the lake, especially the bright red and yellow columbine interspersed with valerian and lupine.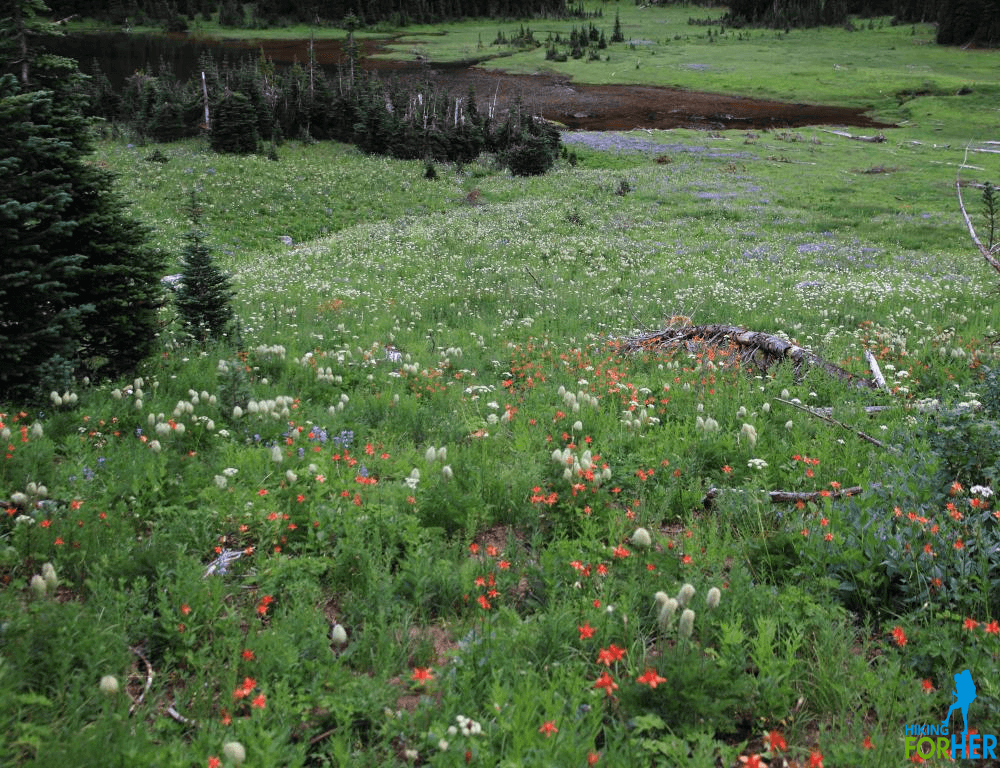 Hit it just right, and you'll spend hours admiring the wildflowers at Owyhigh Lakes
In fact, every time I've hiked to Owyhigh Lakes, I've been rewarded with animal and raptor encounters, and an ever dazzling botanical display.
Rainier hiking Owyhigh Lakes

And now for the secret!
Two demerits if you skipped right down here ;)
You can keep hiking past the lakes on your left, following the trail for another half mile or so.
This trail will fall off toward the Deer Creek trailhead (about 5.5 miles away) on Highway 123.
unless you keep your eyes peeled for a beaten in route taking off to your right, climbing up the broad exposed slope onto a viewpoint from Tamanos Mountain.
Keep climbing, across and up the broad flank covered in vegetation and flowers.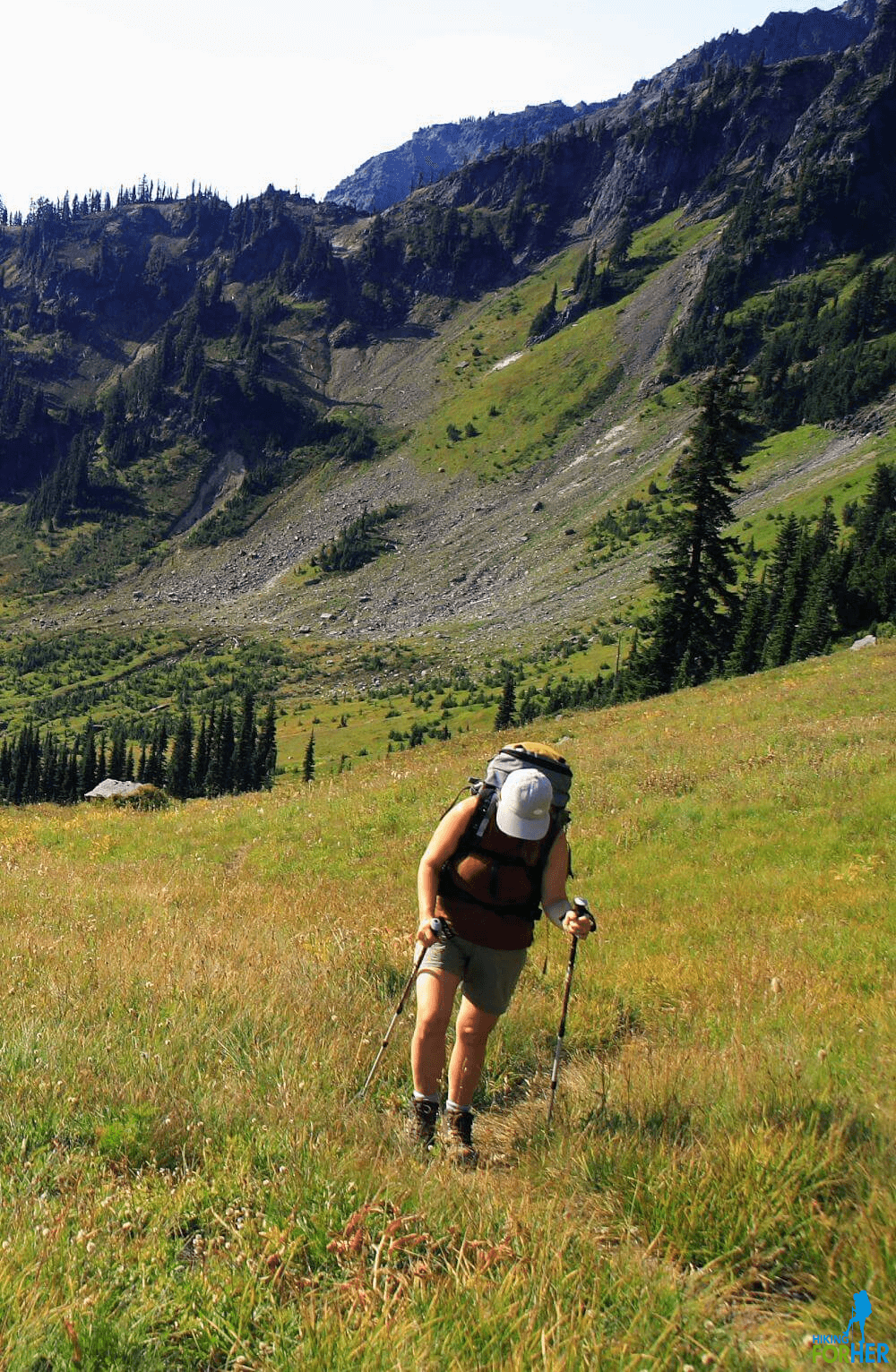 I'm not leaning to be funny, it's seriously steep, but thankfully not too far to the viewpoint
View the video for a glimpse of your reward once you achieve the high point on Tamanos Mountain:
a gorgeous view of Mount Rainier, plus 360 degree views of close in peaks and landmarks, other Rainier hiking destinations, and even further beyond the park

Any questions about the Rainier
Owyhigh Lakes trail?
I have a lot of enthusiasm for this "sleeper" of a hike.
Many people discount it because it's "just lakes".
Now you know all of the Owyhigh Lakes secrets!
And even if you don't push past the lakes, you're in for a well behaved trail which delivers lots of treasures to keep you busy for the day.

If you still have questions about this trail, contact me and I'll help you decide whether or not to add this day hike to your Mount Rainier visit.
More great Mount Rainier day hikes for you to explore: photos, trail descriptions and video!

Mount Rainier Hiking Owyhigh Lakes