Enjoy Happy Trails, the free monthly newsletter from Hiking For Her.

Receive a free resource: Hiking Layering System Explained
My Trail Co Vest:
Hiking For Her Review
by Diane Spicer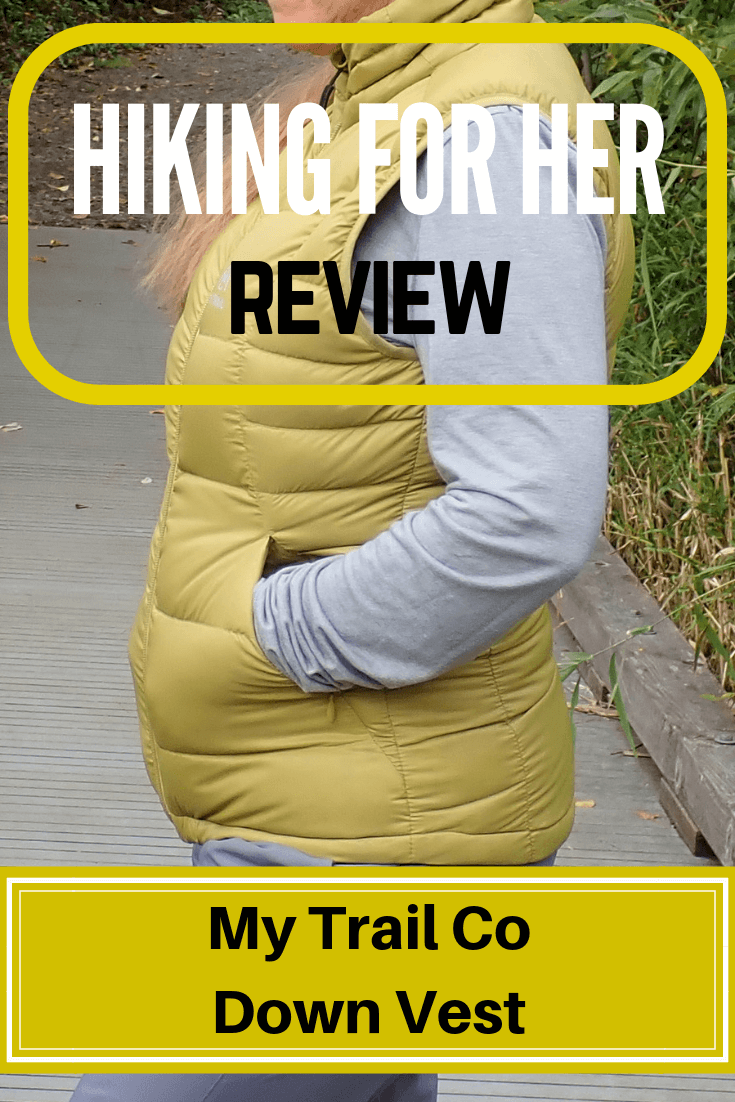 Unfortunately, this company no longer exists.
But you can read everything you'd love to know about hiking vests here.
This My Trail Co vest review is brought to you for one, and only one, reason:
Disclosures in this
My Trail Co vest review
My Trail Co provided Hiking For Her with a women's down vest to test on the trail.
All of the comments, opinions and photos in this review belong to Hiking For Her.

HFH uses My Trail Co hiking gear and outdoor clothing for three season hiking, and has written previous reviews:
In addition, Hiking For Her is a My Trail Co affiliate.
If you make a purchase through the links on this page, HFH will receive a small percentage of your purchase price.
My Trail Co vest review:
let's be thoughtful
It's important to put some thought into selecting each of the pieces of your hiking layering system.
If you're not familiar with the smart idea of using a hiking clothing layering system, read this first.

Two reasons for thoughtful decisions:
You want your money to go as far as possible, so you can go as far as possible on the trail.

Choosing versatile pieces of clothing that coordinate and cooperate to keep you comfortable on a hike means you never have to run around at the last minute wondering what to wear hiking - it's already hanging in your gear locker!

Okay, that sounds great in theory.
How do you pull it off?
You ask some questions!

Here are the
important questions to ask

All it takes are a few pointed questions to size up a piece of clothing for possible inclusion in your layering system:
What is this outdoor clothing

designed

to do for me?
Which

materials and fabrics

are used in its construction?
Is this clothing

appropriate

for my style of hiking?
So let's ask, and then answer, these questions in this My Trail Co vest review.


The vest design
A down vest can be used in two ways on the trail: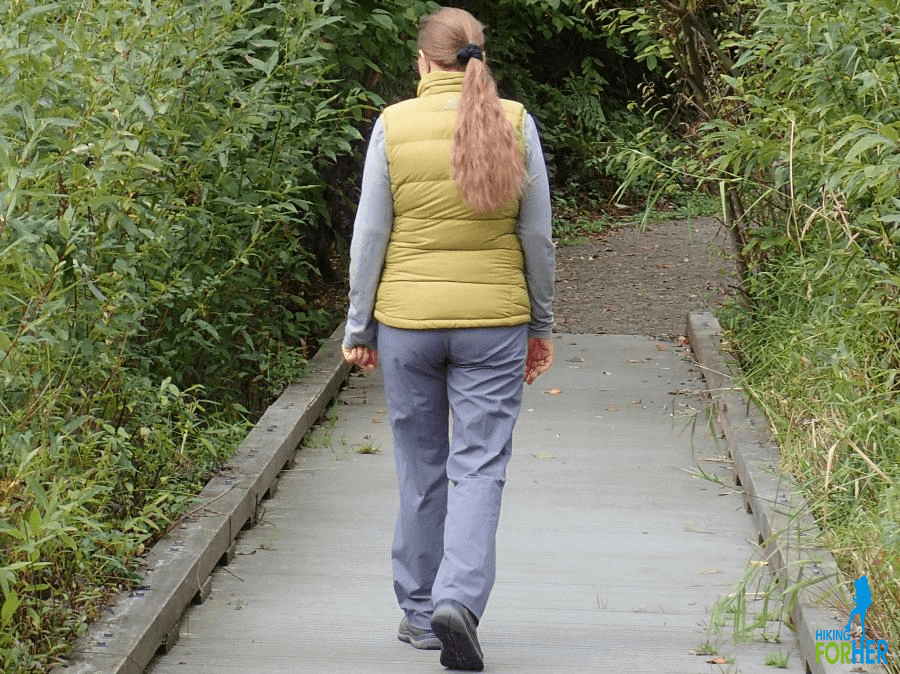 I took off my backpack so you could see that this vest covers the waist, creating a nice layer where your hip belt will hit

Either way...
... you want a vest with these features:
Full length front zipper

Generous pockets placed at the appropriate spacing to easily receive not only your hands but your snacks and gloves

A neckline that provides warmth but doesn't choke you when the vest is fully zipped, and feels cozy against your chin


Roomy armpits for full arm movements
This vest ticks all the boxes!
It felt roomy enough to allow me to bend and twist while taking my backpack on and off.
But the vest was form fitting enough that I could pull my rain jacket, or a fleece hoodie, over it without feeling like I was trapped inside an overstuffed pillow.

Materials used in this
My Trail Co vest
We're not building the space shuttle here.
But let's look carefully at the construction and materials anyway!
It's all part of that "be thoughtful" mantra

First, what's on the inside?
700-fill duck down, weighing 95 grams.

Okay... so what does that mean for you?
Reasonable warmth with barely there weight

Why?

700 fill refers to how "fluffy" the down is when you measure and compare it under controlled conditions (the technical term is "loft").
FYI: Fill numbers run between 900+ (really warm but expensive) to the low end of quality, around 400.

Ducks and geese have figured out that trapping air against a warm body can be efficient and nearly weightless, and humans have borrowed the concept (and the down).
What it really means for you:

700 is a good number when you want to hike unencumbered by a jacket.

It will also layer up nicely for winter sports without roasting your skin off ;)




Ethical sourcing of down
There is a lot of discussion in the blogosphere about the source of down:
humane treatment concerns focused on how the down was obtained.


And the shell?
Nylon is a typical material to use for an outer layer of hiking clothing.
It has useful properties such as durability and lightness, and can stop wind when layered with down, as in this vest.
Pairing nylon with a down inner layer retains your body heat if the vest gets damp, too.

On any vest you're considering, check the stitching and zipper quality.
Are any feathers poking out of the seams?

Does the stitching look like it will give you lots of seasons of zip/unzip/zip cycles?

Is there a handy zipper pull you can grasp while wearing gloves?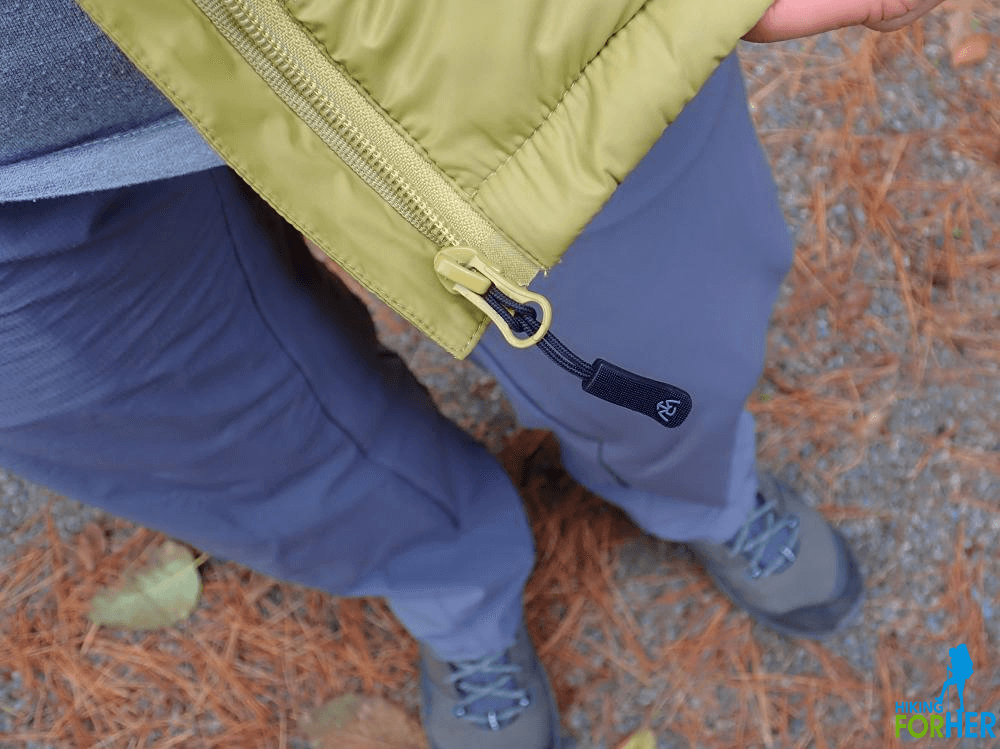 Seams and stitching are high quality; non-metal zipper pull is easy to grasp

A color note
The nylon shell material is featured in three different My Trail Co vest colors:
Heads up:
Depending on which device you are using to read this My Trail Co vest review, it will look bright yellow (but not mustard yellow), or a greenish yellow.
Out in natural light, I found it to be somewhere in between, and a nice change from what's currently on the market in women's hiking vests.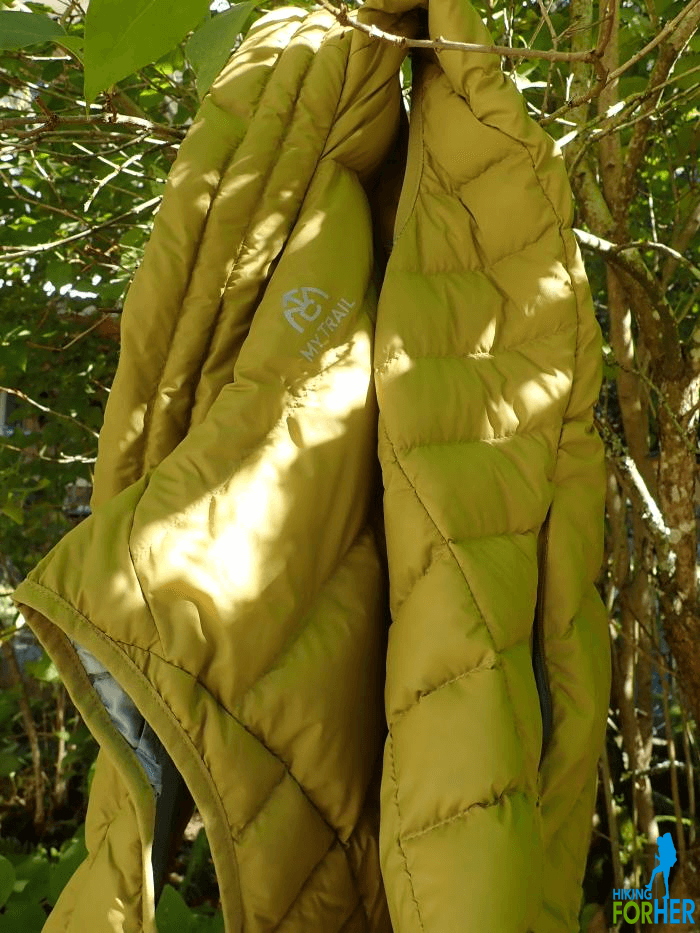 This Hiking For Her vest review shows you the "golden moss" hue, and a tiny peek at the silvery inside

Let's pull it all together...
Women hikers tend to run a bit colder than their male hiking companions, so the first thing I recommend to a new female hiker is a vest.
But sometimes a woman balks at having to carry "extra" clothing.
Quick "hiking ten essentials" review here

If you're thinking you really don't need to carry or wear a down vest, consider this:

Total vest weight: 7.5 oz
Basically, it weighs nothing on your body.
But here's where the punchline comes in:
It buys you a lot of comfort and a welcome margin of safety on chilly trails (700 fill power) without costing you a lot in weight.
Is this vest appropriate
for your hiking style?
This is where your personal preferences come to the forefront.
Do you hike on moderately wide, well marked trails where you're not required to make large motions and sometimes tricky maneuvers around obstacles?
This directly feeds into the next set of questions:

Do you like your hiking clothing roomy and able to accommodate at least one layer below, and another above it?
Sizing
My impression of this My Trail Co vest is that it can fit into your hiking wardrobe as a form fitting vest if you order your regular size.
That's what you're viewing in the photos in this review.

But the vest will accommodate a layer or two beneath it, if you order up one size.
The F word...
A note to women who think down vests make them look chunky fat:
Yup, a plump down vest definitely adds a bit of bulk to your profile.
As a hiker, I've made peace with it in exchange for the comfort and safety of down.

And for the record, this is one of the more streamlined vests I've seen.
Final thoughts in this
My Trail Co vest review
I liked the microfleece lining in the pockets, such a nice touch for cold hands.
Did I wish for an internal pocket to stow my gloves and headband?
Yes, but I appreciate how weight conscious My Trail Co is about their gear.

The vest rolled up in a snug little ball inside my backpack, but came out ready to go after a brief fluffing.
As you can see, I used the My Trail Co 35L day pack during this review,

The vest rode along in the stretchy nylon outer pocket until I needed it.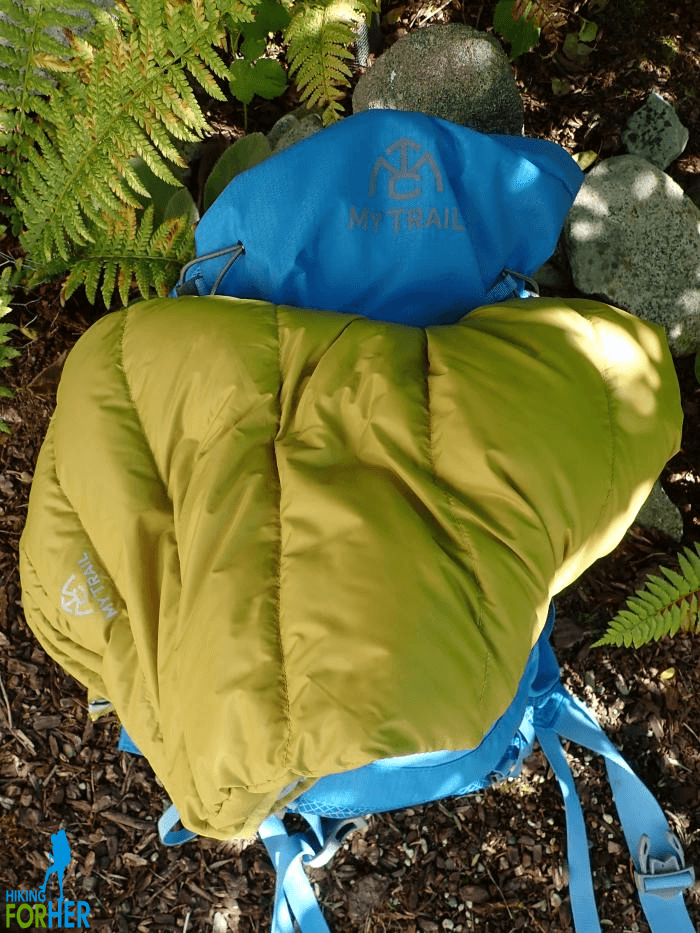 My Trail Co gear in Hiking For Her's favorite colors! Be sure to read the HFH backpack review (use the link at the top of the page).
And there's something so comforting about pulling on a down vest and feeling your body heat radiate back to your skin.
So if you're looking for a layering piece for your clothing system, this vest definitely has merit.
The $49 price points makes this vest affordable, too

Available for both men and women hikers
And wouldn't it make an excellent (and thoughtful) gift for a trail buddy?
Oh, yeah!

Hiking vest = hiking happiness on chilly trails.
This one will make you smile :)

Home page > Best Hiking Gear Reviews >
My Trail Co Vest Review
Hiking For Her: Hiking tips you can trust!