Hiking Skirts
Hiking skirts?
Or maybe you call them walking skirts?
Regardless of what you call them, I've been fascinated by this idea for women hikers ever since I saw a woman hiking the Pacific Crest Trail in a skirt that reached to her knees.
Her heavily muscled, rather dusty legs screamed "competent hiker!!!"
And I began to wonder whether hiking in a skirt was a good idea.
Back in the "olden days", women always wore skirts. Take a peek at my Pinterest page for some vintage photos of hiking women in skirts!
And men wear kilts!

But let's get down to the nitty gritty of trail skirts:
Is a hiking skirt practical?
Can it be

realistic when you're going off trail through brush and mud?

Is a hiking skirt

modest enough to cover all of your assets when hiking up hill?
I hope you'll share your own experiences if you definitely DO or DO NOT like to hike in a skirt. I'd like to learn from your experiences.
Based on what you post, maybe I'll even trade in my beloved hiking pants!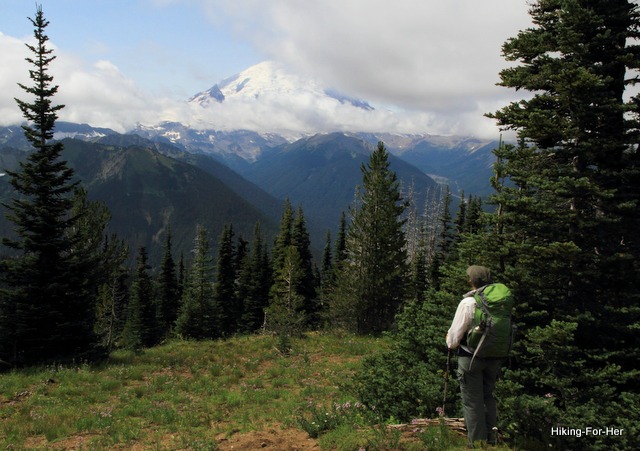 Would the view of Mt. Rainier seem better in a hiking skirt?

Why Wear Hiking Skirts?

Let's start with reasons why a woman would want to have bare legs on a trail (we will assume summer season hiking).
This forum kicks around the question from multiple angles: freedom of movement, ease of answering Nature's call, ventilation ... have a look for yourself.


If you're curious about the features to be looking for, take a look at this review.
And here's where I'd go to do some comparison shopping in my quest for the perfect one.
If you're not sure which length would be best for your type of hiking, take a peek at an idea for a convertible type of skirt: long, medium, short as your needs dictate!
One last suggestion: Check out Athena Garments.
What I like about these skirts is the evident thought and creativity embedded in them.
And I'm sure that if you have a particular pattern in mind, you can get a "custom" skirt to enjoy on your next hiking adventure!
UPDATE: I just purchased a hiking skirt! Haven't worn it on a trail yet, but I'm gonna take the plunge soon.
My "field tests" (daily training walks) have shown it to be trail worthy.

Here's my choice, for these reasons:
neutral color to hide dirt and blend in with surroundings,
slight flare for ease of movement (I bought one size up to give myself extra room),

moisture wicking so my sweat doesn't stay on my body,
a bit stretchy so it moves with me,
reasonably deep pockets for lip balm and hair ties,

belt loops for attaching trail stuff,

can be worn for going into town after a hike,
asymmetric flare - I just like the way it looks.
Royal Robbins Women's Terra Hiker Skirt, Light Silver, 8

Chime In!

Not having worn a skirt (yet) on a hiking trail, I can't chime in on the relative merits of the pros and cons.
That's why I'm inviting you to do so!
Send in your comments and opinions about the wisdom or down side of wearing a skirt on the trail - it's really easy to do.
And thanks in advance for being willing to share with your trail sisters.
NOTE: If you make or market skirts for hiking women, please contact me directly. I'd love to talk with you.

Hiking In A Skirt: Pros and Cons
Do you have a strong opinion about this? Share it!
What Other Visitors Have Said About Hiking Skirts
Click below to see contributions from other female hikers to this page...

Home page > Best Hiking Gear > Hiking Skirts