Enjoy Happy Trails, the free monthly newsletter from Hiking For Her.

Receive a free resource: Hiking Layering System Explained

The Best Hiking Jackets
For 2023
Will Keep You Happy
On Your Hike
by Diane Spicer
The best hiking jackets are a great combination of fair price, good looks, and function.
That's true of any of the best hiking clothing available today.
Women's hiking jackets also need a different fit from men's jackets, given our extra bits of anatomy up top.
Wondering what to wear hiking when the weather calls for a jacket?
Or how to choose the best hiking jacket?

Coming up are some tips you can use to find exactly the best hiking coats for your type(s) of hiking.
Or you can drop down to the Best Hiking Jackets FAQ.

First tip: look at the best hiking jackets this way...

Think in terms of your safety, comfort and well being when you're learning how to choose women's jackets for hiking.
Don't let price throw you.
I've paid full price for two jackets many years ago, and am still wearing them for my extreme hiking adventures such as in Greenland and Alaska.
They still keep me dry, which keeps me safe.
Well worth my investment!
Need another way to view this?
Ask for these jackets as gifts!
Let's look at some important
jacket quality details
you are paying for

Using this women's Arc'teryx Beta LT Hybrid jacket, available at REI Co-op, I'll take you through some features to look for when you're in the market for a hiking jacket.

Although this is a womens hiking jacket, all of these principles hold true for mens hiking jackets as well.

Yes, this jacket is expensive. It's the gold standard of hiking jackets.


And yes, it's going to keep you warm and dry no matter what.




First things first
The first thing to consider when you look at a hiking jacket at any price point is how many layers of clothing you'll be wearing beneath it.
Don't have a hiking clothing layering system yet? Read this.

While you're on the trail you'll be working up a sweat, and maintaining a higher body temperature than if you were lounging around at base camp or in your tent.
Choose a jacket that accommodates the number of layers you'll be using, and realize that not every hiker will want to wear numerous layers.
In fact, you might want a more fitted jacket, worn with fewer layers, to prevent wind and rain from blowing up your backside.
This particular hiking jacket is a fairly roomy shell, allowing for layers beneath it without hindering your movements.
Black Diamond makes this roomy shell with stretchy fabric, at a lower price point:

---

Important question about the best hiking jackets: Do you need a hood?
My recommendation is to always purchase a jacket with a hood, but look for the kind that tucks the hood away in a zippered pouch at the neckline.
The best of both worlds!
Another tip: The hood should provide an overhang, to keep rain and trail debris off your face. It should also shelter your ears and neck from the wind when it's cinched down.
Are the best hiking jackets hip length or longer?

Which length works best for you?

Hip length will keep you drier, but will ride up a bit from your pack.
This shouldn't be a problem if your backpack has a waterproof cover, and you're wearing rain gear.
If you sit on cold rocks or soggy ground on your hikes, look for a jacket which will cover your backside regardless of how tall you are.
A longer jacket will also be an advantage if you're hiking with a short daypack in wet conditions.
Fabric choices

Having said that, you do want your body heat to dissipate without creating an internal rain shower.
Again, expect to pay for the fabrics which are breathable.
The fabrics should also bend with you and create minimal noise, although there are degrees of success depending upon which blend of fabrics is used.
If the sound of your pants swishing with every step drives you crazy, look for pants that are NOT made of nylon.
Another tip: All points of regular wear and tear (wrists, neckline) should be reinforced with extra stitching or fabric, meaning the life span of this jacket is extended.
You should also be able to make adjustments at the neck and cuffs, to follow the weather conditions and your internal temperature fluctuations.
Look for velcro, snaps, zippers or draw cords to customize the fit.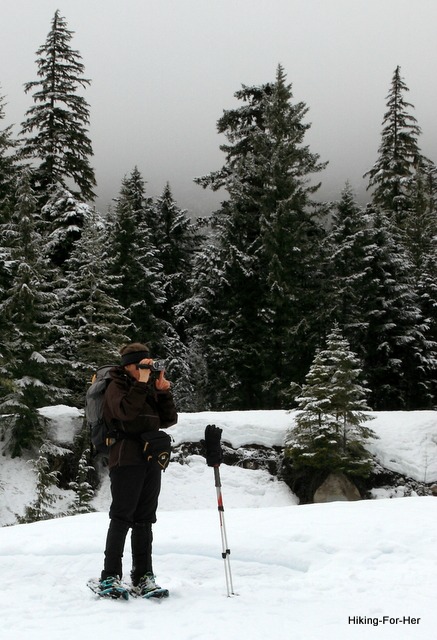 The best hiking jackets accommodate layers beneath them without hindering your movements.

Something you might not
think about... but should

Zippers are important.
You want an easy up and down central zipper that won't get stuck or jammed when it's cold and wet and your fingers get clumsy.
Two way zipper motion is a great feature (you can begin to zip it from top or bottom).

You also want armpit vents, meaning zippers in your pit areas to allow body heat and moisture to escape. This allows you to regulate your body heat without removing the jacket.
Some jackets also include short zippers on the chest area but offset from midline, another option for ventilation.
Zippered pockets hold your gear more securely, and don't make the noise of a velcro closure.

And it goes without saying that zippers need to be easy to access with a tab even with gloves on.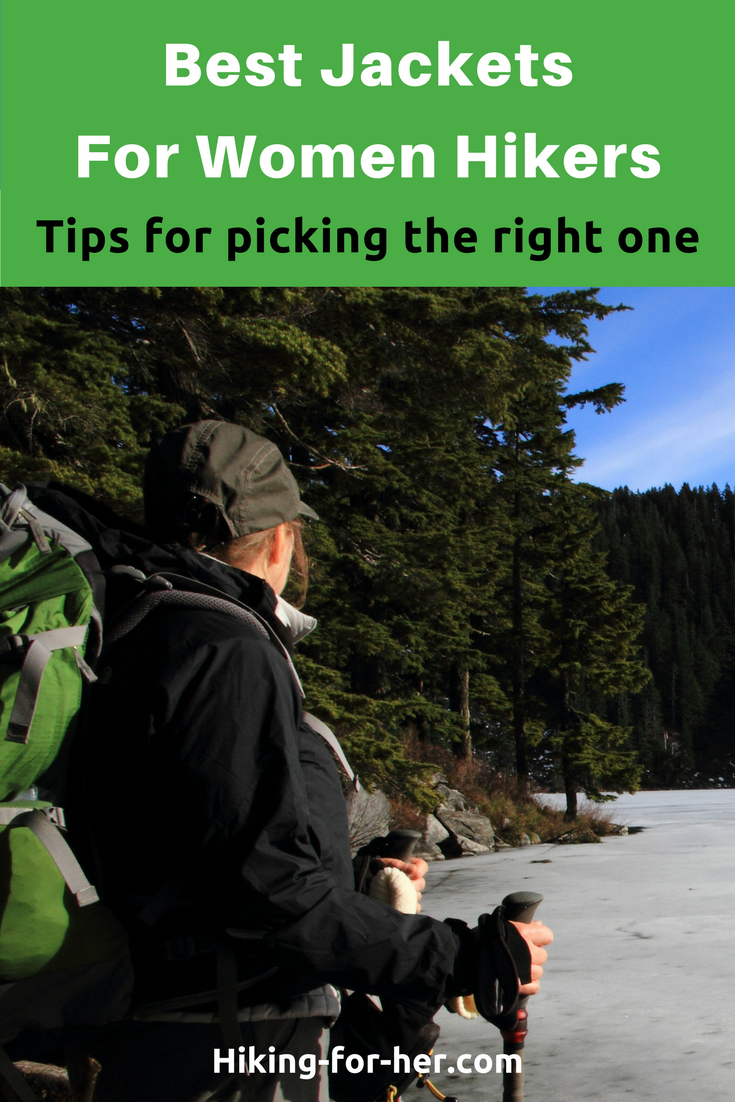 Fair warning:
the best hiking jackets will be expensive
That statement is true, up to a certain point.
There are particular brands of athletic clothing that have higher price points than others, but quality is synonymous with their names:
North Face
Arc'teryx
Patagonia
Helly Hansen
Outdoor Research

...just to name a few of the brands I've invested in when shopping for weatherproof hiking clothing.
REI Co-op also makes good jackets. Read my review of their Flash Hybrid Hoodie here.

The trick to avoiding sticker shock on a women's hiking coat?
Shop at the end of the season to scoop up deals.
You'd be surprised how much of a discount you can discover with a little detective work.
Hiking jacket buying tip

Always check REI Co-op's Outlet section first!

Midrange price hiking jackets
Outdoor Research Helium Rain Jacket
This one has a lot going for it.
Windproof and waterproof, yet breathable.
Hip length.
Sizes to 3X.
Hood.
Wow!


Lower price point jackets

When my life does not literally depend on my jacket, I wear less expensive brands.
I know that I won't get the same level of performance and durability, and I'm okay with that.
And if you're just starting out as a hiker, you'll want good quality at an affordable price point until you get a feel for the types of hiking you prefer.
Here's an inexpensive jacket that I love for its fit and function.

REI Co-op Rainier Rain Jacket
Notice that it's made of water repellent polyester, has a hood, and is hip length.

Available up to size 3X, in multiple colors

However, it's not heavy duty so it shouldn't be put in extreme conditions and expected to perform well over long periods of time.
But, hey! it's a fine choice for the "extra clothing" you should carry as part of your hiking ten essentials as a day hiker.

And if I were to snag or rip this jacket, I wouldn't cry buckets full of tears like I would if my Arc'teryx jacket got trashed!
Soft shell jackets like these will be a good choice for mild weather, and come in various price points.
Take a look at the features of soft shell hiking jackets that I mention in a review here.
Warm hiking jackets
Sometimes you know that you are going to face cooler conditions, such as in early spring or fall hiking.
Other times, you aren't sure what the weather holds, so you want to be prepared for cold conditions.
In that case, a warm jacket that packs down small is your best bet.
One of the best hiking jackets at a lower price point:

REI Co-op 650 Down Jacket 2.0

This recycled nylon shell holds 650 down close to your body.

The durable water repellent finish handles light moisture and wind.

10.8 ounces, a lot of warmth for the weight.

Stash it in your backpack year round as part of your Ten Essentials. Use it as a pillow, sitting cushion, knee warmer and insurance policy against unexpected weather events.

Another options, with more features:

Waterproof, breathable double layered nylon shell for protection against the elements.

DWR treated 850-fill-power goose down to keep you warm.

Insulated 3-way adjustable hood accommodates any type of headwear and a scarf.

Pit zips and seam free shoulders give you lots of temperature regulation options without chafing.





REI Co-op Stormhenge Down Hybrid Jacket
The best hiking jackets fit
your body & your budget

If you're just starting out as a hiker or backpacker, don't spend a lot of money until you've decided which type of terrain and climate you want to explore.
You'll soon build up a gear locker filled with the best hiking gear for your particular needs.
Always look for versatility and durability. Remember that these 2 attributes are well worth the money.
Now you're ready for your quest for the best hiking jackets!
Or maybe you need some more tips on finding the best women's athletic clothing for hiking.

Best Hiking Jackets FAQ
Here are some quick answers to the questions I get from hikers all over the world. Click on a question to get started.

For mild weather conditions, the best jacket for hiking is lightweight and packs down small in your backpack. It also is made of water repellent fabric such as DWR treated nylon.

For wet weather, the best hiking jacket is waterproof and has a hood that can be cinched down to protect your face and neck. It is cut a bit longer in the back to protect your legs, even when you are wearing a backpack.

For winter hiking, a fully lined and waterproof hooded jacket works hard to trap body heat and repel moisture. Down is a great choice for hikers because it keeps you warm even when wet.

You use the tips on Hiking For Her!

Long story short, you browse the options from trusted names in hiking jackets: REI, Arc'teryx, North Face, Helly Hansen, Patagonia, Columbia.

Shop for a good deal, becoming an REI Co-op member to save lots of cash. Their return policy and customer service will help you correct any mistakes you make.

Backcountry is also a great place for discounts on good brands.


Try on several styles of jackets, always keeping in mind what you want the jacket to do for you (see question above).

Talk to other hikers and pay attention to the hiking jackets you see on the trail, too.

This is an important question.

You want a jacket with room for bending and twisting as you pick up your backpack. But you don't want it flapping in the wind, allowing cold air up your arms or waist.

Your goal: Snug, but not a death grip.


Try on the jacket and raise your hands above your head. Does the jacket ride up? Bind you around the shoulders? It's too small.

Now bend over and touch the ground. Again, does it ride up or bind anywhere? You want freedom of movement in a hiking jacket.

Don't be afraid to go up one size, but look for customization options.


Some hiking jackets can be adjusted at neck, waist and hip with cords, snaps, zippers or ties. These adjustments make a jacket more versatile, taking you through three season hiking as you wear more or fewer layers of clothing.
A hiker has to face unpredictable conditions, all day long and sometimes for many days in a row.

Dressing in layers gives her options to meet a wide range of temperatures and precipitation. This maximizes her chances of staying safe and comfortable.


Hikers wear a midlayer (like a vest or long sleeved shirt) between a base layer (tank or short sleeve top with sports bra) and an outer layer (jacket) to trap body heat and prevent hypothermia.

A base layer is worn to wick away perspiration and regulate body temperature. It  can be used as an outer layer in very mild conditions.

Every hiker needs to bring an outer layer on every hike, part of the hiking Ten Essentials. A jacket and long pants will repel moisture and insects while keeping the body warmer. The choice of outer layer fabrics will depend on temperature and moisture conditions.

More details and suggestions for a hiking layering system right here for you!

A hiker wants a lightweight, thin jacket that acts as a cocoon to keep in body heat in the face of wind, cold and damp conditions.

A down (goose or duck) jacket, often called a puffy, can provide heat without bulk, even when wet (look for treated down for maximum dryness).

A fleece jacket is more bulky but still lightweight. It will trap body heat in windy conditions and repel moisture to a certain degree.

Sometimes a thin down vest worn over a long sleeve wicking shirt can act as a thin but warm jacket in dry but cool conditions.

Thin cotton is not a suitable fabric for hiking jackets. It does not retain body heat and becomes heavy when wet. It dries slowly, retains odors and feels clammy and cold against the skin. Say no to cotton hiking jackets unless you are in Death Valley in August.

Home page > Best Hiking Gear >
Best Hiking Jackets For Women Hikers

Want to create a small miracle?
Use my links to purchase your gear, and a very modest amount of money flows to Hiking For Her to maintain this site.
It costs you nothing extra to be a miracle worker.
Your support is deeply appreciated, thank you.
Hiking For Her: Hiking tips you can trust!