Have the freshest free hiking tips sent to you each month!

Plus Size
Womens Outdoor Clothing:
Find The Best Stuff
Fast

by Diane Spicer
The best plus size womens outdoor clothing (also called extended size) which fits and looks good is hard to find.
Somehow, it's hard for outdoor gear companies to fathom that women hikers come in all ages, sizes, shapes and heights.
If you're looking for ideas on what to wear hiking, like plus size convertible hiking pants and waterproof rain pants, you're on the right page.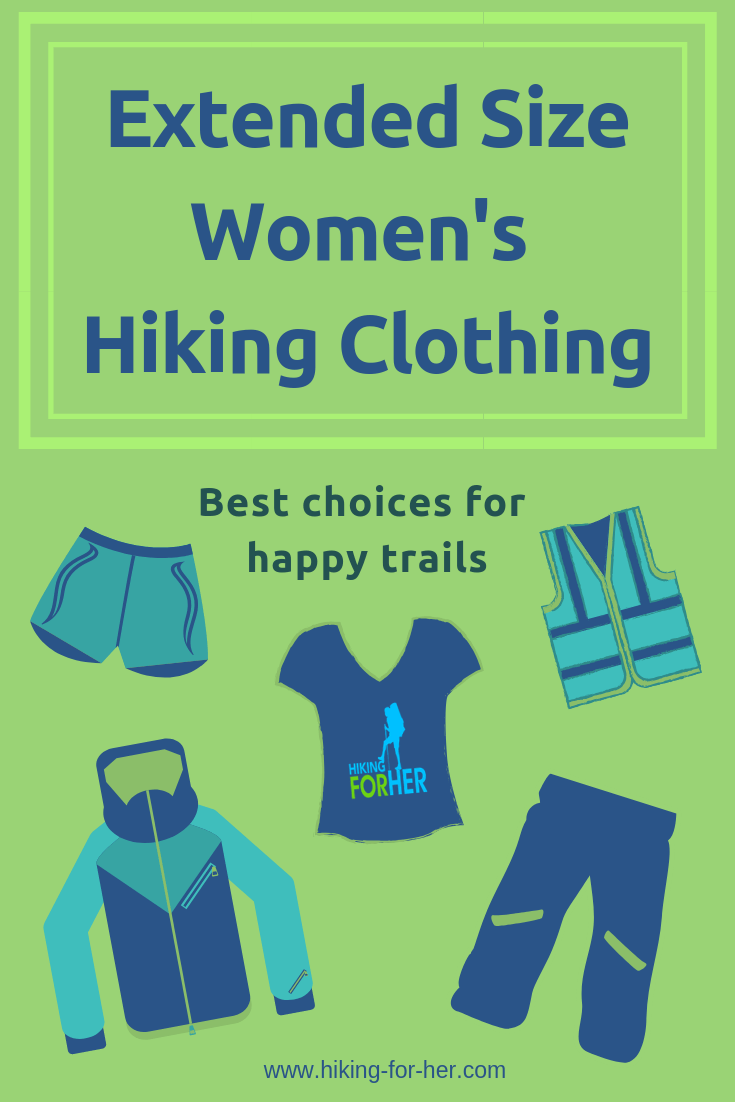 The reality of plus size womens outdoor clothing shopping

Ever have this happen to you?
You go into an outdoor clothing retail shop and browse through the selections of hiking pants, hiking shirts, rain gear and other womens hiking apparel and active wear.
You search for your size.
Nada.
As in zip.
Nothing.
Frustration turns to anger.
Please don't take the lack of women's extended sizes personally.
You are not alone in your quest for the best plus size womens outdoor clothing that not only fits, but functions well on hiking trips and day hikes.
And someday, size inclusive hiking clothing will be a reality.
Why do I make that prediction?
Because there are positive signs of improvement in some outdoor clothing brands, like REI Co-op.
Keep reading!

Retailers who get it!

Don't waste any more time in frustration or anger as you shop for extended size outdoor clothing.
Instead, go straight to the outdoor gear companies who pay attention to women hikers who are not served by the size range that most hiking clothes are designed for in the U.S. (which seems to be up to size 14 or so).
Let them know that your needs exist, and don't be shy about sending them feedback and posting reviews of their products!
Hitting the trail isn't a privilege for women "of a certain size", right?
Plus size womens outdoor clothing needs to become the norm, not the exception.

REI Co-op

is expanding their offerings
for female hikers all the time

REI Co-op is constantly adding options, most up to 3X, and you can get an overview of their selection here.
More to love about REI: Become a member and get an average of a 10% rebate on your purchases.

Free shipping on lots of items

Excellent return and exchange policies
SkirtSports


(woman owned and operated)

SkirtSports offers a line of clothing designed and tested by women who wear 1X, 2X and 3X.

They call it their Move Without Limits line!


Now, a closer look at other sources of plus size womens outdoor clothing that will work for female hikers, in no particular order.

Best plus size
hiking pants

Let's name some names, shall we?

Options from a trusted name:

Columbia
Columbia makes hiking pants in sizes ranging from 16W to 24W.

These straight leg non-convertible pants are great for hiking when rain is more than a distant possibility.
The waist band is adjustable.
There's one little zippered pocket.
Also from Columbia are these convertible pants (lower legs zip off fast to convert to shorts) in two different length options, called the Saturday Trail II Pants.
Take a look at these because they have:
UPF 50 sun protective fabric that dries fast

a bit of elastane for good moveability on the trail

one zip closure pocket

multiple color options
If you'd prefer knee length trail pants, here they are!


White Sierra

These White Sierra convertible pants have all of the technical features you look for in hiking pants:
moisture wicking and fast dry nylon fabric;

UPF 30 protection against ultraviolet rays;

waistband designed for comfortable bending and twisting motions;

lots of pockets,

and fast conversion from pants to shorts.

L.L. Bean
has been around a long time!

L.L. Bean makes these Comfort Trail Pants.
Great features to customize your fit, including:
Worthy trail features include:
fast drying nylon fabric with a bit of spandex stretchability

moisture wicking mesh in the waistband

gusseted crotch for freer movements


and lots of pockets :)
These are also available in a cropped version, if you'd prefer your calves to be unencumbered in warmer hiking weather.

More extended size
hiking clothing options

Would you rather hike in shorts?

Read this for ideas on how to size up, and locate, a great pair of womens hiking shorts in your size.
And a hard earned (as in I've had some epic failures) word to the wise:
Get a few ideas for the best hiking underwear to wear under your pants and shorts here.
Best plus size
hiking shirts

REI Co-op Sahara Long-Sleeve Shirt - Women's Plus Sizes | REI Co-op
Stretchy fabric, ventilation, quick drying, and versatile!
This shirt is going to work hard for you on the trail, and look good, too.


Other hiking shirt options
Columbia's extended sizing options to the rescue again!
This button front long sleeved shirt works on or off the trail, featuring:
UPF 40 sun protection

moisture wicking fabric that dries fast

vents so you can stay cool on the trail

a couple of nicely placed pockets

and a soothing color selection (no hot pinks or garish neons)

They also have a short sleeve shirt with moisture wicking fabric and relaxed fit for under a backpack.
And for great options in tank tops, check out your SkirtSports options.


What lies beneath?
Need a supportive yet comfortable plus size sports bra under that shirt?
Plus size womens
outdoor clothing 
take aways

1. Don't be discouraged if your size and fit is hard to find in hiking attire.
Get out there and climb that hill!
2. Start by looking at the styles and companies mentioned here, because lots of other hiking women have recommended them.
3. Look at Juno for a full line of womens active wear in your size, too.

4. Send me your questions about plus size hiking, and I'll be happy to answer them.
Lots more extended size hiking clothing options here, too.

Happy trails to you!
Home page > Best Hiking Gear >
Plus Size Womens Hiking Outfits

Want to support Hiking For Her's mission to get women of all ages, sizes and abilities onto hiking trails?
Purchase your outdoor clothing through the links on this page, and a small amount of money flows into HFH's coffers to keep the hiking tips flowing freely to you.
Best part? It costs you nothing extra :)

Thanks for your support.
Didn't find what you were looking for? Use the blue TOP button
on the right to jet back up to the search box.
Why wait a whole month?
Plus, there's never enough room in the newsletter to share it all, so why miss out on exclusive Hiking For Her giveaways, limited time gear deals and discounts, freebies, updates, and more?

A short, info packed weekly email update will keep you current on all things hiking!
When you sign up to receive this update, you are agreeing to Hiking For Her's privacy policy.

Don't miss out!

Read more about these hiking weekly updates
HFH Policies


Save Time & Money


Hiking For Her's weekly emails keep you current on hiking & backpacking news:


flash giveaways
timely deals
steep discounts
freebies
trail changes


resources

Free, fast, fun info for you, every week of the year