Looking for the best hiking tips for women hikers?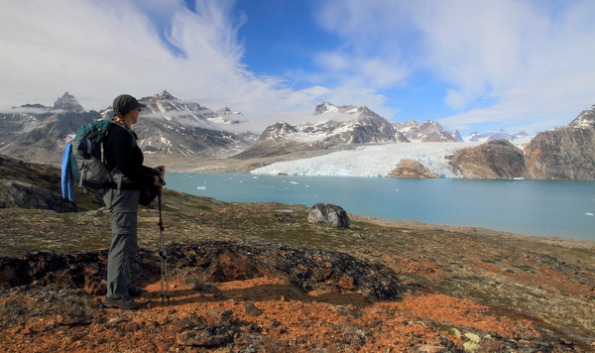 Best hiking tips can get you ready to explore wild places like East Greenland ... or your own neck of the woods.
Have you ever wished for a Best Hiking Tips specialist to answer your questions about how to hike?
If you're just getting started hiking, you might have questions like:
Do I have the right hiking gear?
What should I know to keep myself safe on the trail?
How do I plan for my first hike?
What can I do to minimize my aches and pains after a long day on the trail?
What should be on my backpacking list?

Is it safe to hike solo?
Backpacking food ideas - where do I start?


Get your hiking questions answered

Hiking For Her gives you a bounty of how to hike information geared toward women hikers - because we do things a little differently than the guys.
Soak up all of the hiking advice and guidance available on this site.

Use this handy site map to guide your virtual explorations.
And there's a search box for this site at the bottom of each page (except this one, darn!).
If you're looking to strengthen your hiking skills, or explore a new type of hiking, why not take a hiking course?

You won't' find anything like these classes elsewhere!
Every course is designed around the questions hikers ask, so it's relevant and reliable hiking advice.

There is always at least one free course available, so be sure to check them out.

Join the hiking community

I invite you to contribute to our hiking community of virtual trail sisters by sharing your favorite hikes with a short description and a few photos.
It's easy, fast and best of all, it fills up our hiking bucket lists!
Let's have a little fun together, too, with

Get the latest hiking tips

You can stay up to date on what's happening in the hiking community in lots of different ways:

Receive personalized answers to your hiking questions

But wait!
There's more!
Use the CONTACT link (top of this page on your left) to get your individual questions answered by me, a trail veteran with 40+ years of hiking experience.
Every email is read and answered, free of charge.
Why?

Because if you have a hiking question, chances are lots of other women hikers do, too.
When you ask, it allows me to incorporate answers and information into this website that other women are looking for.
That builds a strong community of female hikers, right?
Feel free to use the CONTACT box to send along your hiking tips for beginners, hiking advice, or anything that makes your trail time more enjoyable.

Let's spread the wealth of best hiking tips for women hikers far and wide!


These best hiking tips are
based on long trail experience

This collection of best hiking tips for women hikers was a long time coming...
beginning in 1971 when a 14 year old girl (me!) put on her first clunky  external frame backpack and joined a week-long Girl Scout expedition into the Porcupine Mountains of Michigan's Upper Peninsula.
Then Isle Royale National Park in Lake Superior beckoned, and there was no turning back!

That intrepid youngster went on to hike many types of trails and learn (sometimes the hard way) how to take care of herself in the great outdoors.
If you'd like more of the back story (and to see that 14 year old hiker girl), go here.
Now, 4+ decades later, she's put together hundreds of pages of free hiking information just for you.
It's been a pleasure building this hiking resource for women hikers, so please enjoy.

And then get out there and hike - and learn - a lot!


Thanks for stopping by

Here's a little something you can use for your next (or first) hike.
Click Here For Your Free Dayhike Checklist
Use the best hiking tips in these pdf freebies, too:

Now get out there!

Get started hiking today, and continue to build your trail skills so you can stride confidently down any trail, in any weather.
My wish for you is Happy Trails always!

Photo credits: All photos on this website were taken by David Midkiff.