Enjoy Happy Trails, the free monthly newsletter from Hiking For Her.

Receive a free resource: Hiking Layering System Explained
Trailworthy Womens
Petite Hiking Pants:
Some Great Options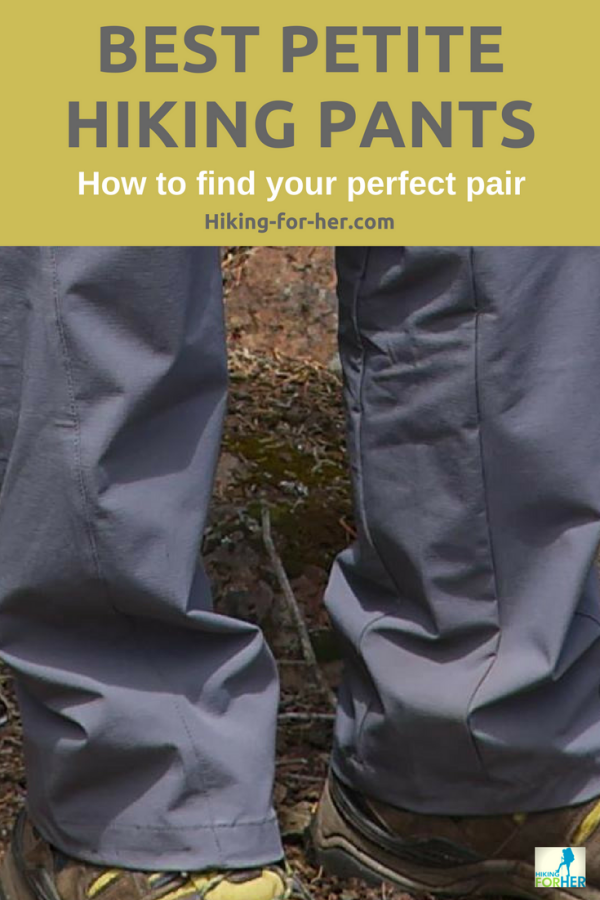 Who better to describe the perfect pair of womens petite hiking pants than a petite woman hiker who has been hiking for decades?
Drop down to womens petite hiking pants recommendations


What exactly does petite mean?

Let's define "petite" first.
A petite woman hiker is shorter than "average", when "average" is defined as 5'4" (162 cm) and above.
Just for the record, the term "petite" doesn't mean that a female hiker has to be teeny tiny in terms of weight..
No Tinker Belle Syndrome for most of us women hikers, thanks anyway. 
Petite hikers need some meat on their bones to power up those steep hills with our short(ish) legs.

What does the label of
petite


really mean for a hiker?


Being called petite might sound cute, but it boils down to this:

Short rant/bad pun
Who makes up these rules?
Why can't we use 2 numbers like the guys do, just waist size and length, to simplify our lives?
Why these silly descriptive labels?
Okay, rant over...
Petite hiker pants problem #1

Which brings us to the first problem for petite hikers:
Hiking pants for petites is all about not tripping over the hem, right?
This is especially important for safety on a hiking trail.
So let's tackle this length-y challenge.

Womens petite hiking pants:
length

I think we agree that petite is just another way to say short.
Or, as I prefer to think of it, small but mighty.
According to our friend Wikipedia, 40% of American women are 5'3" or shorter.
That's a lot of petite women!!
If you're a short hiker and you try on "regular" length hiking pants, you will trip over the excess pant leg material.
Thus, your desire to locate pants of the appropriate length is a safety issue, as well as a style concern.
Pants should fit and flatter.

You're a smart hiker!

But there's a hidden problem here
You want pants for hiking that are long enough, but not too long.
In other words, you desire pants for hiking which are perfectly proportioned.

Your pants legs should cover the tops of your boots, to keep trail debris out of your socks.

You want pants that are long enough to cover the back of your boots without bunching.

And you need enough "clearance" between your hiking pants legs and your sandals to allow mosquitoes free access your ankles.

Also, you don't want to look like a dork with "high waisted" pants that pull the legs up above your ankles.

But you want enough fabric at the the waist to cover your skin when your backpack hip belt is in place, with enough left over for leg coverage.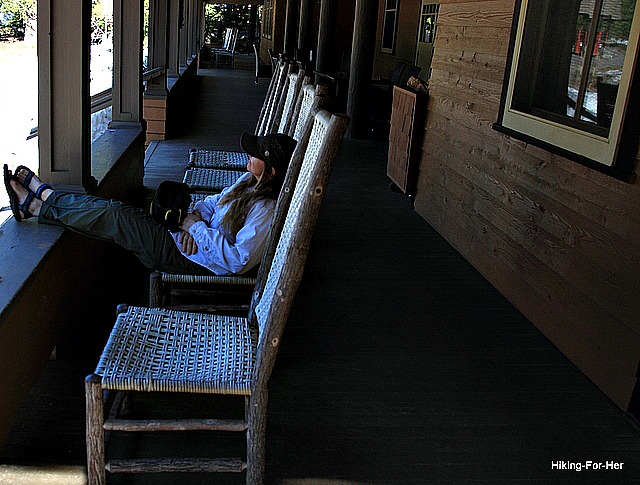 My ankles are now available for hungry mosquitoes :)

Inseams & why they matter on
womens petite hiking pants
This brings us to the importance of inseam measurements on the best womens petite pants for hiking and backpacking.
The inseam measurement is exactly what it sounds like, and you can measure it by following these steps (including a video).
If you're lucky enough to already have a pair of womens petite hiking pants that fit well, simply measure the inside seam.

So picking a brand and staying loyal to it is one winning strategy for wearing the best womens petite hiking pants.

Under five feet tall?

If you are under five feet tall, the inseam problem is even more complicated because you are in the category of "extra short" petite women. (I am not making this up!)
And if you don't fit into the "accepted" weight categories for petite sizing, you're a "plus" petite.
Yikes!!

Which brings us to the next problem in womens petite hiking pants.
The
best brands

for
womens petite hiking pants


Finding the best brand(s) for your hiking pants, regardless of your height (or, as "they" would say, your lack thereof) and weight, can turn into an epic quest.

I say this based on extensive experience with petite hiking pants quests.


The pants I wear on the trail are made of high quality durable fabric, and hopefully will deliver a perfect fit for you.

My top picks, with explanations
Let's start with a pair of pants that give you shorts, too (hikers love multi tasking clothing, don't we!).

I know, I know, these zip off hiking pants can fall into the "dorky" (unfashionable) category.
Their saving grace?
No pockets on the outside!
Less bulky pockets = more able to blend in with "real" pants!

And please look at these features and tell me you won't use them while hiking:
They convert quickly to shorts when the day warms up and you're sweating like the delicate flower that you are.
There is a zippered (i.e. secure) pocket for your car keys, drivers license, or precious lip balm.
Lots of freedom of movement, thanks to the articulated knees.
Stain and water repellent nylon fabric, priceless for "butt belays" down steep sections of rocky trail.

The tiny amount of elastane in the fabric guarantees that these pants are capable of moving with you, not against you, when you lift your legs to step over trail debris.
Note: These run a bit small, so don't be offended if you have to order up a size or two. It all depends on your waist size and inseam length, so experiment a bit.
I find small sizing to be true in general with Columbia gear.
On the plus side, they are one of the few outdoor clothing companies to provide extended sizes for women.
Try these Baleaf quick dry, lightweight and water resistant hiking pants with elastic waist. The cargo style makes it easy to cinch the bottom of the legs to accommodate your hiking socks and footwear.
Available in sizes XS - 3XL
Multiple color options
They also have these shorter inseam jogger style hiking pants, suitable for day hikes.

A worthy source of
women hiker petite rain pants

Rain pants can be tricky to find in shorter lengths, but these are my go-to pair: REI rain pants in short length.

Finding rain pants that fit over my regular hiking pants but didn't trip me up was a nightmare until I found this pair.
What I love:
Absolutely bomb proof in windy rainy conditions, or when sitting on wet ground. The seams are tightly sealed!

Durable material - I've had mine for over 4 years and there is no sign of wear or tear, even after some rugged backcountry hiking trips.
Pull on easily, with elastic and drawcord at waist to accommodate layers

Fairly good mobility, due to articulated knees. But be realistic: these go on over another pair of pants, so don't expect miracles. (I sometimes wear these by themselves for snowshoeing, and it improves my mobility.)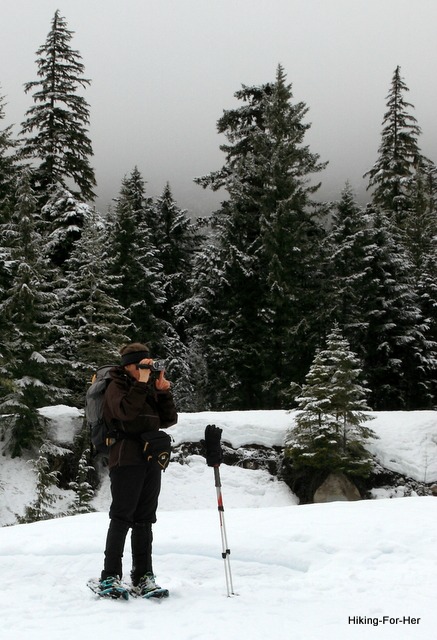 You don't want to be tripping over your pants when you're busy taking photos
Recently I did this review of a different pair of REI rain pants, available in both petite and regular lengths.
Spoiler alert: loved 'em!
Another good option for
petite convertible pants

REI Co-op Sahara Convertible Pants




REI offers these petite convertible pants in both regular and petite lengths.





I've been a fan of their type of convertible pants for over twenty years. Read my review of REI's Sahara convertible pants here.
Here's why I wear these pants:
Side zippers so you can quickly peel them off while standing. Sometimes it's impractical (or dangerous) to sit down in the outdoors. Plus, your muddy boots won't stain your pants legs.

A color code on the zippers that tells you immediately (unless you are color blind, which is less likely for females) which bottom leg goes with which top leg.
Adjustable waistband to accommodate multiple clothing layers.
Fast drying, thanks to the nylon fabric.

Lots and lots of pockets. I'm a pocket lover, so I really  love this feature. Lip balm, trail candy, car keys, trail directions...
But you will have to work out a system for which items go in which pocket!
Tip: These pants have a more relaxed fit than the Columbia pants above, with a customizable "button" waistband.
That's good for hikes with lots of elevation gain and loss because you'll be able to move easily both before AND after lunch ;)

26 inch inseam hiking pants
REI makes Sahara convertible roll up hiking pants for girls, with a 26" inseam.
Check them out here.

Many petite hikers have found them to work well, with waist sizes to 32 inches and hip sizes to 38 inches.
Here's a roll up pair of pants to consider
It's great to be able to switch between capri length and full length hiking pants when the weather and the trail demand flexibility.
These Kuhl petite hiking pants give you inseam options plus that versatility.


Or go with a skirt
If you really can't find a reliable pair of womens petite hiking pants to fit your inseam as well as your waist, why not try hiking in a skirt?
You can pair a longer skirt with leggings for cool weather hiking, or go with a shorter hiking skirt or skort in warmer seasons.
And there are trail dresses worthy of consideration, too.

Everything you need to find the best hiking skirt or trail dress is right here.

More options for
womens petite hiking pants

Want to peruse even more options for petite pants from a reputable hiking clothing store with great return policies?
REI Co-op, that is. Inseam sizing starts at 27 inches.

Enjoy the hunt for the perfect petite hiking pants.
It's worth the investment of time.
Home page > Womens Best Hiking Clothing >
Best Womens Petite Hiking Pants
Interested in supporting Hiking For Her's mission to put free and detailed hiking tips into the hands of women everywhere on the globe?

It costs you nothing extra, and helps keep the hiking tips freely flowing.
Thank you!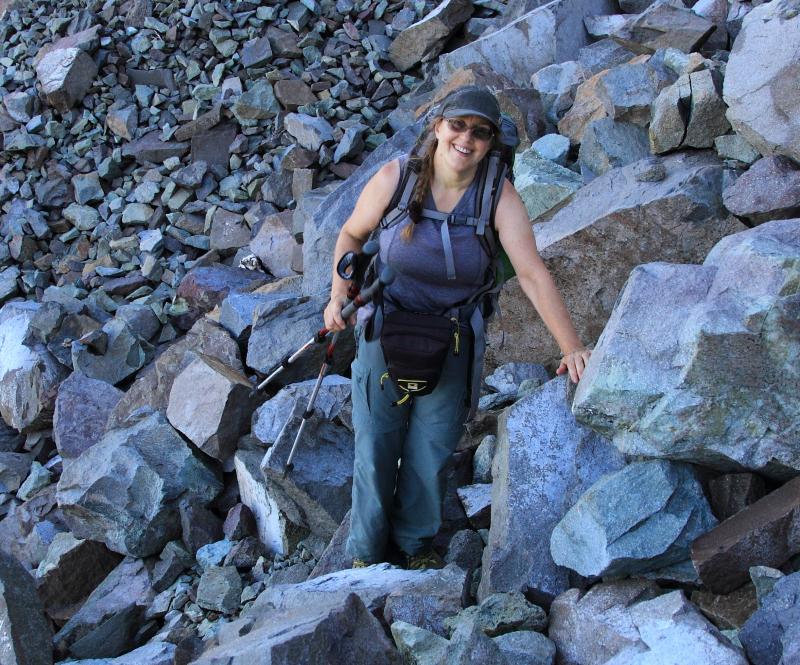 About the author
Diane is the founder of Hiking For Her.
She's been on a hiking trail somewhere in the world for nearly five decades, & loves to share her best hiking tips right here.