Contact
Hiking For Her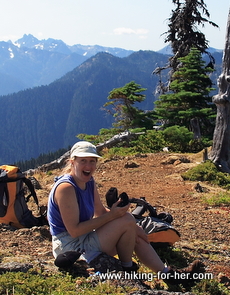 You're sending me an email? Sweet!

Jump right into the message
here
There are lots of reasons to contact Hiking For Her. Where does your inquiry fit?

You have a question
This hiking website is a labor of love, and one of the best parts is hearing from other hikers, or those who want to hike.

This contact page is your chance to send me questions you have about:
how to hike,

which gear is best for your hiking purposes,
any of the areas I've hiked in,
hiking techniques to tackle trail problems you're experiencing,
or whatever is on your mind about the wonderful sport of hiking.

You have a comment
I also welcome comments you have about any of the information or opinions on these web pages. You can...

validate what I've said, so other hikers know they can trust the information,
add

your own knowledge so I can enhance the content of this site,

provide an alternative perspective on my opinions and experience,
or just say hi!

You have a recommendation

to share
If you've got a recommendation, I'm all ears.
I love hearing about new:
products,

gear,

techniques,


destinations
You have a proposal
You'd like to work with Hiking For Her to get the word out about a product, destination or service, using:

Don't hear back?

As soon as you send your message, you will receive a reply informing you I received it.
If you don't get that message, I didn't get your original message.

Please try again, being sure to double check your return email address.
It's very stressful to get a message with an "undeliverable" return address! I have no way of knowing how to fix it.

And I certainly don't want you to think that I ignored your message :(

Here's another option:
Word of caution

Just to make things crystal clear...
I make Herculean efforts to answer all of my email within 24 hours.
Except when I'm far, far away from my computer because I'm (wait for it...) hiking!

Please don't think I won't answer your email if you don't hear from me within a day or two.
I answer every email myself, in the order received, but sometimes it takes a bit of time to work my way through it.
Every hiker picks happy trails over email, right?
But both of them are important, and I give the same devotion and attention to one as I give to the other.
Other contact options

You can drop me a line at this address:
Diane Spicer
Hiking For Her
6830 NE Bothell Way
Suite C #134
Kenmore WA 98028-3546

You can leave a message on Hiking For Her's Facebook page.
One more option: you can sign up for my free monthly newsletter, and use the links provided at the end of the newsletter to reach me.


So don't be shy, drop me a note in the box below!



Hiking For Her's weekly emails keep you current on hiking & backpacking news.


Free, fast, fun info for you, every week of the year.

Use the box below for fast sign up!






flash giveaways
timely deals
steep discounts
freebies

resources
Why wait a whole month?
Plus, there's never enough room in the newsletter to share it all, so why miss out on exclusive Hiking For Her giveaways, limited time gear deals and discounts, freebies, updates, and more?

A short, info packed weekly email update will keep you current on all things hiking!
When you sign up to receive this update, you are agreeing to Hiking For Her's privacy policy.

Don't miss out!

Read more about these hiking weekly updates





Photo credits: All photos on this website were taken by David Midkiff or Diane Spicer.

All rights reserved.

As an Amazon Associate,  Hiking For Her earns from qualifying purchases.