Have the freshest free hiking tips sent to you each month!

Hiking Clothing For Women:
How To Choose The Best

The best womens hiking clothing? That depends.

There are cute hiking clothes.

And there are good hiking clothes.
But can they be one and the same thing?
Let's find out.
Clothing essentials
to consider before shopping

Hiking clothes are valuable pieces of hiking gear, keeping you thermoregulated and protected from UV exposure, trail grit, and/or bugs.
All this, while looking good on the trail!
Putting together a cute outfit for hiking is one motivation for collecting hiking attire.
But please don't overlook how functional each piece of hiking clothing will be for you on the trail.
Let's take a look at what I call hiking clothing essentials in each big category of hiking clothes:
footwear

base layers

mid layers

outer layers

hats & gloves
Choosing the right "cuteness level" is up to you ;)

Free hiking clothing for you!

Hiking For Her firmly believes in making things easy.
What could be easier than free hiking clothing that is durable, moisture wicking, and more!
Check the HFH giveaways each month, and chances are you'll see your chance to enter to win some fabulous active wear that transitions easily onto the trail, and off again!
Hiking boots and other footwear

Boots: Read why I consider them the most important part of any girl's hiking outfit.
Trail shoes might also be a good choice.
Just want a quick peek at a waterproof pair of womens hiking boots?
Socks are so important,
please choose wisely

Socks: Try 2 pairs if you want to avoid blisters: thin liners topped with reinforced toe & heel thick socks.
This rule can be broken if you're wearing lightweight trail shoes or (gasp) sandals.
Why no sandals on the trail?
Don't risk a foot injury that can leave you unable to return to the trail head.
Heads up exception: If you're on a trail with frequent shallow water crossings, lashing a pair of lightweight sandals like these to your backpack will save a lot of frustration.

The best womens hiking pants

Pants: Look for a fit that doesn't create extra fabric to trip you up, but allows for free flowing movements as you bend, twist, and take big steps along the trail.

Reinforced knees and seat are must-haves, but be prepared to pay extra for this hiking clothing.

Some pants have built in belts, and some sport a variety of pockets (teeny tiny to spacious).
Need womens petite hiking pants?
Not sure how to size up a pair of hiking rain pants?
Here is a recent review with my tips.
Information on extended size hiking pants is here.

A brief pants digression for
my "must have" features
Zippers running from ankles to knees, allowing me to pull my pants on or off without removing my boots; also makes a fast ventilation system if zippers run all the way up to your waist, which is unlikely in a pair of pants unless they are rain pants;

Zippers running horizontally above the knees, to allow a quick conversion into shorts when the day heats up. One caution: always wash the bottom half (the "legs") with the top half, even if you only got the top half dirty. You don't want 2-toned pants, right?

Durable fabric so I don't have to replace them at the end of each season. NOTE: iron-on patches work ok, but they tend to fall off after a few runs in the washing machine. If you're on an extended hiking trip and will be washing them away from home, this can become an issue - unless you LIKE revealing the color of your underwear to your trail buddies.

Zipper closures, not buttons. I hate fumbling to get small buttons fastened, especially during cold and/or wet weather. Plastic zippers are quick and easy, durable, and silent. Velcro might also be an option, but it sure isn't quiet.


Rain pants

: buy them one size larger than your hiking pants, so you can pull them on easily. Look for a pull string around the waist, for quick adjustments according to the amount of clothing you're wearing. All of my hints above about zippers goes for these pants, too. One more thing: buy a dark color, as it tends to hide dirt and tree sap better.
Hiking skirts

Some women swear by hiking skirts, regardless of the weather or the trail.
If you stick to established trails and are comfortable with adding leggings to your outfit for cool weather, give a hiking skirt a try.
The obvious advantage?
Pit stops (pee breaks) are really easy, and if you get good enough, squatting is a thing of the past.
You can pull on a pair of cute tights like these for cool mornings and evenings, too.

Why you need hiking gaiters!

Here's a useful add-on: hiking gaiters.
Full disclosure: I love my gaiters. I think every hiker should have a pair.
Why? Feast your eyes on this list!

They keep my pants dry on early summer mornings hiking through long grass heavy with dew.

They keep me toasty warm on winter snowshoeing adventures by deflecting the snow I kick up onto the backs of my legs with each step through heavy snow.

They preserve my expensive hiking pants while I'm scrambling over rocks or through brush.

They make creek crossings a snap - no worries about having wet socks or pants!
What more can I say to convince you that gaiters should go along on your hikes?
I have a very old pair of canvas gaiters (Yes! That's how old I am!!) which have been retired after much angst - they're still functional, aren't they? But they're very heavy.
My somewhat newer pair (circa 1995) of black nylon gaiters are what I rely upon: they  have a Velcro front opening with a snap at the bottom.
There are much fancier versions (some of them blessed by the venerable Ed Viesturs himself, of mountain climbing fame) but I find the newer buckles too fussy for my hands in cold weather.
I am hoping and praying that my gaiters NEVER wear out... but I did recently purchase a pair of Mountain Hardwear gaiters for my husband, and they are standing up well to field testing.
I may have to break down and buy a pair of women's gaiters.
Here's the pair that make my heart go pitter patter.

Hiking shorts

OK, back to our list of hiking clothing essentials...
Womens hiking shorts.
I like my hiking shorts:

long enough to scramble up a hillside without flashing the world;

loaded with pockets to receive my trail snacks, lip balm, trail treasures (feathers, rocks, pine cones, lichens, whatever);

durable enough to stand up to "butt belays" over rocks and roots;

fast drying nylon to keep me comfortable in any weather;

available in colors that hide trail dirt or keep me cool.

Here are a few tips for finding the best womens hiking shorts.
The best womens hiking shirts

Long sleeved shirts for cold weather should be able to wick away perspiration without leaving you a soggy mess.

That's why I prefer the easy pull-on style in hiking clothing - plus, avoid the worries of a loose or missing button, or a broken zipper that catches on other clothing.

Short sleeved shirts are great for spring and fall layering under a jacket. Again, pull on styles are the way to go, with a V neck giving you the most room for movement.

I use sleeveless shirts in warm weather because I heat up quickly.
I avoid tank top styles, because the narrow straps leave me vulnerable to chafing from my pack straps.

Always choose quick drying fabrics which accept spot removers without fading the fabric.
I find cotton to be too heavy, and not good at releasing moisture or odors.
Also, cotton doesn't stand up well to the dozens of washings each year I put my clothing through - it tends to fade and get misshapen.
Sports bras for the girls

Sports bras: Some gals don't need to bother with this particular piece of hiking clothing, and can simply pull on a shirt and hit the trail.

For most women, however, comfort if not modesty dictates some sort of sports bra for hiking.
And for some of us who are generously endowed, plus size sports bras as a base layer are a must.


Heads up:
You will have to try on many brands until you find the one with the magical combination of fit, form and function.

Tip: Shelf bras don't always give you the support you might need/want.

That's why I'm a fan of the built-in cup sports bra - definitely more comfortable and supportive if you want to avoid the bounce and the sweaty stuck-together side effect of hard trail work. 
If you want to do a little bit of undercover research, try this.
More womens hiking underwear tips

Be methodical about choosing hiking underwear that will play well with your layering system, as well as your skin.
And that means starting at ground zero: panties.

There's no sense in wearing cheap cotton underwear when you're a hiker tackling serious trail.
Why not?

You need high performance underwear, meaning that each pair will wick away your perspiration, dry fast, give you adequate coverage, protect you from chafing, and have enough flexibility to move with you.
Sounds challenging to figure out?

Read these tips about how to choose the best womens hiking underwear.
Hiking jackets for all seasons

Hiking jackets: Seriously - can a woman ever have too many hiking jackets??
Some women are crazy about jewellery, I'm crazy about hiking jackets - they're my favorite piece of hiking clothing.
And it's not because I'm vain!
Rain jackets keep me dry and warm - no hiking hypothermia for me, thank you very much.
To choose a great rain jacket for your outer layer of weather protection, look for breathable fabric that you can keep waterproof in your own washing machine.
Also look for taped seams and zippers that will work easily when your hands are cold.
Fleece jackets keep me dry and toasty when the temperatures dip into the thirties and below.
Fleece maintains some body warmth while wet, but don't rely upon it as rain gear. Instead, be sure your rain jacket fits over your favorite fleece garments.
And don't forget about fleece vests. They're my favorite mid layer of hiking clothing for snowshoeing, and for starting out on summer trails early in the morning.
Winter jackets for cold weather hiking

Winter jackets keep me dry AND toasty on chilly fall trails or on a snowshoe hike.
Here's where I invest the most money to enjoy:
a looser fit so it goes over my layers,

several pockets to stow gloves and hats and lip balm,
waterproof outer layer and a zip-out inner shell so I can adjust the warmth factor,

a detachable hood to be stowed when not needed,

cut a bit longer in back so when I sit down on something cold I have an extra layer of insulation,

adjustable cuffs (usually velcro, I'd avoid snaps or buttons) so I can get the sleeves over my gloves/mittens....

A word of advice: Wait for end-of-season clearance sales to score a fabulous jacket with all the bells and whistles.
Otherwise the sticker shock of a down jacket or vest might be detrimental to your hiking health.
Windproof jackets - an important subset

Windproof jackets keep me warm while the wind howls.
Look for these important features in a wind proof hiking jacket:

nylon ripstop fabric,

a kangaroo pocket to store small stuff,

a hood that cinches down around your ears and keeps your hat on, and

an easy on & off style.

I prefer an anorak style because it has all of these features.
Again, I go for a looser fit because I'll be pulling this jacket out of my pack and whipping it on quickly when the wind whips up.
Of course, there will be days when you don't need a jacket at all! But carry it in your pack anyway, as part of your ten essentials.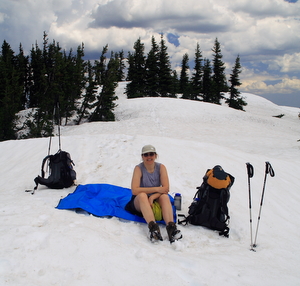 Sometimes the less hiking clothing, the better!

More hiking clothing to consider:
an array of hiking hats

Hiking hats: Here's an example of hiking clothing that can let your personality shine through. So many styles and colors - which is right for you?
Consider 2 things over and beyond your personality:
your hairstyle,

and your backpack.
A ponytail or bun will make your hat fit funny, unless you can pull the tail out through the back of the hat, or put all of your hair comfortably up on top of your head underneath the hat.
Or you could try a "ponytail headband". You pull your ponytail through a hole in the back, which accomplishes 2 things: warm ears, and a tidy tail.
Here's the one I use:

TrailHeads Ponytail Headband
Even if you have short hair, a big hat will bump the back of your pack with each and every step - definitely annoying. Possibly even headache inducing!

A baseball cap might do the trick for shading your eyes on a sunny day but be the worst possible choice on a rainy day. Ever had to endure the steady drip of cold rain down your neck?
I have 4 different hats, all chosen after much trial (trail?) and error, to cover the range of weather possibilities:
a rain hat with a wide brim (Seattle Sombrero) that cinches down around my chin in windy weather,

a snug felt-lined woolen hat with no brim for cold weather (handmade in Iceland, a memento of a great trip),

a baseball cap with a brim for sunny days, and

a "dork hat" (so named for the way it makes me look) for hot sunny days when I want to shade not just my eyes, but my entire upper body with its wide brim and wicking fabric.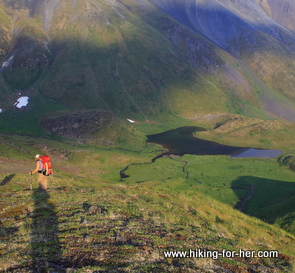 Hiking clothing needs to fit your body, and the weather conditions.

Versatile bandannas

Bandannas: Another chance to flaunt your personal style as you don your hiking clothing!
These amazing little beauties soak up sweat, they're handy for dunking into ice cold streams to cool you off fast, and they come in an eye popping array of colors and fabrics.
One tiny square of fabric, so many uses!
I never leave home without this time honored functional piece of hiking clothing.

Hiking gloves - you need
more than one pair!

Gloves: I have yet to find the ideal pair, but I never give up searching through bargain bins.
To see the styles and brands I wear, read this.

For hiking on chilly mornings, a thin pair of gloves work great, and in fact I carry 2 pairs to swap out when one pair gets wet.
I also carry a heavy duty pair of mittens for winter snowshoeing expeditions - these are life savers when the wind kicks up and my hands feel like claws around my hiking poles.
Where to shop for the
best hiking clothing?

So what's a hiker to do when faced with the bewildering array of women's hiking clothing?
Either way, there are hiking clothes with special features which you need to pay attention to if you want your trail time to be comfortable.
Because who wants to hike in less than the best hiking clothing? Adventure apparel should be top notch.
Be brand loyal

I've learned to stick with the brands that deliver the goods, trail mile after trail mile.
If you're just starting to ask the question "what to wear hiking", read this first.
Need some suggestions for beginner hiking gear and clothing?
If you want to cut to the chase and get a glimpse into my "athletic clothing for women" closet space, go here.

That should wrap things up!

Which is a little hint to ask for some of the best hiking clothing for your next birthday or holiday.
If you don't ask, you don't receive, right?
Now that you know which hiking clothes to wear, don't be shy about asking for additions to your hiking attire wardrobe.
For even more hiking gift ideas, read these tips.

And if your gift givers are on a budget, here are some ideas for hiking gear less than $25.
Now here's a little wrap up just for you: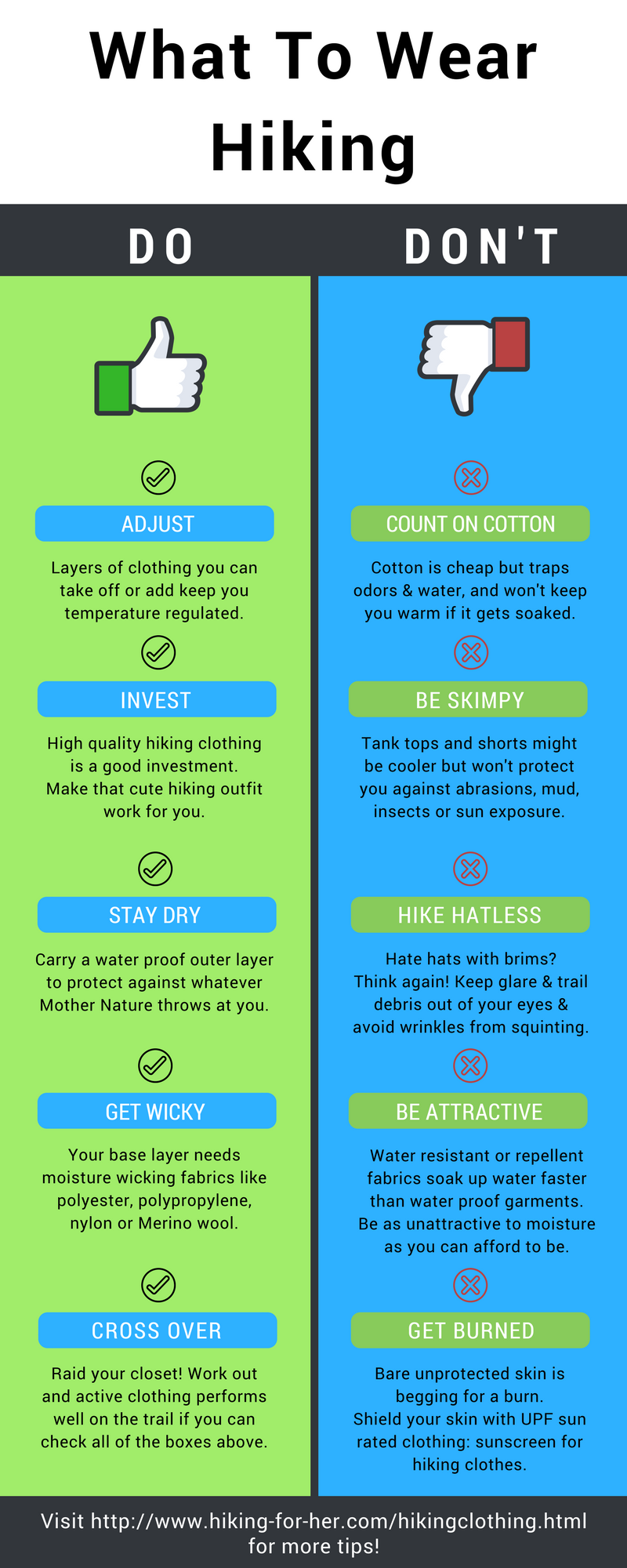 Home page > Best Hiking Tips > Women's Hiking Clothing

Didn't find what you were looking for? Use this search box to find it quickly.

Why wait a whole month?
Plus, there's never enough room in the newsletter to share it all, so why miss out on exclusive Hiking For Her giveaways, limited time gear deals and discounts, freebies, updates, and more?

A short, info packed weekly email update will keep you current on all things hiking!

Don't miss out!