Have the freshest free hiking tips sent to you each month!

Best Beginner Hiking Tips:
How To Start Off
On The Right Foot

by Diane Spicer

These beginner hiking tips are all about getting you started hiking as fast as possible.
You're here for how to hike advice, and I'm going to deliver.
This page outlines exactly what you need to get started hiking, based on hundreds of reader's questions and my 45+ years of trail experience.
I won't let you down!
Find fast answers to your
beginner hiking questions!

And please don't be shy.
Send your hiking questions here and expect a personal answer!

You can dip into the Hiking Question archive first here.
Or use the search box at the top of every page to find detailed articles on the topics that interest you the most.

Or this HFH Best Hiking Tips For Dayhikers book might be the best place to start.
In case you're not quite convinced that hiking is for you, read these 4 great answers to the question Why Hike?
And because snowshoeing is just winter hiking, you might enjoy 8 reasons to snowshoe when your favorite hiking trails are buried in snow.
Go on a group hiking trip
to learn basic hiking skills
Group hiking trips run the gamut from an overnight to a beautiful destination, to a week or more backpacking through the backcountry.
You can leave all the logistics and planning to experienced guides, and concentrate on your gear.

Join the Over Forty Hiker community
of hiking women
This supportive, private virtual community welcomes hikers of all ability levels.
That means a beginner hiker is in exactly the right place to find support, answers, and hiking buddies!
Details about joining this virtual hiking community are here.


Hiking basics:
beginner hiking tips

To get started hiking, you need things in both the physical and mental realms.
Did you feel surprised about the "mental" part of beginner hiking tips? Hold that thought!

Let's call out the expected physical stuff first:

Beginner hiking tips:
physical hiking equipment

The absolute basic physical requirements for a hiker include:

comfortable footwear,
a way to carry Ten Essentials,
food and hydration that works with, not against, you on the trail,
a hiking clothing system that can be adjusted as needed,
and a destination with a plan to get there and back.
You can search for any of these terms on this website.
Just use the search box at the top of this page!

Get
your head

in the game!


The mental requirements you should bring on every hike:
motivation

common sense

good attitude

first aid and navigation knowledge

enough self awareness to know your own blind spots (also called "know when to lead, when to follow")
No hiking gear store in the world sells these :(

So this page focuses on the basic hiking gear and clothing you'll need to start down the trail of your choice.
Tip: If you're on a budget, share this Best Hiking Gift Guide with your loved ones when they ask you what you need to get started.

News flash!
Hiking For Her now features monthly giveaways.
This is a perfect strategy for getting the best hiking gear, the most reliable outdoor clothing, and the best hiking tips into your hands for free.
Be sure to visit this page for your chance to win something wonderful for the trail.
It's one of the most valuable beginner hiking tips on this page :)

Beginner gear guide:
start here
before you shop

The first tip:
Always use reliable hiking gear sources as you begin to fill up your gear locker and hiking clothes closet.
To avoid overwhelm, look over this beginner gear guide I put together just for you, using REI as the source of high quality, durable and trustworthy hiking gear and outdoor clothing.
And you can quickly find some of the best tips for beginner day hikers right here.


Beginner hiking tips:
The best hiking footwear

If your feet are sore, cramped, blistered or too hot, you're not going to hike.
Or your hiking time will be pure misery, which means you'll give up your hiking goals.

Before you do anything else to join the hiking community, get the best hiking boots or most comfortable trail shoes you can afford.
Read how to do that here. It's loaded with beginner hiking tips for your feet.
For specific tips on how to choose the best hiking boots for your particular arch and foot shape, read this Ultimate Guide to choosing trail footwear.

Then take a close look at what I recommend for beginner hiker foot comfort in moderate price ranges.
The brands I recommend are the ones I use, year after year, mile after mile.
Best hiking shoes & boots
for a beginner hiker

It will take some trial and error before your trail footwear is error free, so here's what I recommend:
Start off on the low end of the hiking boot price range if you are going to stick to well established, mostly flat trails.
In fact, trail shoes might be your best bet.
Read my recommendations for the best beginner hiking boots and shoes.

Here's what's on my feet:
Best beginner hiking tip:
hiking socks are really, really important

I think of hiking boots/shoes and hiking socks as one unit. Both have to perform well in order for my feet to stay dry, cool and unblistered.
I have two hiking sock companies that I turn to over and over and over again:
Liner socks are used under these hiking socks to wick moisture away from your skin, thus preventing blisters.
What's the best day pack
for a beginning hiker?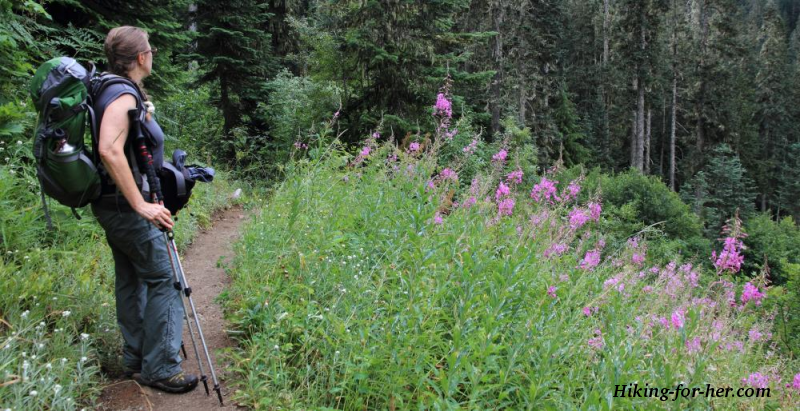 Take time to smell the flowers on your first few day hikes
Let's be realistic.

On your first few hikes, you won't be carrying much weight.
You won't be going very far.
You don't need fancy stuff like an ice axe loop or a hydration system on your day pack - unless you want them.
So start basic, but not TOO basic. Be careful to buy a pack that will serve you well on the trail a year from now, not just tomorrow.
Two trustworthy brands

I have two brands which I absolutely recommend for a beginning hiker.
Here are a few words about why each brand is so trustworthy.
Deuter daypacks are incredibly sturdy and engineered for comfort.

Osprey is another brand of hiking day packs I use frequently.
Fill up your pack with
the famous hiking
Ten Essentials

Once out on the trail, you're responsible for your own safety and comfort.
Your pack will carry your food and water, but it should also be loaded up with these ten essentials.
Essentially, they keep you safe & buy some time if something should delay your return to the trail head.
The best athletic clothing
for hikers

Let's get this out of the way right now as far as beginner hiking tips go:

Don't wear cotton for anything except the driest, hottest hike.
And maybe not even then!
You need clothing that wicks your sweat away from your body and doesn't stink while doing it.
You also need hiking clothing that moves with your body as you bend, twist, and step over rocks.
Here's the absolute minimum hiking clothing that will work for you on the trail, based on what I wear and know that it works.
Base layers for mild weather
This is the layer up against your skin, so make some careful selections to guarantee your comfort.
Hiking sports bras are designed to prevent chafing and bouncing while wicking away sweat. I turn to Moving Comfort again and again, specifically this bra.

Plus size sports bras for hikers can be difficult to find. Read this for some hints.

Wicking underwear is also essential for your lower half. I turn to ExOfficio when I want durable and wicking briefs.
But your current cotton or nylon underwear might be just fine when you're starting out in warm, dry weather. Experiment!
Mid layers for mild weather
You'll get overheated if you wear too many layers on a nice day.

Outer layer for mild weather
You probably don't need one, but extra clothing is one of the famed Ten Essentials.

Pay close attention
to your trail food

You might be shocked at how hungry you get during a hike.
And the huge appetite might linger into the next day.
It pays to bring high quality nutrition along on every hike, and to train your body to hike on lots of carbohydrates and water.
Calories from carbohydrates give you quick energy.
Staying hydrated allows these calories to be delivered quickly to your muscle cells (among others).
If the whole idea of hiking nutrition bores you, please take a few moments to at least consider the fact that you need to eat a bit differently as a hiker:
easy to digest carbohydrates, but no sugar highs that will crash you into fatigue.

If you're really into the idea of trail nutrition, start here.
A few more tips
to get you started!


Beginner hiking tips
all wrapped up

Now you know how to get started with the basic hiking gear and athletic clothing that you need for hiking.
You also have a heads up that eating for the hiking trail is a bit different than your usual diet.

And don't forget, you can email me directly.
You know, just in case I didn't answer that one burning question you still have ;)

Need some free hiking stuff
to get started?

I thought you might!
In case you missed the link above, you can enter for a chance to win all sorts of hiking and camping gear, athhletic clothing, books, and fun outdoor products on this Hiking For Her current giveaways page.
No, wait!
You already are a winner!!
This is just a chance to fill up your gear closet :)
Home page > Best Hiking Tips >
Beginner Hiking Tips

Just so you know, some of the links on this page and elsewhere on the website are affiliate links, which is the way all of this hiking information can stay available to you free of charge.
If you purchase hiking gear through one of the links, you pay nothing extra but Hiking For Her is rewarded with a very small percentage of your purchase price. It keeps this website humming along.

I only recommend, and link to, the stuff I know, trust and use myself. You can see it being used in the photos on this site.
These beginner hiking tips are only the tip of the iceberg, so please look around and use all of the resources that are provided for you.

Didn't find what you were looking for? Use the blue TOP button
on the right to jet back up to the search box.
Why wait a whole month?
Plus, there's never enough room in the newsletter to share it all, so why miss out on exclusive Hiking For Her giveaways, limited time gear deals and discounts, freebies, updates, and more?

A short, info packed weekly email update will keep you current on all things hiking!
When you sign up to receive this update, you are agreeing to Hiking For Her's privacy policy.

Don't miss out!

Read more about these hiking weekly updates
HFH Policies


Save Time & Money


Hiking For Her's weekly emails keep you current on hiking & backpacking news:


flash giveaways
timely deals
steep discounts
freebies
trail changes


resources

Free, fast, fun info for you, every week of the year