Best Current Deals
For Hikers:
Save Money In 2022

by Diane Spicer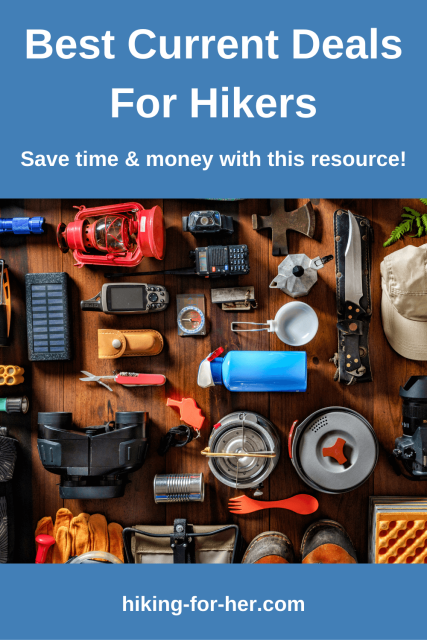 The best current deals for hikers can be elusive, or confusing.
You know the drill: use this coupon, hit this deadline, spend just a bit more to get free shipping...
Why spend your own time searching for how to save the most time and money as a hiker?
Let Hiking For Her do it for you!
How?

Visit this page every week, or whenever you're looking for something in particular to make your gear list or vacation plans complete.
It's a smorgasbord of hiker savings, updated and organized just for you, under the umbrella of best current deals for hikers.

It's easy to find
the best current deals for hikers
Jump to the categories that speak loudest to you:

What kind of current deals
are we talking about?

You'll see the best current hiking deals on everything related to your outdoor time, including:

outdoor gear and clothing sales or deeply discounted end of season pricing

discounts or amazing prices for hiking vacations and adventure destinations
coupon codes that can save you money at your favorite (or soon to be) high quality outdoor companies
upcoming classes and webinars for hikers that are a great deal, or discounted for early signup

hiking freebies that are just waiting for you

limited time offers for hikers that come and go in just a few days
And whatever else I notice that can save you time, money, or both.

But it's going to be time or quantity limited offers, so you'll have to take action quickly to score the best hiking deals.
And you might have to accept your second favorite color for a hiking jacket, because that's all that is in stock at the moment.
But remember the mantra:
Save time and money.
Your gear list and budget will be in great shape if you bookmark this page on outdoor gear deals and check back often.

What's my "why" behind this page on
best current deals for hikers?

Why am I adding another resource to over 700 pages of Hiking For Her?
I am doing this to help you, dear hiker.
There are so many juicy best current deals for hikers out there, waiting for your eyes.
And they land in my inbox every day. Why not share them with you?
Some of the links will take you to affiliates, meaning I may receive a small percentage of your purchase price without costing you anything extra. It helps keep the electrons humming on Hiking For Her, and is deeply appreciated.
Quality and value only, for real

You may already get emails that tell you "hey, REI is having a big sale, shop now."
Yawn.
This page is going to dig deeper, a lot deeper, to fend off inflation as you score the best deals that can be found in Hiking World.
That means the content of this page will change every week, maybe even daily.

That is the whole point.
To share current, time limited and juicy deals with you.
My pledge to you, one hiker to another
Will I share junk?
Stupid or useless stuff?
Anything I don't/won't use myself?
Absolutely not! That's not how Hiking For Her rolls (although I see a lot of that kind of nonsense on other websites).
I will share my favorite brands and outdoor companies with you, the ones with great customer policies and a proven track record of quality brands.
And I'll share small businesses and organizations that you may not have run across before, but are providing outstanding value and learning opportunities to our hiking community.
Now dig into the best current deals for hikers!

Outdoor Gear & Clothing Deals
Ursack (bear proofing gear) is marked down 25% right now, a great deal!

---
See all of the current backpacking gear deals from REI here.

---
Cotopaxi is having a summer kick off sale now through May 19, 2022.  Save up to 50% on a wide assortment of products  including Cotopaxi's iconic Fuego line (which rarely goes on sale).
---
Have you tried Stoic hiking clothing yet? You can get up to 40% off through Backcountry now through 5/19/2022.

Sweeten your deals from Backcountry: take 15% off your first order, now through May 12, 2022.

---
LadyHike is having a Last Chance sale, an opportunity to score a great deal on stylish and functional trail dresses, leggings and more. Not sure when it ends, so snag a deal now.

---
Need a rain skirt? Purple Rain skirts are 10% off with free first class shipping. Use code SBSW22 at checkout.

---
TitleNine is marking down clothing you'll need for summer adventures and trips, up to 30% off even the new arrivals.

---
KEEN has marked down their EXPLORE waterproof hiking shoes and boots, both men and women styles. Example: women's EXPLORE waterproof boots, now $94.99 (regular price $160).

---
HydroFlask is offering an extra 10% off already discounted coolers and totes, plus up to 45% select colors with code GETAWAY at checkout.
---

Great Deals For Campers
Arrive takes the hassle out of renting all the gear you need for camping. Now through Memorial Day (May 31, 2022) use a coupon to save 20% your rental price.
Coupon: MemorialDay20
They also offer good deals on used gear!

---

Deals On Food For Hikers

AlpenFuel is having a 20% sale on their granolas, like Coconut Mango.

---
Cascadia Coffee is 20% off right now.

---
Looking for dehydrated backpacking meals?
How about red lentil stew from Nomad Nutrition, on sale now?
---

Classes For Hikers

Virtual free 2 hour class on picking a backpack basics from REI, no need to be a co-op member.
---

Adventure Travel Deals

This Women's Hiking Tour of Iceland webinar gives you a taste of what could be a fantastic hiking trip from 57Hours.
Here's a guided Iceland trip for women over 50 that you should consider if you love adventure travel.

---

Hiking Resources To Make
Your Money Go Further

Make your support of American Hiking Society work for you AND them!
AHS will make your Spring 2022 donation go a long way:

A $100 donation rewards you with an annual Backpacker Brand Pass through Outside. That brings you an annual print subscription to Backpacker Magazine, digital content feed on Backpacker.com, and gear discounts.

A $250 or more donation rewards you with annual print subscriptions to Outside Magazine as well as Backpacker Magazine, two books from VeloPress, GaiaGPS membership, gear discounts and free training plans.
Even better news through June 4, 2022 (National Trails Day). Your donation will be matched 1:1 by the AHS Board of Directors. Talk about getting a lot of mileage!
---

Fun Stuff And Gifts

MountainClimb makes unique bench mark medallions, paperweights, pins and other commemorative items. Remember your favorite places and save 20% for a limited time.
---
Wallets make a great gift for a hiker, making it easy to keep stuff all in one place. Flowfold has weatherproof wallets now marked down 12%.

---

That's what the best current deals
for hikers look like right now!

Thanks for stopping by.
I hope you found at least one thing to enhance your next day hike or backpacking adventure, family camping trip or backyard nature time.
This page of best current deals for hikers
is going to change and grow all the time,
so bookmark it and check it often.
Home page > Best Current Deals For Hikers 2022

Hiking For Her: Hiking tips you can trust!
As an Amazon Associate Hiking For Her earns from qualifying purchases.
This article was printed from Hiking-For-Her.com