Enjoy Happy Trails, the free monthly newsletter from Hiking For Her.

Receive a free resource: Hiking Layering System Explained

Best Hiking Gear Reviews:
Save Your Time
And Get To The Good Stuff Fast

Trail food reviews and hiking book reviews,
too!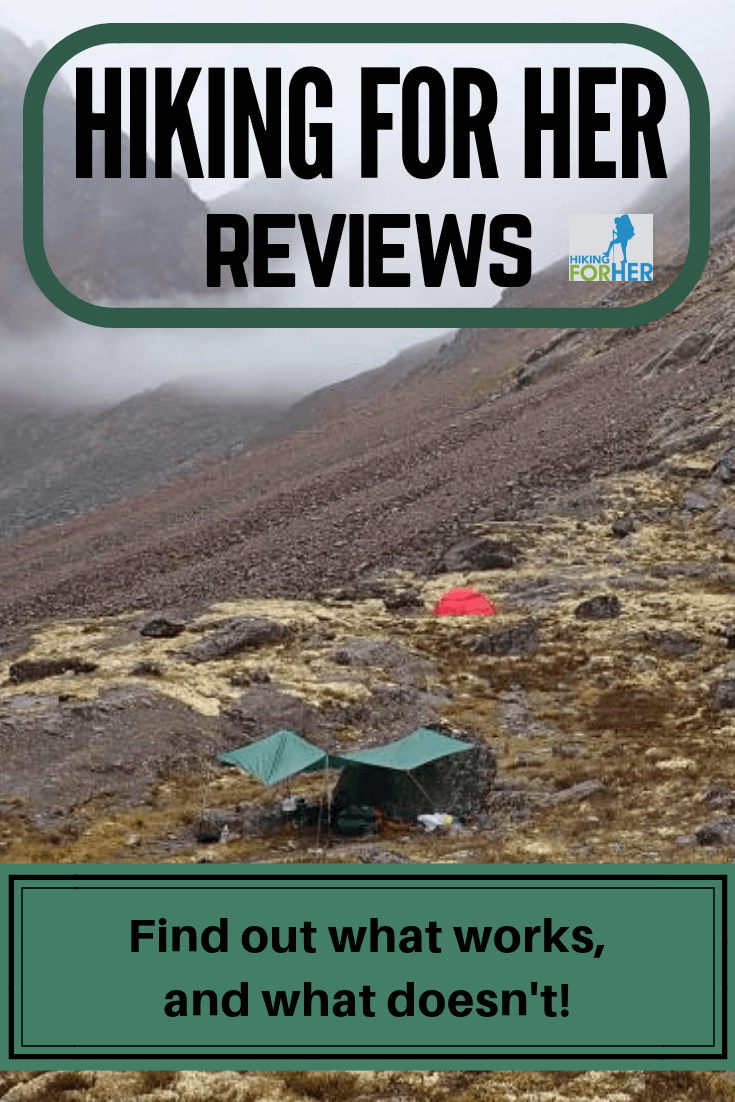 by Diane Spicer
The best hiking gear reviews answer three pivotal questions:
*Does the product work for your specific hiking needs?
*Is it fairly priced?
*Will it last more than one season?
Hiking For Her doesn't do paid reviews.
So everything you read is honest, unbiased and uncompensated.
Be wary of sites which are paid for their remarks.


Get to the good stuff fast!
Each link takes you to a category of hiking, backpacking and camping gear I've reviewed.
You'll find out exactly how this item will (or won't) fit into your outdoor plans.

Keep in mind that I'm not trying to please anyone or market anything to you.
I'm just being honest.
Fifty years of trail time will do that a woman (seriously, 5 - 0).


Best hiking gear reliable reviews

Let's start off with trail food - because food is gear, too, when you stop and think about your optimal trail performance.
Plus, hikers are always hungry ;)

What to eat on a hike:
best hiking food reviews

Mountain House Freeze Dried Meals
---
What to wear on a hike:
best hiking clothes for women

Alpine Fit Long Sleeve Base Layer

REI Flash Hybrid Hoodie Hiking Jacket

KUHL Women's Freeflex Hiking Pants

REI Women's Sahara Hiking Pants

REI Talusphere Womens Rain Pants

Title Nine Big B Collection Hiking Outfit

Title Nine Jogger Style Hiking Pants

Koup Base Layer Long Sleeve Shirt

GOREWEAR Thermo Shirt And Shakedry Insulated Jacket
GORE Shakedry Non Insulated Jacket
My Trail Co Lightweight Water Repellent Pants

Minus 33 Merino Wool Base Layers

---
Best hiking gear reviews
Montem 3K Carbon Fiber Trekking Poles

Women's Ultimate Direction Hydration Pack

Waterproof Solar Rechargeable iPhone Case

Ultralight 35L My Trail Co Daypack

---
Best camping & backpacking gear
reviews

Sea to Summit Flame UL Women's UL Sleeping Bag

Powercap Hands Free Illumination

Gobi Gear Segmented Stuff Sacks

---
Women's MSR Revo Ascent Snowshoes

---
Backpacking sleep system review


Ultralight Synthetic Down Backpacking Quilt

---
Hydration strategies for hikers:
water treatment & transportreviews


Lifestraw Personal Water Filter

Lifestraw Go Water Bottle Filtration System

Hydro Flask 16 Oz Wide Mouth Insulated Bottle

Hydro Flask 16 Oz Standard Mouth Metal Bottle

Hydro Flask Limited Edition 32 Oz Wide Mouth

Platypus Soft Collapsible Water Bottle
Klean Kanteen 20 Oz Metal Water Bottle

---
Reviews of stuff to enhance your enjoyment
of the trail & campsite
TinkleBelle Female Stand To Pee Accessory

Colorado Aromatics Foot Butter
---
Hiking photography equipment reviews
Streamaroo Smartphone Tripod Review
---
Hiking book reviews
100 Hikes of a Lifetime: The World's Ultimate Scenic Trails
When Grandma Gatewood Took A Hike
Hiking Washington's Fire Lookouts
Birds of the West: An Artist's Guide
Trees of the West: An Artist's Guide
---

Do you have products
you'd like me to review?

Gear reviews are so much fun to do, and I promise to give a fair, unbiased assessment of trail performance for your product.
Beware of overwhelm
in hiking gear reviews!

These detailed hiking reviews might cause you to feel overwhelmed when attempting to size up a new piece of outdoor gear or clothing.
That's why letting an experienced hiker review the gear for you BEFORE you lay out cash is a smart move.
And choosing experienced hikers (old trail dogs like me) is a smart move. Especially because every gear review features only the stuff that works, and is never paid for (i.e. bought) by the brand.
Speaking of  hard earned cash...

I'm sure it's on your mind when you read gear reviews. You want your money (along with your legs, but that's a different story) to go as far as possible, right?

I've certainly spent lots of my cash over the years to purchase gear and then put it to the test:
After all of that outdoor time, I think it's fair to say that I know how to size up a piece of hiking gear.
And it's my pleasure to share my findings with you, dear hiker, so you can save money when you buy hiking and camping gear.

Steer clear of hype
Hiking gear reviews for women hikers should be written by those who use the products, not those who design or market them.
At least that's my opinion!

So be leery when you're reading hiking gear reviews and lots of glowing descriptive language is thrown around:
"best"

"improved"

"tough"

"durable",

"award winning"

"brilliant"

"dependable"

"amazing"

"perfect"

"ultimate"  
Note that Hiking For Her reviews will bestow accolades when they are well deserved, because I want you to have the very best outdoor gear and clothing available - not what's being pushed this season.
Curious about what REI Co-op considers award winning gear? Read this.


Why am I qualified to write
hiking gear reviews?

I got started with hiking when I was just a wee young lassie: read my story here.
I've:

watched trends come and go,

witnessed the evolution of hunting gear and camping equipment into lightweight and ultralight gear,

rejoiced as women's hiking gear has gotten more tailored and serious,

noted significant design improvements...
as well as marketing hype that makes steam come out of my ears (see list of adjectives above if you missed them).
Also, the advent of fleece. Still brings tears to my eyes!

I love to eat, and am not shy about the fact that I relish second breakfast and frequent snacking on a hike.
Bonus round:
I'm a scientist by training and temperament, so when I get a new piece of gear (boots, poles, tent, jacket, what have you) I put it through its paces in a scientific manner, using those questions I noted above as a foundation for my judgement of gear worthiness.
On top of that analytic streak, I'm hard on my gear.
I know how to take good care of it, but I push it hard, too. You can see some of my extreme backcountry trips here.

So I give each piece of gear a rigorous test before I make up my mind about its worthiness (or not) in my gear locker.
Here's the approach I use when sizing up gear reviews written by someone I don't know or hike with.
Let's stay in touch

Let's stay in touch about the merits and drawbacks of what you're considering for your trail time.
Drop me a line using this CONTACT link.
To see what's new and inspirational in the hiking community, drop by the Hiking For Her Pinterest page.

Talk to you soon!
Home page > Best Hiking Gear >
Hiking Gear Reviews
Hiking For Her: Hiking tips you can trust!