Best Backpacking Tips
For Every Skill Level
Plus Resources
by Diane Spicer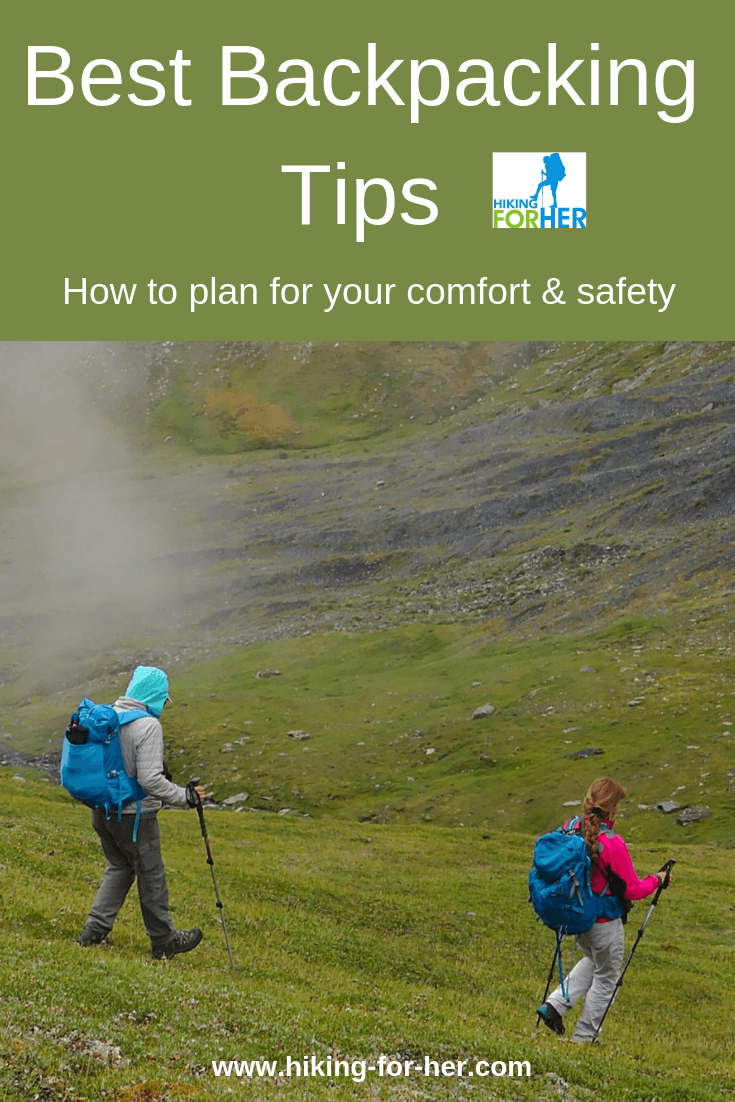 The best backpacking tips are based on extensive trail experience and an eye for detail.
You've found them!
Welcome to this essential guide to hitting the trail as a backpacker, regardless of your experience level.
In a hurry?
Or drop down to the best backpacking tips
First, the bad news
Let's get this right out into the open, shall we?
As a backpacker, you have a bit of a split personality.
Yup, that's right!

You're a strong woman who packs her hiking gear and rugged camping equipment on her back because she loves to.

For long distances.

In all kinds of weather!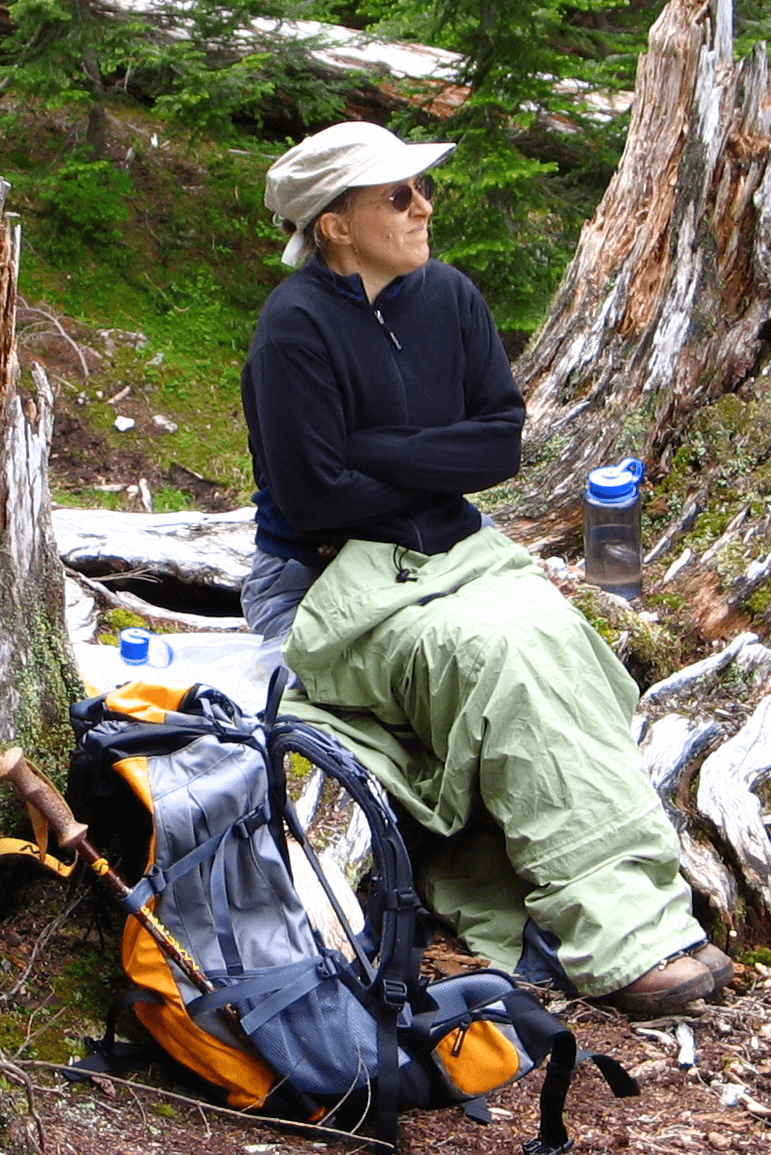 Sometimes backpacking is not all sweetness and light. She could be thinking of her sore feet, her empty stomach, her tired back, or all three!

What being a backpacker
really means

What does being (or becoming) a backpacker really mean?
It foretells that you need two strong skill sets if you want to become a competent backpacker:

Multi-day hiking techniques to stay strong, warm, dry, hydrated and not lost

Camping skills along the trail, including how to provide shelter, food, water, safety and comfort for yourself.

Which brings us to the good news... and why I suspect you're reading this.

Backpacking is fun!
Fun on steroids!!
(without the steroids)

You're a hiker, AND a camper, AND you're ready for anything now that you're ready to claim the badge of backpacker.
Welcome to the clan of the hefty backpacks :)


Here's the unvarnished truth
(from an -ahem- unbiased source)

A carefully packed backpacking pack, filled with everything you need for backpacking, and not an ounce of anything you don't, opens up vast horizons for you.
And not just physical ones, although a photo album filled with pictures like this one is one perk any backpacker loves.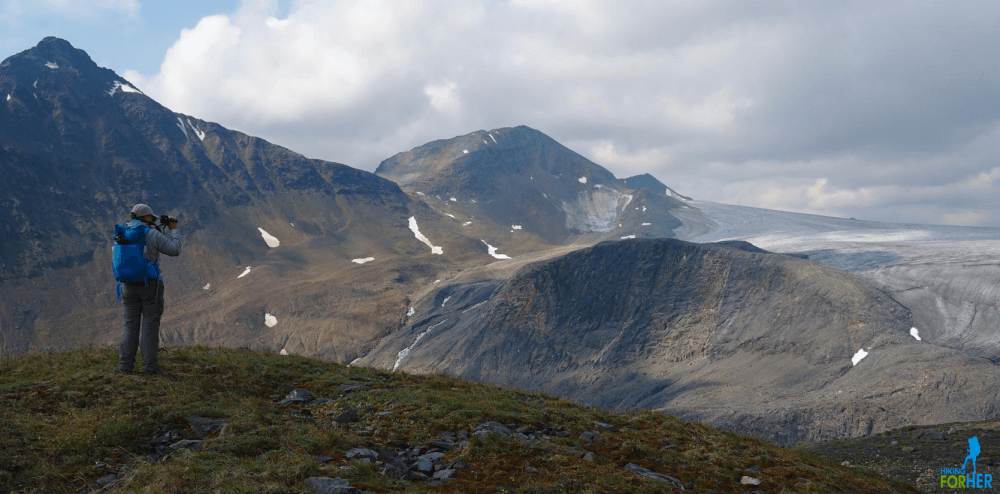 Think of the vistas you'll see as a backpacker!
So stick with me and read these best backpacking tips to shorten your learning curve.
Planning the perfect backpacking trip, and then enjoying every minute of it, will make you feel strong and smart and sexy.

And that's a beautiful place to be, is it not?

That's why this website is dedicated to getting you ready for multi-day backpacking adventures, and as many day hikes as you can fit into your schedule.
Right at your fingertips, you have the best backpacking tips, ideas, cautions and suggestions, combined into an essential guide that you can refer to again and again.


Dig into these 
best backpacking tips!

All of these backpacking tips are organized to allow you to find exactly what you need.
Each of these links will take you to extensive information, broken down into the major categories which every backpacker needs to dial in for a successful hiking trip.
Which level of backpacking interests you?
Choose your current or "some day" category to read helpful tips for backpacking:
How do you plan a backpacking trip?
Not to be a smart *ss, but the answer is "very carefully". 
These tips will get you started thinking about the thought and decisions which go into planning a backpacking adventure.
What gear do you need to bring
for backpacking trails?
What do backpackers eat?
What camping equipment
do backpackers use?
What are some tips for setting up camp
on a backpacking trip?
How does a backpacker stay
safe, clean, comfortable and healthy?
Which backpacking trails are the best?
You decide!

A few tried & true
backpacking tips
that you might not like to read
It's important to be even more honest here:
backpacking isn't for everyone.
It requires physical strength and stamina, plus mental discipline and dedication to safety and well being.

Plus a high tolerance for bug bites, dirt, and sweat, maybe even a little blood.
Not to mention the ability to smile through variable weather conditions, big swings in temperatures, and challenging terrains.
Your personal safety is up to you, and sometimes you can't control what happens on the trail.
If that scares you, please stick to day hikes with hikers who can help you learn the ropes.
If you're curious enough to try it, or want to get better at it, keep these backpacking fundamental truths in mind:
1. Checklists before, during and after your backpacking trip are critical to your success.
2. You're going to have to build up a gear locker full of backpacking equipment, one season and one gear sale at a time.
Here's an example of an extensive gear list for a backcountry hiking trip.
3. Know your limits, and respect them to find the best pace and distance for your body.

4. Hydration levels can make or break you in terms of stamina, so pay attention to your water intake.

No duh!
If any of that sounds too simplistic or boring, please reconsider your backpacking aspirations.
Knowing what to bring on a backpacking trip is a big deal.
And knowing what to do with it?
Given the right tips and checklists (right here on this website) and an investment of your time and money into your personal safety and well being, you'll be ready to tackle your first (or tenth) backpacking trip.
So dig in! Use the search box to find anything not listed here on this page of best backpacking tips.

Unless you want the best day hiking tips, in which case, try these.
Best Backpacking Tips Essential Guide



Hiking For Her's weekly emails keep you current on hiking & backpacking news.


Free, fast, fun info for you, every week of the year.

Use the box below for fast sign up!






flash giveaways
timely deals
steep discounts
freebies

resources
Don't miss out!

Read more about these hiking weekly updates
As an Amazon Associate,  Hiking For Her earns from qualifying purchases. 



All rights reserved. 





Photo credits: All photos on this website were taken by David Midkiff or Diane Spicer.