Enjoy Happy Trails, the free monthly newsletter from Hiking For Her.

Receive a free resource: Hiking Layering System Explained
Air Mattress Review:
Therm-A-Rest Women's
Trail Lite

by Diane Spicer
An backpacking air mattress review should tell it like it is.
And this review of the self-inflating Therm-A-Rest Trail Lite does exactly that.
Let's not mess around!
But first, a disclosure:

This air mattress review is the fruit of cooperation with 3beds.com, a website that tests and rates top inflatable beds and pads. They provided the mattress, while Hiking For Her agreed to test it under various field conditions.
A short intro about the sleeping pad
(backpacking air mattress)

The combination of materials used in this pad is what Therm-A-Rest shocked the market with a few years back.
They were the first to put open-cell foam inside a pad.
The effect of the open-cell foam is that, once the valve is open, it basically sucks in the air and automatically inflates the pad.

At the end of a long day of hiking, what a relief it is to twist open the valve and watch your air mattress inflate!
One of the very few "women's
air mattress/pad"

Women have somewhat different sleeping patterns, compared to men.
Because of their body shape, and the fact that women are generally cold sleepers, they need more insulation in the hip and feet area to be comfortable.
And while there are other pads out there with a semi-rectangular, or a mummy shape (best suited for women), this Therm-A-Rest is one of the very few that is specifically listed as a woman's mattress.
And that's why Hiking For Her wanted to know if this mattress should be part of a woman's sleep system on a backpacking or camping trip. Thus, this air mattress review from a woman's perspective.

Basic specs

Color: Clover Print
Available sizes and weights:
Regular (66x20x1.5 inches; 1.8 pounds)

Large (72x20x1.5 inches; 1.9 pounds)
R value: 4.9, making it a three season pad. (Read this to make sense of R values).

Initial impressions: Inflation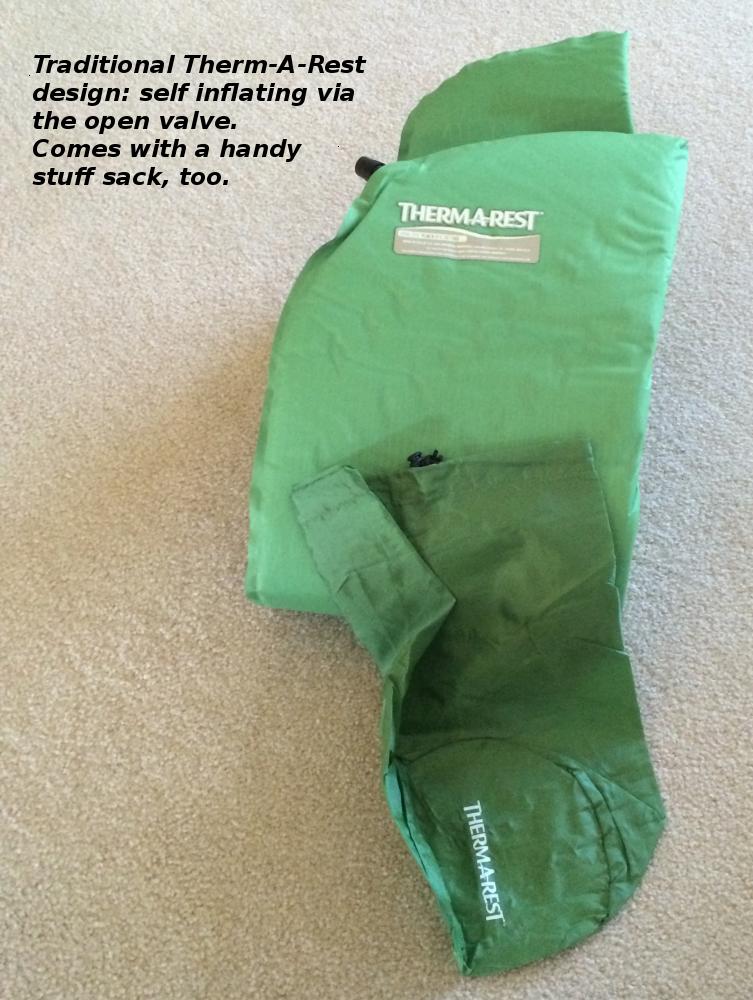 Hiking For Her is not a newbie in the land of Therm-A-Rest.
In fact, self-inflating sleeping mattresses have come along on backpacking trips in the wilds of Canada, Alaska and Greenland.
But as the years roll along, the backpack seems heavier and heavier. Thus began the quest to lighten the load without giving up comfort.
Enter: The Therm-A-Rest Women's Trail Lite.
An initial note on purchasing this product: There is a men's version of this, too, so be sure you're looking at the women's Trail Lite if comparison shopping.
Clover green is reminiscent of "sleeping in clover", a nice way to drift off to sleep. But will this mattress deliver a good night's sleep?
Not right out of the box, and here's why.
The company has to save space in shipping their product, so your air mattress will arrive tightly rolled up. This method of shipping guarantees that your mattress will need some time to self-inflate for the very first time after you open up the valve (located at top left of photo above).
In my case, it took two full days for the entire air mattress to inflate. It was an interesting process, because you could see the air working its way into each area of die-cut foam cells.
To fully inflate the mattress, a few vigorous puffs of air into the valve did the job. A simple twist of the valve closed off the air flow. It's possible to over-inflate the mattress, making it too firm for comfort, but opening the valve briefly takes care of the problem.
Initial impressions: Footprint

Back to the "tightly rolled up" issue.
That's a good thing, because it saves space in your pack.
But at home, be sure to store the mattress with an open valve, allowing the foam cells to stay fully inflated. (Under the bed is where mine lives, because it gives me sweet dreams of upcoming hiking trips.)
This storage habit gives an inflation "memory" to your sleeping pad's foam, which is exactly what you want when you get to your campsite.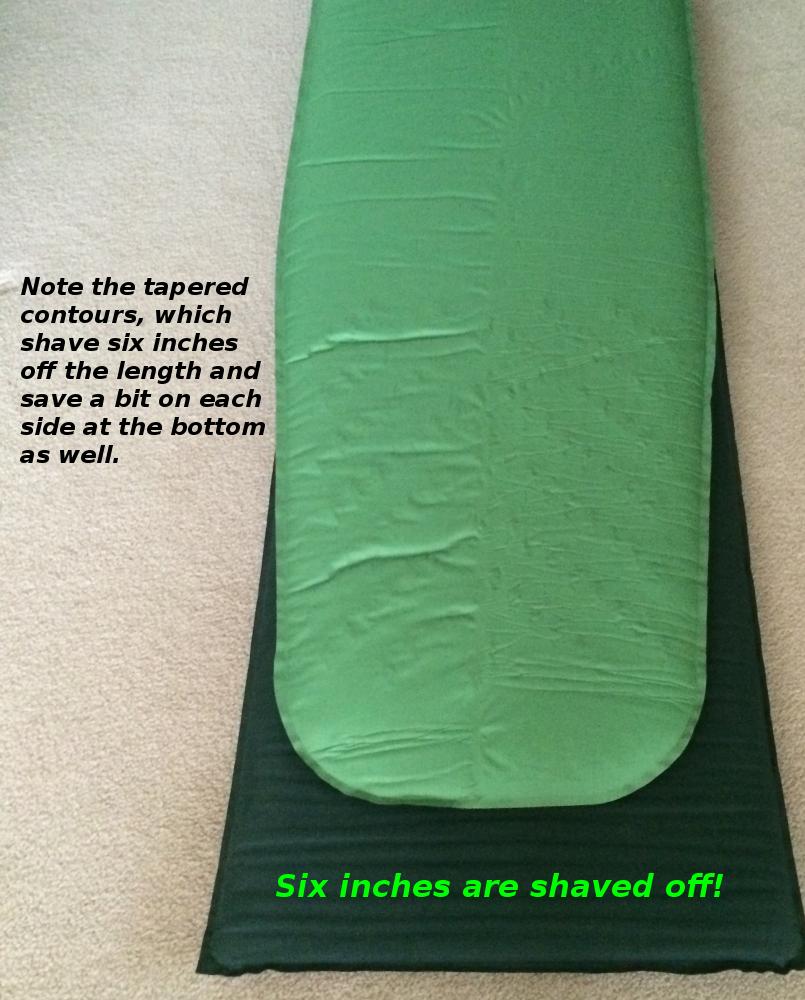 Another way this air mattress will save space in your pack is the absence of six inches of material from the lower end.
This works fine for me, at 5'3", but might not if you're taller. The longer length would be best for women over 5'5" or so.
And at only an additional ounce of weight for the extra length, it shouldn't add too much to your pack weight.
Of course, neither size would be looked upon favorably by lightweight backpackers. But at some point in life, comfort becomes more important than carrying other gear. A great night's sleep is worth carrying a self-inflating thicker pad, because a clear head and well rested muscles translate into a great trail experience.
I gladly leave behind other comfort items in exchange for my Zzzzzz's.

Questions to be answered in
this air mattress review

Because of the R value, winter camping with this pad is out of the picture.
Alas, this air mattress review of the Trail Lite is being written just as winter is fading away.
Thus, field testing will have to wait for a few more weeks while the ground dries up and temperatures swing back into a more ideal range at higher elevations (Hiking For Her's preferred destinations).
Questions that will be asked of this product:
1. How easy is it to deflate this mattress? We already know how easy it is to inflate, but will the usual process to squeeze air out of a Therm-A-Rest (to be explained in detail later) be any easier in this smaller version?
2. Will this sleeping pad snug up nicely to my husband's longer, heavier, thicker Therm-A-Rest (pictured above) in the limited confines of our tent?
3. Will I stay warm in my sleeping bag, given the tapered contours and my known sleep thrashing habits?
4. How durable will this backpacking air mattress be on rocky, sandy, and other less than desirable surfaces? (Tip: Always carry a repair kit, because sleeping on an uninflated mattress is just another way to say misery.)
Stay tuned! An update to this air mattress review will be posted soon.
The best way to watch for it?

Sign up for the RSS feed, using the little orange box on the left side of this page. Look for the "Most Recent Hiking Tips" section.

Never miss any new and updated information on this website again!

Want your own lightweight, women's air mattress? Go here.
Home page > Best Hiking Gear >
Air Mattress Review

Hiking For Her: Hiking tips you can trust!