Enjoy Happy Trails, the free monthly newsletter from Hiking For Her.

Receive a free resource: Hiking Layering System Explained
Fun Hiking Stuff:
How To Enjoy
Your Life Of A Hiker

by Diane Spicer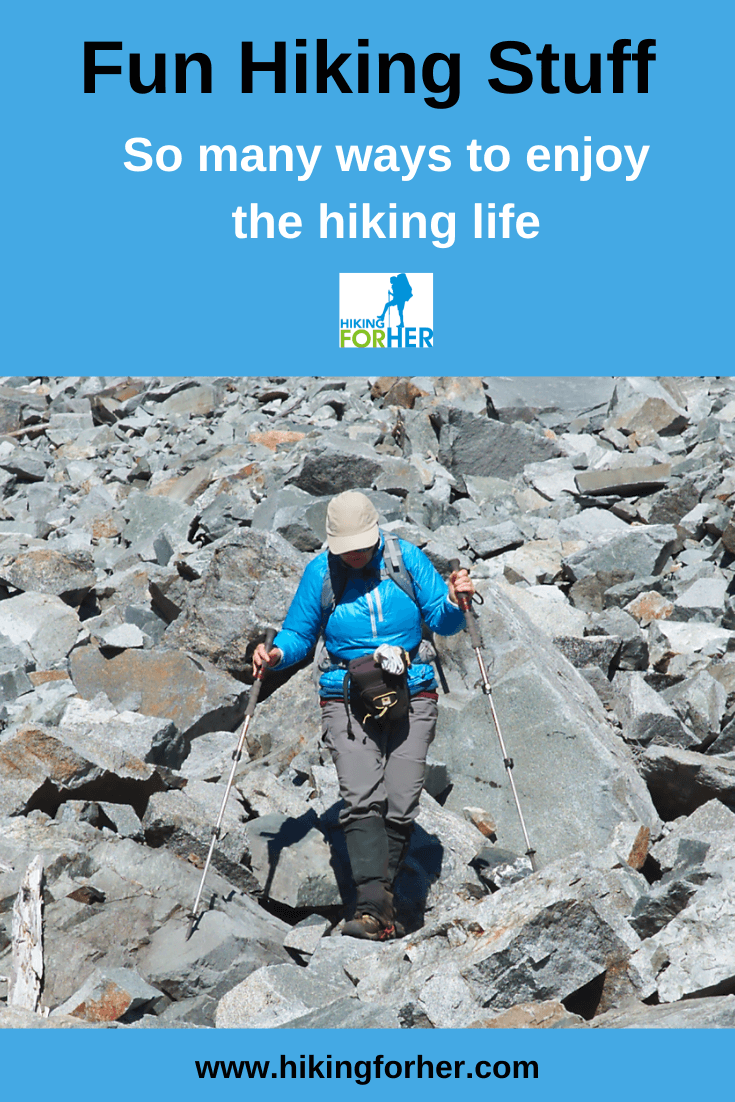 Seriously, are you kidding?
FUN hiking stuff??
Some people read that declaration and say "What's so darn fun about getting tired and sweaty?"
You, dear hiker, read it and say "Hmm, I'm going to check out the hiking stuff she's found."
You're just my kinda hiker!

But I should warn you that fun is in the eye of the beholder.
For me, getting sweaty and dirty by spending a glorious day out on the trail is the most fun a person can have in life.
Reluctantly, I admit that not everyone would agree.

But you must, if you've read this far.
And that makes us sisters in the women hikers clan of fun hiking stuff!
Here are my best sources of hiking fun, recommended in no particular order.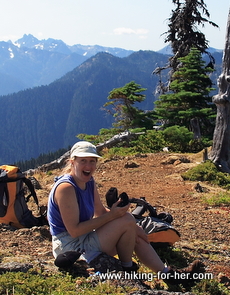 Fun hiking stuff should make you feel delighted to be a hiker!

My favorite fun hiking stuff:

giveaways
Giving stuff away! So. Much. Fun.

There is always something fun to be given away on this website, so bookmark this current giveaways page and check back often.
Sign up for the weekly email updates, and never miss out on a chance to win hiking gear, books, athletic clothing, and fun new products in flash (as in announced only in the weekly update) giveaways.
Psst! If you sign up for the free monthly newsletter called Happy Trails, you'll find a secret password to use for exclusive HFH giveaways.

Another way to keep up with the best hiking gear developments:
What's more fun than a

community of female hikers?
Nothing that I can think of!
Please join our private, secure and exclusive Over Forty Hiker community, described here.
Close, but not yet forty?

More fun hiking stuff:

humor
Never overlook the value of a little hiking humor.
Belly laughs are good for your skeletal muscles - all that gasping for air sends them lots of oxygen!
Here's a plug for one of my favorite Seattle outdoor writers with a wicked sense of humor: Ron Judd.
He's managed to make a living as a writer for the Seattle Times, plus pumping out an impressive array of hiking guide books.
For a quick shot of his particular brand of humor, dip into one of the essays in his book:

The Roof-Rack Chronicles: An Honest Guide to Outdoor Recreation, Excessive Gear Consumption, and Playing with Matches
Bonus round: buried beneath the humor are little pearls of outdoor wisdom from a guy who has spent a lot of time thinking about gear, trails, hiking techniques, and outdoor safety.
Here's just a quick sample of his chapter headings:
"Pestilence: Why God Owns Stock in DEET"




"Bears Are Your Friends - Just Not Very Good Ones".
He's also pretty good at making you wish you were outdoors, which is the whole point of fun hiking stuff, right?
Want to remind yourself of your hiking fun every day?

Use a notebook like this!


Have fun hiking
and
get inspired
You could try a shot of hiking inspiration mixed into the fun hiking stuff.
For example, have you ever pondered how women hikers deal with physical and mental challenges and adversity?
Or what motivates a woman to set a hiking goal and then achieve it?
I've got a short list of inspiring outdoor women, and I've noticed that they mix in a fair amount of fun hiking stuff as they tell their stories.
And as I grow older, I value the trailblazers who don't let their age get in the way of their mileage.
Ever ponder who the famous female hikers are? I did!
You can read my review of an Emma "Grandma" Gatewood book for children here.


You can inspire a whole new generation of hikers with this woman's story, or take heart from her story: started hiking at age 67, and made history! (her-story)
Share your hike
What's more fun than taking a hike?
Sharing it later with other hikers.
Use this Hiking For Her page to share your hike, and include a photo or two to entice us onto the trail.
Best hiking quotes

And speaking of inspiration...
Enjoy this gallery of motivational and inspirational hiking quotes, along with a bit of hiking humor:
Quotes to motivate, inspire and amuse 
Best hiking infographics
Some hikers are visual learners, and get a chuckle out of hiking tips pulled together in the format of an infographic.
Hiking For Her pulled together all of them on one page, for your fun hiking stuff enjoyment!
Here's a hiking fun scale to get you going! Go here for examples of each type of fun.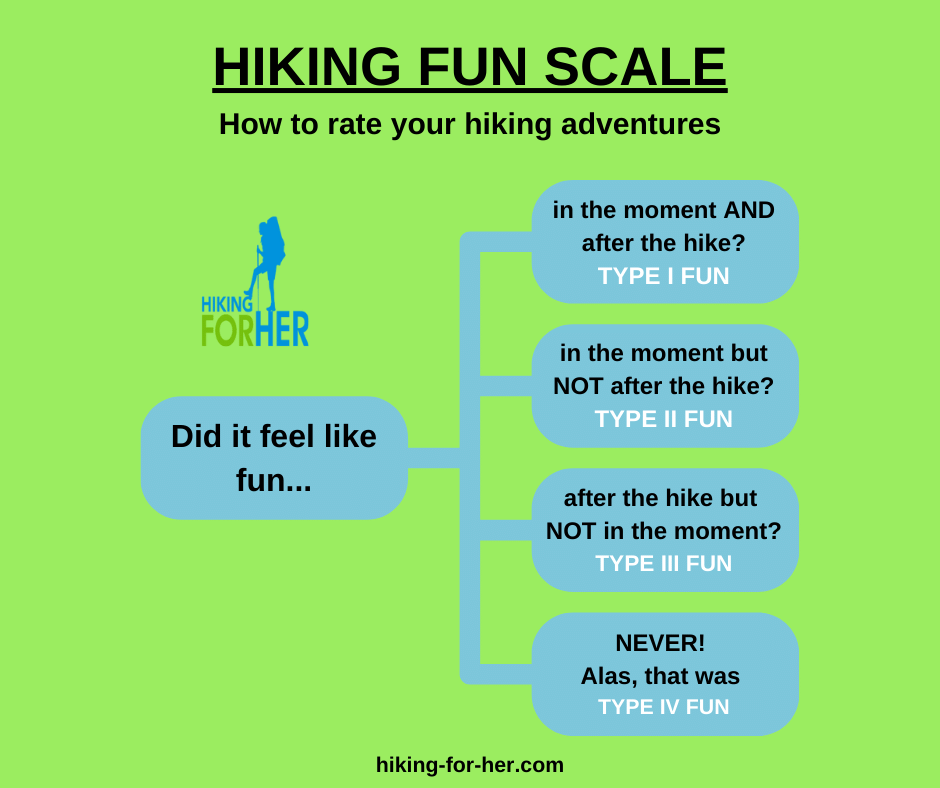 Meet other inspiring hikers
Maybe organized groups might be your ticket to trail dust and fun.

Have you heard of the Trail Dames?
In their own words:
"If you are a woman, then you are welcome. Any shape, size, color, religious, political, or otherwise persuasion...you are welcome."
Gotta love the inclusiveness!
Check them out right here.
Another fun organization for female hikers:
In addition to getting outdoors, they have a serious reason for getting women together, as stated in their motto:
"Working to preserve & protect wilderness since 1989."
Take a hiking class
How fun is it to just show up and allow an experienced teacher to show you some new trail skills?
Or how to use outdoor gear, hiking clothing and camping equipment to get the most out of it?
REI classes are just the ticket to finding other hikers as you build skills and explore new ways to hit the trail.
HFH explains how to pick the right class here.
If e-courses are more your style, Hiking For Her offers these:
Add another hobby on top of
your hiking habit
Time spent in the outdoors entices us to keep learning.
Maybe fungi fascinate you. Learn more about them!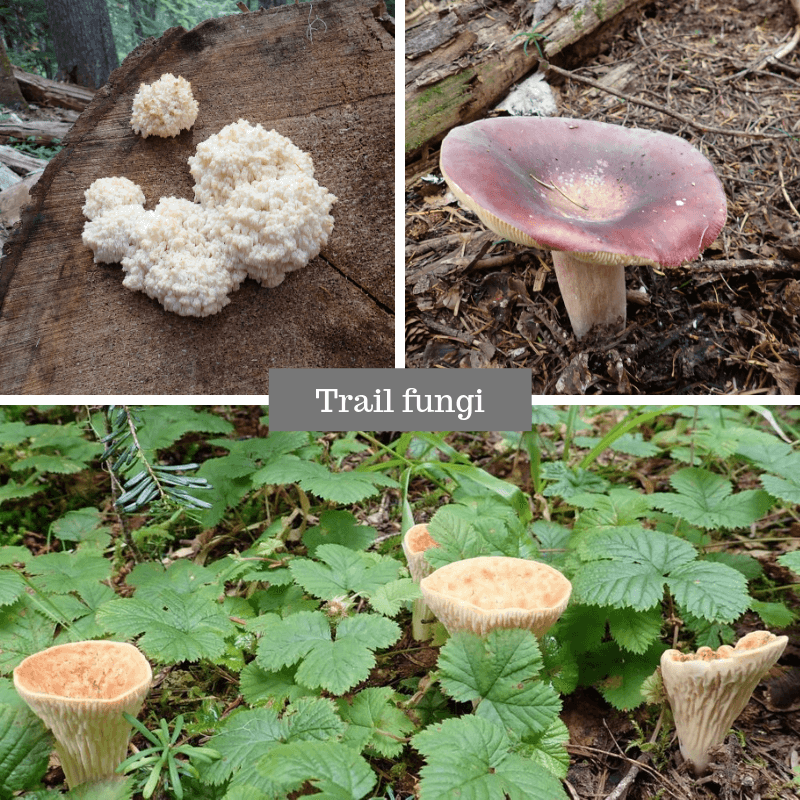 Do you know the names of any of these?
Maybe you've always been curious about the birds you see and hear on the trail.
Birding for hikers is an art unto itself. 

Get started here.
And there's stargazing, navigation, wildflower identification... endless chances to grow a deeper relationship with Mother Earth.
Next time your brain gets tickled by something new you see, follow that thought and you might discover a fun new hobby.
Lots of HFH suggestions for field guides here.
Entertaining hiking

blogs & movies & videos
There is no shortage of entertaining and educational blogs. These are penned by women hikers, and contain a potent mix of humor and wisdom.
The only trouble is finding time to read all of them!
What are your favorite hiking blogs? I'd love to swap lists with you - drop me a line below.
Think movies are almost as much fun as hiking?
Itching to do some iconic Mount Rainer day hikes?
Checklist fun
Now that you're motivated to get out there and tear up the trail, here's just what you need to be sure your hike is fun, not fundamentally flawed:
More ways to have fun with gear checklists, right here!

Fun gifts for the hikers you love
(including yourself)

Gifts for hikers: Use those suggestions to leave hints for your birthday, or delight a trail buddy on your annual celebratory hike.
And if you have any "must add" suggestions for my list, let me know.
Need an inexpensive hiking gift?
And here is my current gift guide for hikers. Oh, and this one, too!

If you're a non-hiker, you need this gift giving guide!
Want a super fast but fun gift for your hiker?
Hiking memories and entertainment

What about a hiking memento which can be passed down to future generations?
Ever taken a hiking quiz? I designed a few to get you thinking about solo hiking.
One more "fun" themed thought: check out these book recommendations.
One of them might open up a whole new universe of hiking fun for you or a budding hiker - flowers, trees, clouds, rocks, critters...
bringing a whole new meaning to fun hiking stuff.

Add to the fun!

Please help me add to the wealth of fun hiking suggestions, won't you?
And thanks in advance for sharing :)

Home page > Hiking Resources >
Fun Hiking Stuff
Hiking For Her: Hiking tips you can trust!