Snowshoeing:
Resources And Reasons
For Snowshoe Hikes
by Diane Spicer
Snowshoeing = hiking + bigger boots.
Woohoo!! What a great equation!
Seems obvious to me now, but it took me awhile to put that outdoor equation together.
I used to feel trapped inside the overheated, dry as a desert house during the long snowy winters in upper Michigan, when temperatures dipped below zero for days on end and the snowstorms just kept coming.
And then one fine day, I borrowed a pair of old fashioned, hand made bear paw snowshoes.
My world has never been the same since.
And I mean that quite literally.
So let me share with you why you (and your loved ones) should try snowshoeing, along with some of the best tips on how to get started as a newbie snowshoer.
Reasons first!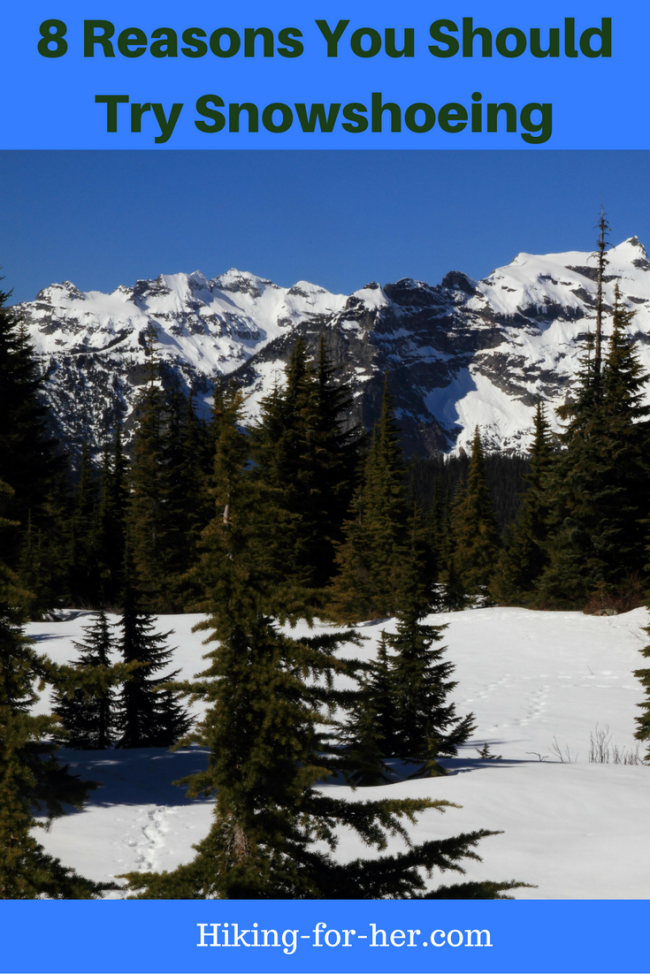 Why snowshoe?
Lots of great reasons!

Let's start this list with my favorite reason of all:
This winter hiking sport is an amazing opportunity to see places you can't get to during non-winter months.
Snow covers brush, rock piles, small trees, and other obstacles. 

All you have to do is walk over it all! (after planning a safe route, of course)
All of that walking is a great opportunity to burn tons of calories, allowing you to eat a hearty breakfast, lunch, second lunch, snacks and dinner.
After my most recent snowy adventure at Mt. Rainier, I consumed an entire plate of burritos, rice, and beans, washing it all down with chips and salsa, more chips and salsa.....I thought I'd never feel full again!
This, from a woman who is hard pressed to finish one burrito.
And the best part?
So if I sound as if I'm advocating this winter sport as an excuse to enjoy good food, and plenty of it, I am!
If you're considering hiking for weight loss, you can't go wrong with a little physical exertion in cold conditions.


Snowshoeing is great exercise!

More great reasons to snowshoe
Being outdoors allows you to enjoy the tranquility and serenity of winter.

If you're lucky enough to be able to get away from the noise of human activity, you can marvel at the crunch of snow under your feet that shuts off the instant you stand still.
Silence! Let it surround you and soothe you.
If you love to observe nature, winter is a marvelous time for you.
Animals creep out of hiding places and go about their normal activity, because they don't even notice you as you blend into their surroundings.

And the winter sunlight is so fragile, so welcome, that you see trees and rocks and streams with fresh, appreciative eyes.
Fresh snow also makes animal tracking much easier.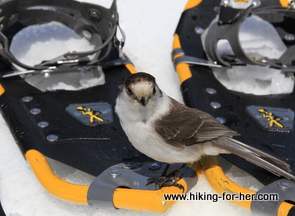 And hungry birds become instant friends when you stop to snack.

OK, that's 6!
Here are 2 more reasons
to go snowshoeing

Snowshoeing is one of the few sports that has no learning curve.
You know how to walk, so you know how to walk in snowshoes.
The first few minutes might be a bit awkward, but after you hit your stride you'll be whizzing along humming a snowshoeing tune!
I've saved the best reason for last:
Snowshoes are not expensive, compared with skiis.
You can take up this sport by either renting a pair of snowshoes for the first few times, or buying a pair at your favorite gear store like REI.
Read about the brands I recommend here.
Or read my review of my new MSR Revo Ascents.


More effort and gear required
compared with three season hikes
As for the physical effort required, it's true that it takes more work.
Plus, you can't get as far on snow as you can on a dirt trail. You'll be working hard for less mileage.

You will also be using different muscles, or perhaps I should say you'll use the same old hiking muscles in different ways.
And if you're the first person, or the only person (lucky you!!), to go in that direction, you'll need to break trail.
This unique, low tech sport requires very little in the way of gear, but you will need to put some thought and experimentation into that snowshoe gear.
Why?
In wintertime, you have less margin for error.
My most cherished possession for winter snowshoeing outings isn't my carefully selected pair of snowshoes, it's my boots!
My waterproof, insulated, clunky, absolutely not stylish, but uber-functional boots!
Snowshoeing has gained in popularity lately, at least in the United States. That means there are lots of brands of snowshoes to choose from.
Try to be realistic about your commitment to this winter sport, and don't over or under spend for features that won't benefit you.
To get prepared for your adventure on snowshoes, read up on some great advice right here.
A few more thoughts
regarding this great winter sport

Being able to walk easily over the snow is wonderful because:

It brings a sense of peace not always achieved during hiking adventures in other seasons.
And it gives a sense of freedom, too. You can explore, wander, backtrack (literally!), stop, stare, lick tree icicles, or ponder what that rabbit was doing as it laid down its tracks.
But winter hiking also brings responsibility for your safety.

Be smart about where & how you snowshoe: plan a route you can handle in a short day. 

Eat properly for winter exertion: more fat, less protein and plenty of carbs. More hiking nutrition tips here.

Stay on marked routes until you're ready with a strong skill set to explore on your own. 

Be prepared

mentally and physically for the winter season risks, which may be quite extreme when the

weather

decides to exert its authority over you as a mere mortal.

A few tools for you

Strapping on snowshoes to explore a wintry scene is an absolutely amazing experience, regardless of where in the world your snow falls.
These tips on how to snowshoe will help you make the most of your winter outdoor time.

You can also download this free pdf 

"What To Expect"

: a sheet of tips I hand out to folks who take my snowshoe classes, or are curious about how to get started as a snowshoer. 
Enjoy!

Snowshoeing



Hiking For Her's weekly emails keep you current on hiking & backpacking news.


Free, fast, fun info for you, every week of the year.

Use the box below for fast sign up!






flash giveaways
timely deals
steep discounts
freebies

resources
Why wait a whole month?
Plus, there's never enough room in the newsletter to share it all, so why miss out on exclusive Hiking For Her giveaways, limited time gear deals and discounts, freebies, updates, and more?

A short, info packed weekly email update will keep you current on all things hiking!
When you sign up to receive this update, you are agreeing to Hiking For Her's privacy policy.

Don't miss out!

Read more about these hiking weekly updates
| | |
| --- | --- |
| HFH Policies | Hiking For Her is a participant in the Amazon Services LLC Associates Program, an affiliate advertising program to provide a means for us to earn fees by linking to Amazon.com and affiliated sites. |