Enjoy Happy Trails, the free monthly newsletter from Hiking For Her.

Receive a free resource: Hiking Layering System Explained
The Best Gifts For Hikers:
Find Them Fast
by Diane Spicer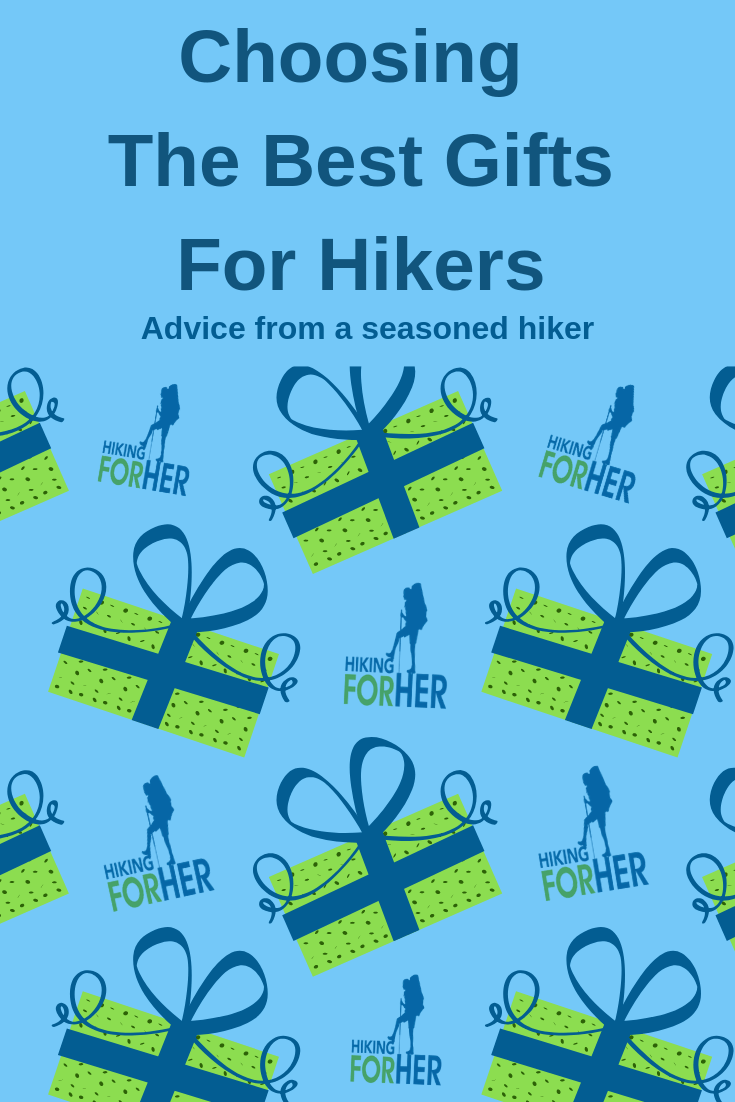 If you're faced with the task of selecting the very best gifts for hikers in your family or circle of friends, you might need a bit of advice from a seasoned hiker.
What to get a hiker for Christmas or any other holiday or special occasion can be a daunting question.

Consider me ready and willing for the task!
I've been on the giving, and the receiving, end of hiking gifts for decades of birthdays and holidays.

Unique hiking gift recommendations are my specialty!
In a hurry to find the best gifts for hikers? Drop down to:

Let's make it super easy to find the right
hiking gifts

Let's get you on the trail to the best gifts for hikers right now with these short cuts:
You can also keep reading for tips on...

How to approach finding
unique and useful gifts
that hikers will love

Is selecting presents for hikers, male or female, any different than for other folks celebrating a special day or milestone?
Not really!
Except that hikers have very specific needs.
And wants.
And they may be a little picky about the quality and durability of their trail gear.
Not to mention color and performance of survival gear like a backpacking tent or hiking boots.

So if you're not a hiker yourself, how are you going to know which choices make the best presents for the hikers in your life?
Excellent question, and it's why you're on this page.
Besides the knowledge gap,
consider this

In today's electronic marketplace, it's easy to point and click.
Whoosh!  A new pair of boots arrives within a few short days.
So before you hit the "go" button, do a little research first.

Some gear and brand names are definitely worth a little extra money.
But the opposite is also true.
Some gear is overpriced because it has a particular brand name on it, and the company expects you to pay for that name without looking closely at the quality of the hiking gear.
And then there's the "everyone has it" pressure to purchase.

Don't fall for it!
You want your gift to be exactly the right balance: functional and long lasting while being fairly priced.

Here's a great place to focus on the balance between quality and cost when searching for the best gifts for hikers:

my gear list.
And if you need an inexpensive hiking gift ($25 or less) that is still trail worthy, start here.

Coming right up on this page: a list of the best gifts for hikers.
Some of these links are affiliate links. Hiking For Her will receive a small percentage of your purchase price, but you pay nothing extra.

Obvious choices
for the best gifts for hikers

Of course you can probably guess at certain things which appeal universally to hikers:
But selecting fun and useful gifts for women hikers can be a bit more complicated once you veer off the obvious gear list.
There are so many websites, so many outdoor stores, and a huge range of quality - where should we start?
Why not with a hand picked "Top Hiking Gifts" list?
I'm willing to bet you a sack of trail snacks that you will find at least one intriguing idea here in your quest for hiking gifts for your favorite hiker.
And if you've got "hikers-in-training" to shop for, be sure to check out this list.

Best gifts for hikers
you can't go wrong giving:
top 10 picks

I promise!
And if you don't like any of my suggestions, you can contact me for some individualized suggestions (see bottom of page).

How's that for helping you track down the best gifts for the hikers in your life?


First up:
a trailworthy hiking skirt

Hike like a girl in a hiking skirt.
By that, I mean there are many, many reasons for wearing hiking skirts on the trail and on extended outdoor adventures.

Not a skort - that has built in shorts that can bunch up and chafe her skin.
I'm recommending a real skirt.
But here are a few tips about hiking skirts:

Be careful about fabrics. You want to avoid cotton, which can make her body temperature plummet if she gets wet on the trail.
Look for fast drying fabrics such as polyester and nylon, with a bit of spandex to provide shape and allow free movement.
If she's into long trail hiking and backpacking trips, she needs simplicity along with an easy wash 'n dry fabric that is durable and forgiving) like this one:

Adventure Skirt by PR Adventure Skirts
Here is a more tailored style, made of 94% nylon, 6% elastane. Great for dayhikes and camping!


2. A trail journal to capture memories

Trail journal: This is a unique gift for a hiker, with the added bonus of being a very useful gift.
These features are what your hiking woman looks for in a journal to record her weather observations, plant identifications, animal encounters, and flashes of insight:
waterproof

light weight

durable

functional in cramped quarters (tent)

compact footprint
Read about seven ways to use a trail journal here.

What is it about the rhythm of a hiking trail that brings great ideas to mind?

I'm not sure, but I know this is one of the best gifts for hikers, and will be treasured on cold winter days when she can revisit her summer hikes.

Rite in the Rain Journal Kit Box!


3. Versatile gift cards

Gift certificates: There are some who say that gift certificates are lame gifts for women hikers.
I'm here to tell you that I LOVE getting them.
A gift card is the perfect excuse to wander through the store (virtual or bricks & mortar), spending the money 15 different ways until I decide what I'd really like to take home.
A new trail toy that I get to pick out as a gift is such a treat.
REI is a gear store that has a generous return and exchange policy, and carries only high quality, trail tested gear.

So many choices for a gift!!
Tip
If you go along with her on a few hikes, you'll get ideas on the best hiking gifts for hikers firsthand! Watch what she uses, what she wishes she had, and what she borrows from you.
Then you don't have to resort to a "lame" gift certificate for her birthday.
But I'm betting that once she receives one, she'll ask for more gift certificates!

4. Hiking water transportation

BPA-free water bottle: I'm a fan of metal water bottles, but you don't have to "go metal" to get away from toxic plastics.
There are zillions of choices, some which come with their own waist/fanny packs.
Finding the best gifts for hikers couldn't be easier! Just pick out her favorite color and size, and wrap it up.

For my specific recommendations on hiking water bottles that work great and go the distance, go here.
And if you want to customize the colors on a hiking water bottle, HydroFlasks are the way to go!
Pick her favorite team colors. You can literally choose different colors for the top, middle, and bottom of these bottles! How cool is that?
Read a few of my HydroFlask reviews here.


5. The best trail snacks for hikers

5. Trail snack bag: This one takes a little leg work.
Fill a sack like this one with any of these Hiking For Her recommended yummy trail snacks.
She will appreciate your thoughtfulness! 
And you can tailor your selection of snacks to any food preferences or intolerances (gluten free, for example) that she has.
You don't have to tell her how much fun it was to spend time in the healthy snack section of your local store!
Who knew selecting best gifts for hikers could be so easy?

6. Hiking poles & sticks

A hiking stick: If she doesn't already use hiking poles (sticks, staff, trekking poles, whatever these are called in your neck of the woods), here's a great gift.
Trekking poles are designed to take a load off the hard working knees of a hiker, and give additional stability when navigating tricky footing (that link above gives you all of the details, and my recommendations).

Which features would appeal most to your favorite woman hiker:
lightweight aluminum?

telescoping down to a really small footprint in her pack?

an in laid compass?

personalized?

a medallion to commemorate her favorite spot?

engraved initials?

As with a journal, this gift can last a lifetime and be passed down in the family if you buy high quality trekking poles.

7. Outdoor kitchen supplies

Backpacking kitchen sets:  
Sometimes the best gifts for hikers solve problems encountered routinely during backpacking trips.
Titanium cooking sets are incredibly lightweight and perform well under all temperature conditions in backcountry conditions.
Who wouldn't love these? And they can be used for car camping, too.

Don't forget to throw in a few sporks!

Light My Fire Titanium Spork
And here's a thoughtful gift: a camp kitchen rechargeable lighting option.
Nite Ize Radiant 170 Rechargeable Task Light | REI Co-op
If you want to go deeply into the art of creating a camping or backpacking kitchen, here are all the tips you need.


8. Creative head wear

How about choosing headwear that can double as a neck gaiter?
Hiking hats can express your hiker's personality through color, style and logos.
Read my review here of a fun fashion statement that works hard on the trail. I never take a hike without mine.
Trailheads is a great company for selecting just the right way to keep head and neck comfortable in the outdoors.

Never overlook the value of traditional bandannas... useful for so many, many problems a female hiker will run up against on the trail.
Tip: A fun way to make a bunch of bandannas into a creative hiking gift is to wrap up trail snacks in each bandanna and tuck them all into a new pack.

9. Hiking jewelry

I'm sure you were expecting to read about jewelry, given that females and baubles seem to go together.
Well, you were right.
Here is a great selection of hiking jewelry.


10. Trail hygiene supplies

Being a female on the trail presents its own set of challenges, and rewards.
One of the biggest challenges is answering nature's call when there is no rock or tree to hide behind.
Here's a creative solution: pee standing up!
Read about it here.
Lots of other advice on dealing with body fluids, too.

If you'd like to put together a complete hiking hygiene kit (what a fantastic gift!), here are some suggestions.

Thoughtful gifts
that you can personalize

The best gifts, hiking or otherwise, demonstrate the thoughtfulness of you, the giver.
But what if your hiker has all of the latest, greatest gear and hiking clothing?  (Unbelievable as that may be.)
Aha! Time to get creative:
1. Books about hiking abound, but you can get really creative by picking a themed selection of hiking books: one of her "bucket list" destinations, or tales by adventurous outdoor women.
For example, does she love alpine flowers?
For a long list of Hiking For Her recommendations, go here.

Want all of the best Hiking For Her tips for dayhiking collected in one spot?
For a truly memorable gift, load up an e-reader for your hiker.
Read about Kindle hiking here.
2. The gift of time: OK, it's corny.
But I remember craving trail time in my 30's and 40's, trying to juggle kids, jobs, house chores.
So if you can, offer to babysit, or drive her to/from the trail head, or take over her chore list to allow her to slip away for a refreshing, soul satisfying hike.
3. Swedish massage gift certificate: Here I go with the gift certificates again.
But believe me, she will NOT think this is lame.
Be sure to request extra work on the feet and legs for your women hikers!
4. One final idea suggestion for hiking gifts:

How about paying for an exercise or strength/conditioning class for your favorite hiking woman?
Injury prevention is a very thoughtful gift, and will appeal to women who want to protect their precious assets:
Tailor the best gifts
to your hiker(s)

Every hiker has her own little twists on hiking.
Is she into nutrition? Even more specifically, is she gluten free? A solo hikers? Planning a backpacking trip? Check out these hiking nutrition e-booklets.
For a gift that keeps on giving for at least a year, consider a hand picked hiking magazine.
Or choose the type of hiking wallet for her specific outdoor style, with these tips.
Does she have a favorite national park for her hiking adventures? Gift her a cozy blanket to wrap her up in good memories!


Another great tailor made hiking gift
for hikers who hike year round

Put together a trailhead kit, and get ready for a huge smile of delight from your hiker.
Make it a Trail Tea Kit: a

JetBoil

for boiling water in 2 minutes, a

thermos

she can fill up and take with, or

a durable cup

for enjoying a hot beverage after her hike.
Include some great black tea, green tea or herbal tea choices!
Of course, this works for coffee drinkers, too.

Or you could put together a Recovery Kit she can dip into once her boots are off after a long day on the trail:

Completely stumped
for best hiking gift ideas
for the hikers in your life? 
Here's what to do:
Tell me:
I'll give you a few "best gifts for hikers" ideas to make her eyes light up!
You'll look pretty good.
After all, the best gifts for hikers keep her safe and happy on any trail, and that's what Hiking For Her is all about.
It will be our little secret ;)
While you're thinking of it, check out the best hiking gear for your next round of gift giving. Be sure to write down any hints she drops.
Home page > Best Gifts For Hikers
Some of the links on this website are affiliate links: you pay nothing extra while Hiking For Her receives a small percentage of your purchase price when you use the links.
Nothing on this website is here by accident. Only the best of the best hiking recommendations make it, to make your trail time safe and happy.
Hiking For Her: Hiking tips you can trust!