Enjoy Happy Trails, the free monthly newsletter from Hiking For Her.

Receive a free resource: Hiking Layering System Explained
Alsek River Trip Report:
It's Wild Out There
Which is the best reason to go!
by Diane Spicer
This Alsek River trip report shares my rafting and hiking adventure in the world's largest contiguous protected park.
This untamed river flows through two countries: Canada's Yukon and British Columbia, and Alaska in the United States, ending at the Pacific Ocean.
These are the parks it passes through:
Kluane National Park, Yukon

Tat-Alsek Provincial Park, B.C.

Glacier Bay National Park, USA
So grab your passport and let's hit the river together!
A brief overview
of my Alsek River trip
Let's broad brush the trip first.
Put in spot for the upper Alsek River was Serpentine Creek, Yukon, on the Dezadeash River.
Another choice to get on the river, which we didn't have to utilize:
The 

Haines Highway crosses the Dezadeash just outside of Haines Junction.

That means you can avoid the tortuous, torn up road to Serpentine.

But beware the lack of current and fierce upriver winds, as this will give you a bad start to the trip.
Take out spot: Dry Bay, AK
Trip length: 150 river miles, 11 days
Trip date: End of June 2019, as water levels were rising from seasonal melt and rain, but before peak flow.
Peak season

to run this river 

is mid June through mid September, with each month bringing its own challenges and rewards.
Clarification of river names
The Upper Alsek joins the Tatshenshini River, a major tributary, at a confluence several river days away from the Serpentine Creek put in.
If someone says they've done the "Tat", ask them where they started.
If they started at Dalton Post, they weren't on the Upper Alsek.
Why do you care?
It makes a big difference in the trip experience they can share with you.
The upper parts of these rivers are very different in terms of climate, geology, wildlife and river conditions.
Now let's get into the details in this Alsek River trip report!

Alsek River trip report:
logistics of getting on the river
Well, it's not exactly easy to get on the upper Alsek River.
You've got a lot of hoops to jump through before your paddle hits the water of the Dezadeash on your way to the Alsek.
Here's a bare bones outline of what you need to do to get ready for an Alsek River adventure.
Line up a reputable guiding company
You need experience and guts on the Alsek River.
It also helps if the guides have experience in picking suitable camping spots with opportunities for hiking.
Be sure to let them know you're a hiker.
In my opinion, it is well worth the money to have a commercial outfitter take on the hassles of planning an international river trip.
As noted above, the river begins in Canada and ends up in the United States. You need to 

comply with the laws of both the United States and Canadian Customs.

And of course there are associated fees, permits and rules in both countries. 
But wait! There's more to the logistics
There are even trickier things to face when planning an upper Alsek River trip.
Let's call them out so you won't get surprised by anything.
You have to transport food and supplies, along with rafting and camping gear, to the put in location from wherever you bought them.
You need a communication plan with the outside world.
You need a helicopter portage above Turnback Canyon, a stretch of river which is not navigable by boat (see my video below).
To complete the portage you must de-rig and have your gear transported in sling loads. People need separate trips. This takes time, patience, and a lot of money.
You must be transported from the take out on the river to the airstrip and be flown out of Dry Bay, AK to connect with homeward bound travel arrangements.
That's a lot to manage! And you'll need some local connections to make it all happen seamlessly.
Guiding service recommendation
for an Alsek River trip
Do the Alsek with Haines Rafting Company.
I've been on several remote guided trips in Canada and Alaska.
So it's not a small thing when I tell you this company is top notch.
They put together a flawless river trip by paying attention to all important aspects: transportation arrangements, food, gear, and expert guides.
Prepare to be impressed from your very first interaction with them. 
Still want to go it alone?
You need to work with the US National Park Service office based in Yakutat, AK to secure your permits and take out date, which is a firm date, so plan accordingly.
And you need a launch date from Parks Canada and Kluane Provincial Park.
In addition, you'll want to have solid river skills to handle Lava North Rapid: Class V on the left side, an unpredictable Class IV on the right side.
Your scouting skills will come in handy to decide how to handle the Channel of Death, your approach to Alsek Lake at the end of the trip.
You get the idea... preparation and more preparation to pull off this trip.
Start in Haines, AK or Whitehorse, YK
This Alsek River trip report begins at the airport in Seattle, WA.
The outfitter was based in Haines, AK, which meant a commercial flight to Juneau, AK  (Day Minus Two) followed by a ferry boat to Haines (Day Minus One).
A long drive from Haines (U.S.) to Haines Junction (Yukon) crossed the USA/Canadian border at a scenic mountain pass. 
Another choice would have been to use a guide service based in Whitehorse, and drive to Haines Junction within Canada: no border crossings, no passes, no ferry, so a bit faster to get on the river. 

One last little driving hurdle: you must navigate a rough patch of dirt road before you get your rig to Serpentine Creek.

Prepare to be rattled around like peas in a can. 

The washed out gravel track crosses multiple creek beds, some of them filled with rushing water (depending upon the date).

A high clearance vehicle is not only recommended, but the only sane choice.
Make flexible travel arrangements 
When you're heading into a remote area, you're completely dependent on weather.
Note that the only fast way out of Dry Bay, AK, your take out spot, is by air.
Small planes don't fly when the weather is bad.

Full stop, non-negotiable fact
So it's possible that you will sit and wait out nasty wind, rain or fog and miss your connecting flight back home if you schedule your time too tightly.
It's better to have an extra day in your itinerary than to sweat bullets when a plane can't get you to connecting flights in Yakutat or Whitehorse.
See how you have to build in some travel days just to get to, and from, the river? It adds both time and expense to the trip.
Pay close attention to your gear list
The Alsek River is a high volume, swift river filled with cold and muddy glacial melt.
You'll need to stay dry and warm, and also be prepared for constant sun and wind.
And rain, of course!
You don't think you're going to go on a wilderness adventure in Canada and Alaska and not get wet, right?
Here's a raft and hike trip personal gear list I pulled together from a previous trip you can use as a starting point.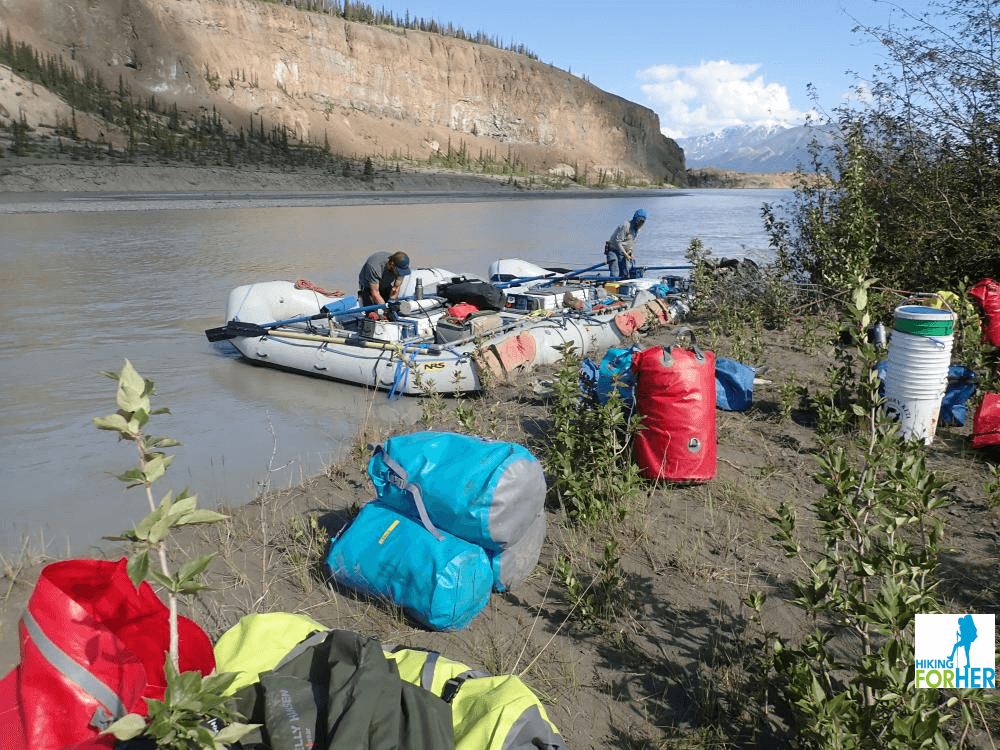 A good rafting company knows exactly what gear to bring, and how to deploy it in all kinds of weather

Communication with the company
If you have questions, be sure you can email or call the company and get answers within a few days.
Most folks are busy with the details of guiding, but there should be someone who answers the phone at regular intervals.
It's a bad sign when no one returns your call, or you don't who your guide will be, right up to the last minute.
Before you put down a deposit, usually 50% of the cost of the trip, be sure you understand exactly what you're signing up for.
What you must provide

What you can rent (wet suit, sleeping bag)

What is provided for you but must be requested

Your non-negotiable refund and full payment dates
Are you getting the idea that this is not a trivial trip?
If you've never camped before, and don't have any whitewater river experience, this might not be the trip for you.
However, allow me to tempt you in this Alsek River trip report.
Alsek River trip report:
motivations for going
There are not enough superlatives to describe the Alsek River, but I'll try.
This river starts in dry Yukon conditions, and I mean dry compared to the coastal area where it ends.
Your days on the river take you through spectacularly untamed wilderness.
This is the wildest place I've ever been, and I've been to some remote places!
Have fun counting the unnamed peaks lined up as far as you can see, and more glaciers than you can keep track of.
You will travel along the edge of the largest nonpolar ice field in. the. world.
The Alsek passes through biological preserves, with the largest North American concentration of grizzly (brown) bears.
If you're a geology buff, you'll appreciate the places on the river where you cross 4 major tectonic fault lines. Bring a geo map!
Alsek River trip report:
highlights of hiking 
If you're here for a hiking trip report, I'm here to deliver.
To be honest, there are only a few places on the river where you can truly hike.
Other places, you can bushwhack your way up onto ledges and claw your way through scrub, but I don't fancy that approach to hiking.
Here are hikes along the Alsek River which I highly recommend.
Goatherd Mountain
on the Upper Alsek
The day you arrive at Lowell Lake I hope the weather gods are smiling upon you.
It's a hoot to enter the area where the Alsek spreads out into a lake, creating an opportunity to view the Lowell Glacier.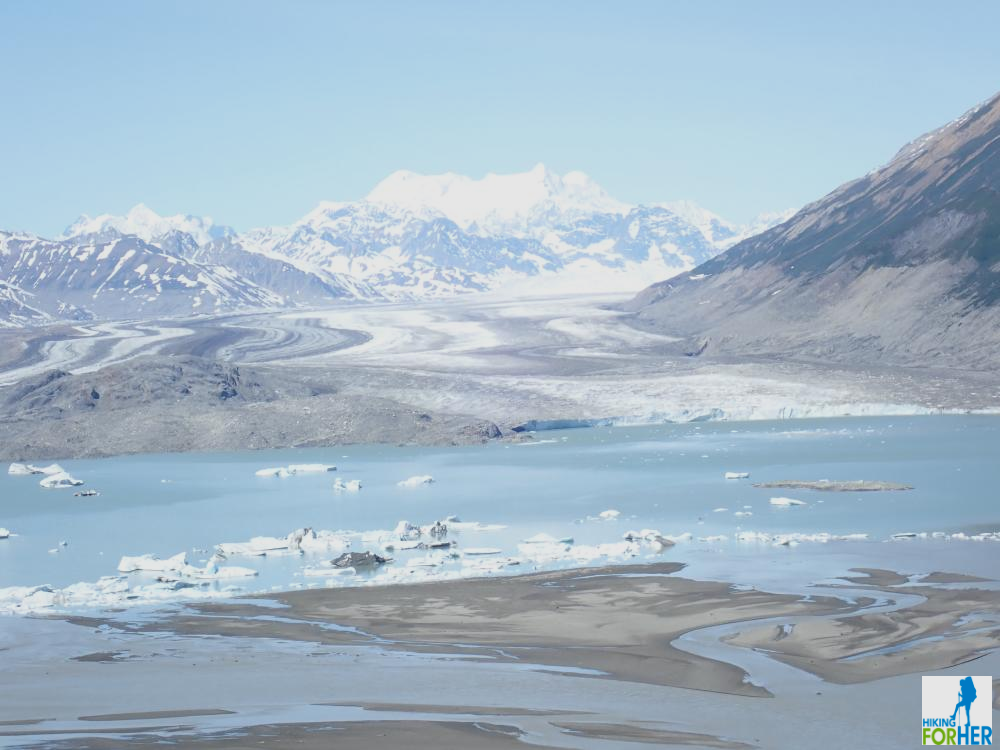 This view of Lowell Glacier is taken from the top of Goatherd Mountain. This picture can't begin to do justice to the huge view!
If you layover at Lowell Lake, you can put in a full day getting to the top of Goatherd Mountain, lounging around looking at this view, and then making your way back to camp through tedious, time sucking wet areas.
When you begin this hike, you'll look straight up and wonder how the heck you're going to get anywhere.
And the answer is: by scrambling and never giving up until you reach the upper meadow area.
Full disclosure: there are a couple of dicey steps you need to take on exposed slick rock. Nothing too wild, but if you're not a fan of heights, this will bug you.
You'll appreciate the beaten in goat trail once you gain the alpine tundra. It leads you to a fantastic overlook area with richly diverse botany.
Tweedsmuir Glacier on the upper Alsek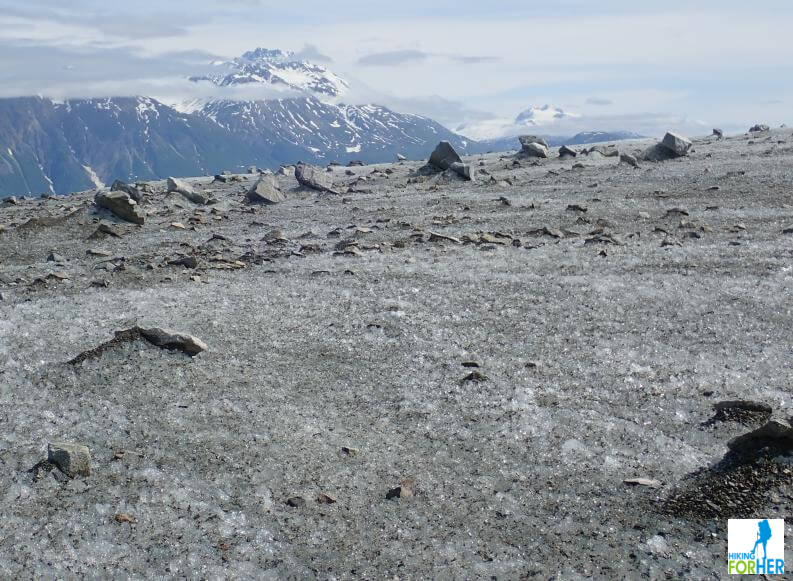 A hiking highlight: spending a long day exploring the surface of the Tweedsmuir Glacier on the upper Alsek River
Once you pass Mount Blackadar, you're heading into the Tweedsmuir Glacier Valley.
A campsite at Nouse Creek gives you access to the glacier itself, with a bit of bushwacking on the south side of the creek before you can get on the toe of the glacier.
Spend the day exploring the contours, huge boulders, amazing pools and other details on the surface of Tweedsmuir Glacier.
Then make your way back to camp filled with the feeling of being one of very few humans who have done this hike.
Walker Glacier
This glacier was named because you can walk on it.
And it used to be easy to access it.
Alas, with rising global temperatures, your path to the glacier has become much more challenging.
You can row your raft into the glacial melt lake at the glacier's toe, and from there you can scramble onto the bedrock on the upstream side of Walker Glacier. 
We didn't do that, as the water levels were too low. Plus, unpredictable rock fall off a glacier is nothing to fool around with.
Spectacular Walker Glacier as viewed from the Alsek River, although its name no longer applies
We considered trying to gain a ridge that leads to the glacier, but it looked like an epic struggle and we weren't entirely sure we could even reach the ice.
Instead, we picked our way along animal trails and around piles of rocks and mud holes, looking for a way to get up onto the bedrock by skirting the "lake".
No dice!
Too much water of uncertain depth and footing blocked our way.
And during the day, river levels can rise and block your way back, something to always keep in mind around a glacier.
So sadly, we did not walk upon the Walker Glacier on this trip. 
Instead, we marveled from a distance at the way the massive ice forms its own weather.
Clouds build and melt away in endless cycles. 

Wind picks up ferociously and then dies down.
Consolation prize: Throughout the long daylight hours at your campsite, the light plays across the surface, providing endless entertainment.
Gorgeous place to camp! 
Alsek Lake
Reaching Alsek Lake is bittersweet.
You're in a spectacular location.
The lake is filled with icebergs, each with personality and charm.
The Fairweather Range is there for the gawking.
The big guy, Mount Fairweather, rises 15,300 feet (4,660 m).

The others in the range are a mere 7K - 10K feet high (2K - 3K m).

Guess which kind of weather conditions you need to be able to feast your eyes upon them.
But you're at the final destination of your trip.
So take one last, short hike to a viewpoint where you can see the entirety of Alsek Lake and surroundings.
The trail is a treed scramble upwards, but you can cling to low lying limbs to keep your balance on the muddy slopes.
Once you break out of the trees, there is a rocky and somewhat flat overlook to enjoy the views of bergs, glaciers and surrounding mountains.
A few trail notes:
In high water conditions, the trail is inaccessible because it leaves from the lake shore. 

In poor visibility conditions, it's probably not worth your effort and could in fact be dangerous at the top.
Drink another mug of hot tea and listen to the calving glaciers and groaning bergs instead.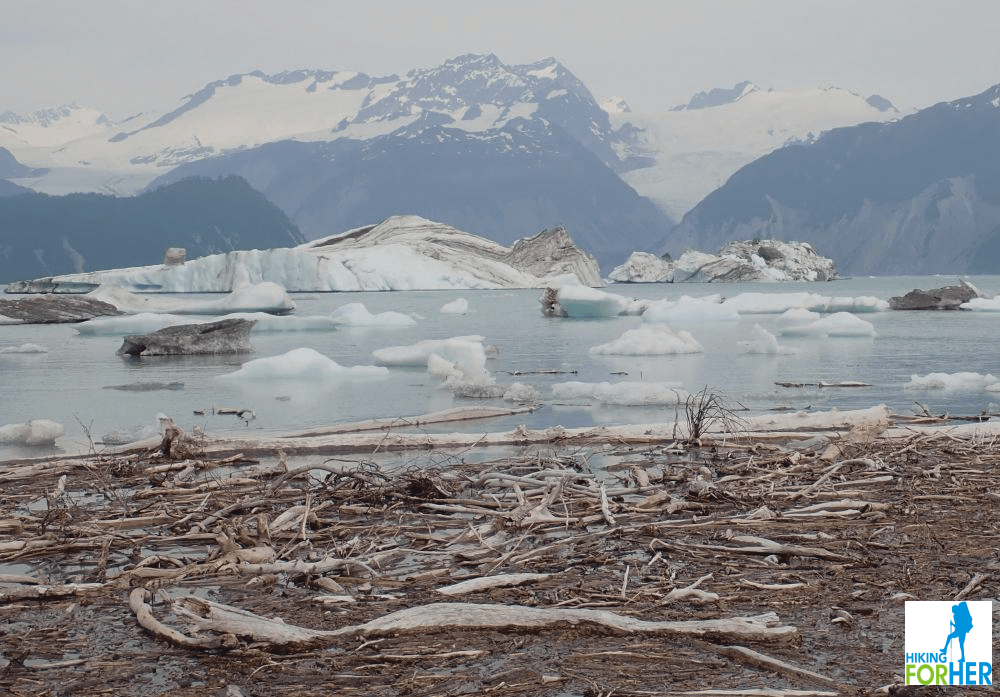 Alsek Lake icebergs create noise and entertaining shapes as they calve and disintegrate

A note about Alsek River botany
There is an incredible array of plants along these rivers. I was constantly amazed at the diversity.
The problem? 
Timing!
To see blooms, you have to hit it just right.
That's hard to do when you have prescribed put in and take out dates, but sometimes you get lucky like I did in June and early July.
This Alsek River trip report is happy to report that there are lots of areas to explore on foot once you come off the river, with wildflowers galore

Alsek River trip report:
challenges you will face
This is not an inexpensive trip.
I've shared all of the logistics you must conquer. Let's look at the largest navigational challenge you face.
If you intend to float the entire river to its terminus in Alaska, you'll need a helicopter to ferry you over Turnback Canyon.
Helicopters are expensive! 
In this case, you'll be glad you're flying over and not going through this canyon.
(video of Turnback Canyon fly over coming soon)
This Alsek River trip report
needs to mention a few rapids
The Alsek is not a tame, calm and quiet river.
Quite the opposite!
Every day you'll float through "splashy" sections like this one.
In fact, expect Class III rapids plus one very short and very exhilarating section at Lava North on the Alsek.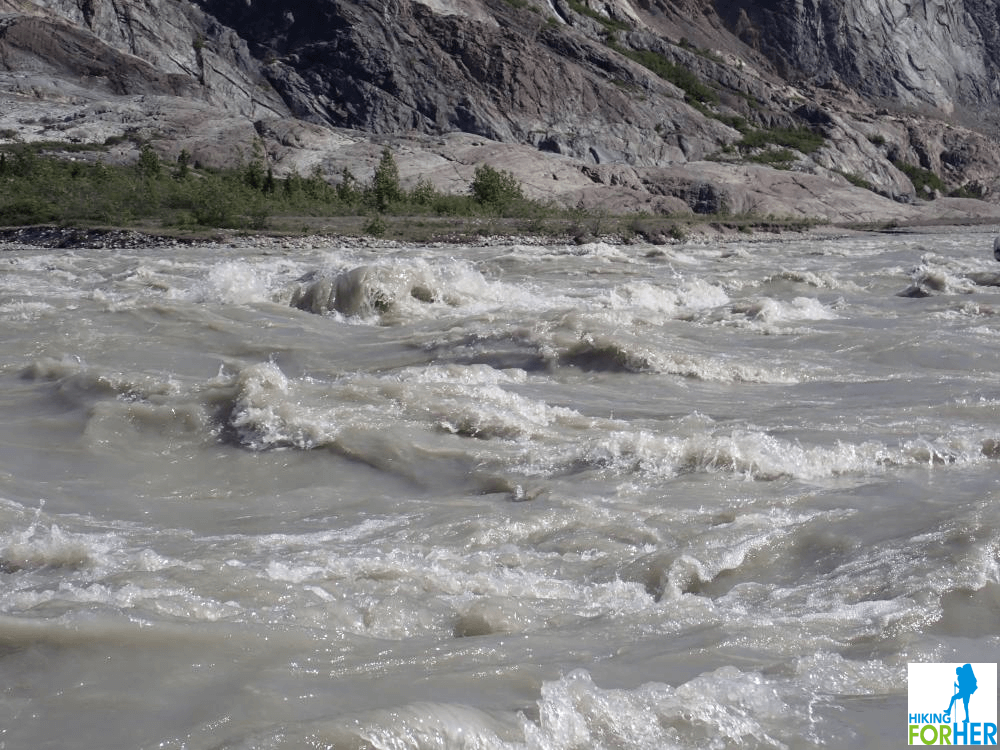 Great way to stay cool but not dry
Some rapids are given names. My favorites:
Some are more fun than others (lookin' at you, Lava North).
Brown bears live here!
Does the thought of being surrounded by large, hungry bears give you pause?
It should!
A clean camp, bear awareness, and a tiny little canister of bear spray are what you bring to bear on this issue.
Brown bear tracks are everywhere along the river. So are the bears. What a privilege to see them doing their thing.

Alsek River trip report:
why you should go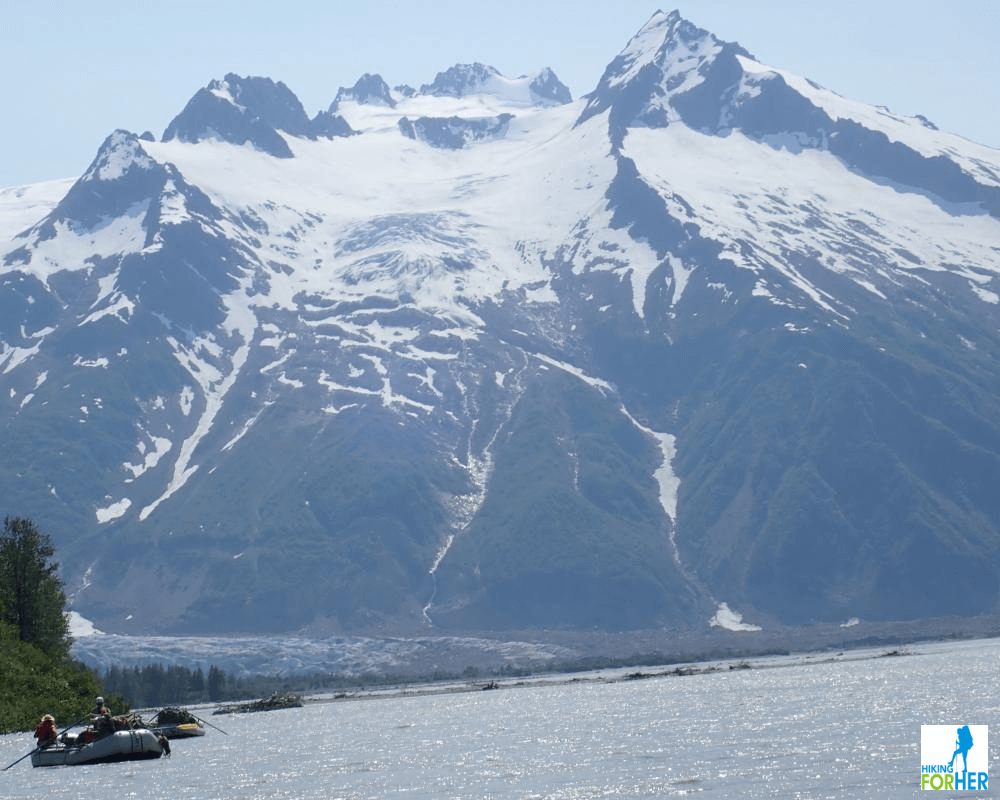 Can you stand it? Spectacular mountains around every bend in the Alsek River!
This river brings you into one of the few places in North America where humans haven't made much of an impact.
Days on end of being in this wild place will change you forever.
I mean that literally.
The serenity, the vistas, the open skies will re-wire your synapses in a very good way.
The amount of water in this river is unbelievable in summer: 100,000 cubic feet per second by the time it reaches the ocean, give or take.
That's a wild ride!
So if you like the idea of giving up all sense of control, and letting the river shape your days and nights, go for it!
Alsek River trip report:
why you should not go
The river guides do everything in their power to make you comfortable and to fill your belly with delicious food every day.
They are experts at their craft, willing to share their knowledge and enthusiasm.
But they don't control the weather, the bears, the water levels, or the availability of perfect camping spots.
So if you're not really into the idea of an unpredictable, completely wild trip, look elsewhere.
Does that seem like I'm being Debbie Downer in this Alsek River trip report?
Not really.
It's important to be clear about what you're getting yourself into when you book a trip like this.
Not sure?
Are you somewhat liking the idea of a wild river trip up north, but still a bit hesitant?
Consider doing the Tatshenshini River in its entirety and skip the rugged Upper Alsek. You'll get a full river experience but with a lot more company.
Another possibility to ease into river trips is the Canning River, with Class I and II conditions.
Alsek River trip report:
tips for a successful adventure
| | |
| --- | --- |
| Read this book: The Complete Guide to the Tatshenshini River Including the Upper Alsek River, by Russ Lyman, Joe Ordonez and Mike Speaks. | |
It's thorough, including not only the expected maps, photos and trip logistics but tips about geology, natural history, native and historical info, hiking and camping.
While I didn't meet the authors, the guides on my trip had rafted the Alsek with one of them.
That counts as a brush with fame, right?
Preparation is key to a successful trip
My best tip in this Alsek River trip report is to be as prepared as possible, both mentally and physically.
Here are some specific suggestions.
Take the gear list you're given as gospel.
The technology of modern clothing and camping gear will provide comfort, safety and a psychological boost when the rain pours down upon your head.

It will be too late once you're on the river to pine for the gear you left at home and really need in the moment.
Get into the best physical shape you can. It's challenging to load up and unload rafts at least twice per day.
You'll be scrambling out of the rafts onto slippery and muddy river banks, which can be a challenge for legs that are stiff from sitting in rafts above glacial melt water.
Another reason to have upper body strength and strong legs: You'll carry your personal gear to/from your tent site and manage your home away from home for the duration of the trip.
Group norms on a small trip include expectations that you will pitch in to haul group gear to/from the camp kitchen area.
Expect heavy water containers, bundles of firewood, all the things the guides need to take good care of you.
You'll assist with re-inflating the rafts after the helicopter portage, a task which will leave you with deep respect for the guides who rig and de-rig with such ease.
Sleeping on the ground night after night can take its toll, as will the constant wind and/or sun on the river.
If you have special dietary needs, let the guides know well in advance of the trip. Bring your own stash of food to supplement, or replace, group meals and snacks.
You're going somewhere special! And even with guides, you're on your own in many ways.
So prepare for it with mindful, cautious decisions.
Then you can relax and let 'er rip once you're on river time.
Thanks for reading this Alsek River trip report.
Contact me if you want more details, I'm more than happy to gush about this river!
Home page > Remote Hiking Destinations >
Alsek River Trip Report
Hiking For Her: Hiking tips you can trust!