Enjoy Happy Trails, the free monthly newsletter from Hiking For Her.

Receive a free resource: Hiking Layering System Explained
Powercap Review:
Hands Free Light Source
For Hikers And Campers
By Diane Spicer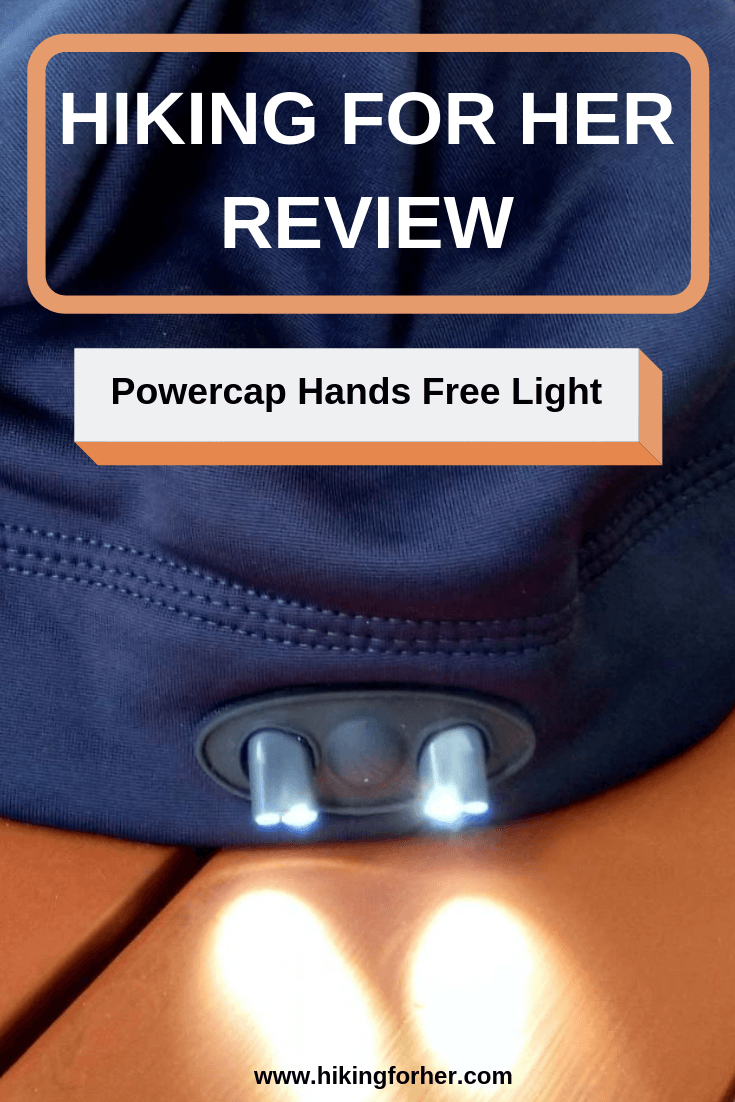 This Powercap review takes a close look at how wearing your light source on your head works for hiking and camping.
A headlamp built into a ball cap or a beanie style cap!
A few disclosures before we get started:
Both Powercaps by Panther Vision were sent to Hiking For Her in exchange for a fair, free review.

There is no affiliate relationship between Panther Vision and Hiking For Her.

All opinions, comments and photos in this Powercap review belong to Hiking For Her.

If you purchase your Powercap through links on this page like this one, Hiking For Her receives a small percentage of your purchase price but you pay nothing extra.
As always, this Hiking For Her review was written for one purpose: to put great hiking gear and trail solutions into your hands.
What's being reviewed
This Powercap review looks at the merits of two styles of wearing a source of light on top of your head:
If you've ever worn a headlamp that bounced around as you moved, slipped down around your eyebrows, or just felt uncomfortable on your head, you'll want to read this Powercap review.
It might have good news for you as a hiker, backpacker, camper, or someone who has to rummage around in a dark space (under the sink? in the back of the car?) looking for that lost item you have to find quickly.
Specifications
There are two styles of hands free light sources in this Powercap review, thus two sets of specs.
It's nice to know you have options, right?
And both of these caps are guaranteed and backed by Panther Vision POWERCAP Limited Lifetime Warranty
Note: All specifications are from Panther Vision, and have not been independently verified.

Structured mesh LED hat
specifications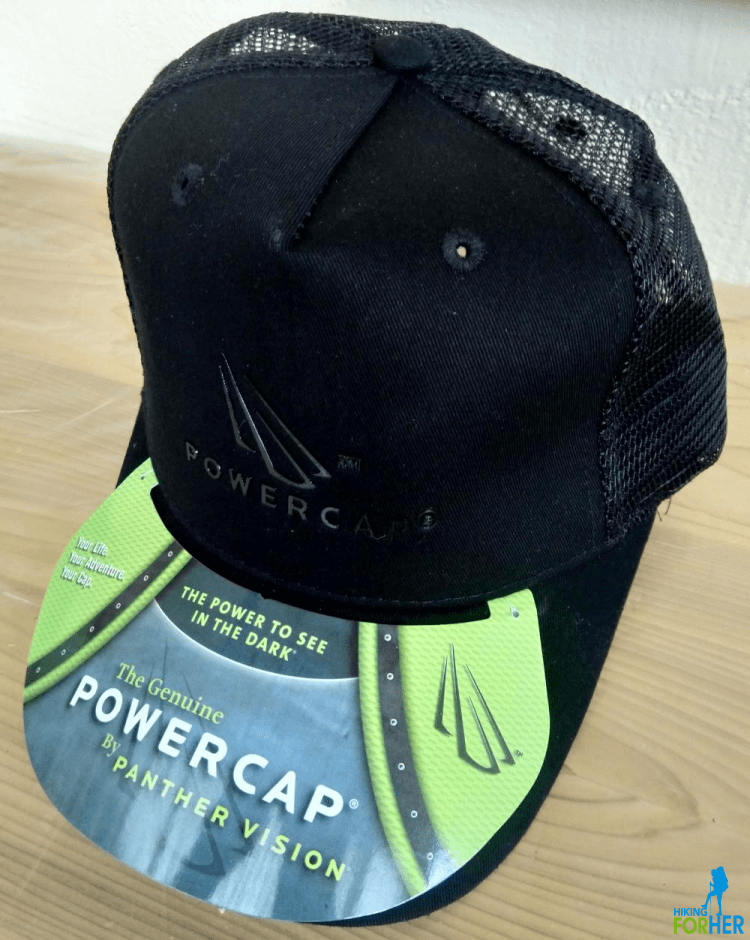 The hat arrived with this tag on it. Who wouldn't want the power to see in the dark!?
When you want to illuminate your surroundings without a lantern, flashlight or headlamp, and you don't need warmth or protection from mosquitoes, this lightweight ventilated hat will bestow panther vision upon you.
Thanks to 3 LED settings (high through low), this Powercap is suitable for both close up tasks (like cleaning up camp before you turn in for the night) as well as long distance lighting (investigating the spooky rustling noise in the bushes without leaving your tent).
60% poly/40% cotton with mesh backing

Two piece plastic back strap for easy size adjustments

Weight: 4.2 ounces

Maximum LED light output: 48 lumens

2 AAA batteries required (included)

Battery life rated up to 43 hours

Beanie style Powercap
specifications
Need warmth AND illumination?
Want to protect your ears from hungry mosquitoes while doing camp dishes at dusk?
This soft, comfy beanie style cap is the way to go.
93% poly/7% spandex compressed fleece

Weight: 2 ounces

Available in 12 colors

4 LEDs pointed in 2 directions

Combined LED output of 48 lumens

4 rechargeable CR2032 batteries required, included

Visibility up to 72 feet (22 m)

Battery life rated up to 68 hours

Hand wash and line dry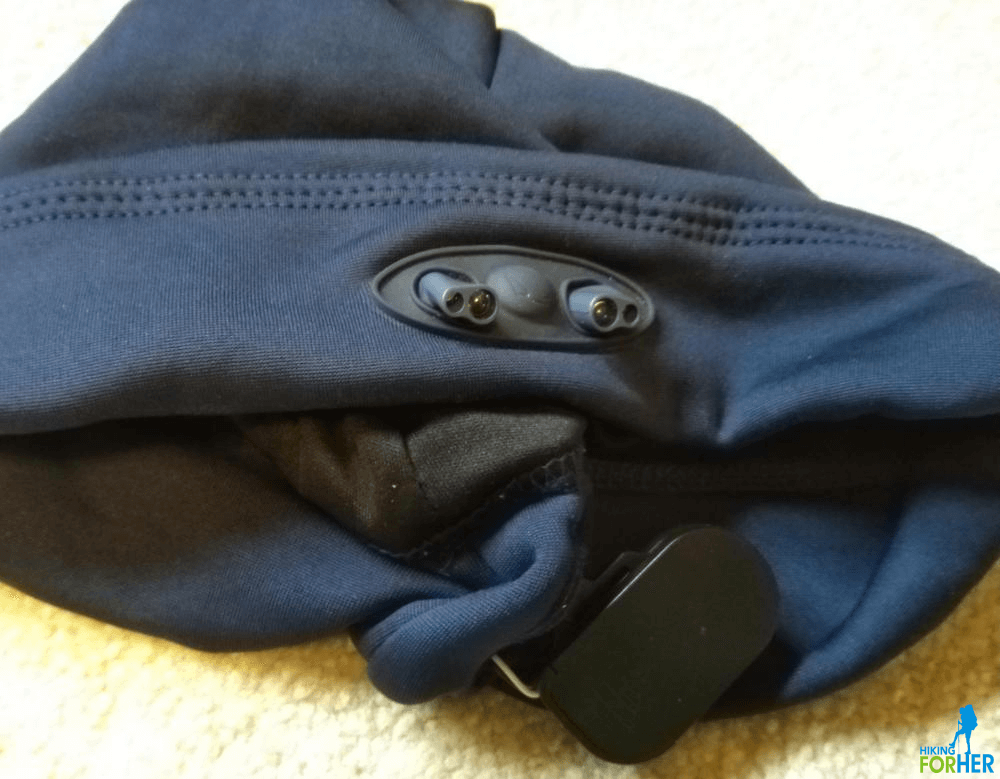 Navy blue beanie showing you the LED light source and the battery pack which tucks inside the seam

Powercap review
performance notes
Hiking For Her has been on the hiking trail for nearly 5 decades, and fondly recalls the heavy, unreliable flashlights that came along on many backpacking trips.
Take "fondly" with a grain of salt.

Bulky batteries often failed, lightbulbs burned out, sketchy connections gave an interesting fade in-fade out lighting effect just when you needed it most... ah! the "good" old days on the trail.
Headlamps were an eagerly embraced advancement in technology for backpackers and campers, and Hiking For Her has used her share over the years: at least 5 different brands in various styles.
But a Powercap?
It seemed like an interesting way to avoid wearing a bobbling, wobbly, ill fitting headlamp while reaping the rewards of LED illumination (brightness, longevity, lightweight).
So here's what happened when these Powercaps were taken for a spin by someone who has seen illumination options evolve over time.

Structured Mesh LED Lighted Hat
performance
Okay, let's get this right out into the open.
Hiking For Her is not a fan of this style of cap, for two reasons:
I must have an oddly shaped head, because they never fit right.

The hair from my ponytail or braid always gets caught in the adjustable straps at the back.
But for you, dear hiker, I wore the hat into the darkest night so I could report my findings.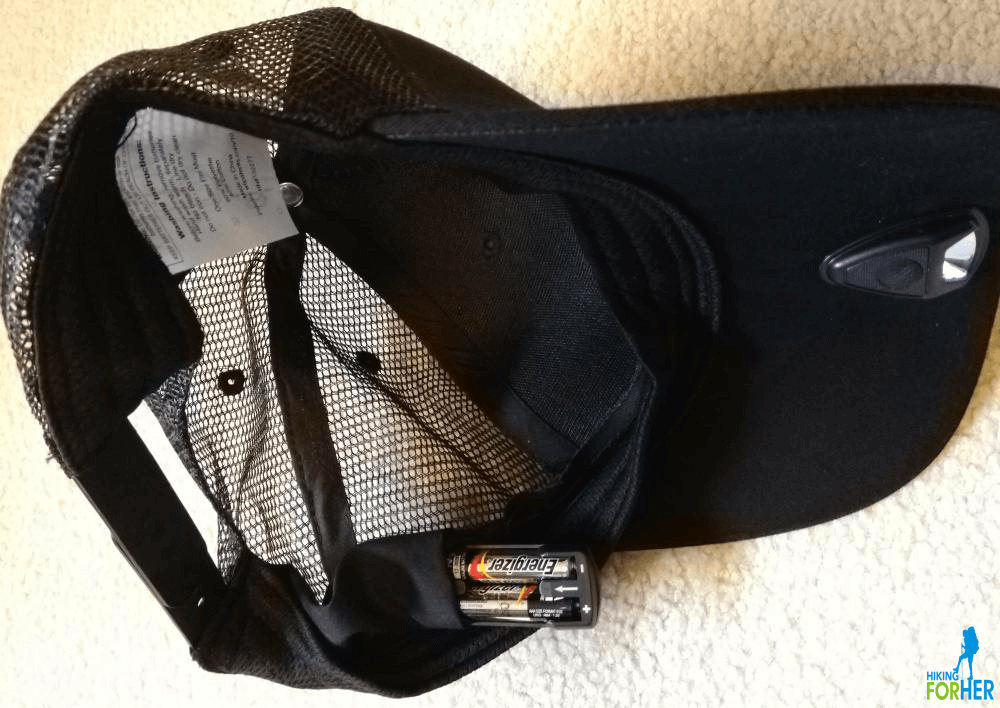 The LEDS are tucked into the underside of the cap's brim. The 2 batteries tuck into the seam near the left ear.
Good things to report:

Three easy-touch settings for the LEDs made it easy to adjust the amount of light I needed. 

The battery pack, tethered to the seam of the hat, makes it impossible to lose the batteries when they're clipped securely into their plastic holder.

I didn't notice the weight of the batteries on one side of the hat, over my left ear inside the seam.

Rechargeable batteries make this hat a long term investment.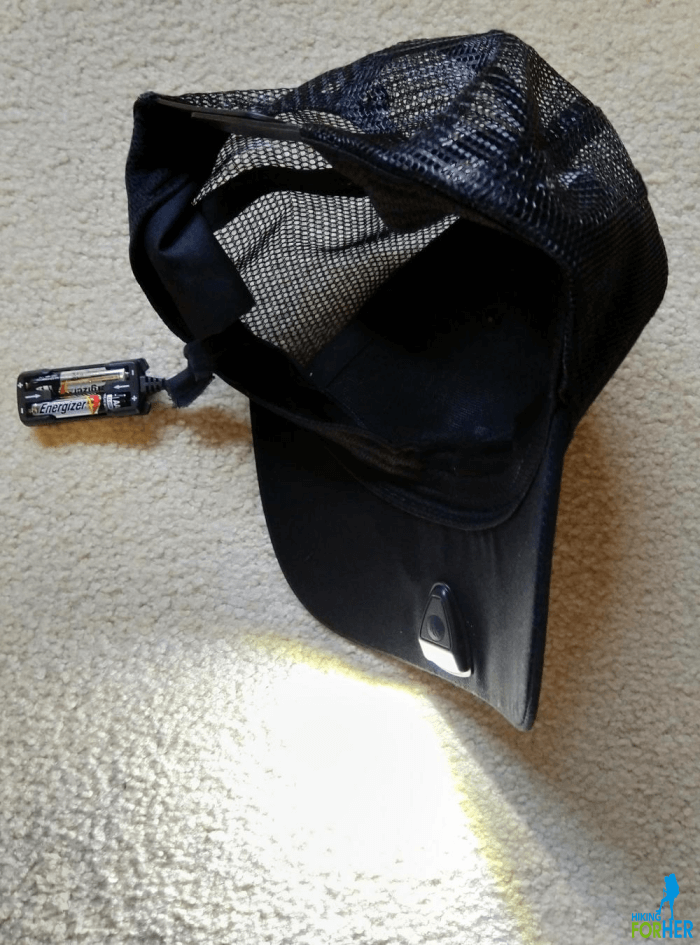 Super bright light at the touch of one finger beneath the brim!
There's more to love about this cap:
Intensely bright light is directed wherever you look, making chores inside a tent or at a picnic table easy.

The soft sweatband running from one ear to the other wicks sweat away from eyebrows and forehead and feels comfy against your skin.

The breathable mesh provides ventilation for warm weather outdoor adventures.
A few things to consider
for the hiking trail
If you're looking for the smallest footprint possible in your backpack, the brim of this hat doesn't collapse.

The mesh will allow sunlight to reach the crown of your head, so if you're worried about burning from UV rays, this hat offers less protection than a more structured ball cap.
Don't stare deeply into your trail buddy's eyes (human or canine) while wearing this illuminated cap.
Compression Fleece
LED Lighted Beanie performance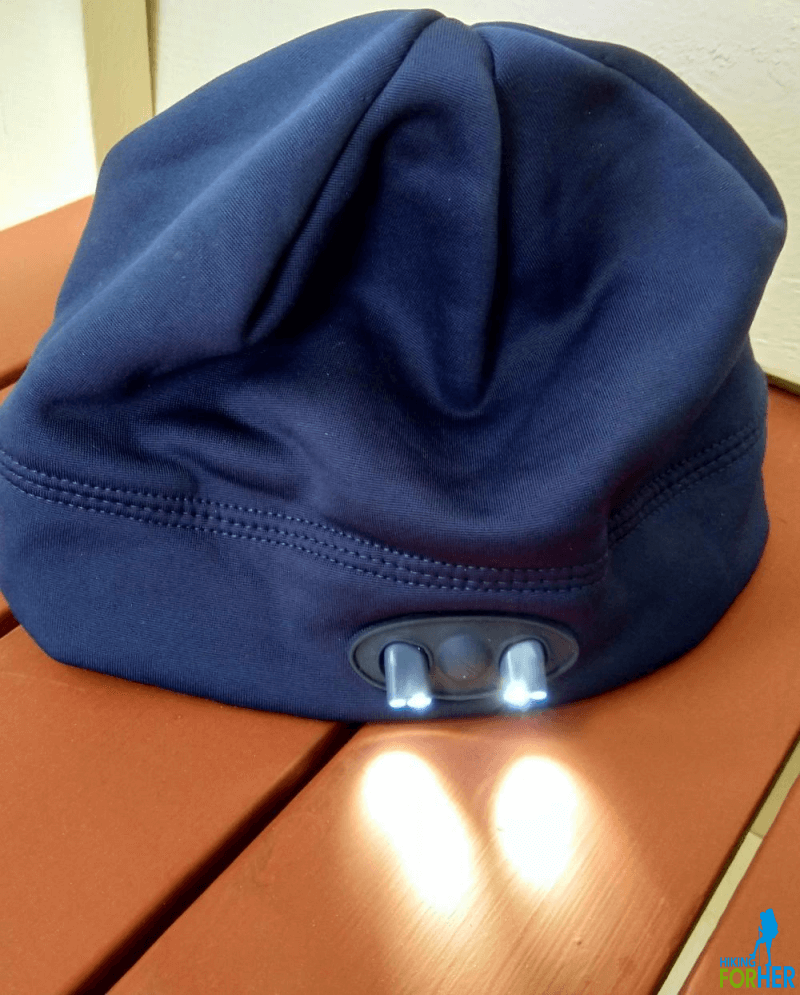 A soft touch on the rounded black button between the two LED light sources is how you control your light.
Having admitted my bias against the first style of cap, let me be just as honest here: I heart beanies.
In fact, I have at least 3 of them for each of the 4 seasons of hiking. (Don't judge.)
So when this navy blue beanie showed up, it was love at first sight.
Then I turned on the LEDs.
Wow!
Warm ears, and beams of light shooting off my forehead. I may never take it off again ;)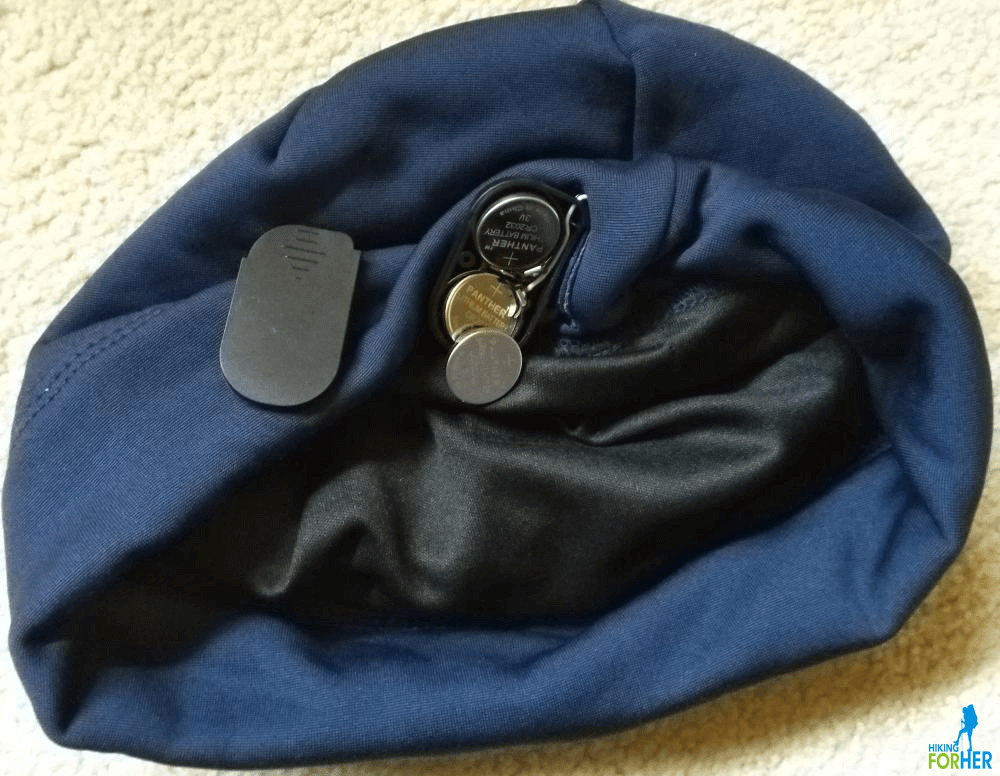 Four round batteries are tucked into a black plastic case in the seam of the beanie. Here, you see the black lid on the left and 3 of the 4 batteries.

The batteries pop out easily when you remove the plastic door of the case.

I didn't notice the weight of the battery case at the back of the beanie.

And for anyone who hikes with long hair, get this:
The beanie is roomy enough to accommodate a low ponytail, or a braid or two clipped to the top of your head in windy or wet weather.
Trail tip: For winter hiking and camping, wear a fleece headband under the beanie for extra ear coverage and a closer fit.
The fabric is super lightweight, soft, and seems like it won't pill or pull.
I can see myself wearing this beanie during the day as well, just flipping up the hat seam so the LEDs are tucked away until needed.
P.S. They have a lovely red and black plaid fleece beanie for winter hiking. I think my hiking beanie collection just expanded!
The Panther Vision
company
The founder of this company started out in his garage laboratory, messing around with lighting solutions for outdoor folks like us, many years ago.
Over time, this Illinois company has grown to offer products for everyone who needs illumination around the house, camp, or trail.
Think home repairs, dog walking, running, snow shoveling on short winter days, sewing, reading when your partner wants to sleep...
Powercap review conclusions
Hikers and backpackers love multi-functional gear. 
Our motto:
If you're going to carry it, it should perform at least two tasks for you.
A Powercap illuminates your space and leaves your hands free for hiking tasks and camp chores while providing the benefits of a head covering.
That's three great reasons for a Powercap on your gear list!

More Powercap styles
to choose from
There are other illuminating options from Panther Vision beyond this Powercap review:
visors

structured cotton caps

winter fleece caps with ear flaps

solar powered microfiber hats for hot summer trails
Home page > Best Hiking Gear Reviews >
Powercap Hands Free Light Review