Enjoy Happy Trails, the free monthly newsletter from Hiking For Her.

Receive a free resource: Hiking Layering System Explained

WURU Wool Review:
Prevent Blisters This Way

by Diane Spicer
This WURU Wool review was entirely my idea.
Why?
Because blister prevention for hikers is a hugely big deal.
And although I know that duct tape and moleskin will work on hot spots, I'm open to a new approach to head off a blister.
WURU Wool Company provided samples of their product for trail testing.
Hiking For Her is responsible for the opinions and photos you see here.
There is no affiliate relationship between WURU Wool and Hiking For Her.
As always, the straightforward intent is to put something new to the test and report on how it works, so you can make an informed decision.
WURU Wool review:
let's start with
a product description

Is this your new way to prevent blisters during a hike?
The company website states: "It's important to protect your feet, and walk away from discomfort."
All of us hikers agree!! Tell us more!

Each package of 100% New Zealand wool has been cleaned and fluffed up, put into a re-sealable package, and is ready to put into action.

That's it!
Pretty simple, huh?
One package contains .75 ounces (21 grams) of wool, an inert material which will last for many hiking seasons.
No expiration date, and there's plenty more where that came from (wool = renewable resource)


How to use your
WURU Wool
Pull off a chunk of this soft wool and place it on your skin wherever you feel a hot spot, irritation, or other feedback from your feet.

The wool "sticks" in place, so there is no need to carry any adhesives or tape.
You'll have to be a bit careful to pull your sock over the wool without disrupting its location, but that's the last time you'll even think about this wool on your skin.
The natural fibers will grab onto your sock fibers, holding this little "patch" in place.
Sheep get rain soaked all the time and stay happy, so this wool will keep working on your wet skin, too.

And when you're through with your hike, the wool will peel off easily.
Be smartly proactive
Be proactive for great foot care:
Place a small pad of wool on any pressure points or trouble spots that you already know about on your feet: heels, soles, ankle areas.
Please take the time to STOP and apply some WURU wool if you feel that ominous sensation of heat, pressure and "uh oh" during your hike.
If you don't, you'll toss yourself into the unwanted blister treatment zone.

Compare wool with duct tape
for hiking blister prevention

I carry a metal water bottle with duct tape wound around it, for taping over hot spots as well as making gear repairs in the field.
Because I've used duct tape on hot spots before, I can share a few down sides:
Duct tape won't stick well to skin that is already sweaty or gritty, as happens inside boots & sweaty socks.

Duct tape is slippery, and sometimes causes socks to bunch up or misbehave. (Or is that just me?)

Duct tape leaves a tacky residue.


Duct tape is not breathable, so expect unattractive prune skin when you remove it.

Duct tape is not a renewable or biodegradable resource.
For these reasons, if there's a better way to protect a hot spot, I'm all for it.
Let's find out.

So does WURU Wool do
all of these things?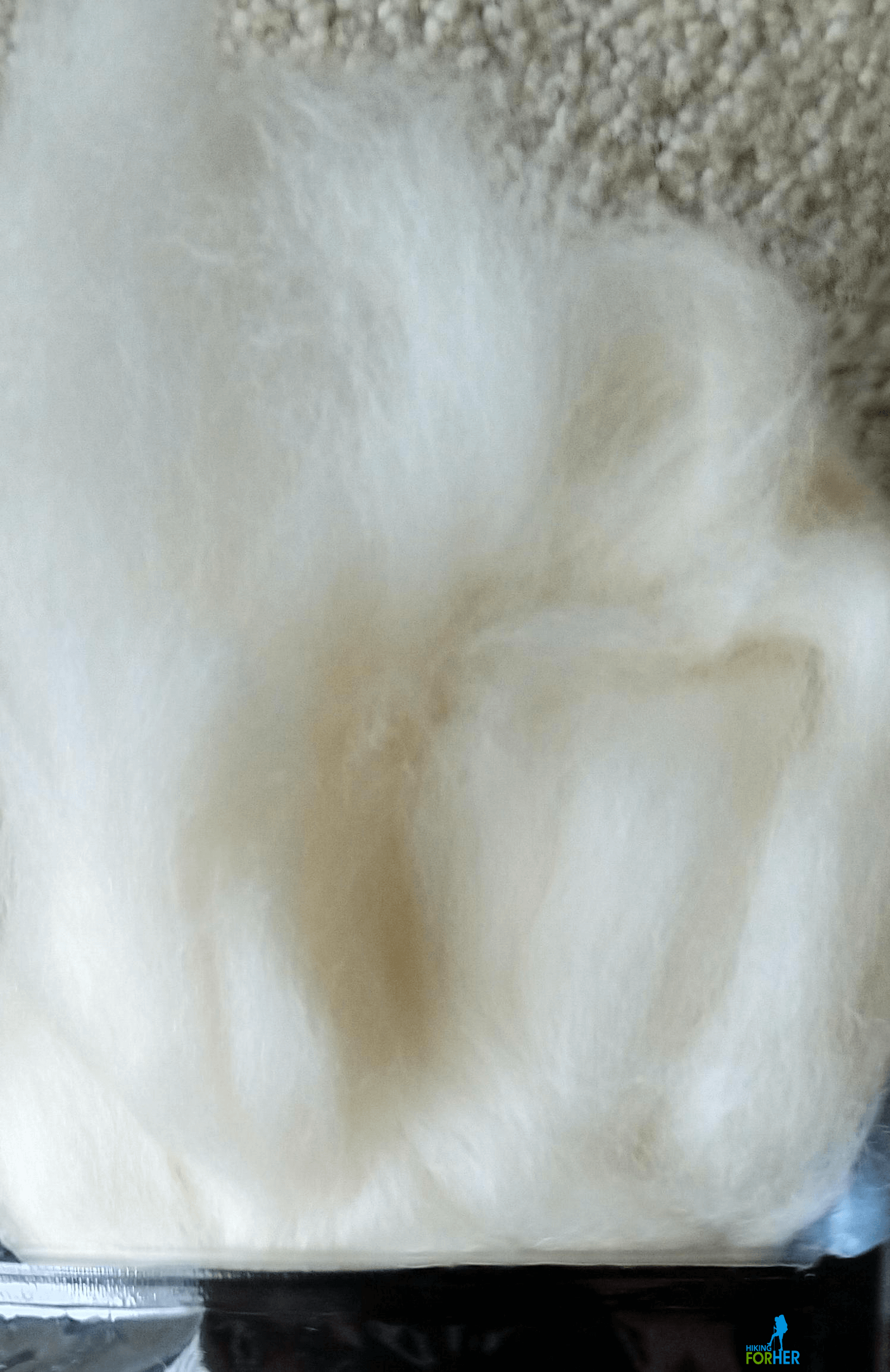 Your own little stash of fluffiness!
On the package you'll see a tempting list of the benefits you may receive when you apply a bit of this wool to your hot spots:
absorb moisture

reduce friction

prevent blisters

promote breathability

provide cushioning
Notice that we're going for prevention here.
A blister forms because of heat, friction and moisture, and may result from pressure on one particular area due to a poorly fitted boot or improper lacing techniques.
Looks like this wool will short circuit the "blister creation loop" in all of the important ways.
Hiking For Her's experience
Based on my field trials inside heavy winter boots in the snowy month of February, it really can deliver what it promises.
I liked the cushion it provided on the tops of my feet, on some little bony bumps that have formed over the years and cause soreness.
Weaving the wool between the toes was also nice because it mopped up sweat and prevented the toes from rubbing together inside my sweaty socks.
If you've ever had a pedicure, you'll know what the weave looks like ;)

I don't normally get blisters on my heels or soles so I didn't test those areas, but there's no reason to believe that the results won't be the same.
Our feet have different pressure points and hot spots, but we both know that blisters suck.
The cost at the time of this WURU wool review is $9.95US, and as mentioned, it will last a long time and will weigh nothing in your backpack.
What it doesn't do
I want to point out something that might be almost too obvious to mention, but here it is:
This woolly fleece should not be applied to an already formed blister which is either in danger of popping, or has already opened up.
Use WURU Wool for blister prevention, not blister treatment.
The package also mentions that you should discard this wool after one application.
I'm wondering if one might push this a bit on a multi day backpacking trip, rinsing out the sweat and grit each evening and air drying the fleece.
I predict the lanolin will hang around through this type of treatment, and continue to deliver moisture absorption and cushioning.

I'll report back with my findings.

A few hiker hacks
Because hikers love to pack gear that does at least double, if not triple duty, here are a few other uses I'm going to try with my wool:
Impromptu ear plugs if I forget mine and am invaded with boom box carrying "hikers" at a shared campsite

Cushioning for spots that rub my bones wrong, like a hip belt that doesn't fit quite right due to weight loss/gain, or a backpack shoulder strap that doesn't respond perfectly to adjustments

Wiping away eye goobers on the dog (get it wet first) or possibly the kids (?)
Use your imagination!!
Tip: Let the kids (or your trail buddy) create cute little sheep puppets with stick legs if you're trapped inside the tent for days at a time.
Bonus points: Act out your favorite Shaun The Sheep episodes ;)

What's up
with the name?
The name is a respectful nod to the Maori people, native to New Zealand, and also refers to their language.
WURU Wool review
conclusions

Two things to note:
1. Don't be fooled by the .75 oz. weight. There is a lot of fleece inside each package.
Share freely with your friends and family who may not hike with you, but are active in other outdoor sports & hobbies which require careful foot maintenance (skiers, dancers and runners come to mind).
2. This product couldn't be easier to use for blister prevention, with a greener footprint than duct tape.
3. If you're looking for an option to pad your hiking boots or socks (hikers with narrow feet, I'm lookin' at you), wrap some of this stuff in non-slip fabric and stuff away.

Give this fluffy wool a try, and let me know how it goes!
If you purchase your WURU wool through this link, Hiking For Her as an Amazon affiliate will receive a small percentage of your purchase price but you pay nothing extra.

More great foot care tips for you:
Happy feet make happy hikers, so invest in some foot
care strategies and smile through every mile
(or kilometer)!
Home page > Best Hiking Gear Reviews >
WURU Wool Antiblister Review
Hiking For Her: Hiking tips you can trust!