Enjoy Happy Trails, the free monthly newsletter from Hiking For Her.

Receive a free resource: Hiking Layering System Explained
Explore Europe On Foot
Book Review
by Diane Spicer
This Explore Europe On Foot Book Review begins with a few disclosures.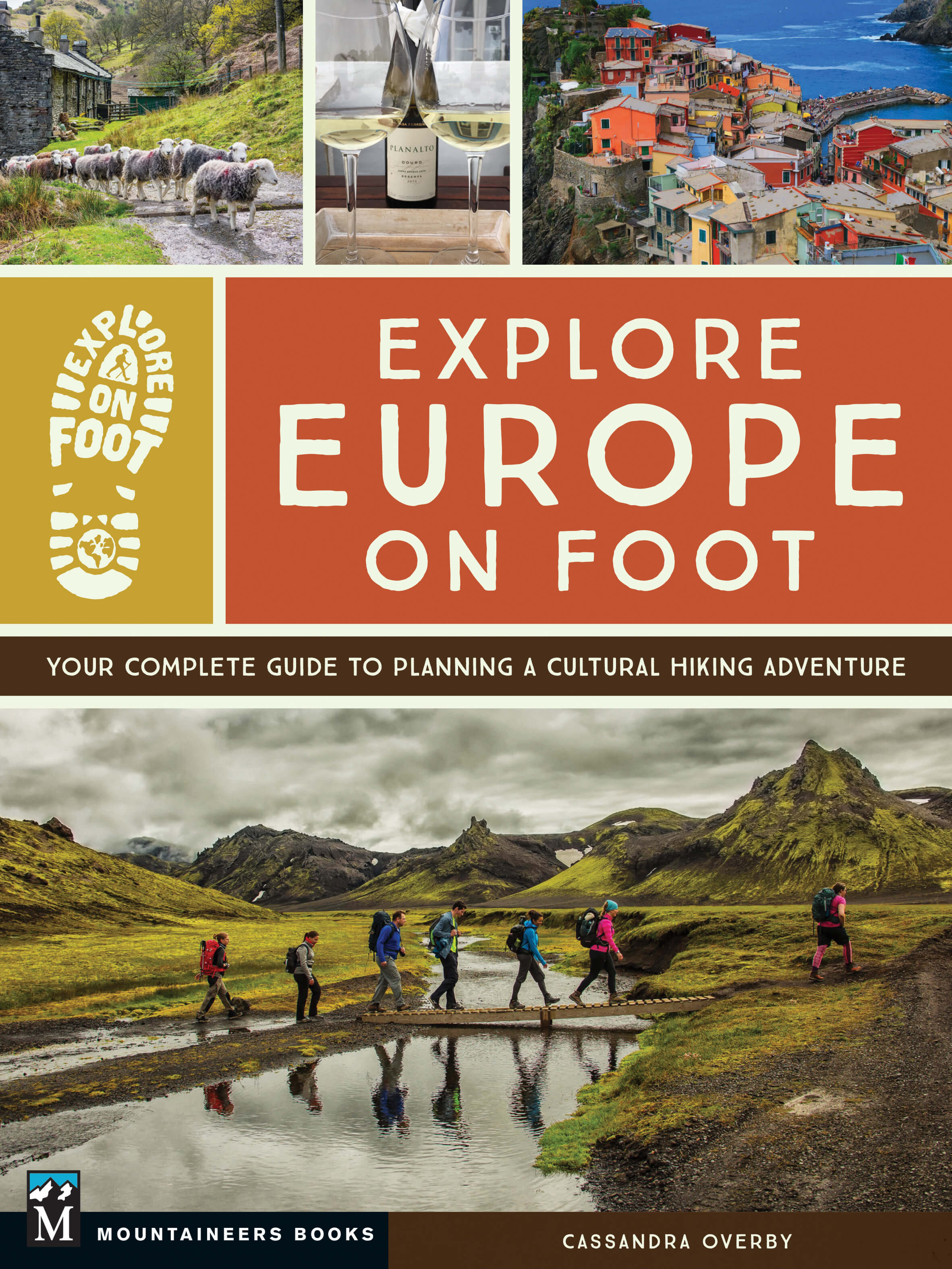 Cover photo courtesy of Mountaineers Books

Explore Europe On Foot
book review disclosures
The full title of the book is Explore Europe on Foot: Your Complete Guide To Planning A Cultural Hiking Adventure
by Cassandra Overby
This Explore Europe On Foot book review was written at the suggestion of Mountaineers Books.
There is no affiliate or promotional relationship between us.
To purchase your copy from Mountaineers Books, go here.

If you're reading this between November 1st and 31st, 2018, why not enter to win a copy?

Details and entry form here

Explore Europe On Foot
Book Review:
who needs this book?
If the title of this book attracted you, there must be a reason!
Answer these questions:

Have you ever wondered what a walking vacation in Europe would be like - but also wonder if you can pull it off on your own?
Have you "been there, done that, I'm over it" with European travel packages that take you (and so many thousands of others) to popular insanely crowded destinations?
Are you actively seeking the tools to plan your own European slow travel experience in the outdoors?

Affirmative answers mean you need this full color, carefully detailed guide book.
Who won't benefit
from this book
If you're seeking a wilderness backpacking trip in European mountains, these routes through, and near, relatively populated areas won't be of interest to you.
Caveat:
Unless you have time after your backpacking trek to see another side of European culture

Explore Europe On Foot
Book Review:
what to expect?
This book helps you solve "problems" that must be addressed before you embark on a walking vacation, things like:
The author writes in a friendly but firm tone, making it clear she has faced these challenges and surmounted them, making it likely that you will, too, if you follow her advice.
Which routes are included
in this book?
Some of these routes are rather famous, such as the Laugavegur Trek in Iceland.
Who among us hasn't gawked at the astounding Pinterest photos of Icelandic hiking?

Other routes are lesser known, and that's where this guide become invaluable, giving you insights. planning tips and confidence to do something unique.
Here are the fifteen routes, arranged alphabetically by country:

The Lake District, England, UK

Alsace Wine Route, France

Mont Saint-Michel, France

Tour du Mont Blanc, France and Italy

King Ludwig's Way, Germany

The Moselle, Germany

Laugavegur Trek, Iceland

Cinque Terre 2.0, Italy

The Ardennes, Luxembourg and Belgium

The Sahara Desert, Morocco

Rota Vicentina, Portugal

West Highland Way, Scotland, UK

English Way, Spain

Alpine Pass Route, Switzerland

Lycian Way, Turkey
You can see that the author presents a nice mix of terrain and cultural opportunities!
Explore Europe On Foot
Book Review:
what I liked best

As a hiker, you don't need to be convinced about how wonderful it is to immerse yourself in an area and really enjoy all that it has to offer at the slower pace which foot power provides.
This book makes it so very easy to begin daydreaming about exploring Europe on foot.
Just a few moments spent paging through the fifteen long-distance trails which Cassandra Overby lays before you will convince you that it's all there:
The high quality photos help you place yourself right in the midst of each route.

No need to go all in!
If you'd prefer to ease into the idea of a multi-day cultural hiking adventure, this guide book also provides suggestions for how to fit a smaller dose of hiking into more traditional trips to Europe.
This could be useful information for parents of younger kids, older travelers with physical limitations, and first time travelers.
Explore Europe On Foot
Book Review:
conclusions

My suggestion for you:
Vicarious traveling is better than not exploring Europe on foot at all, right?
It's your first step in getting your boots on European soil.
Then it's up to you to take the next steps: narrow down your choices, pack up, and explore Europe on foot.

When questions arise about what you are reading or seeing, the best place to bring them is the author's website.
You can also purchase signed copies.

And if you enjoy immersing yourself in hiking books, here are more of Hiking For Her's recommendations for you!

Home page > Hiking Resources >
Explore Europe On Foot Book Review
Hiking For Her: Hiking tips you can trust!