Enjoy Happy Trails, the free monthly newsletter from Hiking For Her.

Receive a free resource: Hiking Layering System Explained
Injinji Toesock Review:
How Do They Perform
On The Trail?

This Injinji toesock review was not my idea, for reasons which I will share in a moment.

However, after receiving several pairs of the toesocks and putting them through their paces (literally) on the trail, I'm going to have to change my tune about toesocks!
Disclosures:
I received three types of crew length hiking socks from Injinji:
I agreed to write a thorough, honest review of their performance inside my trail footwear.
I was not paid for my opinion.
There is no affiliate relationship between Injinji and Hiking For Her.
This Injinji toesock review aims to give you the unvarnished truth about how these unique socks performed on my training walks and hikes over the last month or so.
Not a toesock fan before Injinji

Here's a good life lesson: Never rely upon dim memories to make decisions about hiking gear.
Including toe socks.
Over four decades ago I received a pair of toesocks as a gift.
I hated them for a lot of reasons:

They were knee high and made of scratchy white wool.

Every toe was a different bright color, and hard to pull on.

Too much fabric between my toes made me push them to the back of the sock drawer.
I never touched them again until it was time to pack up my bedroom and head off to a dorm room.

Guess which socks I left behind for someone else to wear?

So when the suggestion of doing a hiking toesock review landed in my inbox, I was honest about my lack of affection for toesocks.
But then I thought about you, dear reader. Maybe you would like to know if toesocks for hiking makes sense.
Thus, this Injinji toesock review exists.


Injinji toesock review:
first impressions

If you like bright sock colors, this company will keep you busy selecting some great color combos.
Take a glance at these beauties!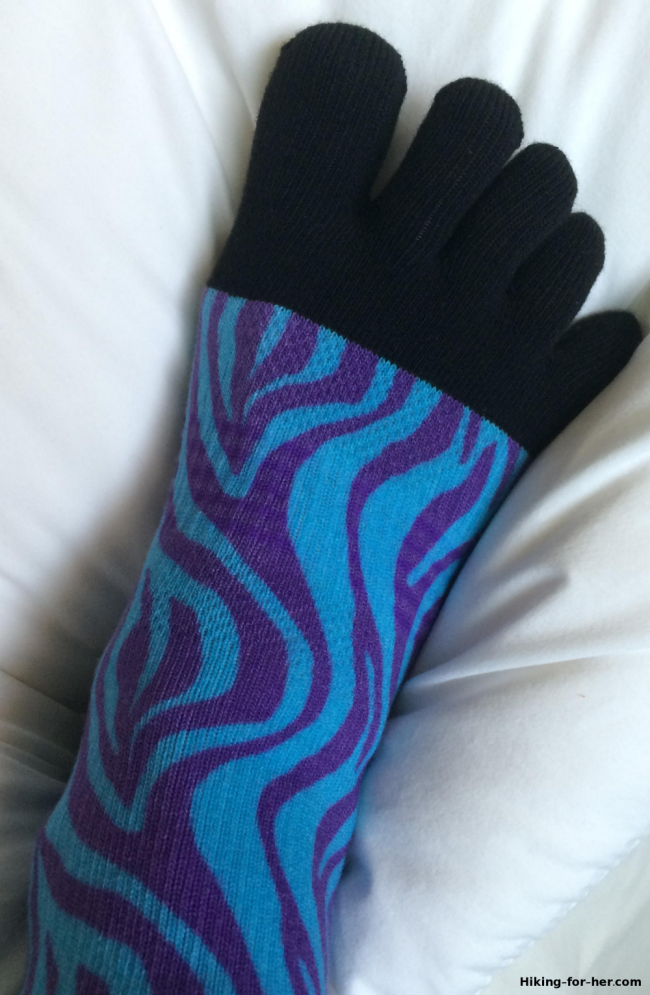 Because I went into this review somewhat biased against toesocks, I focused on the functional elements rather than appearance (although it's a shame to shove such a pretty sock into a smelly hiking boot, don't you think?).
In order to earn a recommendation as a great hiking sock, these toesocks were asked a list of questions focused on function:

How much fabric would be between my toes?

Would these socks slide around in my footwear?


Would breathability be a problem?

How good would these toesocks be at wicking away moisture from my skin?

Would they pool around my ankles or bunch up around my heel?

Could I expect much cushioning from these socks?

To begin to answer my questions, I turned to the packaging.
See the foot diagram?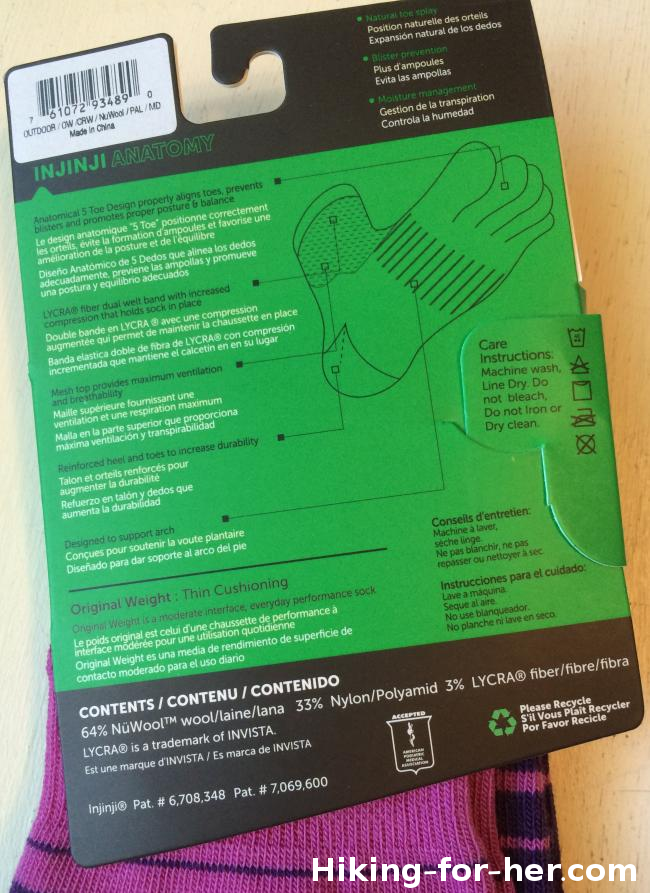 Let me summarize the diagram for you, starting at the top right and going clockwise. These toesocks are designed to specialize in:

toe alignment (for proper stride)


blister prevention (no rubbing)

proper balance and posture (not sure how that works)

arch support (cushioning)


reinforced heel and toes (durability)

mesh top (ventilation)

compression band around ankles (no falling down)

As you can see, these socks are eager to earn your vote as hiking performance socks. So far, so good.

A quick check of the material used to make the socks adds weight to that claim, as you will see.
So let's look at the three different Injinji toesocks I tested, with performance (function) uppermost in our minds.

Injinji toesock review:
women's specific fit socks

Because I was so resistant to the idea of using toesocks for hiking, I was offered the chance to try these thin socks for runners as a way to ease into the toesock universe.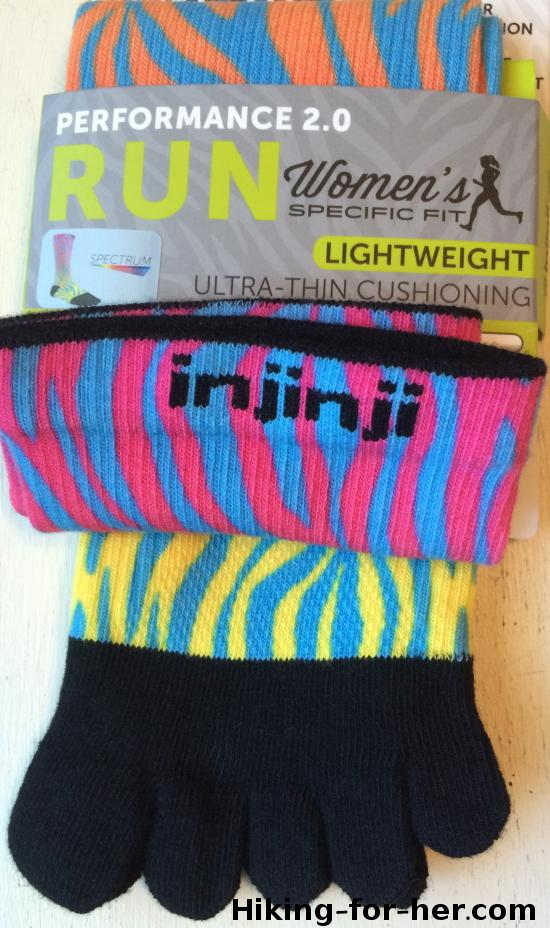 In other words, overlook the word "Run" and substitute "Hike".

The first time I pulled on these socks, I noted three things:
The fabric felt soft and it molded right away to the contours of my feet, thanks to 28% COOLMAX polyester, 67% nylon, and a touch (you do the math!) of Lycra.

I could feel the fabric between my toes and wondered if I'd "get over it" (see previous toesock aversion above).

The thinness and potential slipperiness of the socks might work against me in my hiking boots.

So in an abundance of caution, I wore the socks for five days in a row on my daily 4+ mile training walks with trail shoes on my feet, rather than hiking boots.
(Am I the only hiker who is superstitious about not messing with a sock-boot partnership that is performing well?)
Luckily, I live in an area where wet, muddy, rocky, steep trails are available for my daily walks.
So don't think that I took a casual stroll around the block in these socks.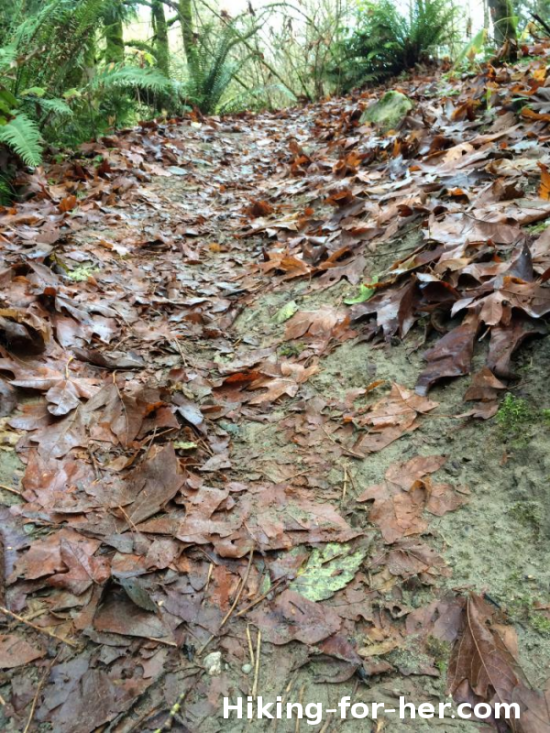 Muddy and wet, just the way we like 'em!
After 20+ miles in the socks (including one memorable trek in the pouring rain), I can say these things about the Injinji lightweight women's specific fit toesocks:
1. I quickly forgot that I had toesocks on. A shocker if ever there was one, given my aversion! The lightweight fabric surrounding each toe somehow disappears from awareness after a few minutes.
2. These particular socks were not able to fill up the volume of my trail shoes. But don't blame the socks! They're designed for an ultra-thin interface. Instead, blame me for always buying trail footwear at least a half size bigger than I need. (Beginning to see that I have foot issues? You're correct.)
3. On the first day, I noticed that the socks rubbed against the huge calluses on the bottom of my big toes (I will spare you the photo). Again, not a sock problem but a peculiarity of my feet. But a heads up if you have calluses: you will notice the socks pressing on specific areas of your feet the first time you wear them.
After another 15 miles of trail time, I can say that I am a true believer in toesocks like these for any female hiker who likes moderate day hikes and doesn't have "volume" issues in her shoes or boots.
As far as performance goes, I can include these statements in this Injinji toesock review:

An important note
about sizing

I love to have a lot of room in my footwear for wiggling my toes to increase circulation, avoiding "toe bump syndrome" as I hike downhill, and for accommodating my high arches.
Because I wear my footwear a bit big, relative to my actual foot size, this puts me in an "in between" shoe size according to the Injinji size chart. (We will overlook unkind "clown shoes" remarks from unnamed trail buddies.)

So I tested two different sizes of these socks.
My advice if you're on the 8.5 to 9 size cusp: Go with the smaller size. There is plenty of room for expansion without feeling cramped.
I found that the larger size had too much fabric beneath my toes, and didn't stay up as well as the smaller size.
If you're a size 9 or above, I think the M/L size would be best for you.

One more thing to note: After washing and drying the socks 3 separate times, I noticed that the bright colors at the sides of the the toe area had diminished.
However, the important thing to mention is that the fabric was not thinner, and the socks fit as well as they did the first time.
Conclusions about
the RUN toesocks

Bottom line: These socks will give you moisture wicking and good fitting fabric, breathability, and a nice pop of color each time you put them on.
I can recommend these socks to three groups of outdoorsy women:
Trail runners who want an easy-on, well designed sock with minimal cushioning.

Day hikers who aren't carrying a lot of weight, have no desire to wear two pairs of socks (thin liners + heavier outer socks), and don't have huge calluses built up beneath toes or on the sides of the foot.
Any woman who includes regular training walks in a fitness routine. I love these toesocks for brisk walks and short training hikes, and will be wearing them every day in my trail shoes!

Now on to the heavier weight outdoor Injinji toesock review

After my initial success with the thin toesocks I was enthusiastic about "graduating" to thicker socks for my hiking boots.
Note that these are not gender specific socks, as the RUN toesocks were.

I tried two types of heavier socks, again in two different sizes:
Original weight thin cushioning crew length OUTDOOR socks (size Medium), and Midweight padded cushioning crew length OUTDOOR toesocks (size Small).
These combinations of sizes and thickness were chosen to test whether or not these socks would provide enough volume to ensure a good fit inside my hiking boots.
I also had some questions about how much cushioning for my high arch would be provided.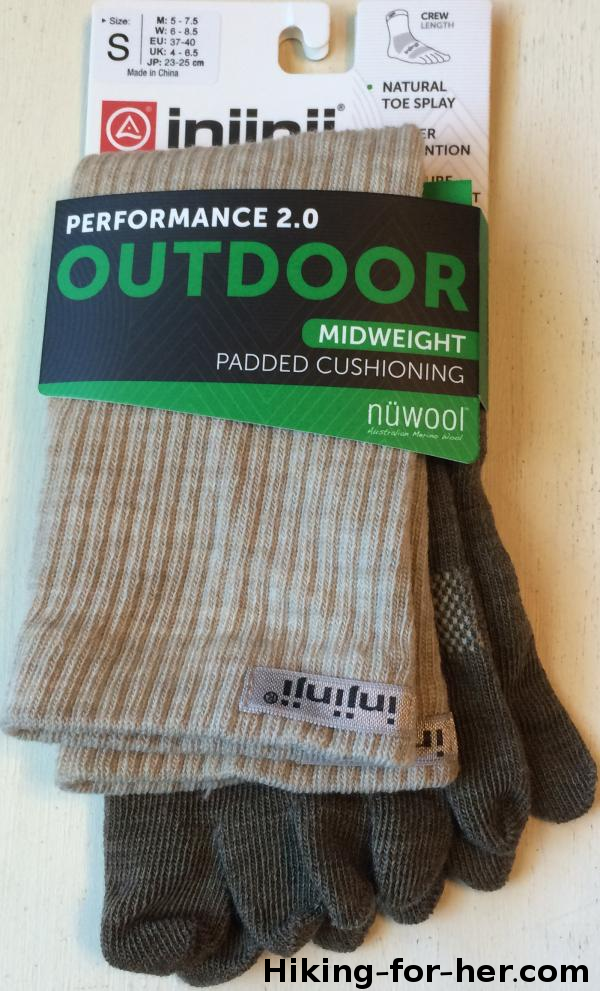 To be honest, I tested these socks first because I had a hunch that they would play nicely with my feet in terms of cushioning and support.

Another hunch: I put on these heavier volume socks first, assuming that they would be thick enough to fill up my hiking boots.
Initial impressions before hitting the trail:

The fabric felt great on my feet: 64% NuWool, 33% nylon, and a touch of Lycra for moisture wicking, snug fit, and durability.

I chose a tough trail: steep and muddy under rainy skies. Perfect for sizing up a new pair of hiking socks!

The initial 10 miles or so answered my "volume" question and brought a up few issues with these socks.
There was a finger's width of room between the socks and the interior of my hiking boots that I wasn't used to.

I really noticed the fabric between my big toes and their nearest neighbors (whatever would be the "pointer" if it was on your hand). 

The fabric beneath my toes felt like too much as I was going downhill. This threw off my stride a little bit.

And I wasn't able to forget about these socks, even after an hour of trail time. I felt the "coziness" throughout the hike.

This all added up to disappointment.
After several attempts to make peace with these socks, I decided that they are not for me.
Ditto for the Original weight thin cushioning toesocks.
But hold on a minute! To be fair, I doubt it's the socks. My wide feet, high arch, and boxy hiking boot combo might conspire to prevent me from loving these toesocks.

For a balanced view of these toesocks, here are some great features I noticed on both pairs:

These socks are a good choice if you're not a big fan of liner socks because they provide enough of the right type of fabric for moisturing wicking.

They easily provide protection from friction (blister prevention) and a fair amount of cushioning if you are blessed with "normal" arches.

These socks don't slide down into your boots but they don't dig into your flesh, either.


And they don't bunch around your heel or toe areas.
Injinji toesock review conclusions about Outdoor options

Overall, I can recommend these OUTDOOR socks for you if:
You don't use liner socks. With just one pair of toesocks, you have the ability to ward off blisters, wick moisture away from your skin, and have some cushioning in your heel and arch areas.

You are a minimalist on backpacking trips, needing every piece of gear to pull its weight. These socks give you the ability to skip a second pair of socks, giving you more room in your backpack and less damp socks to hang inside your tent overnight.

You are not afraid of fine tuning your approach to the dynamic due of boots and socks. You probably have your own sizing issues with trail footwear, and if you like to try new combos, Injinji offers a wide range of options for you.
Aren't we lucky to have so many options for great hiking socks? These toesocks will definitely make each of your toes, from the littlest to the greatest, feel important :)
Injinji toesock review:
final conclusions

There are a couple of learning curves for including toesocks in your hiking apparel.
First, when you peel them off your hot, sweaty, tired feet the toes on the socks will invert. This makes them a bit fiddly to put on the next time (if you're on a multiday backpacking trip).

Or when they come out of the dryer.
You might find yourself laughing at your clumsiness as you try to get the toes lined up to the right compartments.
And finally, I have to come back to my initial reluctance to try something I "knew" wasn't for me.
Wrong! I now have some great socks for a particular type of trail time, and look forward to wearing them.

So please don't be afraid to try things that are off the beaten path, like these toesocks.
Because that's what makes us intrepid female hikers, right?


Questions about this
Injinji toesock review?

Don't be shy about sending me questions or comments about these unusual socks.
And thanks to the Injinji folks for teaching an old trail dog a new trick!

Home page > Hiking Gear Reviews >
Injinji Toesock Review