Enjoy Happy Trails, the free monthly newsletter from Hiking For Her.

Receive a free resource: Hiking Layering System Explained
Joto Phone Case Review:
Keep Your Electronics
Snug As A Bug

By Diane Spicer

You know that saying "snug as a bug in a rug"?
This Joto phone case review will explain why a smart phone might be described that way on a rainy hike!
This review focuses on the Joto Universal Waterproof Case.
Joto phone case review
disclosures
No one asked me to write this review.
Instead, I'm motivated to share my opinion of this nifty little piece of technology with hikers who are a bit reluctant to take out their smart phones on wet, gritty trails.
If you purchase through the links on this website, Hiking For Her receives a small percentage - but you pay nothing extra.
Now let's get to the nitty gritty protection from the nitty gritty.
Joto phone case review:
the specs
The word "universal" refers to the fact that this waterproof case accommodates a wide variety of smart phones:
Basically, any phone up to 6.0" (100mm x 170mm)
It's certified as waterproof to 100 feet.
And for hikers, add in snow proof, dirt proof, scratch proof - but with full touch screen functionality.
It's literally a snap to use, as you'll learn in a moment.
And the sweetest spec of all:
Yowsers!!
Joto phone case review:
inserting your phone
My iPhone 5 slid in quite easily, with room to spare.
A slightly longer and slimmer phone had to be coaxed with this procedure: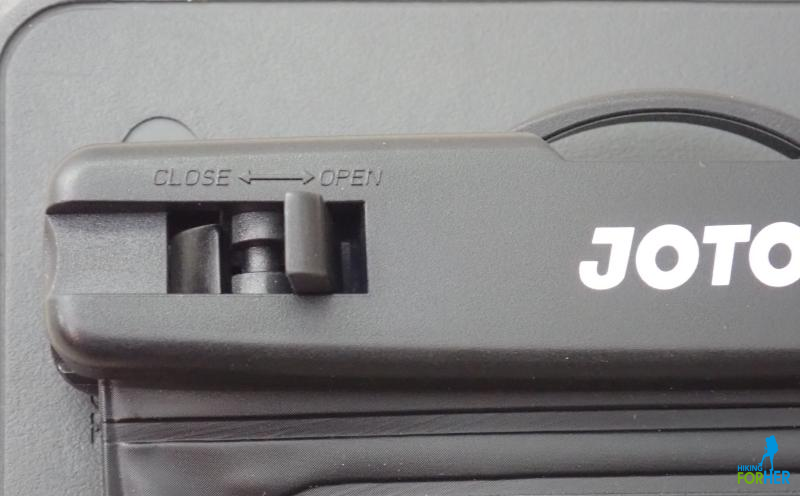 Pay close attention to the "lock and click" tabs at the top, to be sure the case is sealed up properly.
The plastic tabs stick up at you when the case is open.

They fold down flat to create a tight seal.

You'll feel when they click into place.

Joto phone case review:
trail performance
You know, when you stumble upon an elegant solution to a vexxing problem, you just wanna tell everyone!
That's how I feel about this Joto case.
It protects my aging phone but still allows me to use all of the buttons, and to take decent photos without risking moisture damage.
I don't have to whip out my pack rain cover at the very first hint of raindrops anymore, because I know that my phone is well protected.
So as far as trail performance goes: A+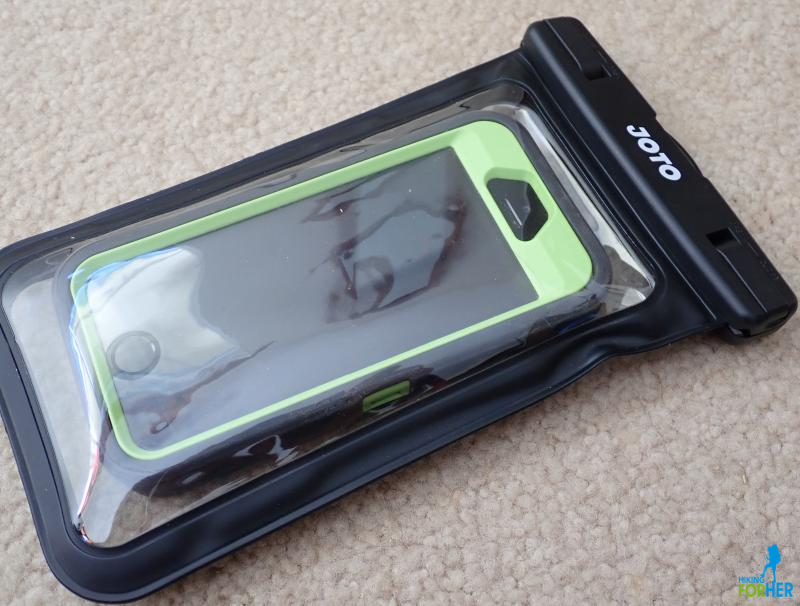 Simple quality control check -
highly recommended
After spending all that money on your phone, you should do a simple test to verify that your particular Joto case is indeed waterproof.
Put a folded paper towel into the case.

Be sure to close the case properly, all locked down.

Throw the case into a sink filled with water.

Set your phone timer for 5 minutes.
If the paper stays dry, so will your phone!
And for the more cautious among us, perhaps keep an eye on the case and be ready to pull it out of its watery surroundings well before the five minute mark.

A few hiking hacks
Just a few things I decided NOT to do with my Joto case:
Don't put it in my top backpack zipped pocket, because I go in and out of that pocket a lot, and don't want to scratch up the case.

Stop sitting on my pack when I get to a cold rest stop, unless the Joto is deep within my backpack (see above).

Keep the case away from sharp stuff, like my pocket knife or metal zippers or buckles. Transparent becomes less so when scratches accumulate.

Treat the plastic kindly by avoiding direct sun exposure or heat.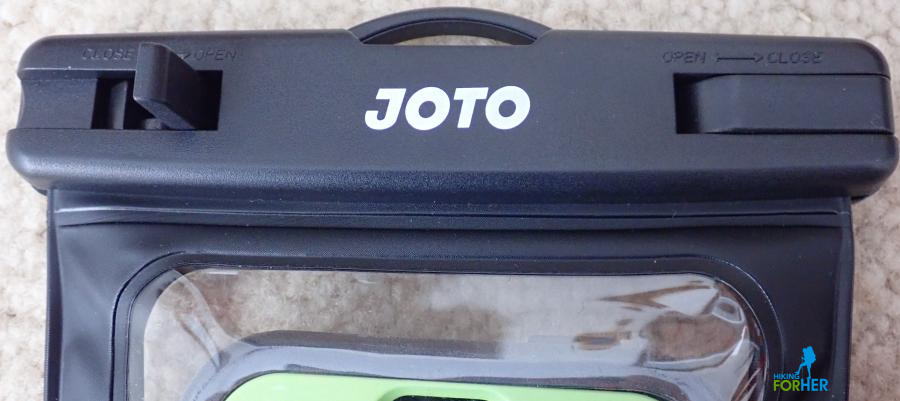 Joto phone case review:
conclusions
I was always reluctant to take out my phone and snap pictures when the weather was anything other than blue skies.
And I missed out on a lot of opportunities to capture animal encounters, beautiful plants, and funny events on the trail (like my hiking buddy falling into a mud hole).
Now, no worries about moisture or grit.
The complete functionality of the phone in the Joto case is great!
And if you wear gloves with touch screen compatibility, like these, you'll be able to use your phone year round.
The price point is ridiculously low, and the high quality of the case really surprised me.
This inexpensive, lightweight and well designed case has changed my hiking rhythms, and it can help you out on the trail, too.
P.S. Comes with a neck strap for hands free carrying, and in other colors, too!

Home page > Best Hiking Gear Reviews >
Joto Phone Case Review