Enjoy Happy Trails, the free monthly newsletter from Hiking For Her.

Receive a free resource: Hiking Layering System Explained
Klean Kanteen Review:
A Hiker's Notes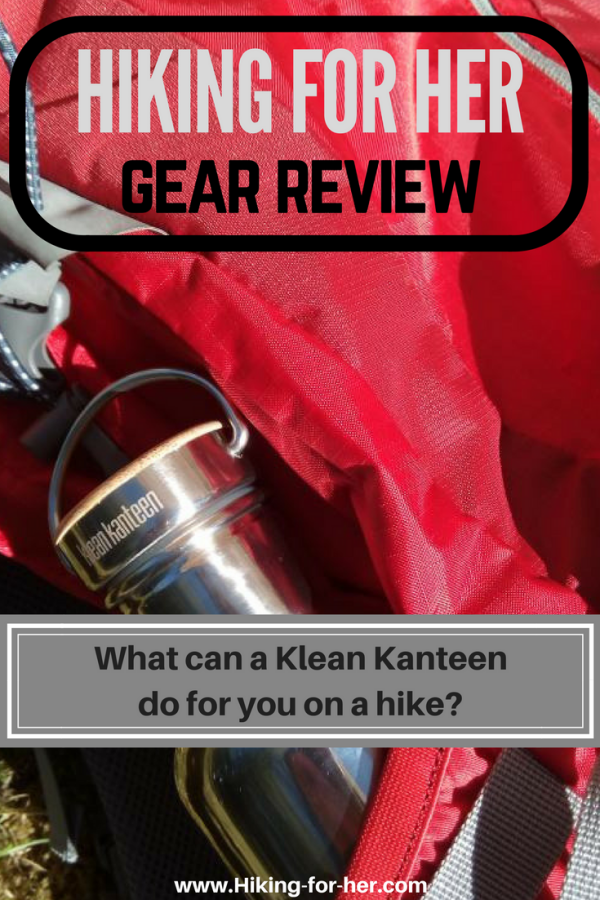 Hiking hydration is front and center in this Klean Kanteen review.
Why?
Because your body works hard on a hike.
And the hotter and longer the hike, the more important it becomes to stay well hydrated.
So your choice of the best water bottles for your hike is a big deal, especially in arid climates and high summer conditions.
And don't make a rookie mistake like ignoring regular water breaks in cool weather.
Sufficient water is important on every hike!
In this Klean Kanteen review, let's take a look at how this 20 ounce double walled, insulated Klean Kanteen can support your efforts to maintain your water balance.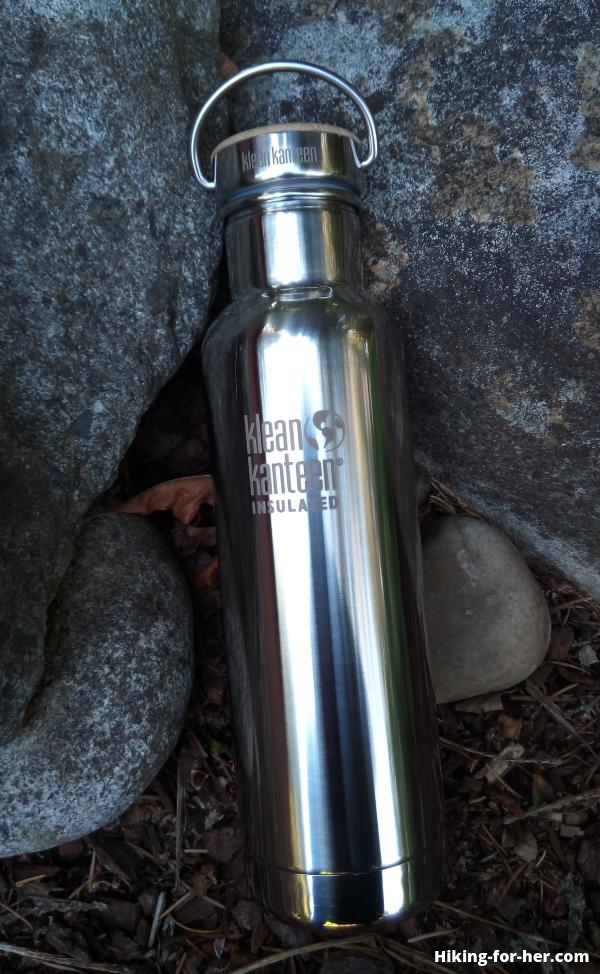 Disclosures in this
Klean Kanteen review

You might be wondering how Hiking For Her was inspired to write a review of this type of water bottle.
First disclosure:
I've been carrying Klean Kanteens in my backpack for over ten years (although not year round for reasons I'll mention later).

But I've never used a double walled insulated Klean Kanteen before.

Just call me Curious Cat.

Second disclosure:
Hiking For Her received this particular Klean Kanteen for free, but all photos, comments and opinions in this Klean Kanteen review belong to HFH and were not paid for.

Third disclosure:
Final disclosure:
The only purpose for gear reviews from Hiking For Her is to put the best outdoor gear into your hands.

Every review asks, and answers, questions about design features, performance, durability, price, while calling out anything that might give you pause.
So let's get to it!
Do you need a Klean Kanteen?

That's an obvious first question.
To answer it, we need to look closely at how these metal bottles are constructed.

Klean Kanteen specifications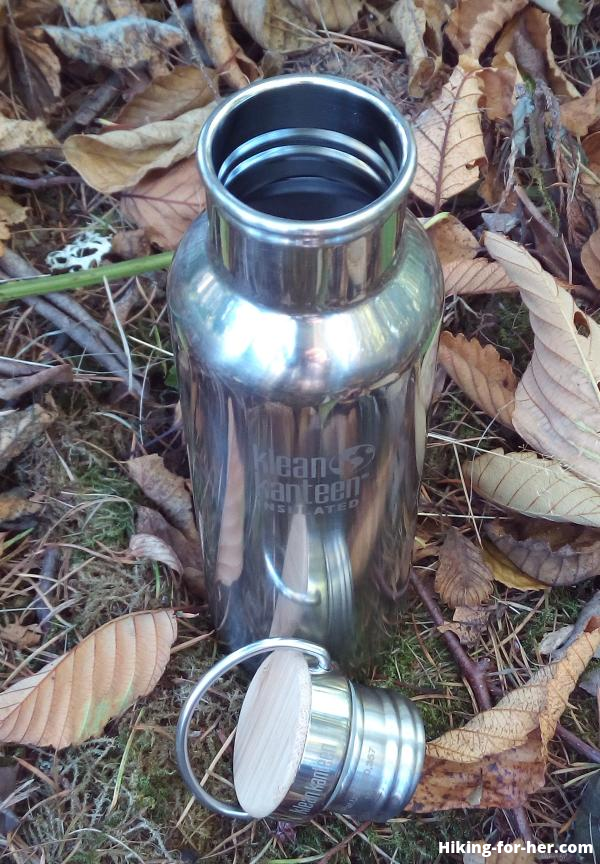 Capacity: 20 fluid ounce (592 ml)


Weight of bottle and cap: 13 ounces (368.5 g) 

Dimensions of bottle and cap: 10.4" H x 2.9" W (263.5 mm H x 72.9 mm W)

1.75 inch (44 mm) mouth

18/8 stainless steel construction

Highly polished


No plastic, so BPA free

Double-wall vacuum-insulated

Temperature claims: 24 hours cold, 40 hours iced beverages

Sustainably harvested bamboo insert in metal cap

Food grade silicone gasket on cap


Stainless steel loop on cap
So what does all of this mean to you
on a hike?
The slim profile of the bottle guarantees that it will fit nicely into an outside mesh pocket on your backpack.
Because this bottle is double walled stainless steel, and vacuum insulated, you have an excellent chance of drinking cold water on even the longest hike.
The stainless steel bottle provides an inert environment, so if you hike with ice cold lemonade, or add flavored electrolytes to your water, you run zero chance of encountering lingering odors or tainted flavors the next time you fill up the bottle.
And you'd have to try really hard to break this solid piece of stainless steel.
All of these features mean you'll benefit mightily from carrying a Klean Kanteen on your next hike.

A couple of trail tips
in this Klean Kanteen review

On a sunny day, stash this bottle in the outside pocket of your backpack on the side opposite the direct sun whenever possible.
Dropping this lovely metal water containment unit on rocks will result in dents and scratches.
Not to mention a guaranteed concussion for the striped ground squirrel living under the rocks.

Features worth a mention in
this Klean Kanteen review

My favorite feature is the sturdy, easy to grasp metal ring on the cap.
It guarantees that I'll be able to pull this water bottle out of the depths of my backpack with ease.

Or disengage it from an outer backpack pocket all in one go -  even with wet hands or gloved fingers.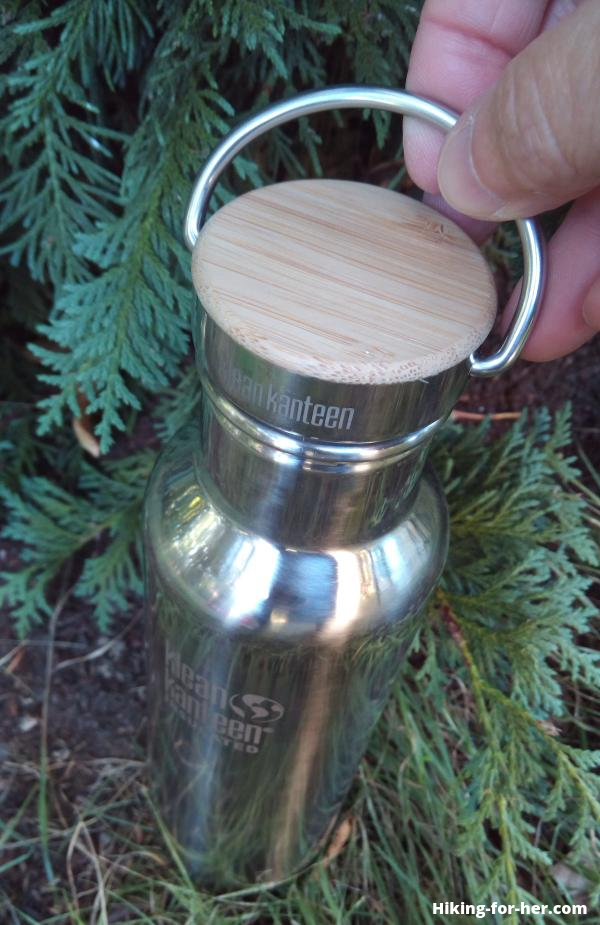 Because I already own a few Klean Kanteens in various sizes, I love that the company offers a variety of caps which are compatible with all of their bottles of the same size.
In the event of losing a cap, you can swap in another one and go on your merry way hike.
Cap options include:
sports cap with a pop up nozzle

loop cap to accommodate a carabiner

swing lock

kid's sippy cup

Tip: Combine an indestructable metal water bottle with a sippy cup cap, and your hiking kids will be all set!
More features to note

The bamboo insert in the cap is eye catching, something a bit different from other water bottles.
The cap is made of one piece of steel so it's never going to come apart no matter how many times it's twisted in and out of the bottle.
It's smart to invest in quality gear

This sturdy, well built stainless steel water bottle is what I regard as an investment piece of hiking gear:
You pay what some might consider a high price for it now, and use it year after year after year after year.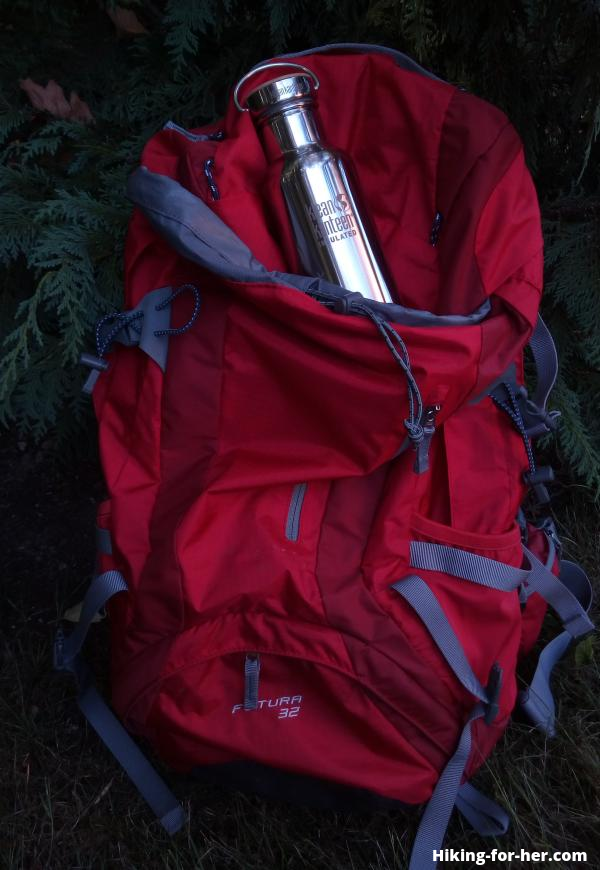 Here's an upside for hikers: you can find this water bottle at dusk because it's so shiny!

A few cautions
in this Klean Kanteen review

I've carried Klean Kanteens in my backpack for over a decade.

But not for winter hiking.
Here's why:

If there's a failure point in this Klean Kanteen, it will be the silicone gasket.
A few more operator tips

Remove the gasket and clean out grit when using this type of bottle to filter water from surface water sources in the back country.
It's easy to lose that colorless little ring, so be sure you put it somewhere easy to spot.

It's also easy to overfill the bottle when you're working with your water filter.
That makes a leaky mess, too.
The WOW factor

I've seen a lot of water bottles in my 45+ year hiking career.
But this one?
Wow! It's gorgeous.
So if you're looking for a gift to wow your favorite hiker, this is the one.
Let me spell it out for you:
the lovely bamboo inlay in the cap

the generous metal ring

shiny polished metal inside and out


the heft of the double walled bottle in your hand
If "wow" doesn't cover it, then we need to talk.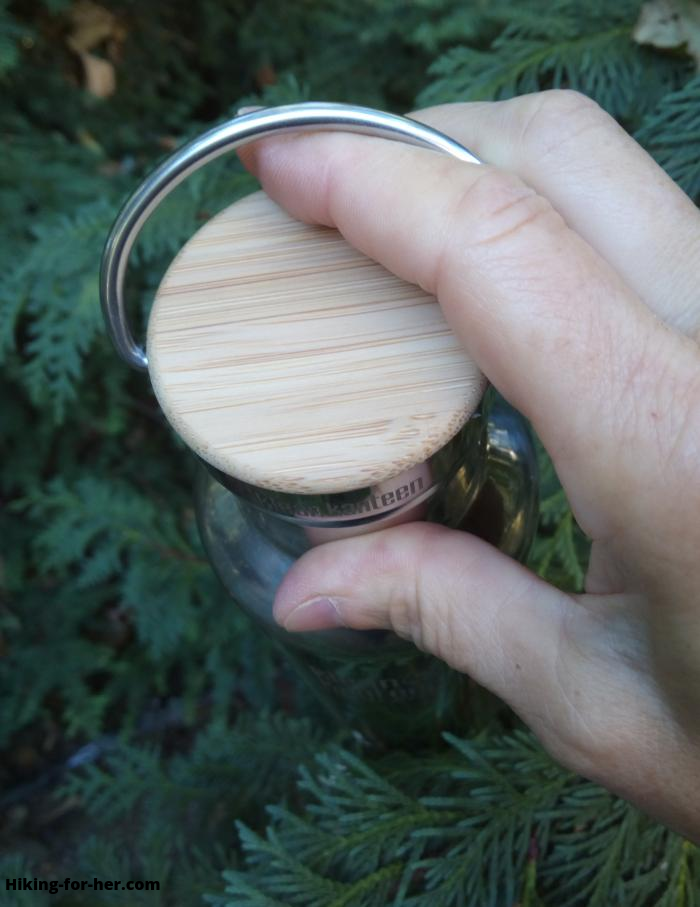 What you shouldn't put
in this Klean Kanteen

This insulated bottle is made for cold and ice filled beverages.
It's not designed for:
I also caution you against the "toss the water bottle overnight in the freezer" trick. This is not the bottle you want to subject to that treatment.
Does Klean Kanteen transition well
from trail to desk?

Of course it does!
The polished metal surface means it looks great in your tote bag, gym duffel, or your car's cup holder.

It's just the right size for daily use: not overwhelmingly big and clunky, but not miserly enough to force you into frequent refills.
I tested mine at my desk while writing this Klean Kanteen review, and discovered that it held enough ice water to get me through three hours of intense keyboarding.
And kept my water icy cold with each sip, despite the ambient 78F ambient temperature in the room.

What else can I tell you
in this Klean Kanteen review?

Hmm... let's see.
I mentioned the sturdy, attractive design that keeps your water as cold as the moment it went in, for hours and hours in your backpack.
I've fully informed you about your multitude of cap choices.
I've noted the form as beautiful and the function of keeping cold beverages cold.
Here's something else you need to note: the bamboo on the cap should be coated with linseed oil (or something similar) before you use it, to preserve the wood grain.
Looking at the dimensions, you can see that one water bottle is not going to be enough hydration for a hike lasting more than a few hours.
To demonstrate how sincerely Hiking For Her tries to think of all the benefits for you on the trail, here's one usage which might not occur to you:
A less frivolous application for the shiny reflective surface:
As a signalling mirror in an emergency situation
I'd love to answer your questions
about this Klean Kanteen review!

That about covers the facts as reported by Curious Cat Hiking For Her.
Have I missed anything you're still curious about in this Klean Kanteen review?
If you're wondering about what a hiker puts in her shiny Klean Kanteen metal water bottles to achieve that status, read this.

Home page > Hiking Gear Reviews >
Klean Kanteen Review