Enjoy Happy Trails, the free monthly newsletter from Hiking For Her.

Receive a free resource: Hiking Layering System Explained
Minus 33 Review: Merino Wool Medium Weight Base Layers
By Diane Spicer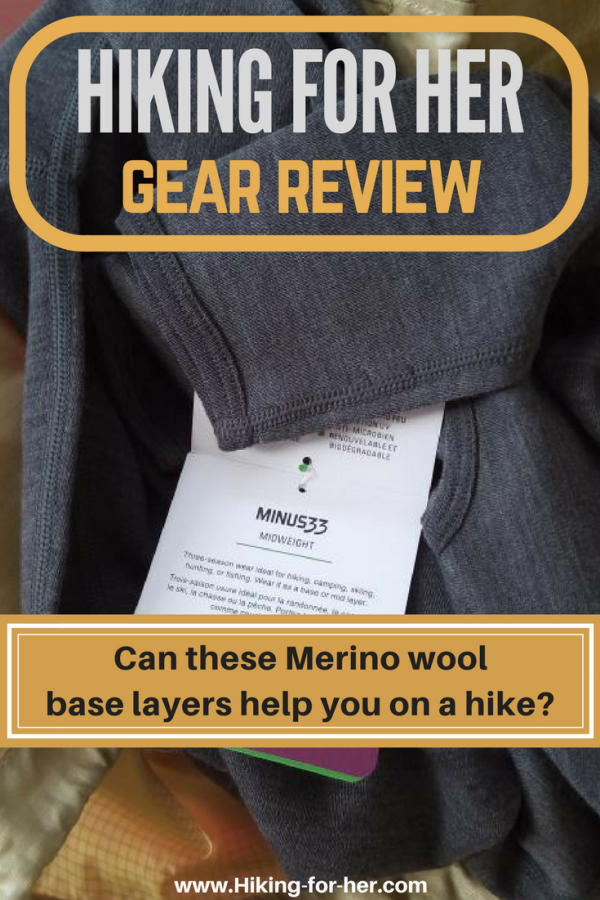 This Minus 33 review of Merino wool medium weight base layers (top and bottom) for female hikers gives you all the details you need to decide if these pieces are right for you on a cool weather hike.
Before we get started, it's important for you to read these disclosures.
Minus 33 review disclosures

Disclosure of Material Connection: Hiking For Her received a Ossipee Crew women's midweight shirt and a Franconia women's midweight bottom for free from Minus 33 in consideration for a gear review.
Hiking For Her provided the photos, comments, opinions and tips without compensation, and is not a Minus 33 affiliate.
In other words, there's no reason to slant this review any particular way, other than to give you useful facts as you search for the best base layers for hiking.

So why did Hiking For Her take the time to write this Minus 33 review?
And because it's fun to try new outdoor clothing!
A few words about weight

Weight is one of those trigger words for female hikers.
It could refer to body weight.
Most women have a least a little angst about their weight: too much, not enough in the right places, you probably have your own examples.
For any hiker hitting the trail, it also refers to pack weight, and of course, that's a huge consideration for happy hiking.
But in this Minus 33 review, weight refers to the weight of the fabric.
For outdoor wear, there are three important choices:
Lightweight, which can take you through all four hiking seasons when layered with other outdoor clothing (read this to get up to speed on layering techniques)

Midweight, for comfortable three season hiking and camping, but too much weight for warm weather activities

Expedition weight, the heaviest of all and usually confined to vigorous winter weather hiking, snowshoeing, skiing and snowball fights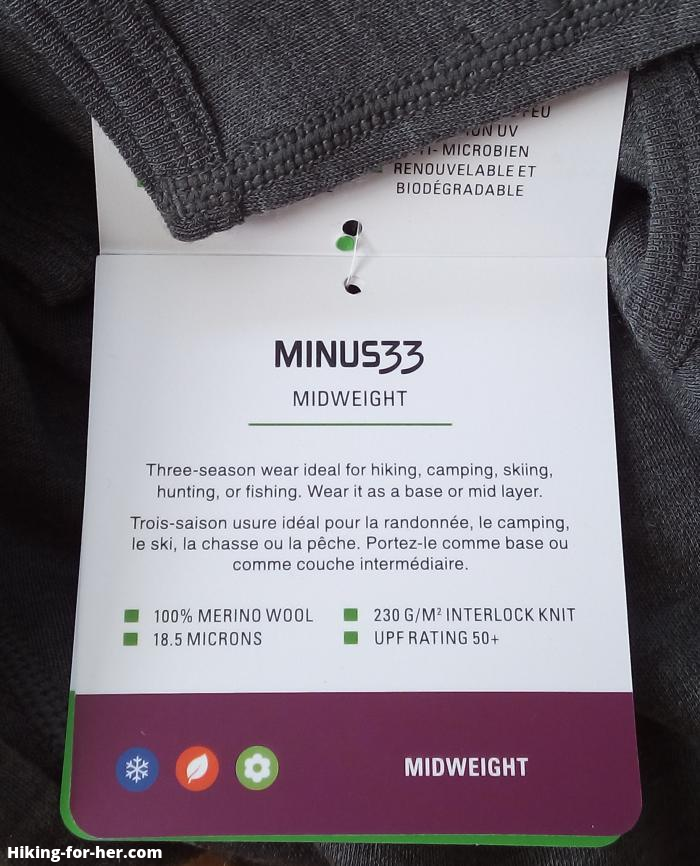 In this Minus 33 review, we focus on midweight base layers.

And a few words about
Merino wool

The merits of Merino wool are undisputed in the hiking world.
After all, sheep stay warm and dry year round wearing it!
To get a bit more technical, Merino wool fibers are great at wicking moisture away from your body.
Even more so when there are two layers of it, as in these Minus 33 base layers:
Merino wool has excellent insulating properties, something to depend upon in windy cooler conditions.

Top that off with:
You're looking at great fabric for hikers in this Minus 33 review!

First impressions

Wow, base layers packaged in pretty green (recyclable) boxes instead of flimsy plastic bags.
Nice touch!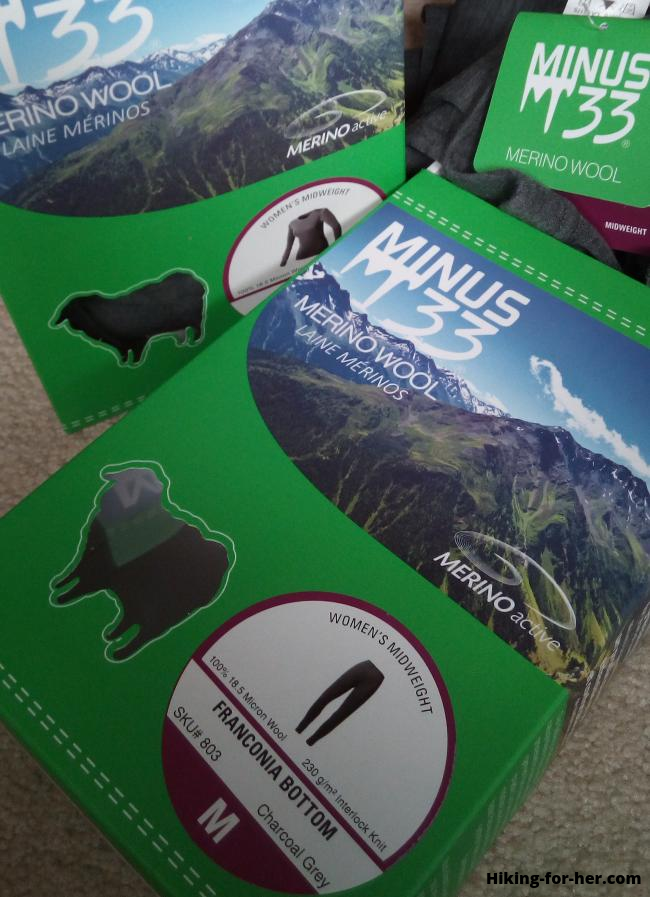 Removing the Ossipee crew women's midweight shirt and Franconia midweight bottom from the box, it was immediately apparent that these are quality garments.
In fact, three things jumped out at this reviewer:
Soft, supple fabric that felt great between the fingertips

230 g/m2 interlock knit with enough heft to conjure up warm, cozy thoughts

Soothing gray color (more on that in a moment)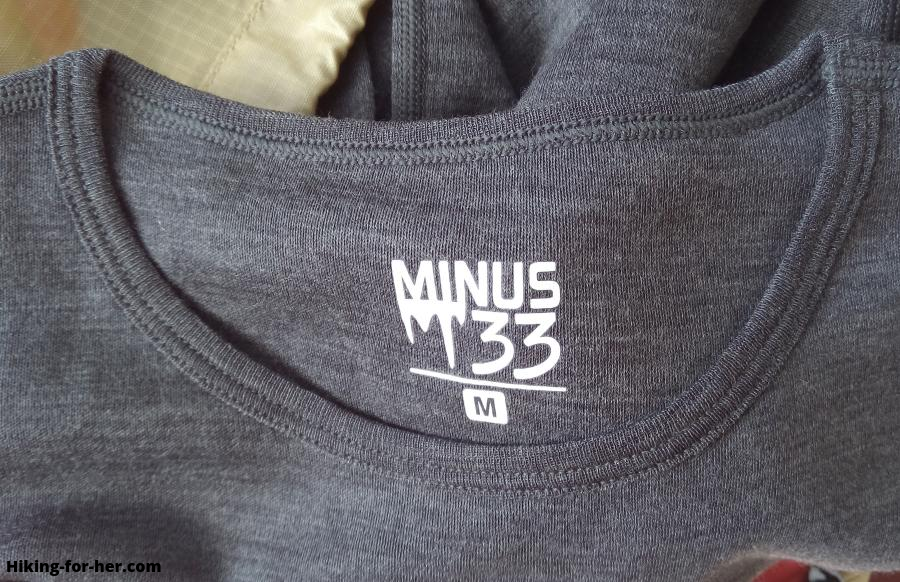 What about sizing?

Here's another thing women hikers struggle with: finding athletic clothing that performs well AND fits.
Any women who isn't "normal" size (don't get me started on the ludicrousness of that concept) can take heart:
the broad size range includes extra small to XXXL, detailed right on that pretty green box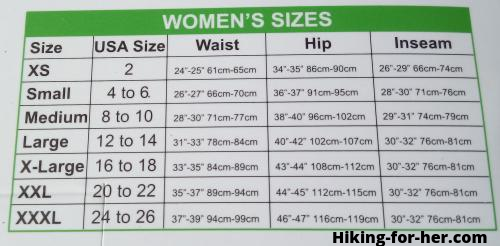 Because Merino wool is naturally breathable and slightly elastic, you can push those sizes just a bit if you're an in between size.
Laundering tip

Although Minus 33 says you can put these base layers in the dryer, I'd be cautious about that.
Line drying won't take a ton of time, but will extend the life of these layers while protecting the correct size you worked so hard to select.
Fitting impressions

Pulling on the shirt yielded two nice surprises:
1. The wrist cuffs are ever so slightly tapered, and held the shirt sleeves in place as another layer (light down jacket with a neck zip) was pulled over it.
2. The length is wonderful: covers the hip and upper backside area, thus providing a cushioning layer that stayed in place against friction from a backpack and hip belt.
And the bottoms?
Also a few nice surprises:
1. The gusseted crotch (a wedge of fabric sewn in to provide more "give" without adding bulk) gave me confidence in making big moves like scrambling over fallen Doug fir trunks.
2. The fitted ankle cuffs provide the option of putting a layer of socks beneath the base layer, or pulling the socks right over the top of the cuffs.

Details about the

Ossipee

shirt


Try to imagine how soft this Merino wool shirt is from this picture.

Hint: Not as soft as a kitten, but much softer than cotton.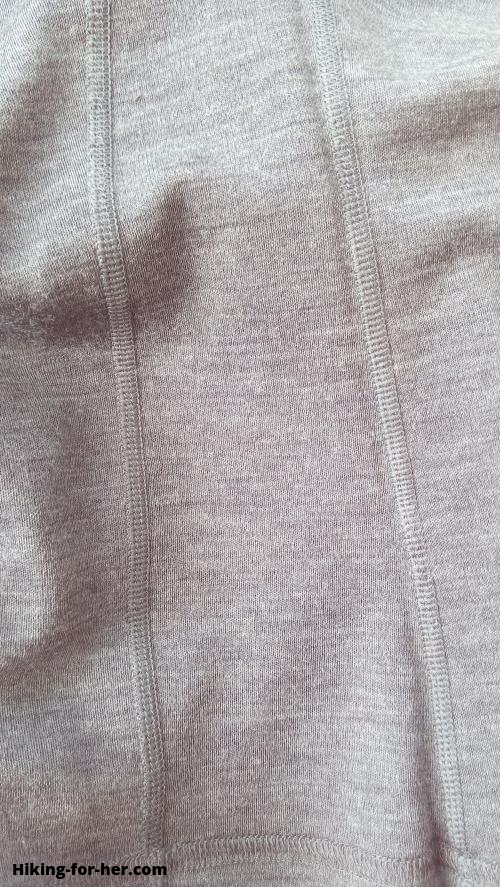 Flat seams, well sewn, for worry free movements
Now take a close look at the stitching. It's going to stand up to many, many wear-wash-dry cycles.
The cut of the shirt is "princess", meaning a rounded, somewhat high neckline and enough fabric on the shoulder area to cushion you from your backpack.
This shirt is cut to fit closely, otherwise it would defeat the twofold purpose of insulation and wicking. But it's not stiflingly tight.

All of this goodness weights only 8 ounces (227 g), and packs down small in a duffle bag or your backpack.
Comes out wrinkle free, too. I tested it!

Off trail uses easily come to mind, especially if you keep your dwelling in the cool range of temperatures all winter.
And if you put a cami underneath it, and a colorful scarf over it, it can certain accompany you to the grocery store ;)
An aside on the name of the shirt:
The Ossipee Mountains are located just south of the White Mountains, in the state where this company has been located since 1916: New Hampshire.
Let's get to the bottom
of this Minus 33 review

For whatever reason, it seems easier to find a base layer shirt that fits compared with bottom layers.
But this bottom layer was surprisingly "giving", as in stretching over the bumps and bulges which (in theory) can be present on a hiking woman's body.
These bottoms weigh in at a paltry 8 ounces (227 g).
The cuffs are well stitched, and taper a bit to provide an extra little hug to your socks - as well as extra protection against pant leg breezes.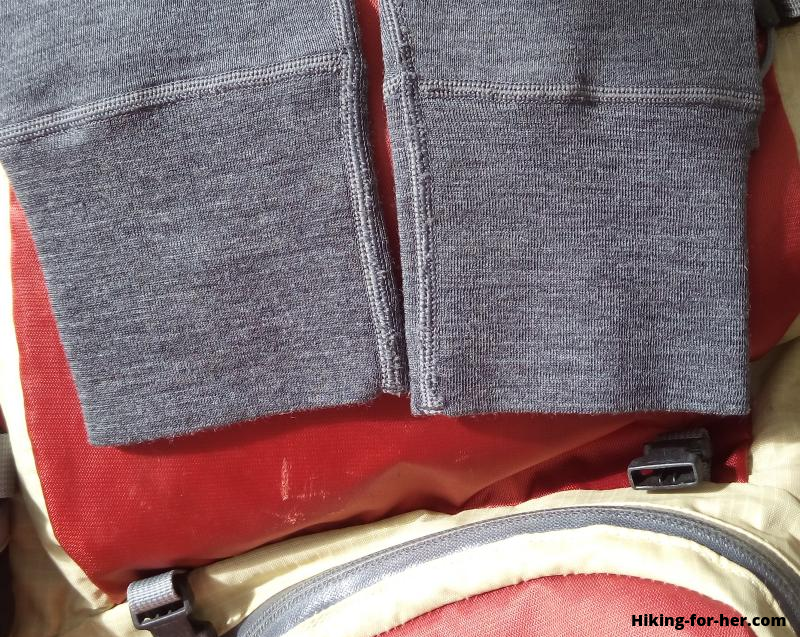 Cuffs for coziness and sock hugging
Tip: Although classified as a mid weight base layer, you can get even more mileage (literally) out of these bottoms by pulling on a pair of lightweight tights first.
A naming note
I thought it might be the name of one of their sheep, but Franconia is a mountain range in New Hampshire.
Colors

Hiking For Her is not adventurous when it comes to clothing colors for the trail.
And hiking throughout the gray depths of fall, winter and spring in the Pacific Northwest, gray becomes a natural part of a hiker's soul.
So it's worth noting in this Minus 33 review that all of you trail fashionistas have a wide range of color choices for these base layers.
Let's get real about price
in this Minus 33 review

Can you find synthetic base layers at a cheaper price?
Can you expect softness, wicking and moisture control, odor resistance, long life and a renewable footprint from those synthetic layers?
Within minutes of pulling on these basic pieces of protection, you'll feel warm and cozy.
And any time you hit the trail and work up a sweat in cooler or downright cold weather, you need clothing that wicks away your moisture yet keeps you warm.
In other words, Minus 33 base layers offer you durable high performance, well made outdoor clothing at a price point which is not out of line with the quality and features they deliver.
You will never regret wearing the right weight of Merino wool garments on a hike, which is something that can't be said for cotton or cheap synthetic clothing.
Wrapping up this
Minus 33 review

Not to brag, but I know a few things about staying warm in cold weather.
That kind of cold leaches away your body heat within seconds of stepping outside.
Also, I've worn a lot of base layer fabrics over decades of trail time.
So trust me when I tell you that Merino wool is a flat out miracle compared to the scratchy, heavy woolen garments borrowed from my father's closet 40 years ago.
And while you may never be outdoors during actual minus 33F weather (choose expedition weight base layers if I'm wrong), this clothing can take you through three seasons of hiking and camping.

If you're hesitant to spend money on building a layering system that lasts and lasts as it works well for you in multiple seasons on the trail, start small.
Build your hiking clothing wardrobe one piece at a time, one weight at a time, until you have all your bases covered for adventurous (and comfortable) four season hikes.
Add these base layers to your "gift wish list", too.
Folks would love to put a smile on your face, and these exceptionally well made base layers will definitely do that.

Any questions about this
Minus 33 review?

It was tough to find any negatives about these base layers.

But if you're wondering about anything which got overlooked in this review, please contact me and I'd be happy to share more details.
Whatever it takes to get you out there on the trail in the best base layers known to women hikers!

Home page > Hiking Gear Reviews >
Minus 33 Review