Enjoy Happy Trails, the free monthly newsletter from Hiking For Her.

Receive a free resource: Hiking Layering System Explained
Mount Robson Hiking

By Diane Spicer

I had the pleasure of doing a little Mount Robson hiking in the Mount Robson Provincial Park in British Columbia recently.

And I must say, I was very impressed (that doesn't happen easily).
What's so impressive about hiking in the Mt. Robson park?
You're about to find out!
Stunning beauty
(when the sun is out)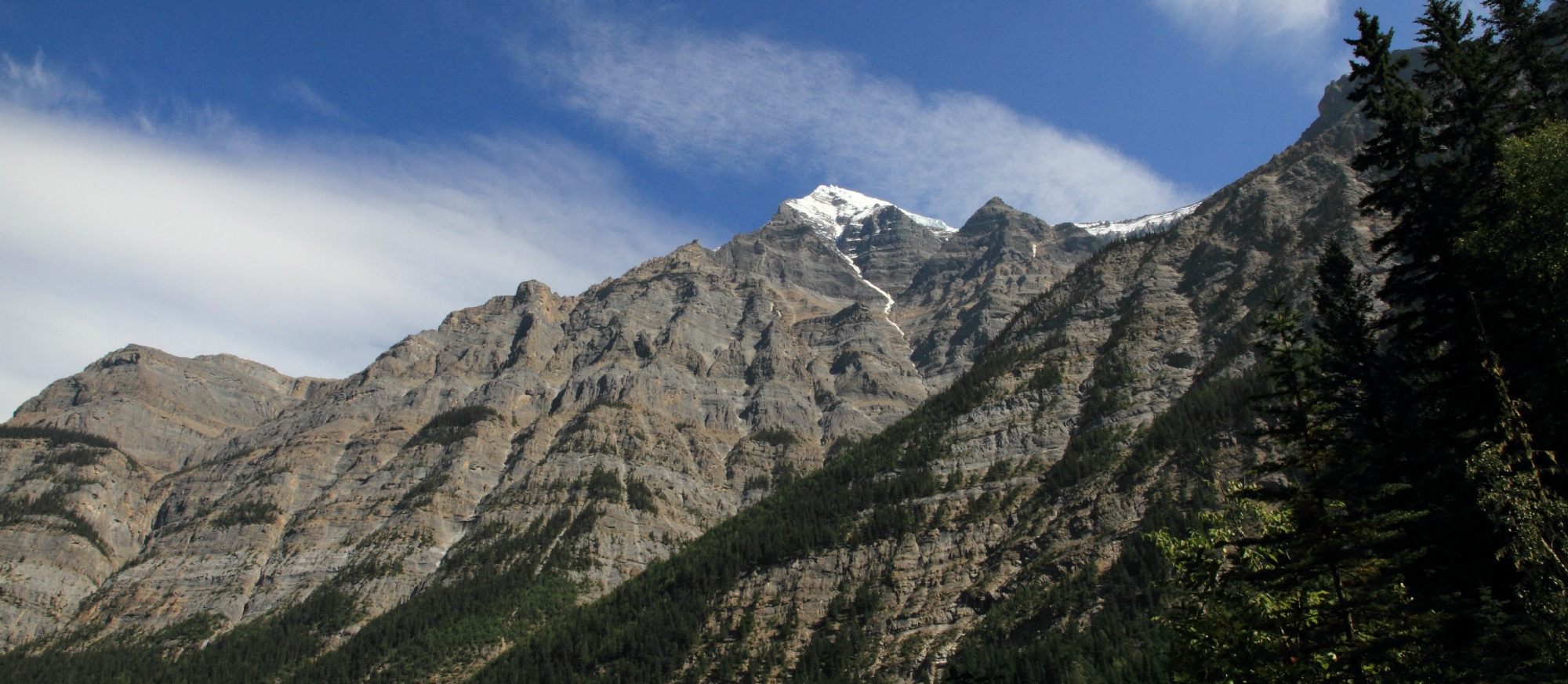 Mt Robson is built of layers, all of which are visible on a sunny day.
This provincial park allows the magnificence of Mount Robson to do all the talking.
With good reason!
At 3,954 meters (or 12972 feet, if you prefer) this mountain ain't goin' nowhere for a long, long time.
Mt. Robson holds down the western entrance to the park, and you will find your eyes drawn again and again to its impossibly sheer, banded sides.
But that's just the beginning of the magnificence if you're planning to do any of the trails and routes.
For instance, there are glacier fed lakes to photograph.
On cloudy or rainy days, concentrate on the abundance of foliage and your chances of seeing deer, moose, black bear, grizzlies, mountain goats and mountain sheep.
There are at least 180 bird species to keep an eye on, too!

Mount Robson hiking options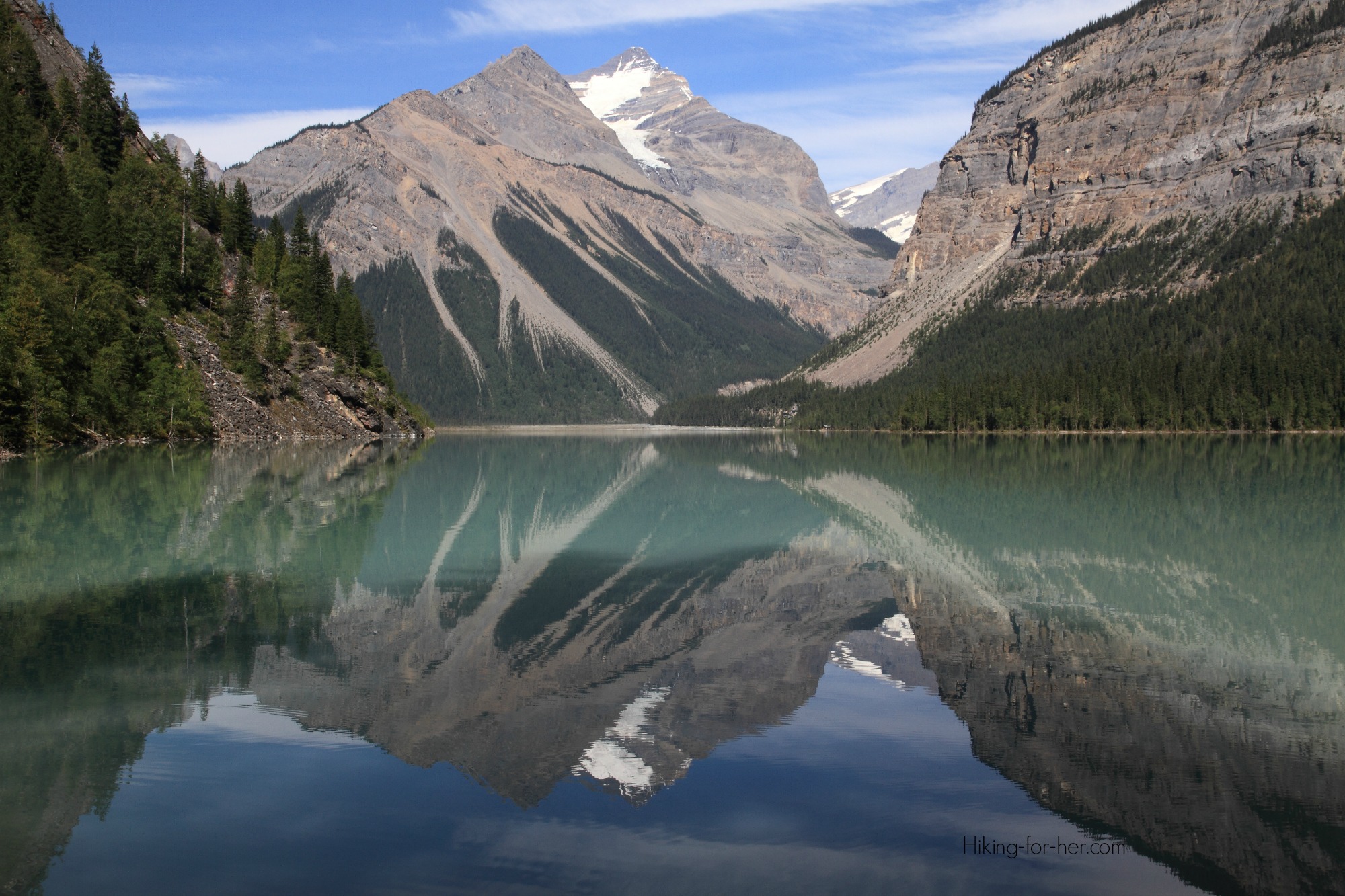 Kinney Lake catches the reflections of the mighty mountains.
If you're on your way to any of the other fantastic hiking in this part of British Columbia (think Canadian Rockies), squeeze out at least a day to do part of the Berg Lake trail.
You won't make it all the way to Berg Lake (23 km or 14 miles) and back in a day, but you'll be able to parallel the mighty Robson River up to Kinney Lake.
If your legs are strong, you can continue on to skirt the edge of the lake for fantastic views straight up the sheer faces of Mt. Robson.
If you want to dawdle awhile (which I fully intend to go back and do soon), you can:
Invest your time in the Berg Lake trail and be rewarded with achingly beautiful views in all directions until you access, and camp at, Berg Lake.




Do a loop via the Berg Lake and Moose River trails, which will take 6-7 days (90 km or 54 miles).

Do several serial day hikes, using the provincial park map to make your plans according to weather conditions (which change quickly - it's the Rockies, after all!).
Mount Robson visitor center
and camping

Mount Robson hiking beckons from the Visitor Center!
You're going to need permits for camping in certain areas, such as at Berg Lake.
The friendly folks at the Visitor Center will get you all sorted out on that, and can also give you updates on current trail conditions and animal activity.
Some of the trails are actually only routes, meaning that navigation skills and awareness of weather conditions are necessary if you're going to have a good time.
There is a beautiful deck on this center, facing Mt. Robson. On a sunny afternoon it's a great place to take off your boots, enjoy the free wi-fi and soak up the laid back Canadian vibe.
If you're looking for a campsite near the highways (Hwy 5 and Hwy 16), there are 2 near this visitor center:
Need a place to stay after
your Mount Robson hiking?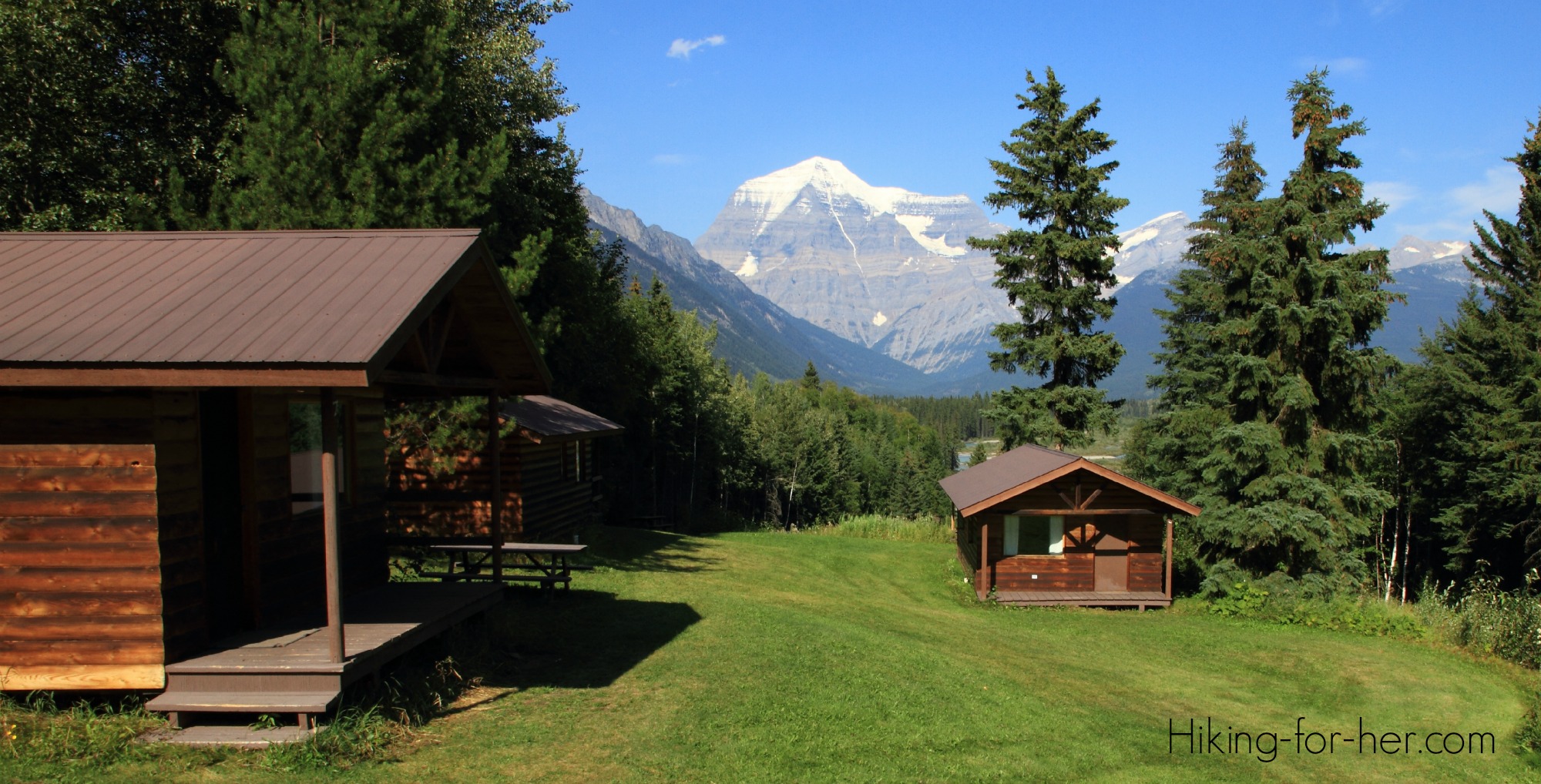 Great view of Mt Robson from the front porch!
I can personally vouch for the Mount Robson Lodge/Robson Shadows Campground.
I enjoyed a small cabin with a kitchenette AND a full on view of Mt. Robson. They don't even charge extra for the black bears frolicking in the meadow (you've been warned).

If you'd prefer to camp, there are plenty of sites to choose from. Keep a clean camp! (see paragraph above)

Or maybe a short drive to Valemount works better for you. This small town  had everything I was looking for: grocery store, restaurant, an amazing Swiss bakery (an unexpected treat), gas stations, ATM, and lodging.
And their visitor center makes a nice stop, too.
Have I convinced you
to add Mount Robson hiking
to your bucket list?

C'mon, let's do the math:
Great big beautiful mountain + well maintained trails with huge photo ops + friendly Canadians = fantastic Mount Robson hiking opportunities!
Try this provincial park because it's:
less crowded than nearby Jasper in Alberta;

not overrun with tourist buses or crawling with flip flop wearing newbies;




right off the highway with incredibly easy access to the Berg Lake trail head.
And smile a great big hiker smile if the sun is out!
Mount Robson Hiking