Enjoy Happy Trails, the free monthly newsletter from Hiking For Her.

Receive a free resource: Hiking Layering System Explained
Overnight Hiking Food:
Just Enough Time
For Dinner

by Diane Spicer
I have a confession to make about overnight hiking food.
I don't do overnight hikes anymore.
Gasp!

It takes great effort to clear my schedule, pack up, and get to the trailhead.
One night out just isn't worth the effort & stress & juggling of responsibilities.
Plus I feel cheated when I have to hike out the next day (More!! I want more trail time!! Waaa!).
So I have very little fresh advice on planning overnight food, except to offer one somewhat radical idea.
Don't waste your time
on cooking chores

Instead, bring something pre-made for dinner, such as a frozen stew that thaws as you hike into your campsite or base camp.
Cold cooked chicken, plus a grain (rice, quinoa, barley) paired with steamed veggies that can be warmed up easily on a camp stove are also a good choice.

If you really want to lug the stove & fuel along, you can warm up your pre-made dinner and enjoy a mug of hot chocolate, too.
This is not a chore if you have someone along on your hike, and can distribute the weight of tent, stove, fuel, and water.
If you're going solo, cold food might make more sense for a quick trip.
Ultra minimalist overnight
hiking food

To be even stingier with your time on an overnight hiking trip, how about just bringing energy bars, some fruit & nuts, and water?
A cold camp trip, in other word.
You can stop on the way home and have a hot meal.
Or make some adaptations

Perhaps you find yourself somewhere in the middle of gourmet and minimalist.

Why not adapt these "backpacking foods" ideas for your overnight trip?
As you make modifications, use your trail journal to record what you liked, what worked well, and ideas that came to you as you're relaxing in your tent.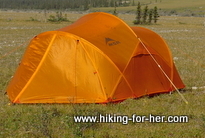 Overnight hike planning tips
Of course there's a lot more to overnight hikes than food.
You have to consider your comfort and safety, too.
That means shelter and a sleeping system.
If all of this planning is holding you back from beginning your backpacking journey through life, read these tips to get started.
Different opinion on
overnight hiking food?

Many over nighters will disagree with me about going unencumbered by an elaborate backpacking menu.
So be aware that I'm just one voice crying in the wilderness (literally!).
And my little voice says:
"Simple is best when you're pressed for time."
Wouldn't you rather take off your pack and boots, set up your tent, and relax while boiling water is rehydrating your dinner?
Or your trusty little stove is warming up a pre-made meal?
Or munch a toothsome trail bar as the sunset is painting the sky?

I know I would!
Calculate your
personal food needs

If you'd like to calculate exactly how much food, and which types, to bring along on your overnight trip, I've written an instant download e-booklet just for you.
If you're new to the hiking scene, it will give you insight into how to put together a plan to keep your body well fed and able to deliver stamina and strength on the trail.
It's a very simple approach to overnight hiking food.

Get it here.
Home page > Hiking Nutrition >
Overnight Hiking Food
Hiking For Her: Hiking tips you can trust!