Enjoy Happy Trails, the free monthly newsletter from Hiking For Her.

Receive a free resource: Hiking Layering System Explained
     Best Gluten Free
Hiking Food Choices

by Diane Spicer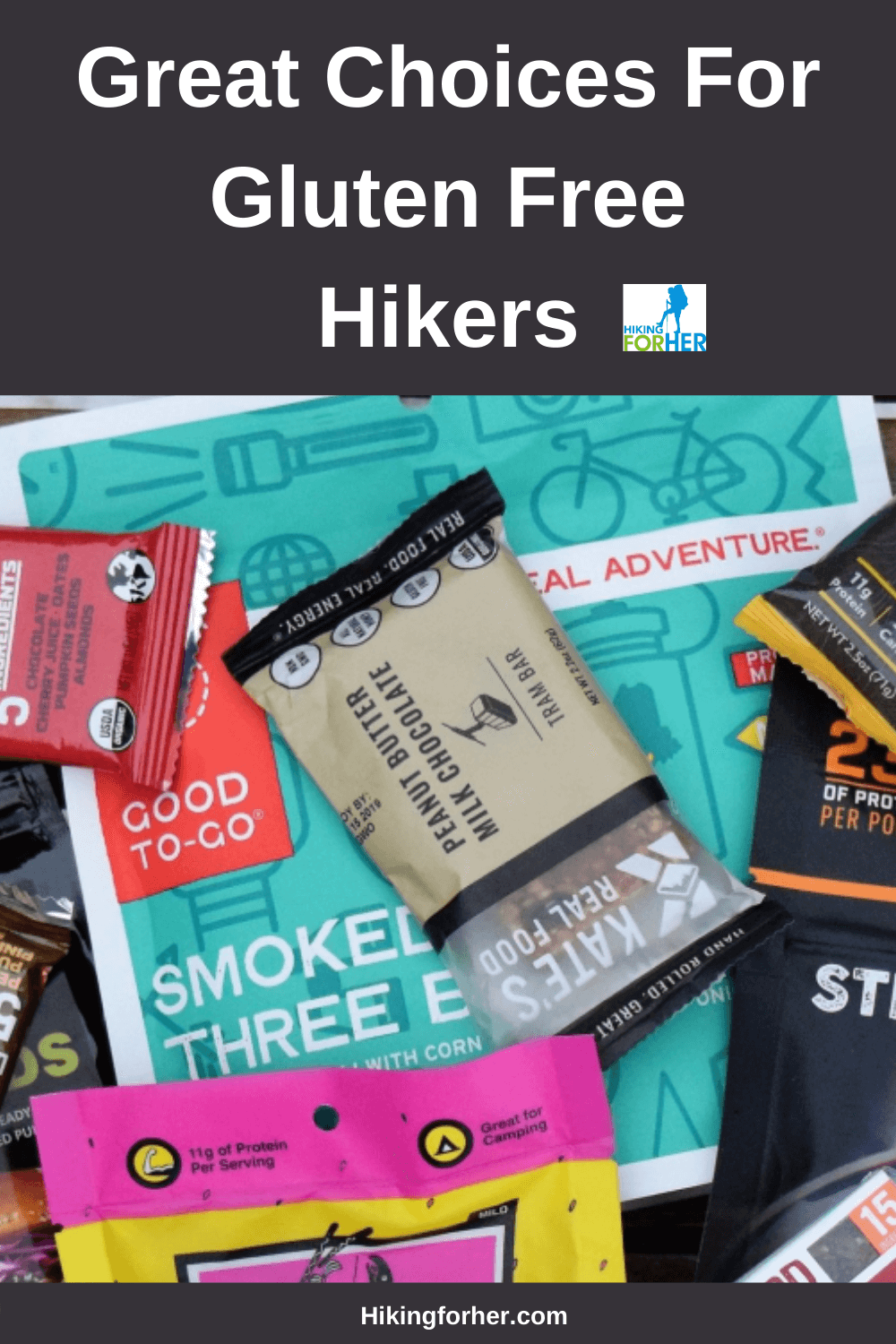 Looking for the best gluten free hiking food to keep you fueled up for day hikes and backpacking?

These tried and true gluten free hiking foods have been carefully selected by a hiker with GF sensitivity for the past 2+ decades to get you started.

Types of gluten free hiking food

Hiking For Her gluten free hiking food recommendations comes in 3 options:
make your own




delete/replace the gluten from store bought prepared food




purchase dehydrated or freeze dried gluten free backpacking meals and snacks



In a hurry to hit the trail gluten free? Skip down:
Each approach carries its own level of difficulty, cost, and effectiveness at avoiding gluten.
Let's cover each in turn, based on my decades of experience with gluten free products, recipes and cost.
First option:
Make your own
gluten free hiking food
The "make your own GF food" route has gotten so much easier over the years.
You can also find lots of great information on the Internet, including blogs and recipe sites.
If you decide to make your own carbohydrate-rich gluten free hiking food, you will need to purchase non-wheat flours and other baking ingredients such as xanthan.


Hit the trail and not have to worry about your gut with gluten free backpacking meals and hiking snacks

Don't let this slow you down!
There are resources galore, and within a few days a package filled with gluten free flours (rice, teff, quinoa, tapioca, almond, etc) and other baking ingredients (xanthan gum, potato starch, buckwheat, and more) can be on your doorstep.
Remember, GF won't be cheap.
Gluten free anything costs more, regardless of whether it's raw ingredients or the final product.
However, feeling great and having a high energy level on the trail is worth the extra cost. It has certainly made a difference in my trail time.

An inexpensive GF option
One exception:
Oats are your friend, and they're inexpensive.
Thus, home made granola is your best trail friend.
Why?
Add fresh high quality unsalted nuts for protein, and you've got a balanced powerhouse hiking food. Rely on it!
Here are suggestions for the best nuts for hiking and backpacking.
And if granola doesn't do it for you, here's a free pdf recipe of my own GF trail snacks called Energy Spheres!
GF flour recommendations
I get lots of emails asking for recommendations for companies that make GF flours and other ingredients.
I have to say that Bob's Red Mill is the most trusted source I've found, and I've done lots of trial/trail and error over the years.
Also, the convenience of ordering in bulk has cut down the amount of time I'm in the kitchen.
I've incorporated these flours into my gluten free hiking foods without misgivings or bad results.
To get you started, take a look at this time saver.

I've had good results with pancakes, muffins, cookies and breads with this flour.

Gluten free baked goods
for the trail

If you're a day hiker, you're not concerned with how well a cookie holds together.
But gluten free backpacking food that you prepare yourself?
That's when you want ingredients that won't go stale or rancid, and work well together to hold their shape.

Let's fall back on our reliance on oats, and add in some almond flour, to create some nutrient dense cookies that also taste great.
The sugars will give you fast fuel, and the oats and almonds will keep you feeling full.

Heads up: Bringing bread on a backpacking trip isn't a realistic option, even when it's loaded with gluten to bind it together. Unless you like dipping a spork into your nut butter and picking up crumbs...
Read on for the best cracker tips, and make a mental switch for your backpacking gluten free lunch options.


Option 2:
Modify existing products
This is tricky if you have a raging gluten allergy and must avoid gluten at all costs.
That's why I don't recommend this route if your life is endangered upon ingesting gluten (anaphylactic shock).
However, if you suffer mild abdominal issues & discomfort and want to experiment with taking the gluten out of your favorite mixes, you can try the modification route.
For example, you can substitute rice noodles in your favorite instant soup recipe as long as the noodles are in their own separate package: toss the original noodles and keep the flavor packets to flavor the gluten free noodles.

I use these and love them.

Beware of contaminated bulk bins
Be careful when selecting bulk bin items for your menus.
This is a common source of gluten contamination in oats.
Bob's Red Mill (see above) provides certified GF oats and flours, with lab testing to prove no gluten is present.

Yes, you can have pasta!
If pasta was a go-to trail food until the gluten thing exploded in your life, mac & cheese doesn't have to be a dim memory!
You can carry the flavor packet and add it to your own GF noodles.
Here are my absolute favorite sources for GF pastas for car camping and backpacking:
bionaturae Organic Penne Rigate
and...

Tinkyada Pasta
Use the same sauce as everyone else is eating!
Or jazz up that pasta with pesto, olive oil and sun dried tomatoes, packets of chicken, tuna or salmon...
More ideas on how to spice up your life as a gluten free backpacker here

Gluten free grains

Luckily, one of the most nutritious of all grains is also gluten free: quinoa.
Even more luck: it's flavor neutral, meaning it will happily accept whatever it's paired with for a great backpacking meal or trail snack.
So don't be afraid to dump some pasta sauce on it!
Other grain choices for gluten free hikers to pair with favorite spices and flavorings, or add to soups and stews:
Note:
Some of these grains need longer soaking times than others.
Your rice options are diverse!
Carrying rice on a backpacking trip means you will have time, enough water and fuel to devote to cooking it.
But maybe you haven't realized how many types of rice are available.
This Hiking For Her overview of the best backpacking rice will help you choose wisely for your hiking meals.


Your 3rd option:
Go completely gluten free with
purchased trail food
Here's where I come in.
I'm bursting with recommendations!
I've tried so many, many brands over the years that I feel as if I could be a worldwide authority on gluten free hiking.
Carbohydrates, specifically.
Why?
Carbohydrate sources for
tasty gluten free hiking food

It's all about carbs for quick energy on the trail.
And if you can't eat wheat bread/crackers/cookies/pasta, you're at a deficit.
Unless you use these GF products!
Udi's
Udi's is a brand I've come to trust when I crave sandwiches and bakery treats.
Their muffins are not as tasty as their bread, but all of them will provide easy carbs on a day hike.

And their dark chocolate brownie bites are a great after lunch trail snack! (Super easy to down more than a few at a time. Be forewarned).
The bagels are particularly trail worthy.

Smear some of your favorite nut butter and jam on them, and voila!

Protein AND carbs that won't smash to dust in your lunch sack.

That's a win for hikers!
Udi's also makes granola, which is convenient and tasty.
And here's a beloved protein source to spread over those carbs, in handy little snack sizes:

Justins Almond Butter Squeeze Packets

Go Raw
Go Raw is a pricey favorite of mine, but I feel that the quality and taste justifies the price, especially on multi-day trips when I really need something tasty (yet nutritious, since I'm running out of reserves).
They have gluten free, wheat free and nut free bars, cookies, chips, granola and more.
Here's my current favorite, with one serving (18 pieces!!) delivering 21 grams of carbs. Oh, yeah!

Go Raw Lemon Cookies

PURE
PURE is another company that I trust to keep me gluten free.
Their fruit & nut bars keep me going hour after hour on the trail, my absolute favorite being the wild blueberry.
Don't you crave fruit after a few days out on the trail? Me, too!
Here's how I satisfy that longing:

Pure Bar Organic Fruit & Nut Bars

Kate's
Trail snacks are a universe unto themselves.
These are great options for ready-to-go snacks for hikers: Kate's Real Food.
A combo pack is always a great way to experiment until you find your favorite flavor combos.

Or to satisfy a diverse array of trail buddy taste buds! 

Backpacker's Pantry
Gluten free freeze dried backpacking food is expensive but worth it when you're planning a long trip and weight is your #1 consideration, followed closely by satisfying your demanding muscles and raucous taste buds.
I am partial to Backpackers Pantry, myself.
Why?
Not as many preservatives and artificial flavorings as other companies; added vitamins and nutrients so my hard working body can rebuild after dinner, and the flavor combos are satisfying.
Katmandu Curry - yum!
Here's a tip:
And don't be fooled by the stated portion as "two servings" - I can wolf down this amount quite easily at the end of a long day on the trail and my guess is, you can, too.

Backpacker's Pantry Katmandu Curry
Not a curry fan?
They have lots of other flavors and whatever your palate craves, I'll bet you can find an entrée that will satisfy you.
Look over their list of ingredients to avoid both wheat and gluten.

Good To Go backpacking choices
for gluten free hikers
Here's another brand that is careful about their ingredients and puts together some tasty options for gluten free hiking food.

Check out their variety!

More options for gluten free dehydrated
& freeze dried backpacking food

If you want organic AND gluten free backpacking food, read this.
If you need paleo backpacking food (by definition gluten free), read this.

Fast carbs for hikers:
rice cracker options
Rice crackers have given me SO much energy on a hike that I have to clue you into them.
It's tough to recommend just one brand, so my advice is to try whatever is available in your local store.
Rice cakes don't travel well unless they are the mini ones and you take care to put them at the top of your backpack.
Note: Some rice crackers come in enough packaging that they will make it through a tough hike.
If you're lucky enough to have a Trader Joe's near you, check out their cracker selection for gluten free hiking food.
Or you can buy them on line.
Here are my top picks:

Trader Joe's Original Savory Thin Mini Crackers
And for a bit more of a flavor punch:

Trader Joe's Multiseed with Soy Sauce Rice Crackers
One more favorite in the rice cracker department - as long as you can tolerate nuts.
These are baked to a crispness that travels well in a backpack, and they are dee-licious:

Blue Diamond Nut-Thins Pecan Crackers
As always, buy in bulk for the best savings.
It won't take many days on the trail to work your way through these tasty crackers, and as long as you don't open the foil pouches until you need to, they'll stay fresh and crisp.


Sesame Snaps
Here's a super fast way to get some energy without gluten, preservatives or weird flavors: Sesame Snaps.
I love these little beauties because they ride well in my pack and weigh almost nothing.
Also, they don't go stale. (Although they can "weld" together if you keep them in high temperatures for a few days.)
These make a deliciously sweet and satisfying dessert at the end of your backpacking dinner.

I use them at the end of a tough day hike, too, because they're a convenient way to replenish my blood glucose (i.e. sustain my energy) and begin to rebuild my glycogen stores.

Betcha can't eat just one little package!

Amki Original Sesame Snaps

Gluten free hiking food:
best protein sources

And of course, we need to pay close attention to protein when we're out on the trail longer than a day.
Why?

Carbs give us energy, but protein helps rebuild muscles and keeps our immunity high.
If you look into the back story of this company, you might be impressed.

Warning: These are addictive gluten free hiking food!
I can't eat just a handful, so I package these in the smallest possible ziplock plastic bags and label them by day with a stern warning: "These are for Tuesday's lunch ONLY!"
Here's another protein source that recently came to my attention (thanks, Lynn): EPIC protein bars.
Nice selection of flavors, too: turkey, bison, lamb and more.

Epic Bars

Go nuts the right way!
Another way to get hiking protein in lightweight, tasty form: raw nuts.
Why not salted and roasted and flavored?
Unless you're hiking through extreme heat conditions, you don't need that much salt throughout the day.
It's hard on your kidneys, which are struggling to maintain the correct water balance.

You don't want to be more thirsty than you already will be as you hike.
Also, your taste buds will get conditioned to huge amounts of stimulating salts, sugars and flavorings, leaving everything else you eat flat and tasteless.
Here is my favorite raw trail mix, pre-mixed, but nothing says you can't customize your own particular pairings of nuts and dried fruit to bring harmonious relations with carbs and proteins to your digestive system!
Trader Joe's Go Raw Trek Mix
More tips on the best backpacking nuts right here!
Don't forget that gluten free hiking food
includes tea!
Day hikers can brew up a batch of tea and bring it along, hot or cold, for refreshment along the trail.
Backpackers can rely upon herbal, black, green, and white teas for soothing night time rituals and bracing morning eye openers.
Gluten free hiking food basics
If you're still with me (congrats on your endurance), you might want even more details about carbs, protein, and fats, and why it's so important to get the right balance of them as a hiker.
If you haven't read my general information on hiking nutrition, it's good background reading.
Or to cut right to the chase, download my Hiking Nutrition Tips for Gluten Free Hikers.
It's an inexpensive, fast, info packed read to help you head out on the trail with GF confidence.




It will also help you sort out the differences between gluten allergy, insensitivity and intolerance.
If you're ready to start cooking up a GF storm, my current favorite blog with health information and great recipes for all occasions is right here.
Not sure what your digestive upsets on the trail are related to?

GF hiking can change your life - 
for the better!
Gluten free hiking food is not a subject I take lightly.
About 25 years ago, I painfully discovered that wheat and rye and barley are not my friends, intestinally speaking.

Being the stubborn woman I am, I was not about to give up hiking, just because I couldn't pack a sandwich and chocolate chip cookies in my day pack!

Unless you've made a conscious effort to notice how many foods contain gluten, you probably don't realize what a monumental effort it is to find food that is free of the stuff AND trail friendly.
Added challenge: Decades ago, nobody had even heard of gluten free hiking foods!
Also: try eating carrot sticks and salami (no bread, no crackers, no cookies, no easily digested sources of complex carbohydrates) day after day on a backpacking trip, running out of fast fuel for hard working muscles...

I learned the hard way that gluten free ain't easy.
Or fun.

But it's oh so necessary for some of us!
Twenty five years of trial and error is a long time... so I know what I'm talking about when I share these gluten free hiking food tips.

Contact me with your
favorite gluten free hiking
food ideas!

I'm so very happy to share my hard won knowledge with you because I want you, my gluten free virtual trail buddy, to have the energy and well being you deserve on your hiking adventures.
What a relief it was to figure out that the gluten in wheat and other grains was making me tired, cranky and unmotivated on the trail!

For your strongest vitality on the trail, go with gluten free hiking food and never look back (unless it's for a stunning vista from your favorite trail).
Give these gluten free hiking food products a try, and let me know what you think.
And if you find something even better, please share!
Now, even more hiking good food tips for you!
Home page > Hiking Food >
Gluten Free Hiking Food
Some of the GF food links bring you directly to the place you can view and order the products, and because of this, I will receive a small (single digit) percentage of your purchase price.
You don't pay anything extra.
Thanks for helping keep this website free to everyone! We all appreciate your support.

Hiking For Her: Hiking tips you can trust!