Enjoy Happy Trails, the free monthly newsletter from Hiking For Her.

Receive a free resource: Hiking Layering System Explained
Pack Organizer Review

by Diane Spicer
This pack organizer review focuses on the inevitable time sink of packing and unpacking your gear.
If you've ever cursed quietly (one would hope it was quietly) while digging through your pack in search of a small item near the bottom, you know the pain involved in a disorganized backpack.
To alleviate this pain, I decided to look for a backpack organizer, something I've never used before.
This particular organizer is designed to fit into 30 liter packs.
Hey, I own a few of those!
So let's jump right into this pack organizer review.

Disclosure
Disclosure of Material Connection: I received this pack organizer for free from PackGear as coordinated by Outdoor PR  in consideration for review publication.
No affiliate relationship exists between Pack Gear and myself.
As usual, I'm all about getting the best hiking gear into your hands by using it first!
How "the Pack" is designed

If you visualize the main internal compartment in your largest backpack, you know it's just one cavernous space waiting to swallow your hiking gear.
Now visualize the disorganized and frustrating jumble that robs you of precious time each morning and evening.
But what if you had one organizing unit, consisting of smaller compartments, that fits neatly within that main compartment?
The Pack gear backpack organizer contains 4 compartments which function together as one unit, able to be hung by lightweight metal hooks so you can reach into every space.
It also stands up pretty well by itself when filled with your clothes and gear.

The top and bottom compartments have dividers, to keep small items separate from each other. In essence, 4 "mini" bins.




The 2 middle undivided compartments give you lots of space for larger items to coexist.
Buckles and straps on each compartment keep everything contained within the organizer.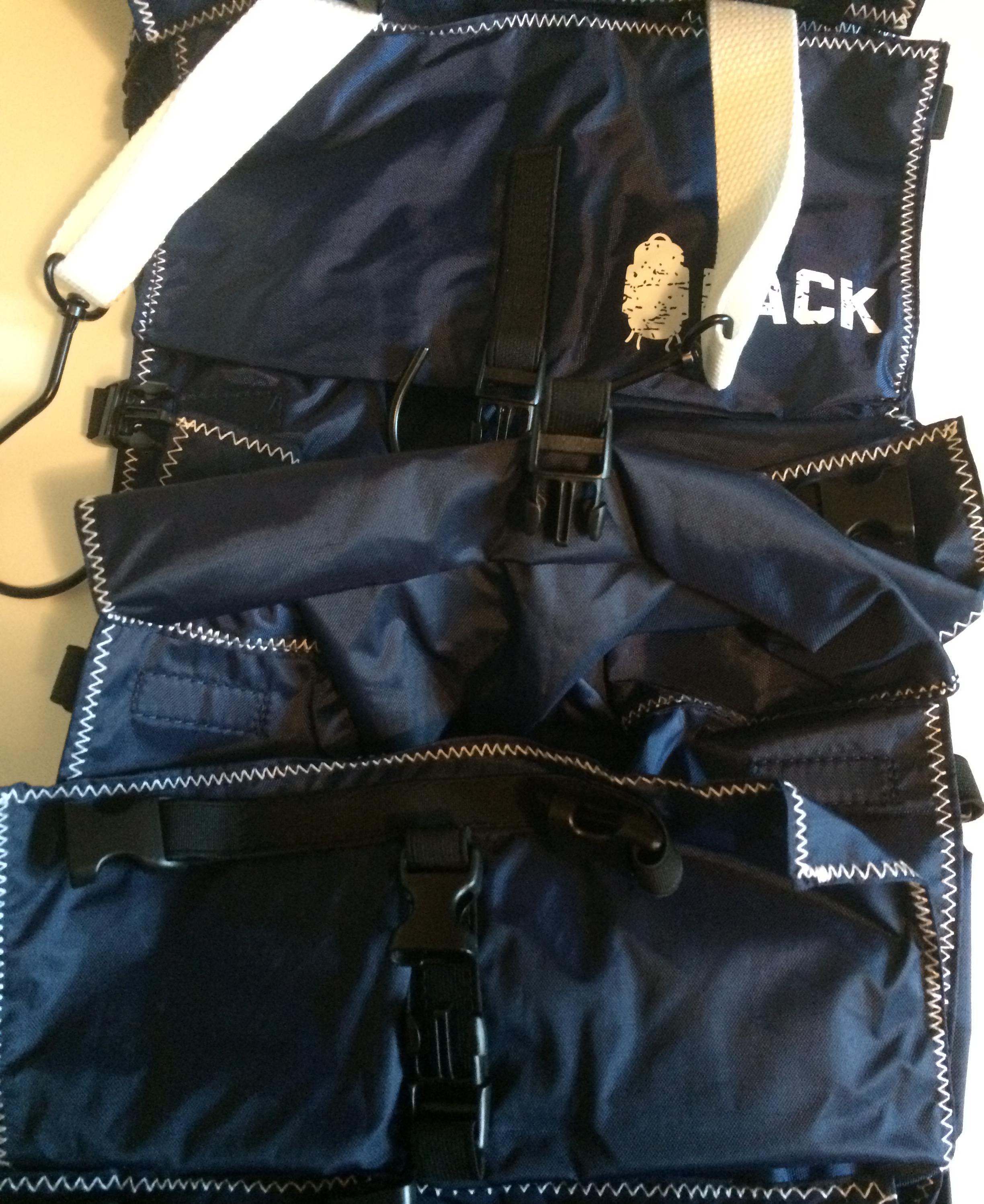 Details that matter to hikers

Hikers need anything designed to ride in a backpack to be:
lightweight,
compact,

durable,
easy to handle,
built to multi-task,
and fairly priced.
This pack organizer hits it just right. Let's take a look.

Lightweight: 9 ounces, or negligible weight.
Compact: 18" x 9" x 7" when stuffed full of socks, toothpaste, shirts and whatever else spells hiking joy.
Durable:
Metal hanging hooks on each side, attached solidly to fabric straps, are not going to fail you.




The thick and generous stitching, seen in the photo as white zigzags, will stand up to lots of handling as you tug this organizing unit out of your pack.




Nylon, an obvious choice for durability, is used in the blue version pictured, or black if you prefer.




The buckles are the standard lightweight plastic variety found on packs, which I know are durable because I've used so many of them over the years.

No zippers, so no jamming.



Easy to handle: Even when you're worn out and just want to get to your gear, it's going to be easy to pull this organizer out of your pack and have everything you need at your fingertips.
The large hooks make hanging this up really easy.
And the horizontal and vertical straps make sure nothing falls out.
Built to multi-task: I used this pack organizer for a non-trail trip, meaning that it kept me organized during a week long leisure trip and looked great hanging on the bathroom door.
I've devolved into carry-on luggage only, and this organizer really helped consolidate my stuff into one nice package. No more keeping track of a multitude of small zippered pouches!!

However, I'm looking forward to using it on my next backpacking trip because it fits nicely into a larger pack.
I'm guessing those white straps won't be quite as pretty once I get a little trail dirt on them, but that won't hurt the functionality, right?
Fairly priced: $44.99 (at the time of this review) seems like a reasonable amount of money to pay to be organized.
Because of the durability built into this pack organizer, I'm guessing your investment will be minimal when you divide this price by the number of years you'll use it.
Clever design features

I found the divided compartments worked well to keep small, irregularly shaped grooming items like brushes, creams, lotions and solutions organized.
I also appreciated the amount of room between the hanging straps and the first compartment.
There was plenty of space to root around and find things without fighting with the straps.
If you can set up a system in your head, it will be super easy to use this organizer: personal items in the top compartment, socks and underwear in the second compartment, etc.
No more wondering where you put your (fill in the blank), if you can train yourself to live out of these little compartments.
One hard-earned tip: Make sure everything is buckled up tight before you lift this unit out of your pack, or everything you organized so carefully will tumble out!
For more rugged use, I'll pack up this organizer and slip it into a sturdy resealable plastic garbage bag to keep my gear dry and clean. It will be easy to throw it into the tent in the evening and know that everything I need is within reach.
I'll post a revised pack organizer review once I do.

One caveat for outdoor usage:
Don't put smelly personal items like toothpaste or face cream in it. Add those to your nightly bear bag/food cannister ritual.
I'm also toying with the idea of using it as a backpacking kitchen organizer.
My small stove, fuel cannisters, dehydrated meals, spice bag and water filter just might fit!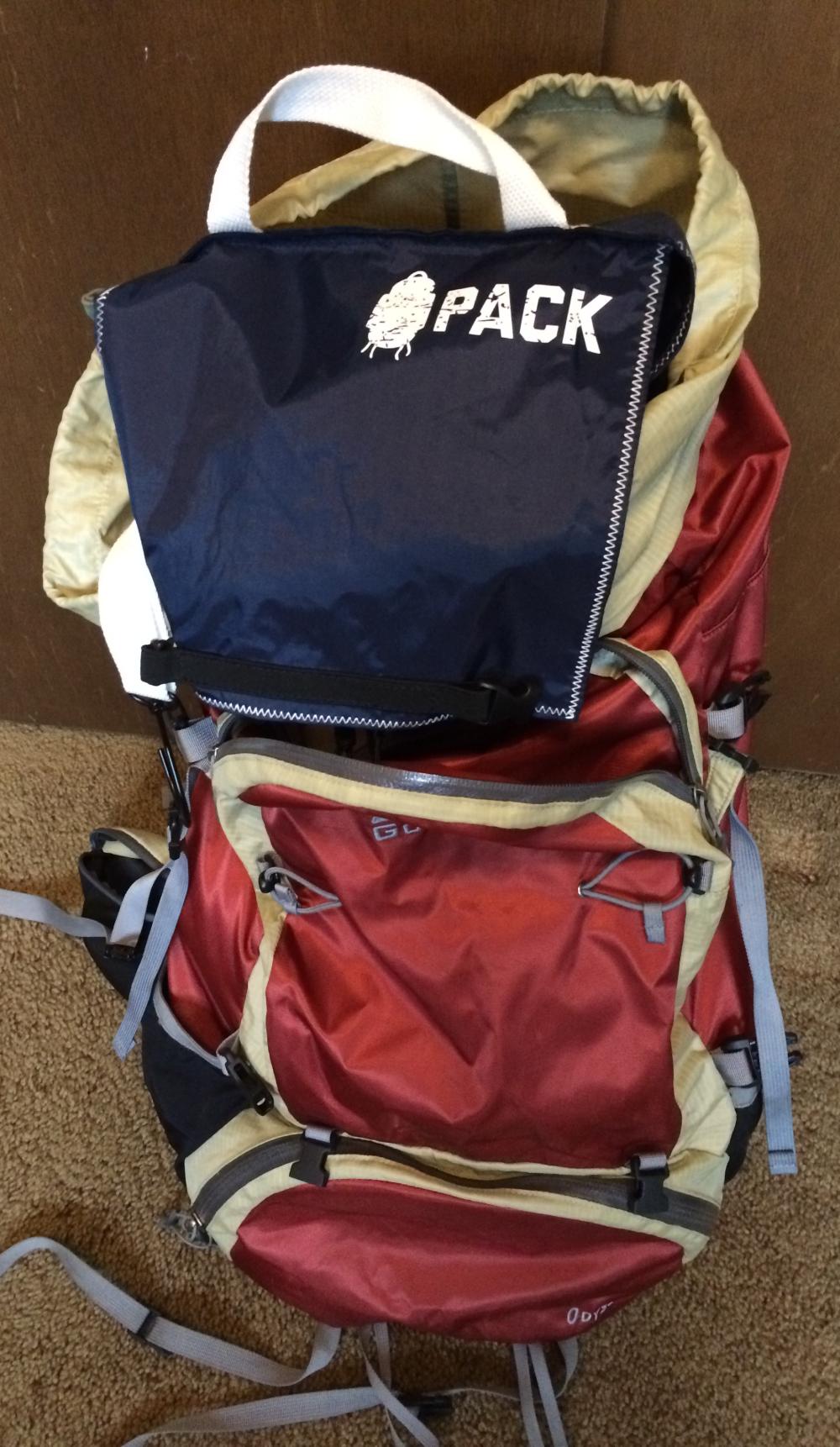 Pack organizer review finale

Since I really liked most of the features of this pack organizer, I'll close with a few little things that were less than appealing, just to balance things out.

There's a bit of a gap between the the sides and top flap of the upper compartment, and if you're not careful, small things can slip out while you're handling the whole organizer.

I would have chosen a dark color for the fabric straps, because I know how travelling attracts dirt to my gear.

The buckles seem a bit large and stiff to use - a little overbuilt for light usage. I may change my mind after using this outdoors, though.
All in all, a worthy new piece of travel and hiking gear!
To read a selection of pack organizer review feedback, check this out.
Questions?
If you have any questions not answered in this pack organizer review, contact me via the CONTACT link at the top left of any page on this website.
Here's to your next uber-organized trip!
Home page > Hiking Gear Reviews > Pack Organizer Review
Hiking For Her: Hiking tips you can trust!