Enjoy Happy Trails, the free monthly newsletter from Hiking For Her.

Receive a free resource: Hiking Layering System Explained
Skirt Sports Review:
Need Some Hiking Clothing?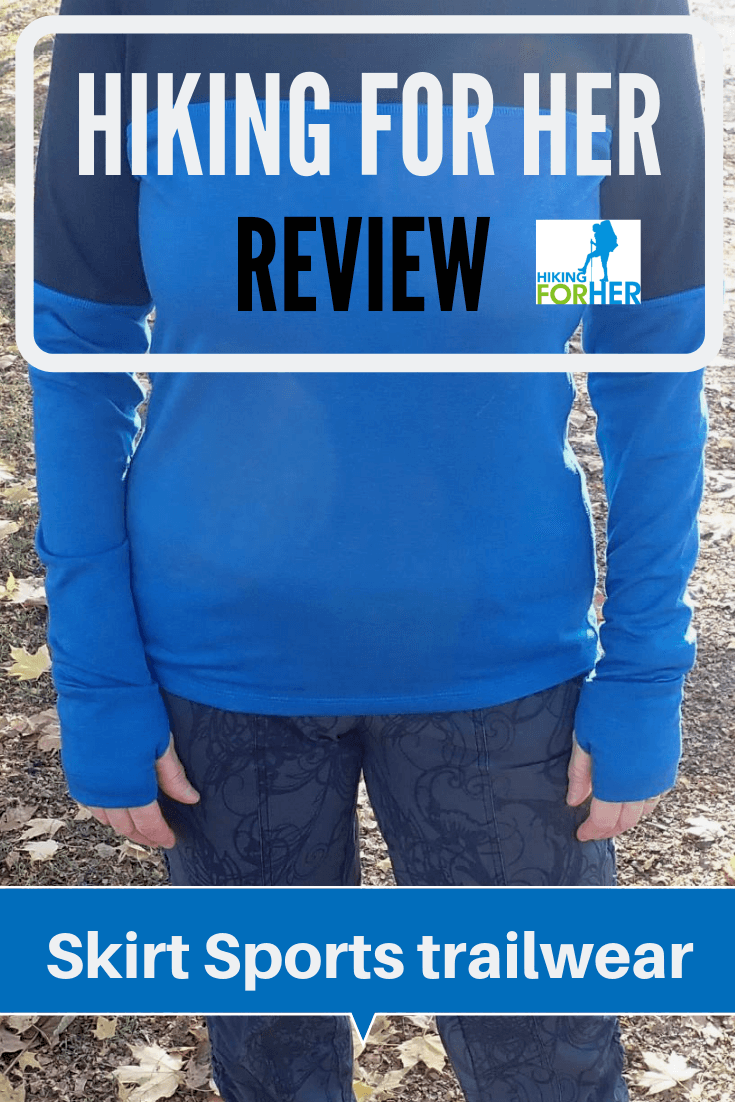 This Hiking For Her Skirt Sports review highlights a shirt, pants and sports bra combo selected for its trail worthiness.
If you're wondering what to wear hiking, this review is for you!
Ditto if you're seeking a cute hiking outfit.

Skirt Sports provided the clothing, Hiking For Her supplied the photos, comments, opinions and suggestions.
Hiking For Her is a Skirt Sports affiliate. When you purchase their clothing through this website, HFH receives a small commission but you pay nothing extra.
This review was written for the purpose of detailing some hiking clothing options you may not have considered before.
HFH only recommends what has been carefully scrutinized, so rest assured that if Skirt Sports makes it onto this website, there are good reasons!
You can check out all the SkirtSports offerings here.

Featured clothing in this
Skirt Sports review

This review is being written in the autumn of the year, when chilly clear mornings make you reach for cozy clothing.
This Skirt Sports review highlights:
The Carrie C/D sports bra (an updated version of their Kelly C/D Bra), sizes 32C - 40D

Wonder Wool long sleeve shirt, sizes XS - XXL

Sanitas pants in black starlet print, XS - XXL, 31 inch inseam. Rumor has it that a 1X - 3X line will be available in

Spring/Summer 2019.
Carrie sports bra beneath Wonder Wool shirt, and Sanitas pants, worn on a chilly day hike on a fall trail

Skirt Sports review:
technical specifications

This outdoor clothing was selected for its fabrics, design, and features.
Why do smart women hikers want to know about these details?
Carrie sports bra details

This bra is built for cup sizes C and D to support high impact endeavors, which means the fabric and details are designed to lock your breasts down tightly as you hike, run or play sports.

If you require, or desire, less support, be aware of the range of options which Skirt Sports provides: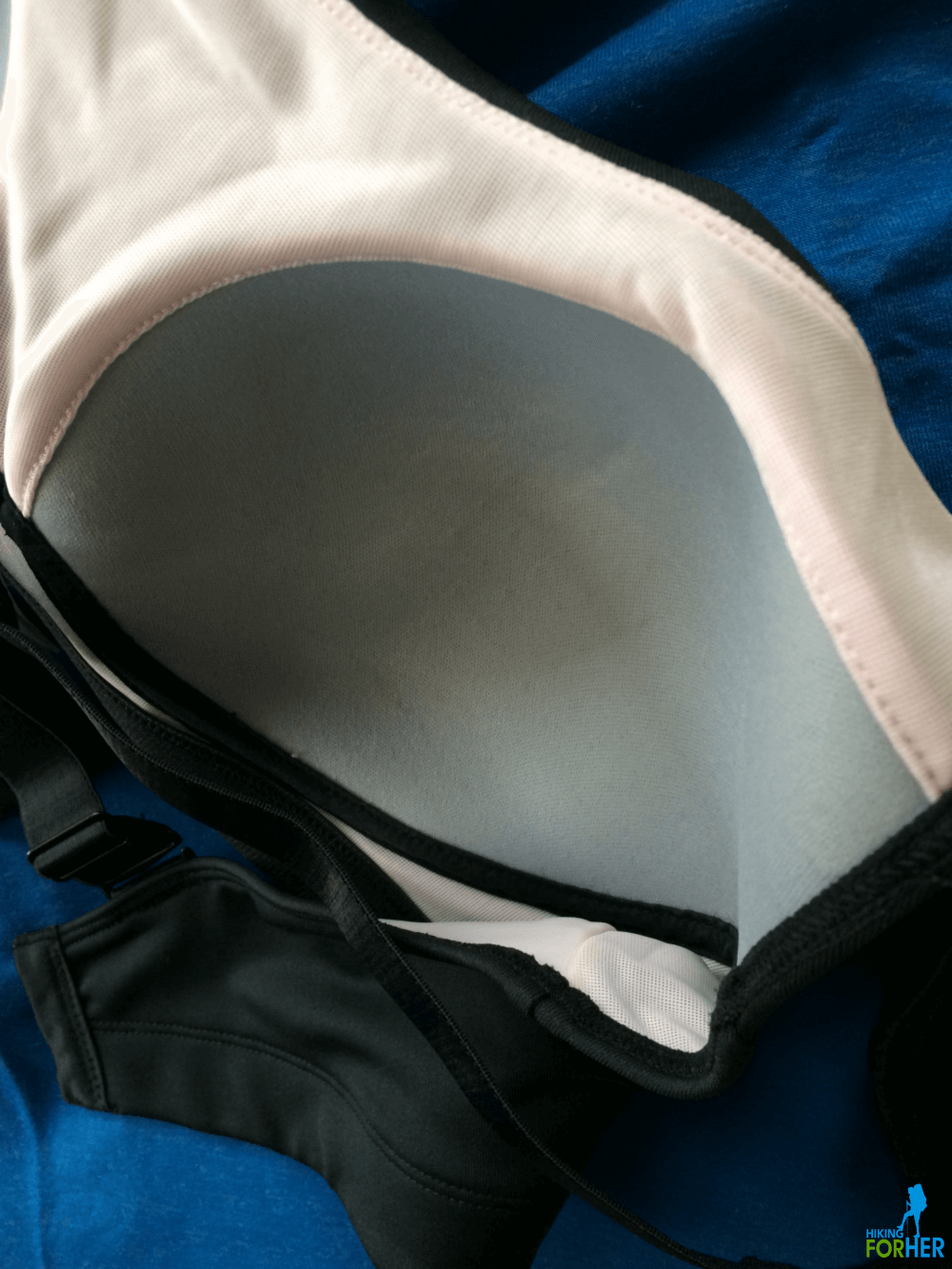 The bra worn in this Skirt Sport review is constructed of two fabrics:
A soft jersey blend of poly/spandex

A tech mesh support of nylon/Lycra




Wonder Wool shirt details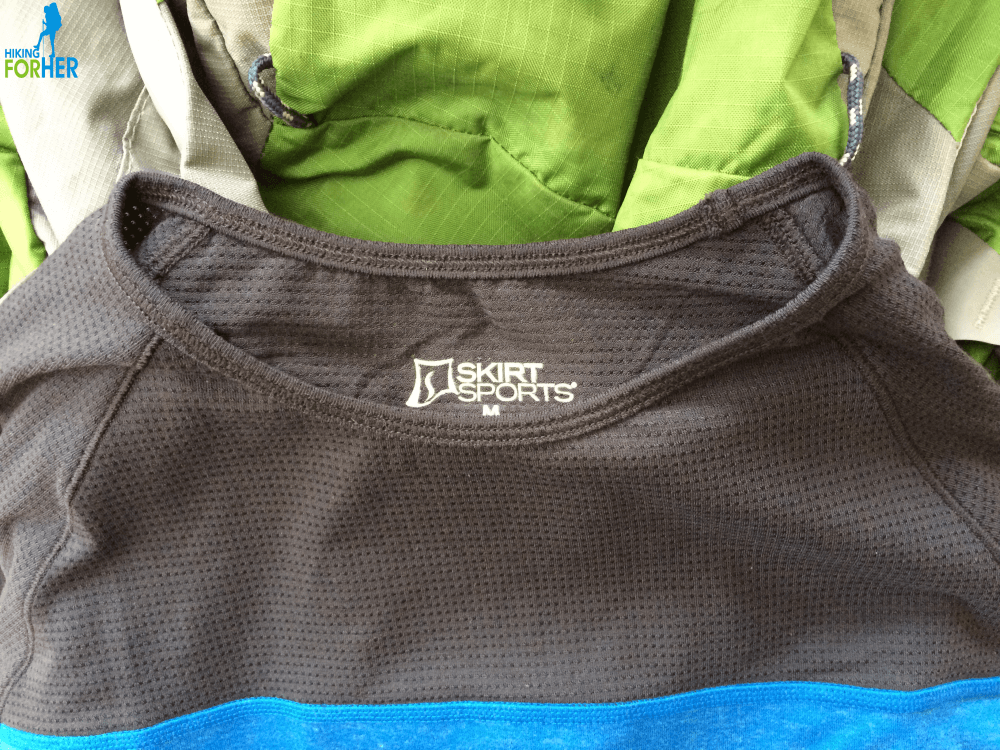 The shirt worn in this Skirt Sports review is all about moisture wicking, ventilation, and warmth.
Your torso and arms are covered by a blend of 88% polyester/8% wool/4% Spandex, in what is called Thermo Wool.
The upper chest area has clever mesh panels, 84% polyester/11% wool/5% Spandex.
The Spandex ensures that you won't be tightly confined inside the shirt, while the poly-wool partnership gives you the comfort of thermoregulation and wicking.


Sanitas pants details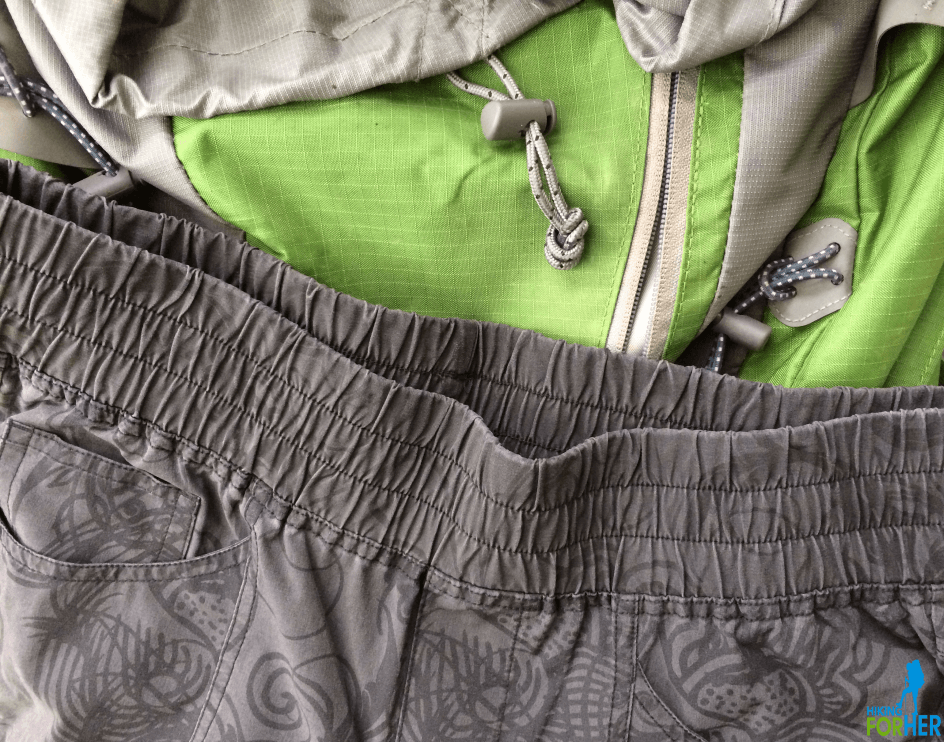 These pants are made of snag resistant, lightweight, smooth fabric which is an 87% polyester, 13% Spandex blend.
This particular color choice has a swirly starlet pattern, but you can purchase these pants in solid colors, too.

Skirt Sport review:
performance notes
So how did this Skirt Sports clothing combo perform?
Let's find out!

Bra fit and features
The first thing to note about this sports bra is the absence of chafing seams or bulky straps.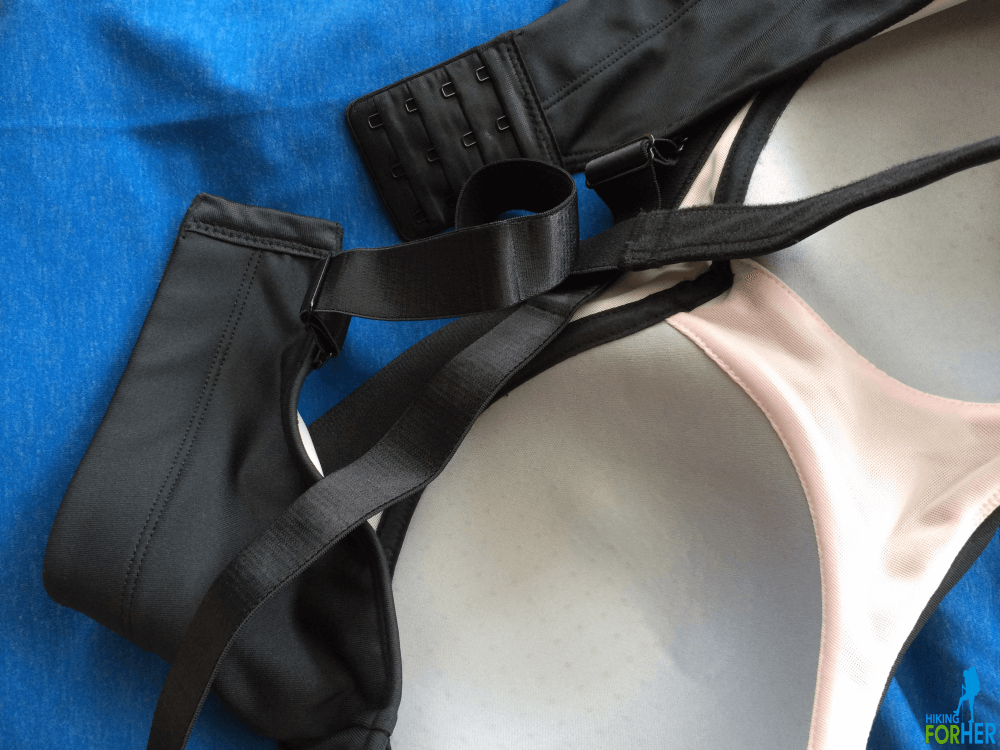 4-row hook & eye in center back closure is padded and allows you to loosen or tighten the fit as needed
Speaking of straps:

The front straps are fully adjustable.

If you're nursing, you can open up the front completely.

The back straps can be adjusted in length, and are worn straight or criss crossed.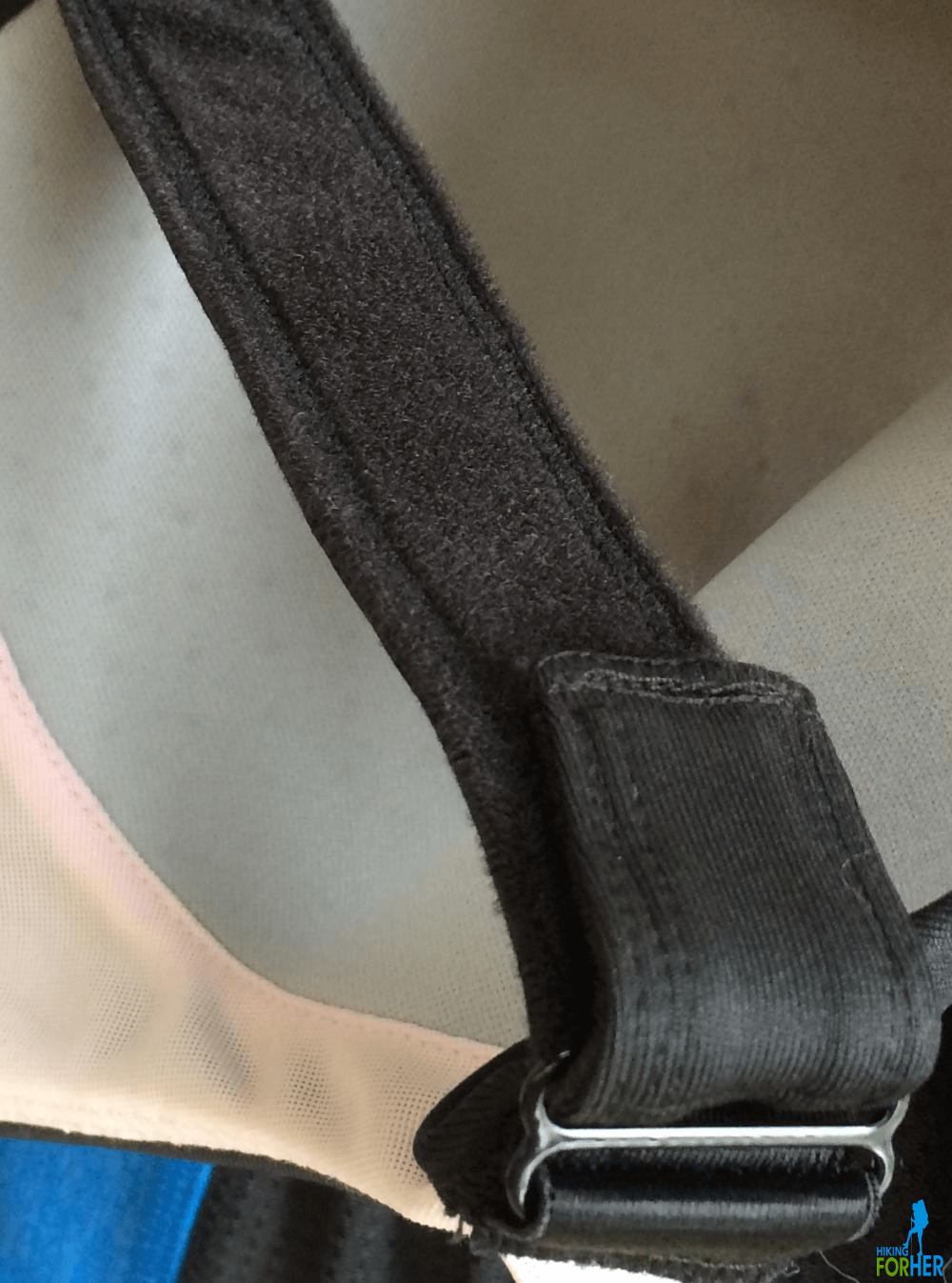 That fuzzy fabric is incredibly soft against your skin, and the Velcro tab gives you lots of room for dialing in a customized fit
The molded cups (no uniboob experience!) are lined with breathable fabric which is thick enough to prevent nipples from showing.
This is not an underwire bra, yet is fully supportive via panels throughout the design in concert with a soft elastic band.
I've worn a LOT of sports bras over the decades. This one comes to the top of my list for its comfort and adjustability!
Tip:
If you hike in shelf style sports bras, and have to double or triple them up to get enough support, don't hesitate: get this bra and say goodbye to the chafing, crushing and trapped sweat from layers of unsupportive bras.
Shirt fit and features
Hiking For Her shirt rules:
A hiking shirt should be fitted, but not clingy.

It should move with you, not tug or pull against you.

Pulling it on and off should be a joy, not an aerobic challenge.
This shirt, I am happy to report, does not break the rules!
Around 26 inches in length, it hugs the body without being tight.
Layer a vest with a stand up collar over it for an extra dollop of warmth!
Or add a neck gaiter over the comfy crew neck to block breezes.
More chilly trail layering ideas here

Focus on the mesh: it's going to keep you thermoregulated as you hike!
Here's the kicker for a female hiker:
Although there are plenty of tiny holes on the upper part of the shirt, the appearance of the shirt does not shout "holey mesh".
All in all, I found the shirt to be comfortable, good looking, warm but not too warm, and worthy of a spot in my permanent hiking shirt rotation for chilly trails.

Pants fit and features
in this Skirt Sports review

These pants are unique in both fabric and design.
The fabric, as noted, is a blend which allows for free movement.
It's soft against your skin, but should resist snags and abrasions to a moderate degree.
These pants are not meant to stand up to wind or rain, but would allow your rain pants to slide on easily over them.

The mid-rise fit is semi-relaxed, thanks to the wide elastic waistband and generous legs.
Easy to pull on or off

Super comfortable for wearing off trail, too

If you're a pocket lover, you've got five of them to work with, including this front one for keys, lip balm, or a bite sized snack.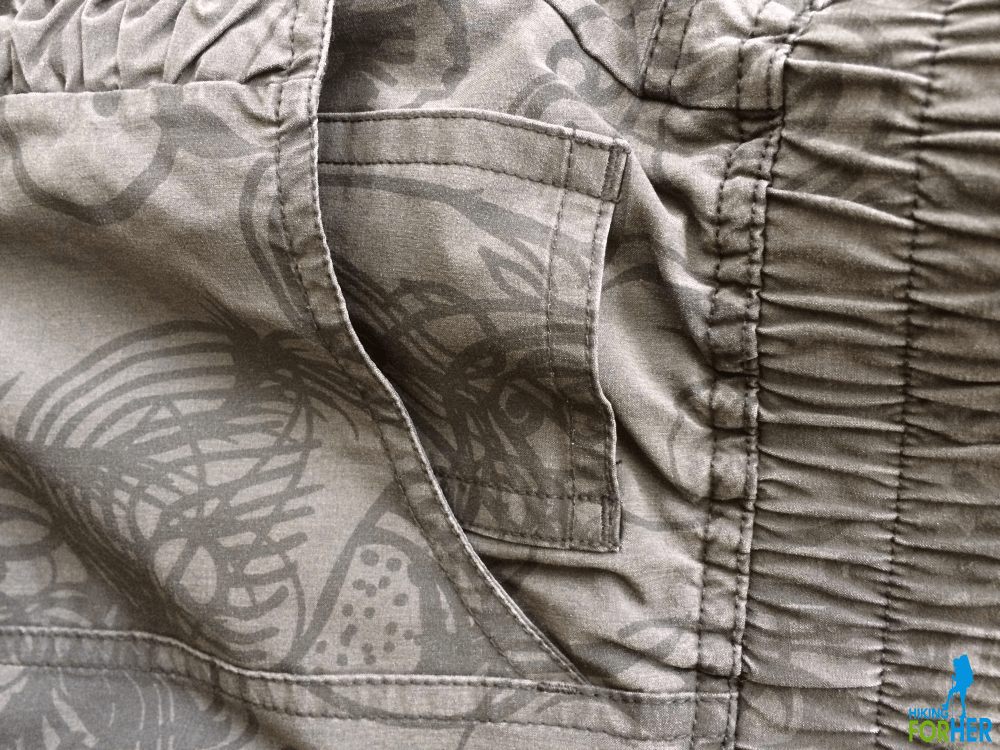 Relaxed waist make these pants easy to pull on before you hit the trail
Now here's something you don't see everyday on a pair of pants!
You can adjust the length and fit of the legs by pulling on a clever little cordlock in each front pocket.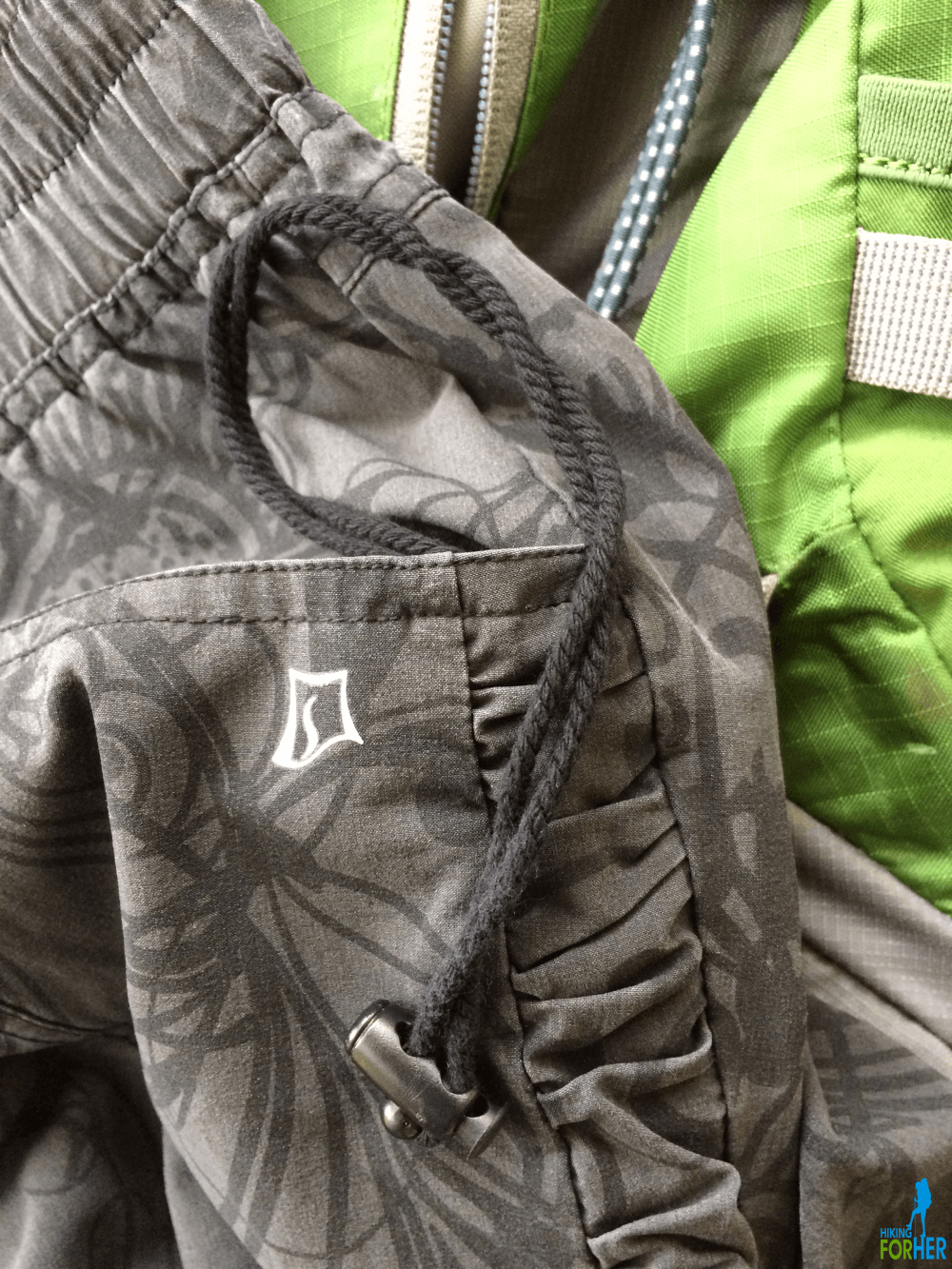 See the pleated strip of fabric? You can use that cord to pull up, or lower, the pant leg, just like a window blind.
This SkirtSports design gives you versatility and even more freedom of movement for a tricky water crossing, or on a day when the weather turns surprisingly hot in shoulder season.

Skirt Sports review:
a few notes about fit
It's one thing to read the specs and come along on my experience with these hiking clothes, and quite another to wear them yourself.
So a few words about what I noticed, from the perspective of my own hiking body, that you should know.

Pants length
Are you a petite hiker?
That could mean you take short hikes, or it could mean you are short of stature. Possibly both?
However, there is a serious issue with a 31 inch inseam for a woman who stands less than 5'4" feet tall (the definition of petite):
But here's the thing about these pants: the bottom of the leg opening can be quickly adjusted with the cordlocks in the front pockets, as noted above.
Cinch the pant legs up if you want a capri look and feel.

Relax the pant legs back to their original length for full coverage.
Also, if you wear hiking boots with thick tread, you'll need and want an extra inch or two of leg length to prevent trail debris from entering your boots.
And when/if you don your hiking gaiters, that extra fabric in the ankle area ensures a tight seal up against the gaiter, not against your skin or hiking socks.
Full disclosure: I'm 5'3", and these pants did seem/seam a bit long on me until I put on my trail shoes.
Shirt sleeves
It's always a dilemma to choose the correct shirt size, as I'm curvy but have short-ish arms.
I was surprised when the shirt with raglan sleeves fit just right, with a caveat:

This shirt has thumbholes which are so handy when you want to grip trekking poles but also want a bit of coverage over hands on a chilly day.

However, I had to roll up the cuffs just one notch when I wasn't needing the thumbholes.
If your arms are more proportional to your body, this probably won't be an issue!
Sports bra on and off issues
I want to be locked down tightly when I hike, because a bouncing chest is painful and annoying. (I hope that wasn't a TMI moment for you.)

However, other sports bras I've tried have a big issue: styles that give great support are a nightmare to get on quickly (more like wrestling than dressing).
And peeling them off sweaty, dirty skin at the end of a hike?
This Skirt Sports Carrie bra?
Lovely to put on, although it may take a few tries to determine where the hook and eye closures feel best for you.
And getting it off?
Just undo the closures, and you can slip right out of the bra, regardless of how sticky and sweaty you may be.
Remember that you can crisscross the back straps, or go with the more traditional uncrossed style, as you prefer.

Strap alignment tip:
Line up the bra to go over both arms, but be sure to pull the crossed straps together with the thumb and forefinger on one hand so they stay together as you pull the bra over your head.
Skirt Sports review:
comfort and style notes

Note the appropriate length, achieved by using the cordlocks in the front pockets

Things I love about
the Skirt Sports company

It is so refreshing to see Skirt Sports clothing modeled by women with dips and rolls, bumps and curves - just like what I see what I look in the mirror, or you can see in the photo above.
They get it!!

These folks understand how hard it is to get clothing that fits and performs well.
Best of all, they don't talk down to women. There is no thinly veiled toxic attitude along the lines of women being just a bit less suited to outdoor sports.
This company aligns with the values Hiking For Her stands for:
getting every woman outdoors, feeling comfortable, confident and radiant.

Skirt Sports review: questions?

As always, contact me with your questions.

I can fill in more details you may be wondering about in this Skirt Sports review.
I'm proud to offer Skirt Sports options to you, dear hiker, and I know this company will stand behind its clothing to get you out on the trail, feeling and looking great.
If nothing else, check out the radiant beauty of their real life models!
That could be you, striding down the trail with a huge smile on your face :)
Home page > Best Hiking Gear Reviews >
Skirt Sports Review Of Hiking Clothing