Enjoy Happy Trails, the free monthly newsletter from Hiking For Her.

Receive a free resource: Hiking Layering System Explained
     Survival Bracelets:
Do You Need One?

by Diane Spicer
I've discovered paracord in the form of survival bracelets! Have you?
If not, let's define it.
Paracord is sometimes called "550 cord" to give a nod to the multiple strands of nylon woven together to give it amazing strength.
It is sheathed in either nylon or polyester, making it resistant to rotting or damp weather.

Did you know that paracord has its roots in warfare (as so many of our innovations do)? It was developed for parachutes but was also used once the parachuters landed.
It's tough, durable, versatile - all qualities which can become useful in a survival situation and increase the chances of hiking safety.

I don't know what you have in your "survival" sack, but there's definitely a place for this newly "discovered" paracord alongside the other safety gear in mine.

Here's why:
Paracord can be carried as a bracelet, watchband, belt, hat band, dog collar... lots of very creative and colorful options.
Take a look through these directions and suggestions regarding how to use it:
tent repair (any gear sewing, actually),




fishing,




construction of an emergency shelter,

hauling something very heavy, as in 550 pounds heavy.
Just knowing that you have a strong cord in your backpack buys peace of mind, in my opinion.

Why carry survival bracelets?

For all of these reasons, I carry a paracord bracelet year round in my survival gear.

Here's why I'm a big fan:

a) Very packable and lightweight - I can cram it into the tiniest pocket on my day pack and rest assured it's there if I need it  (which I fervently hope I don't).
b) Easy to deploy - at least that's what the website promises. I've never been in a situation (yet) where I needed the cord, so I can only go by what the instructions showed. Some day in base camp when boredom strikes, I might give it a go. Then I'll have hours of fun re-weaving it!!

c) Very reasonable price.
d) Makes a nice gift for the outdoorsy types (including those who hike with dogs) in your life - and remember, you can customize the colors and styles.
True confessions about
hiking jewellery

I have a small confession to make.
I never wear it as a bracelet.
Not even a survival bracelet. (Blush: A woman who abhors jewellery?? OK, I admit it.)
Here's the very practical reason why:
Sort of a reversal of the original intent.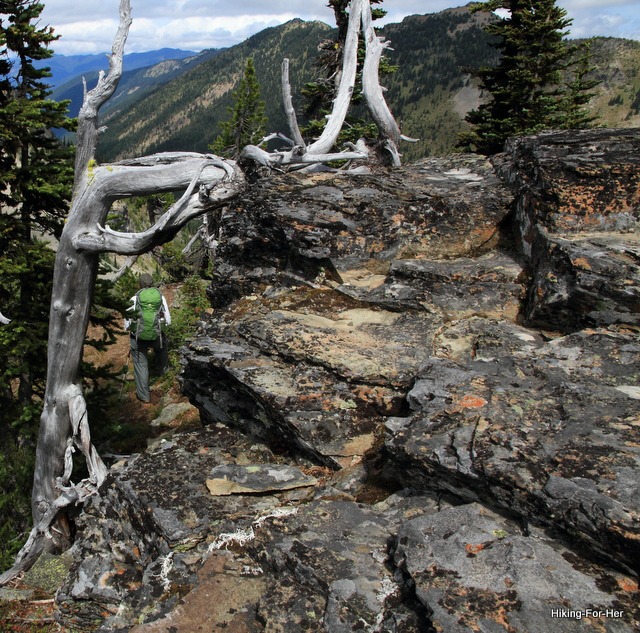 So I have given it a nice, tidy place of honor in my emergency bag (which has its own place of honor in my back pack), and call it good.
But maybe you want to wear a bracelet on a well maintained trail.
This survival bracelet will do the job for you!
3.5 meters of paracord for camping tasks such as repairs, clothes lines, or medical or shelter emergencies;

a whistle built into the buckle, for signalling.
And if you hike with your dog, consider a paracord collar, adding even more flexibility to your survival gear!

Need more ideas for what to put in a survival kit? Go here.
Home page > Best Hiking Gear > Survival Bracelets
Hiking For Her: Hiking tips you can trust!