Enjoy Happy Trails, the free monthly newsletter from Hiking For Her.

Receive a free resource: Hiking Layering System Explained
100 Hikes Of A Lifetime
Book Review:
Fill Up Your Bucket List
by Diane Spicer
This 100 Hikes Of A Lifetime book review is written to share a new book.
It's published by National Geographic.
So you know the photography will be gorgeous. Look at that cover photo!
And you expect the writing to pull you right into a hiking adventure on every page.
What you may not know?
Your abundant options for fantastic hiking on every continent.
As in "the world's ultimate scenic trails"
That's why I'm here!
To share this book's mind-bending array of the best hiking destinations on the planet.
Disclosures in this
100 Hikes Of A Lifetime book review
Hiking For Her received a copy of the book in exchange for a fair review for the TLC book tour.
TLC's virtual book tour offers you many reviews of this book.

Hiking For Her had the honor of sharing the first review.

See the February 2020 book tour schedule here.
There is no financial relationship between Hiking For Her and either National Geographic or TLC.
All reviews on this website are unpaid and unbiased.
What's being reviewed 
100 Hikes Of A Lifetime: The World's Ultimate Scenic Trails is a 400 page hardcover book.
It was published on February 4, 2020.

You can buy your copy at Amazon (affiliate link)
Let's look at the types of hikers who will enjoy this lovely book.
Hikers who love to daydream

Here's my favorite past time in winter months:
This book makes daydreaming for hikers so easy!
It offers photos and descriptions of global hiking destinations:
I won't spoil the fun by naming specific destinations this book covers. I'll let you discover that for yourself.
Be prepared for some serious dreaming and scheming as you glance through the table of contents.
Use my daydreaming method with the book
As a daydreamer, I think the best way to enjoy this book is to randomly flip it open and gaze upon the "surprise" hiking destination.
What would it be like to be there?

What kind of gear would you need to hike in that environment?

Would you need to learn new techniques for high altitude, extreme temperatures or heavy rainfall?
A new destination is just the thing to expand your trail skills.
So surprise yourself!
This book could open up a whole new dimension in your hiking, and that is never a bad thing.
Hikers with bucket lists
should read this book
If you're like me, you have a mental list of the places your hiking boots need to go, and soon.

This book?
It helped me double the list.
That's why I recommend spending some quality time with a spreadsheet and 100 Hikes Of A Lifetime.
Then call up your trail buddies and do a little sweet talkin' and cajoling.
Or just show them the luscious color photographs!
Andrew Skurka fans
will appreciate this book
Andrew Skurka has been sharing hiking tips and techniques for decades. The most notable example is his book The Ultimate Hiker's Gear Guide.
Both National Geographic and Outside magazines named him Adventurer of the Year.
I feel it's a well deserved title.
Very few of us have had the privilege to hike the way Andrew did in his twenties (alone and extreme).

Few share our outdoor knowledge with newbies and trail veterans alike as Andrew does.
So it's fitting that Andrew contributed to this expansive hiking book:
Big Trip hikers
will value the information in this book
We've covered the appeal of 100 Hikes Of A Lifetime for daydreamers and bucket listers.
But maybe you're a hiker who plans an annual "Big Trip" to a new and exiting "stretch goal" destination.
If you don't have a trip selected for this year, dig into the options in this book.
It will jump-start your trip selection process in a very exciting way.
Already chosen this year's destination?
You may reconsider after you see all your options!
There's a trail for every hiker in this book
You have your preferred style of hiking, and this book makes it easy to select what you're most interested in:
Day hikes, multi day trips, and extended treks

Volcano, beach, dense forest, and glacier destinations

O

cean, tundra, jungles, or desert ecosystems 



Settle in for an afternoon of scoping out a new hiking destination with this book. 
And keep your bucket list handy!
Bonus info in the book
This book goes beyond basic trail information and logistics.
Look for the "Know Before You Go" tips to speed your travel planning.
Use the cultural information and insider tips to maximize your time and energy.
Hikers looking for a special gift
will love this book
We love to share our passion for trails, don't we!
This book is the perfect gift to tempt a loved one onto a trail with you.
It makes an impressive coffee table gift for a hiker celebrating a special event.
And it's a fantastic way to nourish your own dreams as a hiker.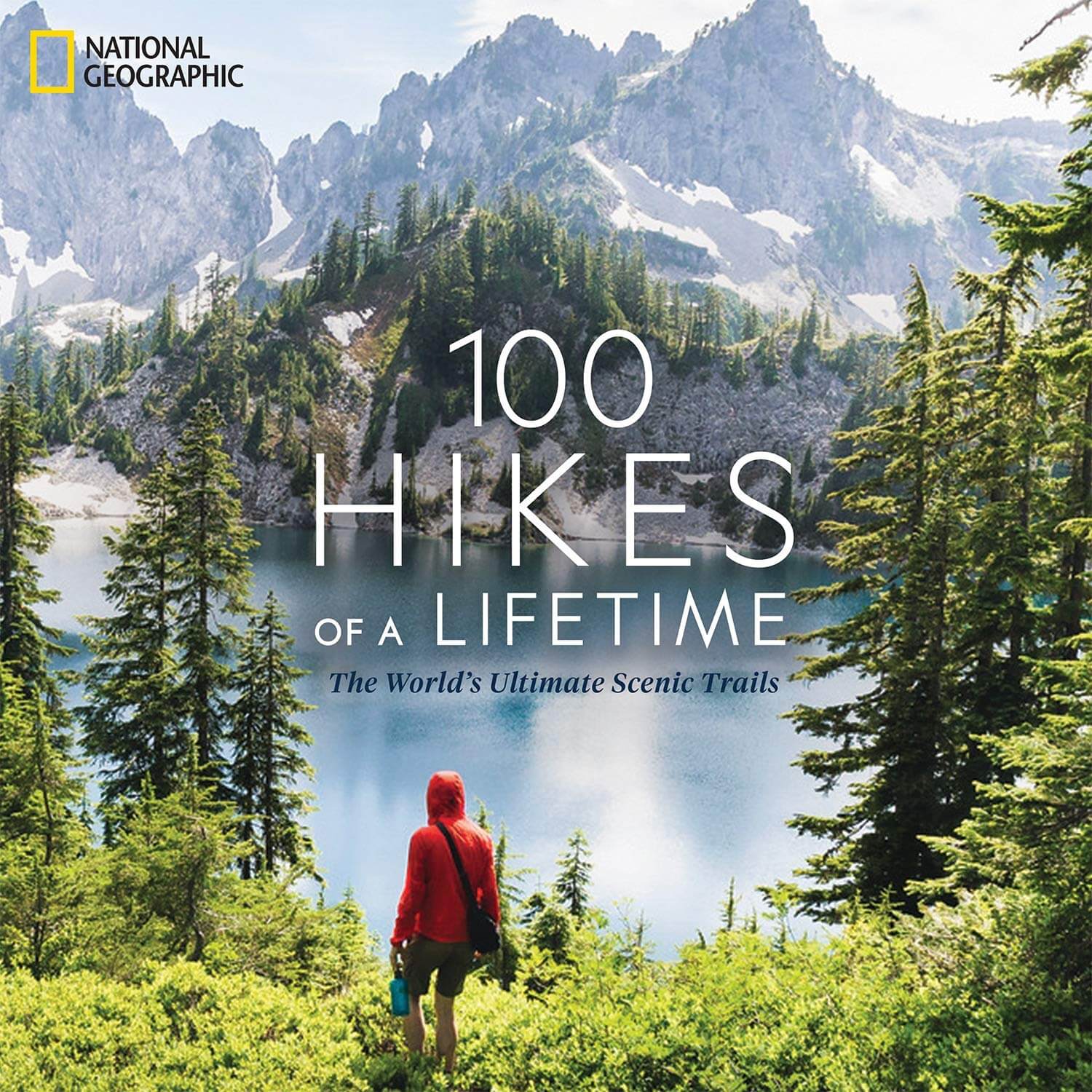 cover photo used with permission

100 Hikes Of A Lifetime book review:
don't miss these nice little touches
This book works hard to put detailed information into your hands in a beautiful and engaging format.

Sprinkled throughout the book are suggestions to squeeze even more out of a hiking adventure:

"What you'll see" lists: geology, topography, plants and animals

Post-hike activities to enjoy

Wildlife spotting tips

Cultural highlights & immersion opportunities

Historical footnotes

Alternative routes to consider

Extracurricular activities
Many of the photos show hikers in action.
That makes it easy to imagine yourself wearing your favorite backpack in each stunning location.
100 Hikes Of A Lifetime
book review conclusions
Books like this don't come along every day.
It's with pleasure that I share this special book with you, dear hiker.
The world is a vast and achingly beautiful place.
Go see it, using this book for inspiration.
If you can't go, then see it anyway, from the comfort of your favorite reading chair. This book makes it possible.
Happy Trails!
100 Hikes Of A Lifetime Book Review
Hiking For Her: Hiking tips you can trust!