Enjoy Happy Trails, the free monthly newsletter from Hiking For Her.

Receive a free resource: Hiking Layering System Explained
Salomon Womens
Hiking Boots:
Hiking For Her Review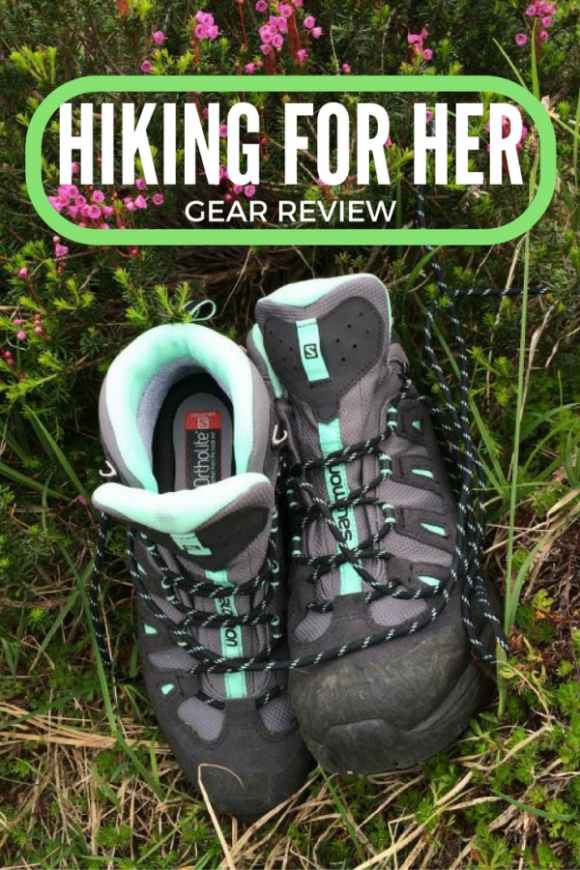 by Diane Spicer
This Salomon womens hiking boots review was not requested by anyone.
I needed a new pair of boots, because sadly, every pair of hiking boots will wear out after enough tough trail exposure.
So after extensive research, and a few hours of trying on hiking boots and trail shoes, I purchased this pair with my own money.

As always, my motivation in doing a review is to share with you the features of the boots I found useful.
And to point out how these boots would work for you on the trail.
If you're looking for a pair of the best lightweight hiking boots for your feet, consider the following...
Salomon womens hiking boots specs:

Quest Prime GTX
Let's get the specifications of these Salomon womens hiking boots out of the way first.
These boots:
are super lightweight (about one pound, or 490 grams per boot, if you're into weighing your gear)
have removable "Ortholite" shock absorbing footbeds
feature grippy soles with deep tread
are over-the-ankle height, making them more protective on rough trails and more supportive for backpacking trips than trail shoes would be
have rubber toe caps and heel slings to help guard against abrasion and rough contact

are made of suede leather/nylon uppers, a dual-density EVA midsole, and thermoplastic urethane plate for support
have a lining that is breathable yet waterproof: seam sealed Goretex

cost ~$190 US unless on sale or discounted

Read this boot buying guide for an explanation of why all of these features add up to a high quality womens hiking boot.
You can find even more specs at REI.
Don't overlook the comparison feature on the REI website, where you can do side-by-side specification comparisons for any of the boots you fancy.
Update: Salomon has updated this boot, offering the Salomon Quest 4 GORE-TEX version, available from REI here.
Same great features, and here's what they look like:

Salomon Quest 4 GORE-TEX Hiking Boots - Women's | REI Co-op
---
Why I zeroed in on
these particular boots

I had three specific objectives in mind as I shopped for the best pair of womens hiking boots:
Supportive

Sturdy but not heavy

Sticky grip (boot tread)

My foot constraints include:
High arch. I mean, really high arch, even for a female foot

Wide width

Inability to tolerate anything tight against my toes
Those constraints mean that I need a wide toe box, plenty of arch support, and a lacing system that guarantees solid footing without a lot of pressure across the top of my foot.

And I don't know about you, but as I age, I prefer lighter weight hiking clothing, boots and gear.
While I'm a big fan of KEEN boots (read why here), I was open minded about considering a pair of Salomon womens hiking boots for backpacking or rocky trails.
Why?
Because I love my Salomon trail shoes!
First impressions:
Salomon womens hiking boots

I don't know if this is a female trait or just my unique weirdness, but the color of my hiking boots (and my pack, and my hat, and...) really matters to me!
So after scoping out the specs (shared with you above) of many hiking boot candidates, I eliminated some of them purely on the basis of color.
There, I've admitted it: I'm a hiking gear color snob.
Please don't judge me! I have to look at these colors hour after hour, day after day, on the trail, so I think it's reasonable to want harmonious colors.
All this to say, the colors used on these boots are lovely.
The turquoise reminds me of the Southwest.

The dark gray is a utilitarian, workhorse color for outdoor gear. And the fact that it reminds me of wintery Seattle (my home town) skies is a nice little bonus.
See what you think of the color scheme:

Ooooh, so clean and pretty! That won't last long :)
I also paid close attention to the tread of these boots.
Most of the hiking I do involves rocky, steep trails, and a lot of off trail cross country travel.
As a hiker, you know that means roots, rocks, tree limbs, tufts of dead grass, gravel, talus, lichens, moss, stream crossings on logs, and all sorts of other slippery surfaces.
And unfortunately, the tread is the first "point of failure" on lightweight hiking boots - at least I find that to be true, given all of the abuse I heap upon my poor boots.
So I gave the bottoms of these Salomon womens hiking boots a very close inspection, and decided that not only would they serve well on the trail but the tread would last for at least 2 hiking seasons.
Maybe more, if I don't punish them too severely with lots of abrasive trails.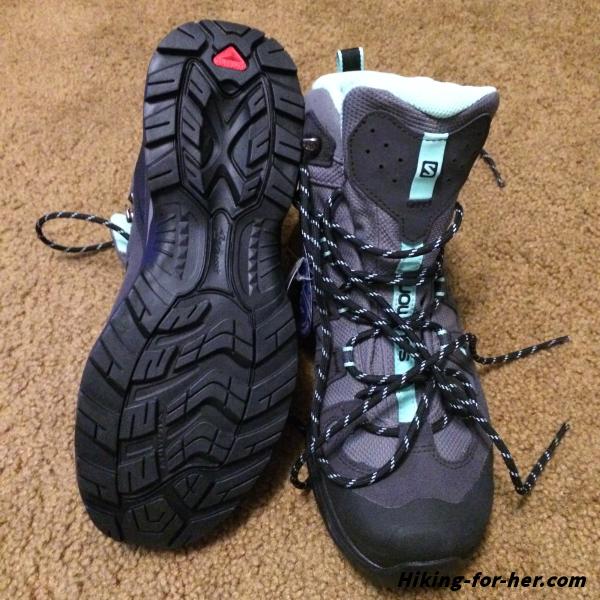 Deep grooves in an uneven pattern give you grip

The fit

Can you see how much time I invested, even before trying on these boots?
I recommend the same approach if you're looking for serious hiking footwear.
Backpacking boots need to absorb the weight of your pack, cushion your feet from tough trails, protect you from water and mud, and last long enough to justify the monetary investment.
Don't just "settle" for the boots on sale, or the boots someone tells you are the greatest thing ever for hiking.
Anyway...
putting on these boots was a surprising (in a good way) event.
They fit the contours of my feet, but not in a desperately clingy way.
The arch support felt adequate.
The lacing system was fast and snug, yet allowed room for fine tuning.
And walking around in the boots assured me that I had plenty of room in the toe box for my rebellious little toes.
So far, so good
I kept the boots on for 15 minutes or so, and because I was at REI, I used their in store trail demo area to hop, skip and jump around in the boots.
Yes, I got some stares and smirks, especially from one particular little toddler who probably wished she could join me in my frolicking, but who cares?
I'm entering into a long term relationship with these boots, or at least I'm considering it.

I want to put them through their paces, as much as possible!
For a few tips on how to size up any pair of womens hiking boots you're considering, read this.
After trying on several other brands of boots, and eliminating a few options based on poor fit, I decided to give these Salomons a try.
Here's what happened.
On the trail

Sometimes you get yourself signed up for more than you bargained for, and that happened on the inaugural voyage of these Salomon womens hiking boots.
The trail descriptions I read the day before the hike left out the part about clinging by your ankles to a straight-up, root infested, muddy "by pass" route to the lake basin.
(Thanks to the building sized downed trees, that is.)

It also failed to mention the extra 2 miles needed to get to a vantage point above the alpine lakes.
So all told, the round trip mileage was 14 miles, with trail conditions somewhere in the abysmal range.
In other words: These boots got a great work out right out of the box.
Surprises!
There were 2 surprises:
Absolutely no break in issues

Solid grip on the aforementioned nasty surfaces
Back in the good old days of wearing heavy leather boots that weighed 3 pounds each and were stiff as concrete out of the box, I would have NEVER considered going for this kind of hike in new boots.
But the hiking boot world has evolved since the 1970s, dragging me along with it.
So I trusted the fact that lightweight hiking boots built the way these Salomons are will not need much break in time.
True! A marvelously true statement that was proven on my unexpectedly tough hike.
And the solid grip?
Yes, definitely solid. Of course, every boot sole has limitations, and no boot will perform flawlessly on a muddy downhill trail.
But I didn't slide much, and never fell into the mud.
So I'm anticipating good performance on dry but rocky terrain.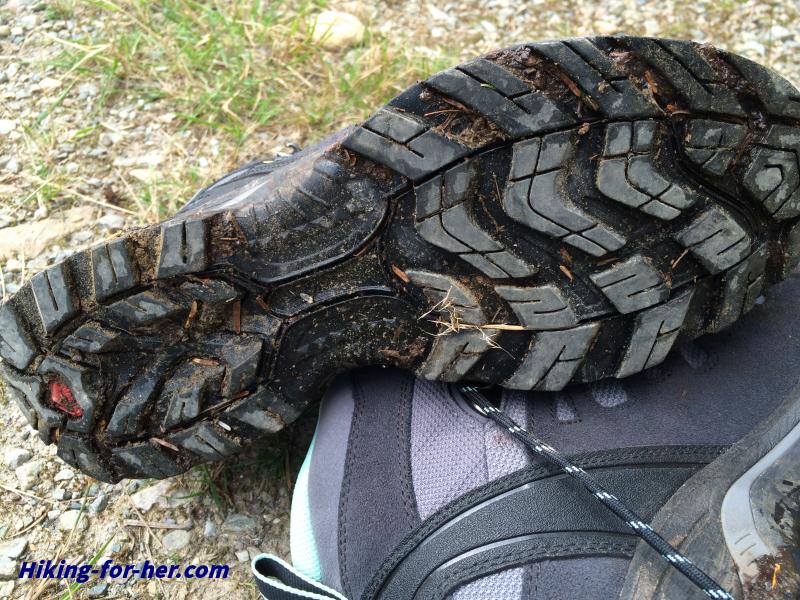 Looks kinda different from the first pictures, right? And a good time was had by all...

Any downsides
with these boots?

You know, I pride myself on being a tough critic of outdoor gear.
If you're interested, you can check out my other hiking gear reviews.
So I'm somewhat hesitant to admit that these boots had no downsides.
However, I need to caution you that I did my homework very, very thoroughly before ever putting them on.
I paid attention to the peculiarities of my feet, and didn't try on the boots that run small, are built for narrow feet, or didn't promise good grip.
That's why it might be no surprise that these boots fulfilled my expectations, and fit well.
Important sizing note
One note on these Salomon womens hiking boots that I need to mention:
The sizing runs true.
However, I bought a half size up out of mild paranoia about not wanting my toes squished.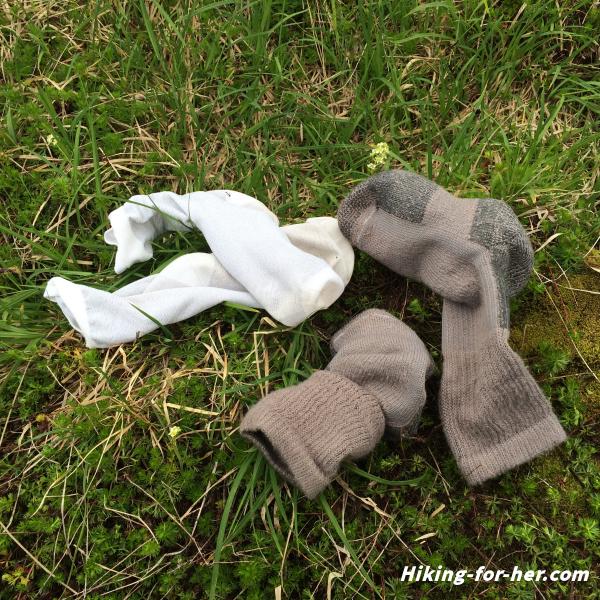 Sweaty hiking socks with technical features that pair nicely with these boots

Just a note on why I bought
these particular boots
So why didn't I buy these KEENs?

But here's the tipping point in my decision:
My REI Co-op store didn't have them in a half size larger, meaning that I wouldn't have the luxury of extra room in the toe box.
And I was too impatient to wait for my size to be shipped to me, and not willing to drive to another store.

So, all in all, the KEEN Durand over-the-ankle boot would have been an equally good buy if impatience did not rule the day.
But it did give me a chance to try Salomon womens hiking boots, in effect expanding my boot horizons ;)
So if you're checking out these Salomons, also take a look at KEEN.
Stay tuned

I'm somewhat surprised that these Salomon womens hiking boots are just as comfortable, just as trail worthy as my KEENs.
My list of best lightweight hiking boots just got longer!

But are they as durable?
Will they remain a good fit?
Can they handle wet fall and early spring hiking just as well as they have handled my mid-summer forays?
Time will tell, and then I'll tell you, via updates on this page.
Salomon womens hiking boots
update
Time for an update!
I've been wearing these boots for 2 seasons, in harsh conditions like the Northwest Territories (rocks galore) and Wrangell St. Elias mountains (dirt, mud, water, rocks: rinse and repeat).
These boots took everything I dished out and never let me down.
I applied waterproofing before each trip, and smiled as the water ran right off in the rain or after creek crossings.
They did get wetted out after several days of rain, but that's to be expected with this type of hiking boot. One of the pleasures of backpacking, right?

All in all, I heartily recommend Salomon womens hiking boots, and would be happy to answer any questions you have!
Home page > Hiking Gear Reviews >
Salomon Womens Hiking Boots Review
Hiking For Her: Hiking tips you can trust!