Enjoy Happy Trails, the free monthly newsletter from Hiking For Her.

Receive a free resource: Hiking Layering System Explained

Flexlite For Backpacking
And Camping Plans:
How To Choose The Best Chairs 
By Diane Spicer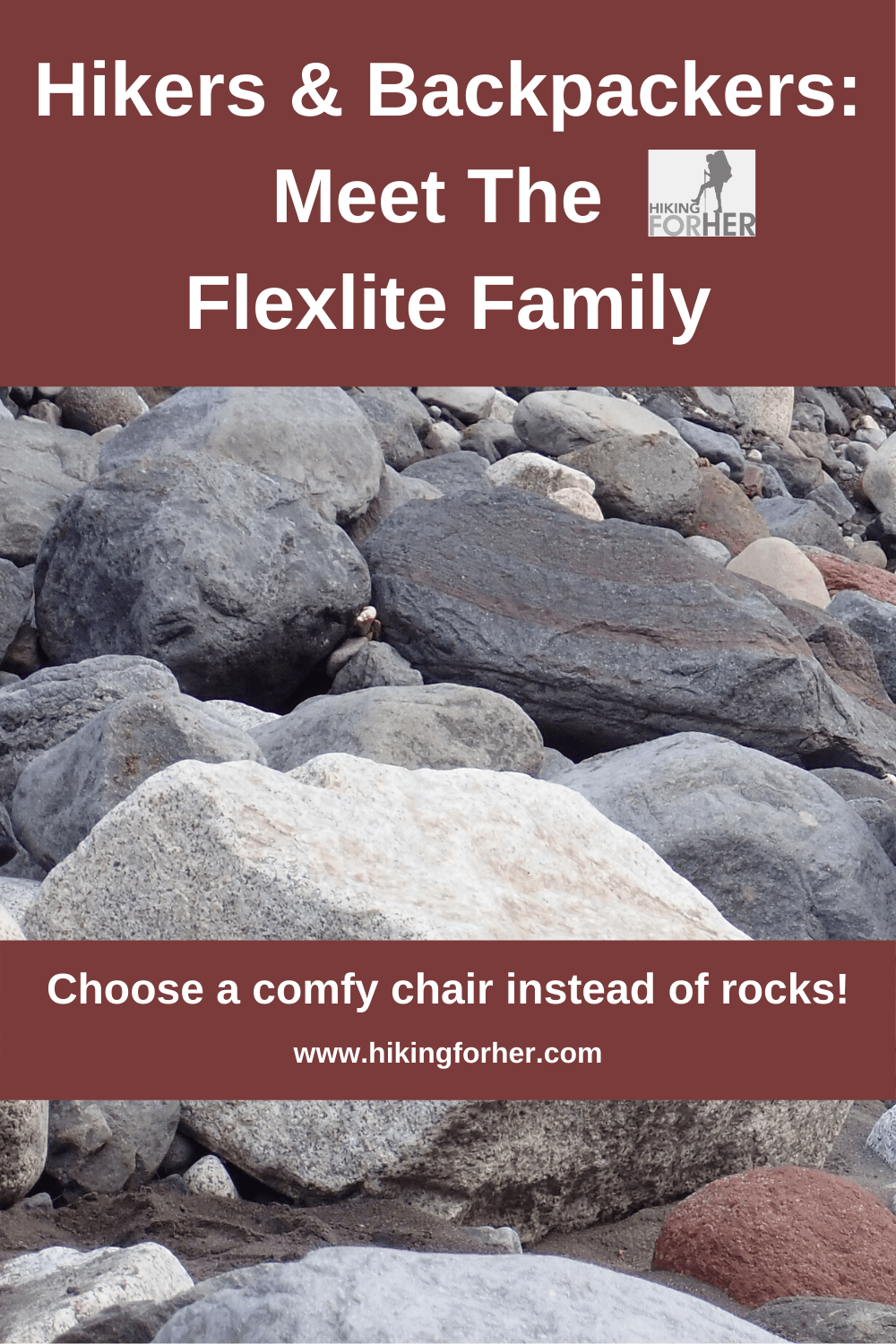 It's time to expand your options for comfortable seating in the outdoors beyond rocks.
Flexlite for backpacking and camping gives you plenty of well designed chairs.

Let's take a look at your REI Co-op Flexlite options so you can decide what will work best for you and your family.
Hiking For Her is an REI affiliate. When you purchase through this website, you pay nothing extra but HFH may earn a small commission.
Not an REI Co-op member yet?
Please don't overlook your substantial rewards for joining this cooperative of outdoorsy folks.
Now it's time to meet the REI Flexlite family!
We'll make the introductions according to your outdoor plans.
Multiday backpacking chairs
This might sound like a small thing.
But not sitting on the cold wet ground or an unforgiving rock pile as you wolf down your backpacking dinner?
That can be a huge morale booster.
This is especially true if you take off your backpack and have:
stiff knees

a sore back

limited range of motion in your hips

more than 16 candles on your birthday cake
That covers just about all of us hikers, doesn't it?
So here's how to inject some comfort into your end-of-day backpacking routine: the REI Co-op Flexlite Air Chair.
This chair is as easy and quick to set up as your backpacking tent, using the same design principles.
Its aluminum 4-legged design will keep you stable.
And the durable water resistant ripstop nylon seat? It's plenty strong enough to hold you and your dinner, up to 250 pounds.
A few specs to decide if this is the right chair for you:
Weighs one pound in your backpack

Folds down to 

5 x 16 inches (stuff sack included)

Seat height: 11 inches (more on the importance of this measurement below)
---

Overnight
or weekend backpacking chairs
You're hauling less food on a short backpacking trip.
So bringing a slightly heavier chair could make sense.
Take a look at this Flexlite Camp Chair, weighing 11 ounces more than the Flexlite Air above.
What else is different?
The design has been updated. Now it accommodates a wide range of hikers, although the weight capacity remains at 250 pounds.
The price point is lower than the Air chair.
The set up process is easier than with older models, meaning you'll be relaxing in comfort in a flash.
---

Day hiking chairs
Really? Bring a chair much?
Yes, some folks do, so let's play nice.
If you are willing to carry the weight and bulk of a chair in your day pack, it must be important to you. I say go for it!
Choose between the Flexlite Air (lighter) and the Flexlite Camp (roomier).
---

Car camping chairs
Forget about chair weight. It becomes irrelevant when the car is doing the hauling.

Focus on comfort and "must have" features.

Example: REI Co-op Flexlite Norwell Macro Chair.

This chair holds up to 300 pounds. But it has a lot more than that to recommend it as a camping chair.
Feast your eyes on this well built chair, and appreciate what it can give you:
A deep seat will cradle you in comfort, with plenty of room to tuck in your favorite camping blanket.

The handy side pocket will gladly hold your Kindle, snacks, and phone.

It has its own stuff sack to make packing and unpacking your car camping gear easy.
TIP:
If you get cold even when sitting around a campfire, this is the cozy chair for you!
---

Other car camping choices 
for chair comfort
Does the Norwell Macro chair seems too decadent for you?
(Note to self: Is there such a thing on a camping trip? Nope.)
Then take a look at the REI Co-op Flexlite Camp Boss Chair. It costs less, but supports the same amount of weight as the Macro.
Other nice features include:
29.5 X 24 X 14 inches of comfort

Extra seat room (20% more than previous designs)

Three color choices

Reliable stability
---
Do you prefer more support for your back and neck at the end of the day?
Then you'll love this Flexlite Camp Dreamer Chair.
Removable pockets and two mesh pockets!

This is a large chair: 36.5 X 23 X 12.5 inches. 

Seat height: 12.5 inches

Weight capacity: 300 pounds

Read the customer reviews to see how much people love this char.

A few tips on choosing
the best Flexlite for your
backpacking and camping plans
If you're going to bring a chair, be sure it will provide comfort for your unique contours.
And the only way to know for sure is to sit in a bunch of chairs.
But you can get a pretty good feel for how the chair will or won't work for you by paying attention to a few numbers:
Back length

Seat depth

Leg angle

Weight capacity
Back length & seat depth
The place to start when searching for a comfortable backpacking or camping chair?
Your height.
Tall hikers need a particular leg angle (see below) coupled with a generous seat depth.
Someone who is 5'3" like me has a different set of chair measurements to find for comfort. 
So think about this:
How tired and sore will you feel after a long day of hiking?
You want to sink your butt into the chair seat and do something with your legs to relieve any back or knee pain.
You might want to extend your legs out in front of you, relieving pressure in the knee joints. 

Or you might want to bring your legs closer to your body.
Only you know what feels right for you once your backpack comes off at the end of the day.
Pay close attention to where the back of the chair hits you, and how deep the seat will be under your body weight.
You want support for the back of your thighs, too.
An example of dimensions:
The REI Flexlite Air chair has these dimensions when unfolded:
Compare that with another backpacking chair, the Flexlite Camp Chair:
There is no way to predict exactly where each chair will "hit" you when you're sitting in it, of course.
But you can "guest-imate" based on dimensions.
Or measure your favorite chair at home and go from there.
Leg angle
You might already know what you want to do with your legs, based on previous experience.
An upright posture with a shallow bend in your legs might feel great every day.

A "sink in" posture with your back cradled by a chair might be exactly what you crave.
But let's be real here.
Sometimes it's a matter of finding the most comfortable position for your sore back on any given day.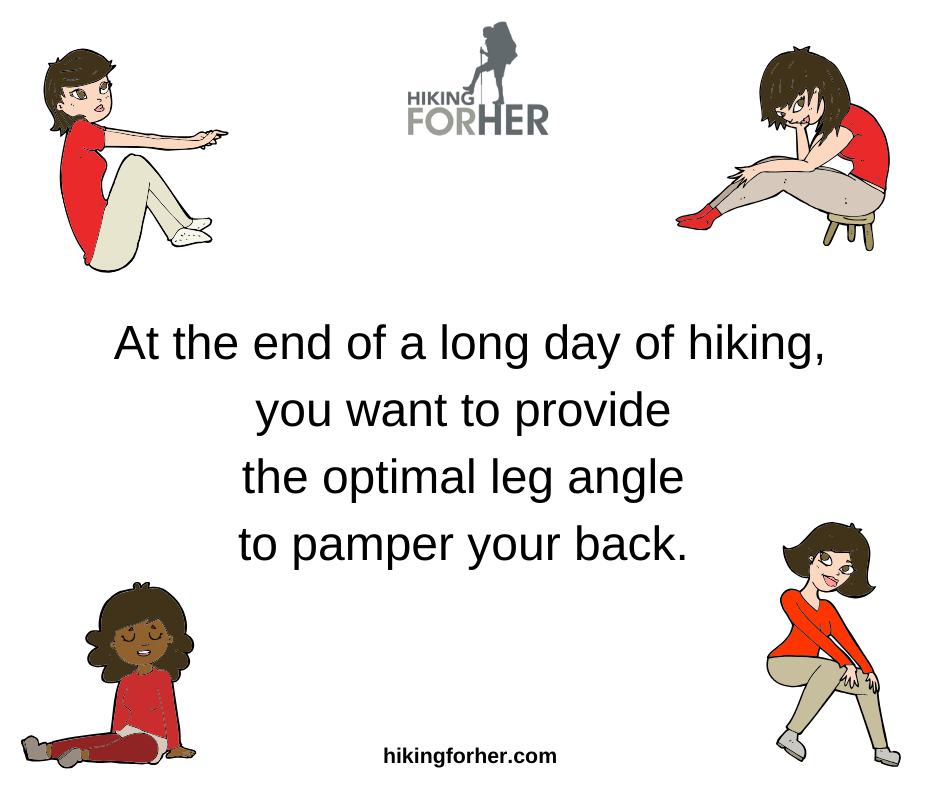 The lightweight chairs in the Flexlite family provide you lots of options for leg angle to make every day a good one.


Weight capacity
REI Flexlite chairs have a range of weight capacity.
On the lower end, holding up to 250 pounds, is the Flexlite Air.
Flexlite Norwell Macro and Flexlite Camp Boss accommodate up to 300 pounds.
If you're nowhere close to 250 pounds, the weight capacity is a number to ignore.
You're more concerned with the weight of the chair, which we covered above.
If you're in the 250+ weight range, choose a chair to match.

How often will you use your chair?
Time is another metric to consider in your search for the perfect Flexlite.
If you're a "one and done for the year" backpacker, a backpacking chair will last a long time as long as you don't abuse it. 
Brush it off, give it a good dose of sunlight and air to dry it out, and store it until next year.

Press it into service for sports games, picnics, and other outdoors events.
If you hit it hard for three season backpacking, you want durable materials and a stable design for various ground conditions.
Car campers can get away with a bit more weight and a lower cost in a chair. That can offer a bit more comfort but might translate into less durability if camping is a frequent event.
Bottom line: Add "number of days used/year" into your calculations.
Now you know your Flexlite numbers
Factor in your preferred price point, and you're ready to go shopping for the perfect chair for backpacking and camping comfort.
Flexlite for backpacking and camping
awaits you at REI
The Flexlite family is a friendly bunch, isn't it!
You will find exactly the right combination of weight, dimensions, and comfort to fit your plans.
All you have to do is spend a little time seeing how they measure up.
Which you just did, you smart hiker ;)
Now check out the entire line of Flexlite chairs.
Home > Best Hiking Gear >
Flexlite For Backpacking And Camping Chairs