Have the freshest free hiking tips sent to you each month!

Water Crossing Safety Tips
For Hikers

If you haven't needed water crossing safety tips yet on your hiking adventures, you will.
The day will come when you're faced with a fateful decision:
Here are some water crossing safety tips in advance, so you'll have the knowledge you need to make a smart decision when that sentence pops into your head.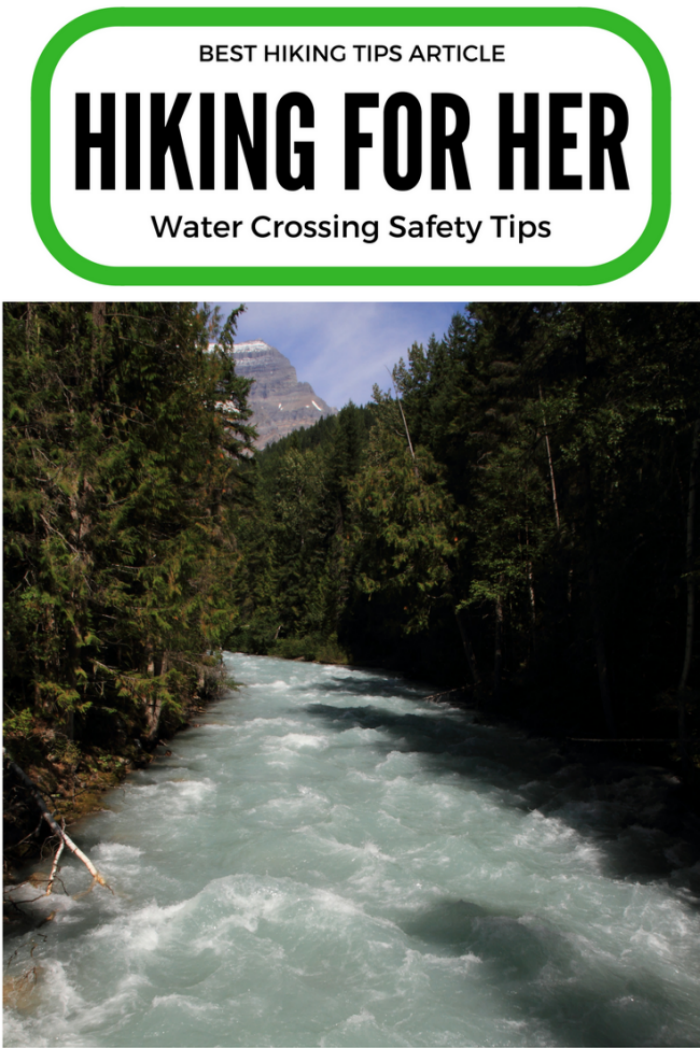 Things to think about before reading water crossing safety tips

Before you read the safety tips for how to ford a river or fast moving creek, think about why you need to do this.
To get the other side, right?
Duh!
But the question is a bit more basic:
Why are you on a trail that requires you to cross moving water on foot?
If you deliberately chose the trail and are comfortable with how to ford rivers, no problem.
But if you're unprepared, and in fact surprised by the necessity of a river crossing, what's that about?
Possibilities:
Didn't look at a map ahead of time.

Caught off guard by recent severe weather events that washed out a bridge or doubled the water flow.

Made assumptions about the reliability of the map you're using, even though it's ten years out of date.
Etcetera...
This is not to shame or blame, just to get you thinking about how important it is to consult current maps and cross reference them with up to date information available on line.
Also note that water crossings are right up there on the danger scale with grizzly bears and getting caught in a lightning storm.

"I was over prepared", said no hiker, ever.

Now on to the safety tips.
The most important water crossing safety tips to remember

If the trail you're on dumps you unceremoniously at water's edge, and you can see the trail resume on the other side of the water crossing, you're in better shape than if you have to scout for a place to ford a river.
Why?
Because if you can see the trail on the other side, you can also see how deep the water is, how fast it's moving, and what the bottom might be like: rocks, logs, deep holes, etc.
But don't automatically assume this is your crossing point.

So Tip #1 involves assessing your situation and deciding on a course of action.
Solo hikers will approach water crossings differently than a duo, or a group of hikers.

So these safety tips for fording moving water will be split into solo -vs- group hikers.
To assess how deep and fast the water is moving, find a rock and chuck it into the water. Listen: a deep "plop" means deep water.
If you can see the bottom, did the rock disappear quickly downstream? Fast water!
Can't see the bottom due to muddy or milky (glacial till) water?
Throw a stick.

Imagine it's you. How far downstream did it travel in 10 seconds?

Also listen for the sound of rocks rolling against each other in the water. Those rocks will roll against your ankles, knocking you off balance or trapping your feet.
Also use your eyes to scout what's on the far bank. You don't want to crawl out of the water into something spiky, poisonous, steep or impenetrable, right?
Are there any side trails branching from the main trail, indicating a safer crossing that other hikers have used? Scout those.

Here's the second most important safety tip:
Don't let your brain talk your body into an unsafe water crossing. 
Give up emotional attachments to getting to the other side, to pressing on, to seeing what's ahead.

Be rational, be focused, be smart: Scout the river or creek bank and find the widest spot to cross.


If your gut is feeling fear because the water is racing past or you can't see the bottom, use that as a sign that it's too dangerous to cross safely at that spot.
If you decide to make the crossing, here's the third tip:
Leave your boots on. You need the traction, protection, and the extra weight created by water filled boots.
Take off your pants, unless they're really lightweight and fast drying or you have multiple stream crossings to make.

River shorts have drainage holes and are made of fast drying nylon.

No river shorts? Do the sideways shuffle in your undies!
More tips if you decide to take the plunge:
Unbuckle your pack, but leave it in place.
Your body is more important than your pack, so be prepared to ditch the pack if you become submerged.

It will quickly become dead weight as it fills with water, although you could use it short term as a flotation device

in deep water.
Be prepared to use the swift current to your advantage if you lose your footing:
Now on to some specific water crossing safety tips for solo-ers and groups.


Water crossing safety tips
for solo hikers

As a solo hiker, you have your two feet against the water's current.
Not exactly true, if you have trekking poles or a walking stick available, and that's a good thing.
In fact, a thick stick is preferable to skinny poles, because the chance of getting it lodged between rocks or submerged logs is less with a wider stick.

The tripod water crossing method is what you're going to use to get across that swiftly flowing water in safety:
Turn your body so it's facing upstream, with the water flowing past you. Lean into the current, getting a feel for its strength.

Your pole/stick is ahead of you, planted upstream.

Use a slight angle, no more than 45 degrees, downstream when you begin to move.

Your river crossing mantra: Two points of contact at all times.

That means two feet, or one foot and the pole, are in contact with the river bottom at all times.




Lift the foot closest to the direction you're moving and take a step, relying on the rushing water to keep your other foot and the hiking pole/stick in place.

Shuffle, without a lot of leg movement.


Don't hurry, but don't linger because cold water will quickly numb you and make your steps less reliable.

If you lose your nerve, decide which bank is closest and get there using your sideways shuffle.

If the water is above your knees, think twice about attempting this water crossing by yourself. Go back to first principles: water crossing safety tips are useless if the water overwhelms you.

Taller hikers might get away with crossing short segments of thigh deep water, but everyone should think long and hard about attempting to cross water that is waist deep or deeper.
Also think about how to warm yourself back up if you fall into the water. Do you have your ten essentials, and will they be dry if your pack falls in?
Factor in the cost of a survival situation if you become hypothermic.

Your options:
Wait for 15 - 30 minutes for another hiker or hiking group to come along.

Wait overnight for the water level to go down, if recent rain or glacial melt is a factor.


Consider all of the water crossing safety tips you know as you consult your map,

looking for river forks or braids that may give you a better chance of slower water.

Turn around and enjoy your hike back to the trail head. No harm done!

Water crossing safety tips
for duos and group hikers

Safety in numbers, just like a herd of wildebeests, right?
If there are two or three hikers in a group, decide who is the strongest/biggest person.
Put that hiker into the water, facing upstream with feet planted on the bottom and a stout stick in hand. Essentially, s/he's a tripod, as in our solo hiker approach above.
The tripod hiker is also breaking the current, creating a pocket (eddy) where the water is flowing less strongly for the hikers coming along behind.
As the other hikers step into the water, they hold the hipbelt of the hiker in front of them, creating a chain of people who are in the eddy created by Hiker #1.
Put the smallest/least robust hiker at the end of the chain, where the water's current will be as slow as possible.

A side shuffle ensues, until everyone is across. Voice commands from Tripod Hiker can coordinate the shuffle.

Note that this method depends on a sturdy tripod person, right?
If in doubt about anyone's ability to withstand cold, fast water, think very carefully about what would happen if someone were to slip and fall.
For larger groups, there's an even more reliable way to ford a river:
Begin with the strongest hiker in the tripod position.

All other hikers get into the water and face the opposite bank, locking arms or each using their own heavy stick or pole.

Everyone except the side shuffling tripod hiker walks straight ahead in unison, creating an eddy effect which greatly benefits the smaller/weaker hikers downstream.

If one hiker slips and falls, the others can assist them.

To finish up our water crossing safety tips, read this detailed information from Washington Trails Association on how to ford a river.


Practice makes perfect

I speak from experience when I say that practicing how to cross water before you really need to is the only way to go as a hiker.
In the heat of the moment, you're prone to making mistakes.
So take any opportunity to cross moving water when the stakes are low:
You're close to home, you have access to dry clothing, you have a clear picture in your mind of how to approach the water crossing, and you're confident that if you make a mistake you won't harm yourself.
C'mon! It'll be fun to find a slow moving, shallow stream or river and practice safe water crossings on a hot summer day.
There are multiple ways to safely cross a river or stream, so try all of the water crossing safety tips you just learned.

Your knowledge will pay off when you're faced with needing to ford a river, when on a multi-day backpacking loop trip, for instance.
And pay it forward by teaching the next generation of hikers your water crossing safety tips!
If you're interested in what I wear when fording a stream or river, take a look at these links.
I recommend only what I wear, so purchasing through these links results in no extra cost to you while earning Hiking For Her a small commission to keep the best hiking tips freely flowing :)

Home page > Best Hiking Tips > Water Crossing Safety Tips
Didn't find what you were looking for? Use the blue TOP button
on the right to jet back up to the search box.
Why wait a whole month?
Plus, there's never enough room in the newsletter to share it all, so why miss out on exclusive Hiking For Her giveaways, limited time gear deals and discounts, freebies, updates, and more?

A short, info packed weekly email update will keep you current on all things hiking!

Don't miss out!

Read more about these hiking weekly updates

Save Time

Save Time & Money


Hiking For Her's weekly emails are the best way to find out about current hiking:


flash giveaways
timely deals
steep discounts
freebies

trail news

resources




Free, fast, fun info for you, every week of the year