Have the freshest free hiking tips sent to you each month!

Around Elham Valley Kent England
by Sue Brightling
(Kent England)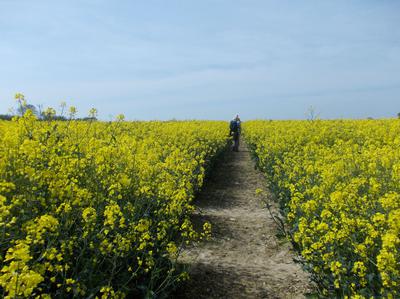 Late morning
Bank holiday Monday six off us set off on a walk into the Kent countryside, two of our friends do this quite often so they were the group leaders. Geoff Mark Linda & I just boldly followed in their footsteps, even when they were lost!

They had us crossing fields of sheep, the cute little lambs came running up to greet us. We followed footpaths across numerous fields, we wandered and scrambled through woods in the dappled sunlight. We stopped for a picnic on a hillside with the sheep (!) looking out across the Elham Valley.

We came through Barham where the high waters of earlier in the year were still leaving their mark and flowing through under the bridge at quite a pace.

It felt quite a tough day with all the hill climbs and descents, we are not used to this as our coastal walks are relatively flat. So I think we may have walked 8 - 10 miles although it felt longer.

The drink at the Jackdaw Pub was most welcome, along with the toilets!

www.letthosefeetdothewalking.blogspot.co.uk
Join in and write your own page! It's easy to do. How? Simply click here to return to Best Hiking Trails.
Didn't find what you were looking for? Use the blue TOP button
on the right to jet back up to the search box.
Why wait a whole month?
Plus, there's never enough room in the newsletter to share it all, so why miss out on exclusive Hiking For Her giveaways, limited time gear deals and discounts, freebies, updates, and more?

A short, info packed weekly email update will keep you current on all things hiking!
When you sign up to receive this update, you are agreeing to Hiking For Her's privacy policy.

Don't miss out!

Read more about these hiking weekly updates
HFH Policies


Save Time & Money


Hiking For Her's weekly emails keep you current on hiking & backpacking news:


flash giveaways
timely deals
steep discounts
freebies
trail changes


resources

Free, fast, fun info for you, every week of the year