Enjoy Happy Trails, the free monthly newsletter from Hiking For Her.

Receive a free resource: Hiking Layering System Explained
Baby Hiking Backpacks:
Best Child Carriers For Hikers

by Diane Spicer
Baby hiking backpacks may have come onto your radar recently.
Congratulations!
Either you are a new parent, or shopping for a gift for a new parent.
Babies and hiking are a good fit, so let's be sure the backpack for baby and parents is a good fit, too.
Best baby carriers
have these features

All of the following features are important, regardless of whether the child carrier is going to be used on a hiking trail or around the mall.
So even if you're not a hiker, these tips on how to select the best baby carrier might help you out.
And if you're a hiker?
Once your baby is sitting up under his/her own steam, it's time to hit the trail and introduce baby to the great outdoors.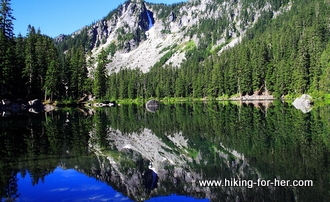 The best backpack for carrying baby will include:
comfort features for the parent;

different comfort features for baby;

a reasonable unloaded weight;

a design that makes it easy (and safe) to load and unload your precious cargo;

materials and craftsmanship to stand up to your hiking plans;


storage options for water bottles, diapers, wipes and all of that glorious baby related paraphernalia;

optional features that you need for your particular needs, such as a sun shade, head rest, droop pad, or removable day pack.
Baby hiking backpacks -
let's look at your price options

Welcoming a little one into the family, whether through birth or adoption, is an expensive proposition.
So let's put the cost of the baby hiking backpack at the top of our list.
Top end models of baby carriers can run over $300 US.

It's possible to find a great baby carrier below $200 US that is suitable for hiking.
How will you decide?
My advice: Don't overbuy this item unless you plan to do a lot of hiking on trails that are at the moderate (or beyond) level: elevation gain, rocky footing, navigational challenges such as blow downs or wash outs.
Another consideration for your ideal price point:
How many babies will be riding in the pack over the child bearing years of the family?
If you expect the baby hiking backpack to be used for 2 or more babies, buy a more durable, sturdy, and thus more expensive baby carrier.

If you would like to pass the baby carrier on to the next new parents in the family, consider the materials and design a bit more carefully.
Also tied to cost: the weight range the baby hiking backpack will carry safely.
This ties directly to how long you will be carrying the child on the trail.
Some families launch a Toddle Trail Training Program as soon as the child becomes restless in the child carrier (I myself had my daughter hiking under her own power when she was two).
Other parents prefer the control and safety that keeping a toddler in a child carrier gives.
But let's face it, toddlers conk out for naps and need to be carried anyway!
A nap is much easier in a hiking child carrier, than in your arms.

Next up: finding a comfortable and safe baby carrier for hiking

Next up on the list: comfort.
The comfort of the parent wearing the baby backpack is super important, because if the pack doesn't fit, baby won't be going on a hike.
Look for parental comfort features such as:
adequate padding on the shoulder straps;

low unloaded weight (this can range from 4 to 8 pounds, so be sure to do the math to see if you are comfortable carrying baby + pack);

dimensions of the pack so it fits the frame of the parents;

fold out stand that you can hear "click" when it locks into place, to make loading the baby easier on your back;

adjustable waist belt to accommodate multiple adults.
And for baby
And of course baby's comfort and safety is really important as well, so look for:
soft, absorbent, washable materials against baby's skin;

easily adjusted safety harness;

a foot rest for older babies and toddlers;

a removable or adjustable canopy to keep sun and wind at bay;

a rain cover;


height adjustments so you can custom fit the pack as baby grows and learns to hold a hand out for trail mix.
Consider these
baby hiking backpacks

Here's a great little baby backpack by Kelty that would be suitable for casual dayhikes near home.
Kelty has a good reputation in the outdoor gear industry.

Notice these features at a reasonable cost:
Adult comfort items you would find on any good pack, including adjustable load lifters, sternum strap, and padded hip belt.

Torso and seat height are adjustable, meaning you will keep this pack for a long time while your child grows.

Here's what I like best about this particular baby hiking pack: It converts to a daypack when your baby/toddler is elsewhere. So you'll get more use out of it.

Sturdy hiking parents, looking to do some camping and long day hikes, might prefer this top pick: the Osprey baby hiking backpack.
This one is great because it:
has features you won't find in lower priced baby carriers, including removable day pack and a back panel reservoir sleeve for your hiking hydration system,

pays attention to baby's comfort and safety in a way other packs do not, including a fleece lined harness, safety leg loops and stirrups that can be removed.


If you're near an REI Co-op gear store, try on these two models and compare the difference.
Keep in mind the type of hiking you plan to do with your little sprout, and go from there.
REI has a generous return policy, so if things don't work out, you can work on finding a better fit for yourself and your baby.
One more reason to love REI:

REI Co-op members receive an annual rebate on qualifying their purchases.

Comparisons
Need some virtual side-by-side comparisons?
Best hiking carrier
for your baby?

As with all things in life, that depends!
It depends on your hiking plans, the size and age of your child, your physical fitness level, and your hiking/camping gear budget.
Hopefully these tips got you started on the path to choosing the best backpack for your baby.
And congratulations!
Parenting is hard, but rewarding work. You're doing the right thing by taking your baby for a hike.
The world needs all of the curious, adventurous kids it can grow, now doesn't it?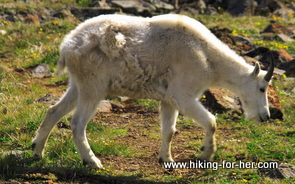 Home page > Best Hiking Gear >
Baby Hiking Backpacks
Hiking For Her: Hiking tips you can trust!