Have the freshest free hiking tips sent to you each month!

Backpacks 101:
Start Here
To Find The Perfect Pack

Backpacks 101 sounds like the first course in a series, doesn't it?
How To Buy A Backpack
And that's exactly what this page gives you, dear reader:
Backpack tips you can use to buy the best hiking backpacks on line, or in a sporting goods store near you, without drama or headaches.
Good backpacks don't just fall out of trees and hit you in the head (and thank goodness for that).
You want not only a good backpack, but the best backpack for comfortable day hiking.
Don't wimp out and buy the pack that fits your backpack buddy, not if you're really serious about a great fit and quality performance, season after season, in any weather.
And if you're looking for a backpacking backpack?
You need to do even more comparison shopping, because the price for this pack will be higher and you'll be using it a long, long time.
Choosing a backpack is both
an art and a science.
This Backpack Buyers Guide covers a few Backpacks 101 topics that you might not think about:
Ergonomic backpack features: external frame backpack versus internal frame backpack

Lighweight backpack materials

Backpack accessories

Backpack waist belt features
Fun fact behind that list
Backpack manufacturers pride themselves on little twists and improvements on basic designs, making their product line into unique backpacks with deep brand loyalty.
If you ask a Deuter pack devotee and an Osprey user to compare notes, they'll agree on most things.
But will be fiercely protective of what makes one pack stand out above all others.
But here's the secret: a backpack design needs to accomplish the same short list of objectives, regardless of who makes it!

So where do I start looking??

Go here for an overview of what I consider best choices for daypacks and backpacking packs.
And read this if you want to cruise your possibilities for scoring the best pack on sale.
Curious about your choices in backpack manufacturers?
Backpacks 101: How to
choose a backpack
Backpack manufacturers and outdoor gear companies are all competing for your business, so it's no surprise that the best backpacks share a core set of features widely known to be important to hikers.
That's why at first glance, all backpacks might look alike.
Big mistake.
Take a second glance, and you'll see lots of differences in:
size

materials

quality of construction

number of external pockets

internal arrangement

number of zippers

frame

designs in women's backpacks

and price, of course.
These differences customize the backpacks

All of these differences revolve around who wears it and what (s)he does in it!
Feast your eyes on these possibilities:

backpacks for men

baby backpacks (not tiny little packs, but the kind to carry – well, take a guess!)

camping backpacks

discount backpacks (not the same thing as cheap backpacks)

solar panel backpack
Click on the type of pack to get all of the details you need to know before you purchase one.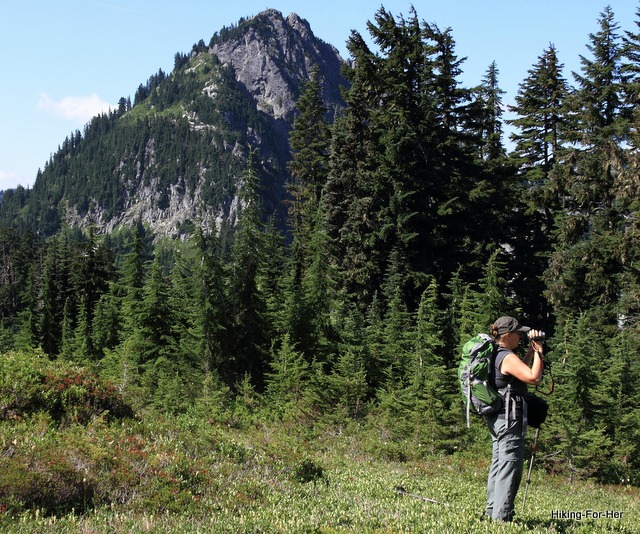 I'm actually wearing two packs here: a large woman's daypack, and a photography pack. Both are waterproof packs.

Backpack tips to read
before you buy backpack
If you're planning on a lot of day hiking, these specific tips are what you need before you buy.
Detailed tips on how to choose a backpacking backpack are covered here.
Here, we'll cover general Backpacks 101 tips for anyone searching for the best backpack.
If you implement them, you'll know exactly which pack, waiting for you among all of the hiking packs in the backpack store, is perfect for your unique hiking plans.
There are 4 big tips for you.

Quality versus price

Decide whether quality or price is most important to you. There are plenty of cheap backpacks you can get at least one season out of, and that's a fact.
But if you're going to be in this hiking thing for the long haul (small backpacking joke) you should buy the highest quality pack possible.
It will provide more comfort on the trail, and be less of a financial drain on your hiking budget.
Stick to the basics

If you're just starting out as a hiker, don't even look at customized backpacks.
They have a mind numbing array of custom features and they literally fit you like a glove, but they are murderously expensive.
You need a basic pack to start with, and can work your way up to one of these customized beauties over time.
Homework first!

It's easy to fall victim to "buyer's fatigue" unless you do your homework ahead of time, using these backpack tips.
Go to the store (virtual or real) armed with a

short list of packs

to try on: brand, size (in liters), and the exact model you want to try on.

A phone call ahead of time saves you the heartache of arriving at a store only to hear "We just sold out of those."

Arrange your schedule so you have plenty of time. You don't want to rush to judgement.
There are plenty more Backpacks 101 tips to be had in here:

Give yourself time
to make a good choice

Never trap yourself into the "gotta have it  today" corner.
If you have a backpacking trip coming up in a few months, start right now to create that short list.
You don't want to get stuck buying a less than ideal pack because you ran out of time.
How to pack a backpack,
and other questions...

Once you purchase your pack, you might need these tips on how to pack a backpack.
And keep it organized with segmented stuff sacks.

See?
You've graduated to Advanced Backpacks 101!
Feel free to use this CONTACT ME link to send your questions about how to buy packs.
I'd love to help you find the perfect pack!
Because happy trail time is worth investing in, don't you agree?

Home page > Best Hiking Gear >
Backpacks 101
Didn't find what you were looking for? Use the blue TOP button
on the right to jet back up to the search box.
Why wait a whole month?
Plus, there's never enough room in the newsletter to share it all, so why miss out on exclusive Hiking For Her giveaways, limited time gear deals and discounts, freebies, updates, and more?

A short, info packed weekly email update will keep you current on all things hiking!
When you sign up to receive this update, you are agreeing to Hiking For Her's privacy policy.

Don't miss out!

Read more about these hiking weekly updates
Save Time

Save Time & Money


Hiking For Her's weekly emails are the best way to find out about current hiking & backpacking news:


flash giveaways
timely deals
steep discounts
freebies
trail changes


resources

Free, fast, fun info for you, every week of the year