Bald Mountain Preserve, Camden Maine
by Jennifer
(Topsham, Maine)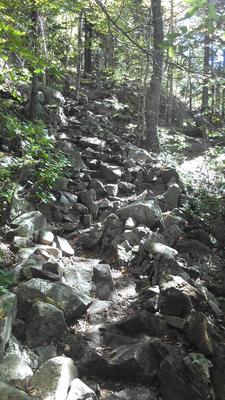 OMG This was amazing. This was really my first mountain hike, and now i am addicted. It was a little difficult for me at first, but the weather was really nice, and it was just after we had had a lot of rain. The trail was very rocky and steep in places, and at times my friend and I had to climb over boulders to keep going, as well as some fallen tree's that we believe happened due to the intense lightning storms we got the week before.

The air was crisp as it was the beginning of fall, and the trees were beautiful. As we kept climbing, we could see more and more of the Camden hills, as well as the East coast ocean. it was a good mile to the summit, and the higher we got the more of the ocean we could see. The trail was well marked, except when we got to the "Bald spots" of rock, and we had to figure out where the painted rocks were pointing us to.

When we got to the summit, which was after about a mile of hiking, we could see for miles upon miles. We just sat there for 2 hours watching the specks of boats on the ocean, and the cars drive by in the distance.

As this was my first mountain hike, I had some difficulty on the downward descent, and my legs were shaking bad. But all I could think about on the drive home was my next hike, and where i am going next.
Join in and write your own page! It's easy to do. How? Simply click here to return to Best Hiking Trails.



Hiking For Her's weekly emails keep you current on hiking & backpacking news.


Free, fast, fun info for you, every week of the year.

Use the box below for fast sign up!






flash giveaways
timely deals
steep discounts
freebies

resources
Why wait a whole month?
Plus, there's never enough room in the newsletter to share it all, so why miss out on exclusive Hiking For Her giveaways, limited time gear deals and discounts, freebies, updates, and more?

A short, info packed weekly email update will keep you current on all things hiking!
When you sign up to receive this update, you are agreeing to Hiking For Her's privacy policy.

Don't miss out!

Read more about these hiking weekly updates





Photo credits: All photos on this website were taken by David Midkiff or Diane Spicer.

All rights reserved.

As an Amazon Associate,  Hiking For Her earns from qualifying purchases.