Have the freshest free hiking tips sent to you each month!

Best Backpacking Quilts:
Tips For Selecting
The Right One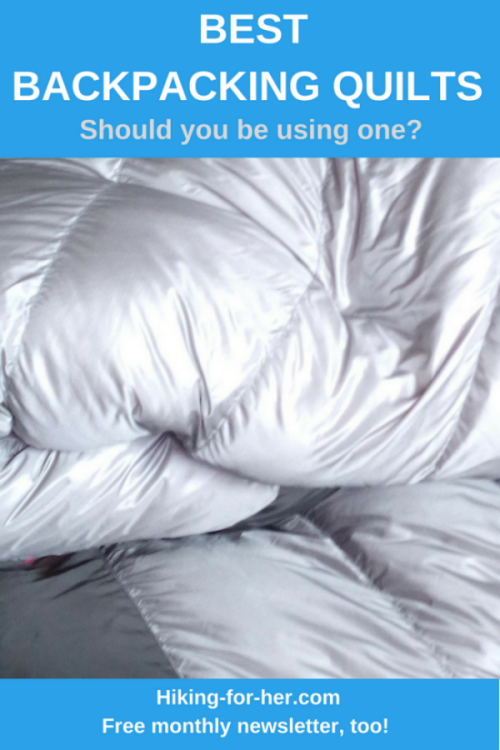 The best backpacking quilts are a combination of great design and comforting warmth, just like the cozy quilts you may already use at home.

But not all backpacking quilts have equal measures of these highly desirable things.
In case you're new to the concept of carrying a backpacking quilt in place of a sleeping bag, read this first.

Here, let's take a look at the way backpacking quilts are designed to be used, so you can understand how they can (or cannot) keep you toasty warm as you snore the night away after a long day of backpacking.
Not here for that reason?

Skip down to recommendations for the best backpacking quilts you can carry on your next camping or backpacking adventure.
Or read about sleeping bags versus backpacking quilts here.

Best backpacking quilts:
designs that work

So what could go wrong?
After all, the best backpacking quilts are just layers of fabric, stitched together around fill material, creating a lightweight warm blanket as you snuggle into the safety of your tent, hammock, or tarp.
Yeah, right.
The choice of fabric and filling matters a lot, as does the pattern and amount of stitching.
Note: Weather conditions and season also play into your decision to use a quilt, or not. We'll leave that out of the equation for now.

First, some new vocabulary

A backpacking sleep system has one basic goal:
to capture your body heat and allow it to circulate, with no "dead" spots of cold air.
In order to build a high quality backpacking quilt that you will want to own, we need to throw some lingo around.
And the best backpacking quilt companies will be up front with this lingo, letting you know their products are built right and thus worthy of your consideration.

Fill
Fill 'er up with something that traps body heat!
You choices are:
Synthetic materials
Down, the tiny heat trapping feathers right next to the body of a duck or goose; extra points if they've been harvested humanely and treated for water repellency

Loft
How lofty are your goals for a down backpacking quilt?
The bigger the number, the higher the pile of downy feathers created with a known volume of down ('loft").
Expect numbers ranging from 700 to 900+.

A high number indicates a high pile and also equals a higher price point. You are going to pay for more warmth, so look at the numbers which make sense for your type of hiking and your budget.

Loft is lost when bad things happen to the quilt:
Compression over long periods of time, as will happen if you store the quilt stuffed into a compression sack. Have mercy on those tiny feathers!

Extreme amounts of moisture due to direct contact with a flowing stream when your quilt falls out of your backpack. Hey! It can happen!

No loft = no insulating value. Translation: You're going to have one very cold night if you lose your loft.

Baffles
Don't be baffled by baffles!
A baffle indicates which way the pieces of fabric were sewn together.
Baffles create smaller compartments for the fill, to prevent it from shifting around or disappearing in certain parts of the quilt when you move around.
Baffles can be:
horizontal

vertical

curved

chevron pattern

You get the idea!
Some quilts vary the direction of the baffles, switching from horizontal at the head and foot end to longitudinal within the body of the quilt.
The holes created in the fabric when baffles are sewn in the fabric can be entry points for moisture.
Examples: Your quilt is touching the side of your tent, and condensation flows onto the holes.
Or the moisture in your breath saturates the head end of the quilt.
One more issue with the holes: down feathers can work their way out of the quilt using these exit points. No worries, the quilt is stuffed full of them!
Shell fabrics
The outer fabric which contacts your sleeping pad, the dirt inside and outside of your tent, your stuff sack, and whatever else in the immediate sleeping environment needs to stand up for itself.
However, the inner fabric, right next to your body, should be soft and smooth.
Because it will contact your body oils, insect repellent, and perspiration night after night, it may have a shorter lifespan than the outer fabric.

This leads us to an important question about quilt fabrics:

How will you clean the quilt once you're back home?
What quilts lack...

A quilt by definition is lacking some of the components of a sleeping bag. So don't expect to find:
Many backpackers carry additional clothing to guarantee a warm night, including a down hood, fleece hats, and long sleeved clothing to sleep in.
Tip: If your quilt is long and wide enough, you can wrap yourself up burrito style and have enough fabric to cover your head.

Does the weight of this additional clothing, or needing a longer quilt, add up to the weight savings from leaving the sleeping bag behind?

Be sure to factor in the additional fuss of carrying additional clothing to enhance the usability of your quilt.
The type of backpackers who should consider using a quilt

A tired hiker just wants to drift off beneath a layer of warmth and not worry about drafts.
So if you're a side sleeper, or one who ends up on your stomach, you can move around frequently under your backpacking quilt without getting all snarled up in fabric and zippers.
If you get up at least once per night to pee, you'll appreciate the lack of zippers and the freedom to toss off the quilt quickly.
And you can quietly locate your shoes, t.p., head lamp or whatever else you need without having to unzip a bag.

Anyone who has warm/cold cycles throughout the night can easily vent the quilt by flipping back one edge, or by sticking out arms or legs.

Backpacking couples can share one large quilt, or stitch together two for a snug sleeping experience.
Tent campers, heads up: Your chances of catching a draft are greatly reduced when you use a rain fly, so a backpacking quilt inside a double walled tent has almost zero chance of flapping up on you during the night.
To further enhance the warmth of the best backpacking quilts, savvy campers can choose the warmest spot to pitch the tent: behind natural wind breaks and well away from bodies of water or low spots.

... and those who should skip a quilt

Cold sleepers who are truly concerned about creating a warm haven to sleep within might have a big learning curve with a quilt.
It takes some time to figure out where to cinch, snap, and tuck a quilt in order to create the conditions you get easily from a sleeping bag.

And you may move around in your sleep a whole lot more than you realize!

If you're not a restless sleeper, and never get up in the middle of the night, a quilt has no advantages for you other than some potential weight and cost savings.
Don't use a tent? Your chances of having exposure to cold drafts is high, so think long and hard about substituting a quilt for a bag in your sleep system.
The best backpacking quilts for you might not be good enough to keep you draft free in all conditions.

Best backpacking quilt
recommendations for you

Ready made quilts:
If you want a fully adjustable quilt which can be used as a flat blanket or can hug and envelop your body, this is the one for you.
Rated for 30 degrees Fahrenheit with 750 down fill

Weighs one pound, seven ounces

Want luxurious warmth and comfort for three season backpacking? Take a look at this Sea To Summit quilt.

If you're a hammock sleeper, you'll need a quilt designed to keep your body heat trapped up against you, like this top quilt by Vesta.
Quilts you order to your own specifications:
Nunatak quilts, available in a dazzling variety of specifications and price points, are made to order. Plan ahead to accommodate a waiting period.

Make your own quilt:
Backpacking quilt questions?

Now you know how these little beauties are put together, and why the best backpacking quilts with great design features could spell convenience, comfort and a smaller footprint in your hiking life.
If you have questions, please send them here.
Decided that a backpacking sleeping bag is more your style?
Read about the best ones here.

Home page > Best Hiking Gear > Best Backpacking Quilts
Didn't find what you were looking for? Use the blue TOP button
on the right to jet back up to the search box.
Why wait a whole month?
Plus, there's never enough room in the newsletter to share it all, so why miss out on exclusive Hiking For Her giveaways, limited time gear deals and discounts, freebies, updates, and more?

A short, info packed weekly email update will keep you current on all things hiking!
When you sign up to receive this update, you are agreeing to Hiking For Her's privacy policy.

Don't miss out!

Read more about these hiking weekly updates
Save Time

Save Time & Money


Hiking For Her's weekly emails are the best way to find out about current hiking:


flash giveaways
timely deals
steep discounts
freebies

trail news

resources




Free, fast, fun info for you, every week of the year